Arvella Schuller dies at 84; wife of Crystal Cathedral founder Robert Schuller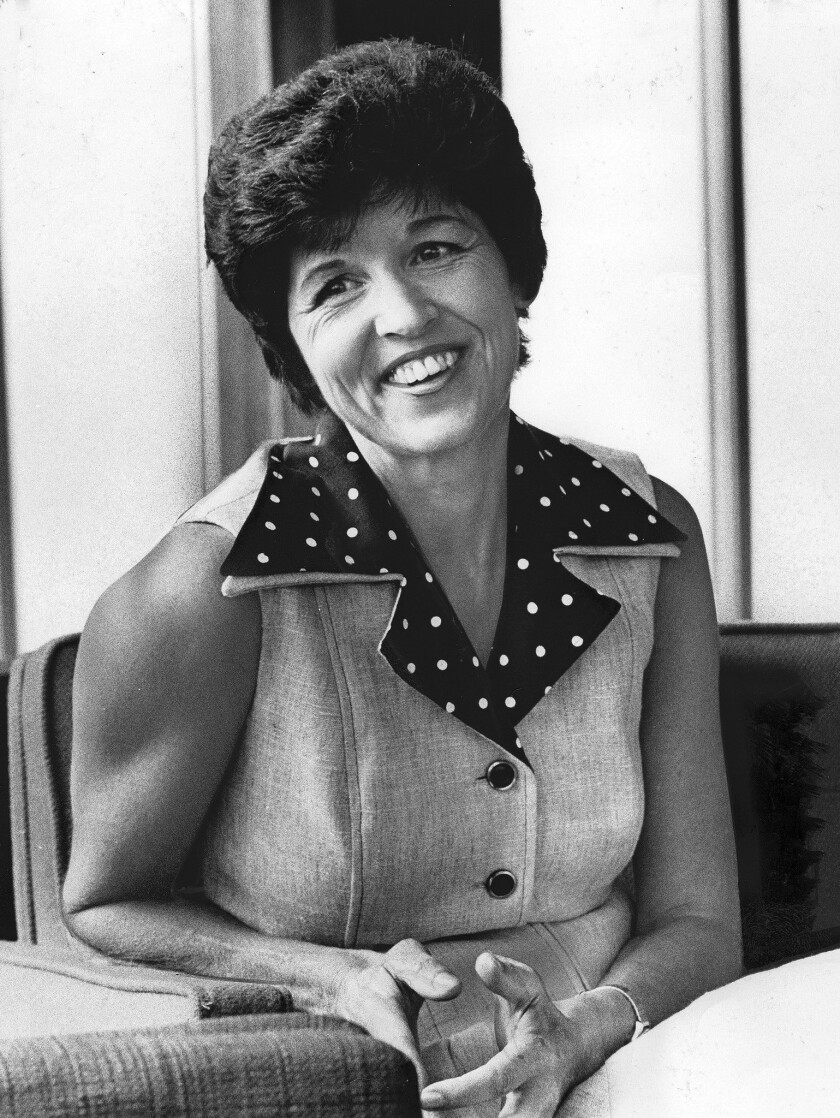 Though the Rev. Robert H. Schuller was the face of the once-global "Hour of Power" television ministry, he was never alone. His wife, Arvella, was always behind the scenes, working to make sure everything ran smoothly.
Arvella Schuller, who served as a producer of the television show and was one of the main creative forces of the Crystal Cathedral, died Tuesday at UC Irvine Medical Center in Orange after a brief illness. She was 84.
In a statement, her grandson, Bobby V. Schuller, said she died "peacefully of natural causes."
"She was definitely the power behind the hour," said Marc Riley, who started working with the Crystal Cathedral in 1994 as a musical assistant.
She was born Arvella DeHaan on July 29, 1929, and raised in Orange City, Iowa. She was an organ student at Hope College in Michigan when she met her future husband. The Schullers would marry in 1950 and move to Southern California in 1955 to start a drive-in Christian church in Garden Grove.
Arvella was the organist, and her husband preached from the roof of a snack bar.
As the church grew into a multimillion-dollar empire, including the construction of the 10,000-glass-paned Crystal Cathedral in 1980, Arvella took on multiple roles. She served as an executive producer and program director for the "Hour of Power" and helped develop numerous programs within the church, including the 24-hour crisis line.
More recently, the church had fallen into hard times and filed for bankruptcy. Arvella was a familiar fixture in the courtroom during the proceedings, which eventually ended with the sale of the Crystal Cathedral campus to the Roman Catholic Diocese of Orange in 2011.
At one point, the audience for the television show started in 1970 was estimated at 20 million. The show is now broadcast from the congregation's new location at Shepherd's Grove church in Garden Grove, with the Schullers' grandson Bobby as pastor.
"She was a natural leader, a strong leader," Riley said. "When there was a decision to be made, she made it without hesitation."
Arvella also helped to change church culture and embraced the notion of the Crystal Cathedral being a church for the unchurched.
At services, it wasn't just the choir singing a hymn. Arvella brought in guest soloists and introduced the concept of an interviewed guest, whether it be Larry King or Naomi Judd.
"Back in the '70s that really wasn't done in a mainline church," said Mike Nason, a longtime family friend of the Schullers.
Still, Arvella was also focused on being a wife. In 1974, she told The Times, "My career is my husband."
Arvella was known for picking out her husband's suits and she helped edit her husband's sermons. She learned how to do maintenance around the house so he wouldn't have to.
"I don't think he could have ever done and accomplished what he did without her," Nason said. "They were definitely soul mates."
In 2000, for their 50th wedding anniversary, the couple renewed their vows at the Crystal Cathedral. Their son, Robert Anthony, officiated and the choir sang "Because," a song featured at their wedding.
Besides her husband of 63 years and their son, Arvella is survived by their daughters, Sheila Coleman, Jeanne Dunn, Carol Milner and Gretchen Penner; 19 grandchildren, two sisters and a brother.
A private memorial service is planned.
---
Must-read stories from the L.A. Times
Get all the day's most vital news with our Today's Headlines newsletter, sent every weekday morning.
You may occasionally receive promotional content from the Los Angeles Times.