Dan Gurney dies at 86; racing legend excelled on every track, in every car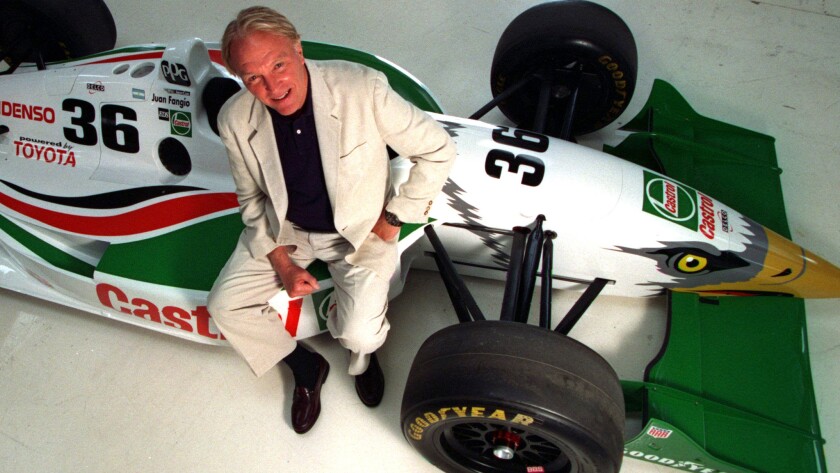 Dan Gurney, a leading player during one of auto racing's most intriguing eras and, in the judgment of many, the best driver never to have won the Indianapolis 500, has died of complications from pneumonia. He was 86.
His wife, Evi, announced his death in a statement Sunday distributed by All American Racers Inc.
Gurney, tall and blond and, with his sharply chiseled features and movie star smile, the living idea of a young — albeit transplanted — Southern Californian going places in a hurry, had multiple claims to fame:
Successful Formula One driver when few Americans even considered the prestigious international circuit.
Facilitator of the rear-engine revolution, which changed the face of Indy car racing forever.
Chris Pook's liaison to the racing establishment in the founding of the Long Beach Grand Prix and, later, instigator and founding member of Championship Auto Racing Teams, the sanctioning body known as CART.
Car designer, builder and owner, whose talents in those areas matched his considerable driving achievements.
In short, whatever was happening in automotive racing in the 1960s, '70s, '80s and into the '90s, Gurney probably had a hand in it.
He could, and did, drive and win in everything, from F1 cars to Indy cars to sports car prototypes and unlimited Can-Am cars, to NASCAR stock cars and their smaller cousins, Trans-Am pony cars. Before retiring as a driver in 1970, Gurney had raced in 312 events in 20 countries and had won 51 times.
He won seven Formula One races, four of them world championship grand prix events; seven Indy car races; five top-tier NASCAR races, all at Riverside International Raceway, and endurance sports car races at LeMans, Daytona and Sebring. And, although he never won at Indianapolis as a driver, he finished second twice and third another time, and was Bobby Unser's car owner-designer when Unser won in 1975. Cars built by Gurney and sold to other teams had won twice previously, and in 1973, 21 of the 33 starting cars were Gurney Eagles.
As a driver, Gurney commanded great respect. Scotsman Jim Clark, two-time world champion in Formula One and an Indy 500 winner, once commented that the two things he feared most during a race were oil on the track and Dan Gurney in his mirrors.
Gurney posted his proudest accomplishment, though, in June 1967, when he won the Grand Prix of Belgium in an Eagle, a car he had designed and built. It was the first time in 46 years that an American driver had won a Formula One race in an American car, and he remains the only American ever to have won a world championship race in a car of his own design.
"At the time, I didn't think much about the significance because I didn't figure it would be the only Formula One race I'd win with the All American Eagle, or the last one I'd ever win in any car," Gurney told The Times in 1992. "It wasn't until later that I got to appreciate the significance of it more." In a later interview he said, "That was the moment. That was our bragging rights."
That victory at Spa-Francorchamps was indeed Gurney's last in Formula One, but it was a fitting climax to a remarkably versatile showing by Gurney that season. The week before, he and A.J. Foyt had won the 24 Hours of LeMans – there Gurney introduced the now-common winner's spraying of the celebratory champagne – and in September, he won the Rex Mays 300, the inaugural Indy car race at Riverside, a track Gurney had "put on the racing map," according to promoter Les Richter, by winning the first four NASCAR races run there.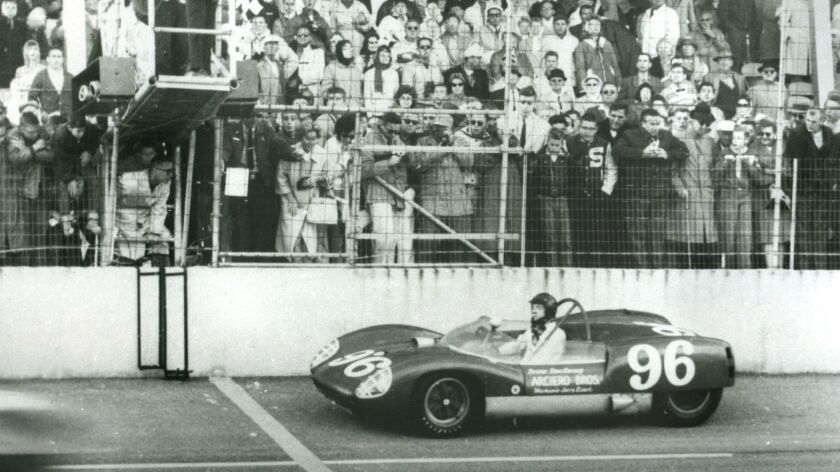 Daniel Sexton Gurney was born April 13, 1931, in Port Jefferson, on New York's Long Island, the son of a Metropolitan Opera singer father and a former art teacher mother. Dan was just out of high school when his father moved west to become an avocado grower in Riverside. The young Dan had already become hooked on racing – he grew up idolizing a Long Island driver who raced under the pseudonym of Ted Tappet – and began honing his driving talents by racing hot rods through nearby orange groves.
"The dirt roads were great," Gurney told the St. Petersburg (Fla.) Times in 1989. "There weren't any people around and there weren't any restrictions and you could really get around on them. Those were great days. The hot rod industry was booming and it was a great time for young men and women to get gasoline in their veins."
He served two years in the Army during the Korean War, then drove his first race in 1955, wheeling a Triumph TR-2 to fourth place in a production sports car race at Torrey Pines in La Jolla. Four years later, thanks to a recommendation from Luigi Chinetti, a retired driver who had the first Ferrari dealership in the U.S., Gurney was driving for the Ferrari factory team, making $160 a month.
He took quickly to the European driving scene but remained true to his American roots and, in 1962, drove for the first time in the Indianapolis 500. Indy cars at the time were the long-snouted roadsters powered by front-mounted four-cylinder Offenhauser engines. The year before, Jack Brabham, another Formula One driver, had driven at Indy in a rear-engine car, a vastly underpowered Cooper Climax, finishing an unimpressive ninth.
Gurney, driving a rear-engine Buick-powered car for Mickey Thompson, finished 20th in his debut, completing only 92 of the 200 laps. Even so, he went back to Europe convinced that the more agile rear-engine cars, the kind being used in Formula One, were just the ticket at Indy. He persuaded Lotus mastermind Colin Chapman to build the chassis, then talked Ford into supplying the V-8 engines. The revolutionary Lotus-Fords, with Jim Clark and Gurney driving, rocked the Indy establishment in '63.
Parnelli Jones won in a conventional roadster, but Clark was second and Gurney seventh, and the Indy roadster was already being called a dinosaur. When Clark won the '65 race in a Lotus-Ford, the race to the rear became a stampede.
That same year, Gurney formed All American Racing, with Carroll Shelby, building F1 and Indy cars, and after retiring from driving, having bought out Shelby, turned to car designing and building full-time. Over the years, AAR cars enjoyed great success, most notably in 1993, when prototype Toyota-powered Eagles, driven for Gurney by Juan Fangio II and P.J. Jones, qualified 1-2 and won all 10 GTP races they entered in the International Motor Sports Assn.
Kupper is a former Times staff writer.
---
UPDATES:
Jan. 16, 9:40 a.m.: This article was updated with staff reporting throughout.
This article was originally published Jan. 14 at 4:50 p.m.
---
Must-read stories from the L.A. Times
Get all the day's most vital news with our Today's Headlines newsletter, sent every weekday morning.
You may occasionally receive promotional content from the Los Angeles Times.