Frank McCourt dies at 78; late-blooming author of 'Angela's Ashes'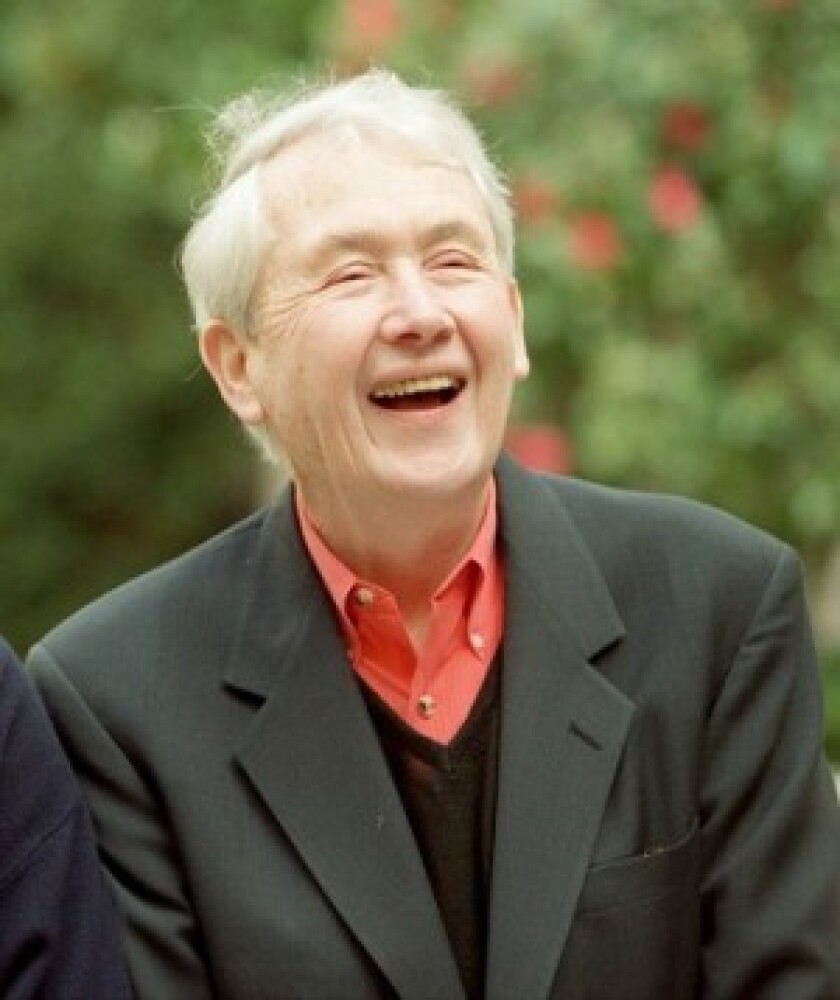 Frank McCourt, the retired New York City schoolteacher who launched his late-in-life literary career by tapping memories of his grim, poverty-stricken childhood in Ireland to write the Pulitzer Prize-winning memoir "Angela's Ashes," died Sunday of cancer. He was 78.
---
FOR THE RECORD:
Frank McCourt obituary: The obituary of author Frank McCourt in Monday's Section A said surviving family members included his wife, Ellen; his brother, Malachy; and his daughter, Maggie. He is also survived by brothers Alphie and Michael and three grandchildren. —

---
McCourt, who was recently treated for melanoma and then became gravely ill with meningitis, died at a hospice in New York City, his brother Malachy told the Associated Press.
"I'm a late bloomer," a 66-year-old McCourt told the New York Times shortly after publication of "Angela's Ashes" in 1996.
McCourt, the Brooklyn-born son of Irish immigrants who returned to Ireland with the family during the Depression when he was 4 years old, had spent three decades teaching English and creative writing in the New York public school system.
At elite Stuyvesant High School in Manhattan, where he taught for many years, he had always advised his creative writing students to write about their own lives and families.
But McCourt didn't write his award-winning personal tale of growing up in grinding poverty in a slum in Limerick, Ireland -- his self-described "epic of woe" that concluded when he immigrated to the United States at 19 -- until several years after he retired as a teacher in 1987.
Described in Newsweek as "the publishing industry's Cinderella story of the decade," "Angela's Ashes" rose to No. 1 on bestseller lists, was translated into more than 20 languages and sold more than 4 million copies worldwide.
It also won the Pulitzer for biography and the National Book Critics Circle Award for nonfiction and was turned into a movie in 1999.
In the process, "Angela's Ashes" propelled its author from obscurity to fame and fortune.
The white-haired publishing sensation made the rounds of the talk shows, was the subject of a "60 Minutes" profile and was in constant demand as a speaker because, as Newsweek pointed out in 1999, "he's witty, articulate and he's got the perfect Irish brogue: lyrical but penetrable."
"At 66, you're supposed to die or get hemorrhoids," McCourt told the Hartford Courant in 2003. "I just wrote the book and was amazed and astounded that it became a bestseller and won the Pulitzer Prize. It still hasn't sunk in."
When he returned to the U.S. in 1949, he told Newsweek, "all I had was this story. It took me two years and all my life to write it."
The oldest of seven children, McCourt was born Aug. 19, 1930. His parents were young Irish immigrants. His heavy-drinking laborer father was unable to find work in the Depression, and the couple moved back to Ireland, where conditions were much worse.
The family lived in Limerick -- in "one of the juiciest slums this side of Bombay," McCourt wrote -- where their small, dank home was next to a smelly, rat-infested privy shared by the other families on the block.
McCourt's infant sister had died of unknown causes while they were still in New York, and about a year after the family arrived in Ireland, McCourt's young twin brothers died of pneumonia six months apart. At 10, McCourt himself was hospitalized for typhus.
Whenever McCourt's father did manage to briefly land a job, he spent his pay drinking in pubs. During World War II, he left to try to find work in a munitions factory in England but rarely sent his pay home.
McCourt's long-suffering mother -- the Angela of the book's title -- sought help from the Society of St. Vincent de Paul and sometimes was forced to beg.
McCourt, who began stealing bread and milk for the family, dropped out of school at 14 and took a number of menial jobs, including delivering telegrams.
"I certainly couldn't have written 'Angela's Ashes' when my mother was alive, because she would have been ashamed," McCourt told the Hartford Courant. "Her generation and my generation, to a certain extent, were never proud of having grown up in poverty and adversity. We always wanted to give people the idea that we grew up in kind of middle-class, or lower-middle-class, circumstances."
After arriving in the U.S. in 1949, McCourt got a job as a houseman at the Biltmore Hotel in New York.
Drafted into the Army during the Korean War, he spent two years in Germany. Although he didn't have a high school education, he later said, he was "fairly well read" and managed to "talk" his way into New York University.
After graduating in 1957, he got a job teaching English at a vocational and technical high school on Staten Island. A decade later, he received a master's degree from Brooklyn College.
As a teacher, McCourt would regale his students with his horrifying and often hilarious tales of his childhood in Ireland. In the late '60s, he tried to write a book about his early years but considered his effort "appalling" and set it aside.
"I was going through my James Joyce period, studied and affected," he told the New York Times in 1997. "I was still struggling to find my voice.
"All along, I wanted to do this book badly. I would have to do it, or I would have died howling."
It wasn't until 1994, after observing his young granddaughter, Chiara, developing her vocabulary that McCourt discovered a way to best tell his story: through his eyes as a child.
Storytelling came naturally to McCourt, whose skills were nurtured over pints of Guinness at places such as the Lion's Head tavern in Greenwich Village, which was a hangout for newspapermen and authors such as Pete Hamill and Norman Mailer.
"We were all storytellers growing up," McCourt said of his family in a 2000 interview with the Toronto Sun. "That's all we had. There was no TV or radio. We'd sit around the fire and make up stories. My dad was a great storyteller. We'd mention a neighbor, and he'd make up a story.
"But I also had to be a great storyteller to survive teaching. I spent 30 years in the classroom. When you stand before 170 teenagers each day, you have to get and keep their attention. Their attention span is about seven minutes, which is the time between commercials. So you have to stay on your toes."
In the mid-1980s, McCourt and his actor brother Malachy wrote and began performing in "A Couple of Blaguards," a two-character comedy musical revue about their early years.
McCourt also wrote " 'Tis: A Memoir," a 1999 sequel to "Angela's Ashes," covering his life in the U.S.; and "Teacher Man," a 2005 memoir about his years as a schoolteacher.
Married and divorced twice, he married his third wife, publicist Ellen Frey, in 1994.
Besides his wife and his brother Malachy, McCourt's survivors include a daughter, Maggie, from a previous marriage.
RELATED STORY An appreciation Tim Rutten reflects on Frank McCourt's life and work. CALENDAR, D1
---
Must-read stories from the L.A. Times
Get the day's top news with our Today's Headlines newsletter, sent every weekday morning.
You may occasionally receive promotional content from the Los Angeles Times.