Ginny Tyler dies at 86; voice actress was Disney legend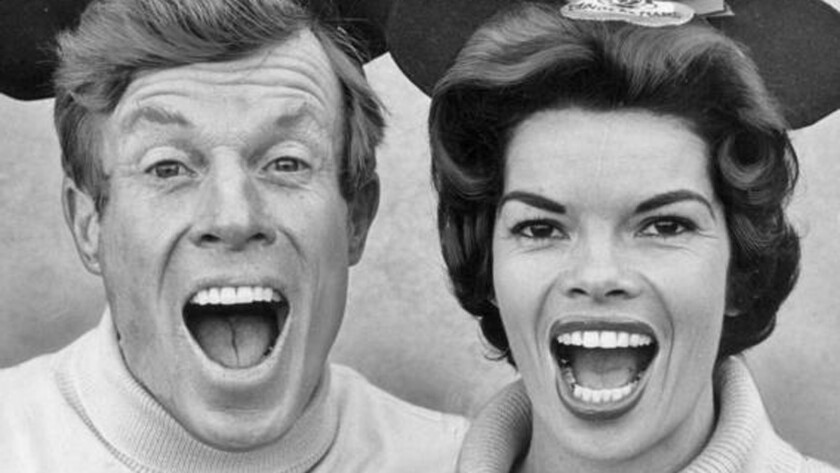 When episodes of "The Mickey Mouse Club" were repackaged for syndication, a new head Mouseketeer held court from the Main Street Opera House at Disneyland in 1963.
For a year, Ginny Tyler hosted new segments of the television show that were woven around the old. As she took viewers behind the scenes of the theme park, more than one noted her resemblance to original Mouseketeer Annette Funicello.
As one of the "Disneyland Storytellers," Tyler had already narrated such records as "Bambi"and "Babes in Toyland" and would become known for voicing animal characters. In one better-known role, she gave voice to Polynesia the Parrot, who helps teach Rex Harrison to talk to the animals in the 1967 film "Dr. Dolittle."
PHOTOS: Notable deaths of 2012
Tyler died July 13 of natural causes at a nursing home in Issaquah, Wash., said her son, Ty Fenton. She was 86.
---
FOR THE RECORD:
Ginny Tyler: The obituary of voice actress Ginny Tyler in the July 23 LATExtra section said that an ancestor who was a chief of the Snoqualmie tribe traded his two young daughters to a white woman for a piece of property after his wife left him. The girls were the chief's granddaughters. Their mother was the chief's daughter; after she left the girls' father, he handed his daughters over to the white woman, along with a piece of property, to help provide for their care. One of the girls was Tyler's great-grandmother. —

---
From an early age, Tyler "could change my voice at a click of a finger," she told the Issaquah Press in 2010.
In official Disney accounts, her penchant for storytelling and ability to mimic animal sounds was traced to her Native American roots. An ancestor, who was a chief of the Snoqualmie Tribe, traded his two young daughters to a white woman for a piece of property after his wife left him, according to her son. One of the girls was her great-grandmother.
Tyler's talent for animal sounds was probably handed down by her mother, Harriett, a performer who studied bird calls at a school in Los Angeles and incorporated them into her organ-playing and singing, Fenton said.
Born Merrie Virginia Erlandson on Aug. 8, 1925, in Berkeley, she grew up in Seattle. After her parents divorced, she was adopted by her stepfather, Theodore Eggers. She had long used "Ginny" as her first name when she added the stage name of "Tyler" in the 1950s.
A graduate of the University of Washington drama school, Tyler started out on radio before hosting a children's television show in Seattle. By the late 1950s, she had moved to Los Angeles and was soon narrating albums for Disney.
In Disney films, she played the two amorous female squirrels in"The Sword in the Stone"(1963) and sang the parts of several barnyard animals in the "Jolly Holiday" sequence of "Mary Poppins" (1964).
Among many other roles, she voiced "Casper the Friendly Ghost" in 1963; Jan, the damsel in distress in "Space Ghost" cartoons in 1966, and many female characters in early episodes of the 1960s television series "Davey and Goliath."
She also established a studio, Whimsey Works, in the 1970s in Burbank to share her craft.
Her first marriage ended in divorce. She married Albert Jacobsen in 1980 and moved back to Seattle with him in 1994. He died the next year.
In addition to her son, she is survived by two brothers, Don and Terry Eggers; two grandchildren; and one great-grandchild.
At Disneyland, she hosted daily 15-minute segments for "The Mickey Mouse Club" that required a demanding production schedule. She often told stories on the air, signed autographs at the park — and considered the job the highlight of her career.
Her voice had long been featured in the chorus of birds outside the park's Tiki Room.
One day she was raving to Walt Disney about how wonderful Disneyland was when he replied: "'That goes for my Disneyland storyteller too.' That was me. I've never felt prouder," Tyler said in the 2006 book "Mouse Tracks," the story of Walt Disney records.
In 2006, she was inducted into the Disney Legends, a hall-of-fame program that honors those who have had a lasting impact on the Walt Disney Co.Upon accepting her award, the ever-upbeat Tyler gave thanks in the voice of Minnie Mouse, Pinocchio, a squirrel from "The Sword in the Stone" and an old witch.
---
Must-read stories from the L.A. Times
Get all the day's most vital news with our Today's Headlines newsletter, sent every weekday morning.
You may occasionally receive promotional content from the Los Angeles Times.