22 Images
Charlton Heston: Roles of a lifetime
By Susan King, Los Angeles Times Staff Writer
Charlton Heston
was a major movie star for over half a century, appearing in some of the most popular films made during that era. He could be romantic, rugged and sometimes even funny. And he was willing to make fun of his heroic -- and some might say also pompous -- image on "Saturday Night Live," "Wayne's World 2" and even on "Friends."
But he seemed most at home in epics such as "Ben-Hur," for which he won his Oscar, and playing historical figures such as Moses in "The Ten Commandments,"
Andrew Jackson
in "The President's Lady" and "The Buccaneer" and Michelangelo in "The Agony and the Ecstasy."
He also served seven times as president of the Screen Actors Guild, was chairman of the American Film Institute and the winner of the Academy of Motion Picture Arts and Sciences' Jean Hersholt Award for his humanitarian activities. An outspoken conservative in his later years, he was a strong advocate for the National Rifle Association and served as the organization's president from 1998 to 2003.
Heston showed incredible bravery when he announced in 2002 that he had been diagnosed with Alzheimer's disease. "For an actor there is no greater loss than the loss of his audience," he said. "I can part the Red Sea, but I can't part with you . . . "
Here's a look at Heston's life in film, TV and theater:
Read Heston's obituary
here.
(Volker Dornberger / EPA)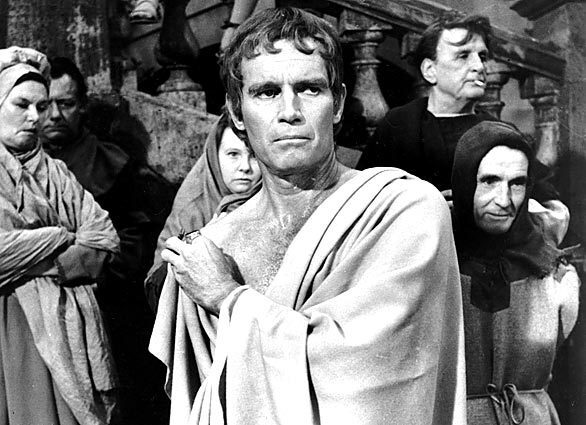 "Julius Caesar" (1950)
At New Trier High School in Willamette, Ill., Heston became involved with the school's drama program where he excelled in numerous productions. He even appeared in a 16mm silent amateur film adaptations of "Peer Gynt," directed by David Bradley. He received a scholarship to
Northwestern University
from the
Winnetka
Community Theatre where he also did plays.
Nearly a decade after "Peer Gynt," Heston teamed up with Bradley for this low-budget, 16mm indie production in which he plays Marc Antony. Heston earned $50 a week for his work. The film was mainly shown in schools and private industry screenings. It didn't have a wide spread release in the states until 1952 after Heston was an established actor. Heston reprised the role in an all-star Hollywood remake in 1970 (pictured).
(Associated Press)
"Dark City" (1950)
Heston made his Hollywood feature debut in this typical film noir caper film that also features Lizabeth Scott and Viveca Lindfors. Directed by veteran William Dieterle, the thriller finds Heston playing Danny Haley, a bookie whose operation has been shuttered. Looking for money, he finds an easy target in an out-of-towner (Don DeFore). In its review, Variety said that Heston's "film debut is impressive."
()
"The Greatest Show on Earth" (1952)
Though it's hard to believe, this cornball Cecil B. DeMille melodrama -- featuring a cast of thousands, including Jimmy Stewart, Betty Hutton, Dorothy Lamour, Cornel Wilde and Gloria Grahame -- took home the Oscar for best film. It beat such classics as "High Noon" and "The Quiet Man" and was a major turning point in Heston's young film career. DeMille selected him to be the circus film's ringleader -- Brad Braden, the granite-jawed, no-nonsense manager of the Ringling Bros. and Barnum & Bailey Circus. Heston gives a sturdy performance, and he more than holds his own with such veterans as Stewart, Lamour and Hutton.
()
"The President's Lady" (1953)
Heston made his first appearance as Old Hickory -- seventh U.S. president Andrew Jackson -- in this glossy adaptation of Irving Stone's bestselling historical novel about the love affair between Jackson and his wife, Rachel (Susan Hayward). Heston cuts a fine figure as the combative Jackson.
()
"The Ten Commandments" (1956)
Heston and DeMille teamed again for the master showman's last film as director. Though a lot of the melodramatics are dated in this day and age, there is no denying the sumptuous film's enduring power and tremendous entertainment value. Heston is perfectly cast as Moses in this lengthy epic that also features Yul Brynner, Edward G. Robinson, John Derek and Anne Baxter. Supposedly, part of the reason Heston was cast as Moses was because he resembled Michelangelo's statue of the biblical figure. DeMille insisted Heston always stay in character on set. Heston received mostly positive reviews for his performance, but Time magazine stated that he was "ludicrously miscast."
(File)
"Touch of Evil" (1958)
Heston gives one of his more intricate performances under the guidance of director Orson Welles in the filmmaker's masterpiece. Ironically, "Touch of Evil" is now considered one of Welles' most accomplished works. Heston plays Ramon Miguel "Mike" Vargas, the Mexican head of the Pan-American Narcotics Commission who offers to assist the authorities at the border town of Los Robles after he and his new wife, Susan (Janet Leigh), witness a deadly car bomb explosion. Welles plays the corrupt lead detective, Capt. Hank Quinlan. Heston later said of his experience: "It was a remarkable experience for me, a great learning experience, one of the most valuable I've had in my whole film career. I probably learned more about acting from Welles than any other film director I've worked for."
(October Films)
"The Big Country" (1958)
Heston and director
William Wyler
teamed for the first time for this expansive western about two families feuding over water rights for their cattle -- the wealthy Terrills and their poor neighbors, the Hannasseys.
Gregory Peck
plays an ex-sea captain who has arrived at the Terrill spread to marry their daughter (
Carroll Baker
). Though it's more of a supporting role, Heston makes an indelible impression as the ranch foreman who doesn't take to Peck.
(Associated Press)
"Ben-Hur" (1959)
Wyler directed this expensive epic based on the novel by Gen.
Lew Wallace
, which the director referred to as "Hollywood's first intimate spectacle." The film earned 11
Oscars
, including lead actor for Heston, best film and director, and held the title as the single film with the most Oscars for nearly 40 years until "Titanic" tied it 10 years ago. The religious drama is Heston's greatest screen triumph, but when the lead actor Oscar nominations were announced, apparently many in Hollywood were surprised because they didn't think his earnest, noble turn was on par with other nominees such as
Jack Lemmon
from "Some Like It Hot" and
James Stewart
in "Anatomy of a Murder."
(Cinecitta Studios / Associated Press)
"El Cid" (1961)
Though this lavish epic about the legendary Spanish hero, Rodrigo Diaz de Vivar, didn't have the impact of "Ben-Hur," it is still a terrific period drama. And Heston is particularly moving as the famed hero who leads the Spaniards against the Moors, and his romantic scenes with
Sophia Loren
are haunting. It's hard to believe that the two didn't actually get along.
Anthony Mann
directed the spectacular film, which has been recently restored.
(Jamie Pato / EPA)
"Major Dundee" (1965)
Sam Peckinpah
directed this tough, violent film starring Heston as the arrogant title character -- a Union cavalry officer who is relieved of his command during the Civil War because of misconduct and sent to command a prisoner-of-war camp in the
New Mexico
territory. Looking for glory, he creates his own army made up of Union troops, Confederate POWs, Indians and mercenaries to go into Mexico to get an
Apache
warlord who has massacred a family. Peckinpah alienated everyone on the set, including Heston, who at one point even nearly ran the director down with his horse. "A lot of things went wrong with 'Dundee;' Sam was responsible for most of them," Heston said in his autobiography, "In the Arena." "He was . . . a difficult but very talented man."
(Sony Pictures)
"Planet of the Apes" (1968)
One of the seminal sci-fi films of all time features a super-buffed Heston in a loincloth -- and even less -- in director Franklin Schaffner's exceptional adaptation of Pierre Boulle's novel about four astronauts who were in suspended hibernation in their spaceship the Icarus until it crash landed in a lake on a planet in 3978. It isn't long until the three surviving astronauts discover that the planet is ruled by apes and that humans are now mute, feral and used for scientific experiments. There are several key moments in the film, especially when Heston growls, "Take your stinking paws off me, you damn dirty ape," which according to the American Film Institute is the 66th best movie line of all time. Heston had a cameo in Tim Burton's disappointing 2001 remake.
(20th Century Fox)
"The Omega Man" (1971)
Will Smith
scored a big hit this past
Christmas
with "I Am Legend" and Heston hit a box office bulls-eye with this adaptation of Richard Matheson's 1954 novel, "I Am Legend." Heston's version certainly isn't very good, but it's over-the-top fun. Heston plays an army colonel who had injected himself with a vaccine for a disease that wiped out the population after biological warfare between China and the Soviet Union. Now two years later, Heston spends his days trying to kill off mutants who survived the plague.
(File)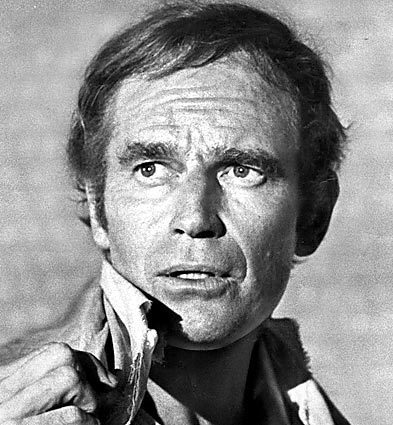 "Soylent Green" (1973)
One of those so-bad-it's-great films. In this loony but popular thriller set in the future, Heston's stalwart Det. Thorn discovers a gruesome fact behind a mysterious synthetic food -- "Soylent Green is people!" The film also marks the final screen appearance of legend
Edward G. Robinson
, and Heston has a few hot-and-heavy scenes with nubile Leigh Taylor-Young. It's certainly not Heston's finest hour, but you'll be entertained.
(File)
"The Three Musketeers" & "The Four Musketeers" (1974/75)
Heston seems to relish his character role of the vile Cardinal Richelieu in Richard Lester's bouncy, romantic adaptation of the Alexandre Dumas' classic novel, giving one of his best performances in years as the Machiavellian priest.
()
"Chiefs" (1983)
Heston was a mainstay on live dramatic TV shows in the early 1940s and '50s, but he didn't do any major projects for the small screen until this watchable
CBS
miniseries that revolves around three generations of three Southern town's police chiefs who are unable to solve a serial murder case. Heston plays the town's founder.
()
"The Colbys" (1985-87)
Heston sunk his teeth into a larger-than-life role in this short-lived spinoff of ABC's No. 1 nighttime soap, "Dynasty." The series followed the adventures of Jeff Colby (John James) when he leaves Denver and moves to
California
to take a job with his rich, powerful uncle Jason (Heston).
()
'Bowling for Columbine' (2002)
Heston's last major film appearance was in
Michael Moore
's 2002 documentary, "Bowling for Columbine," which examines gun violence in America. At the film's conclusion, Moore confronts Heston about why he went to a pro-gun rally Flint, Mich., shortly after the Columbine High School shooting in 1999. The portrait of Heston is less than flattering, though several critics thought Moore unfairly set up the actor.
(Rodolfo Gonzalez / Associated Press)
Though Heston is best known for his film work, he also made time to return to the stage, which he described as "renewing his passport." After World War II, he made his Broadway debut in "Antony and Cleopatra" in Katharine Cornell's company and appeared in "Leaf and Bough" and "Design for a Stained Glass Window" before Hollywood beckoned. In the 1970s and '80s, he frequently appeared at the Ahmanson Theater in "A Man for All Seasons," "The Crucible," "Long Day's Journey Into Night" with Deborah Kerr, "Macbeth" with Vanessa Redgrave, "Detective Story" and "Crucifer of Blood." His production of "The Caine Mutiny Court Martial" was performed at the Henry Fonda Theater as well as in London.
(Associated Press)