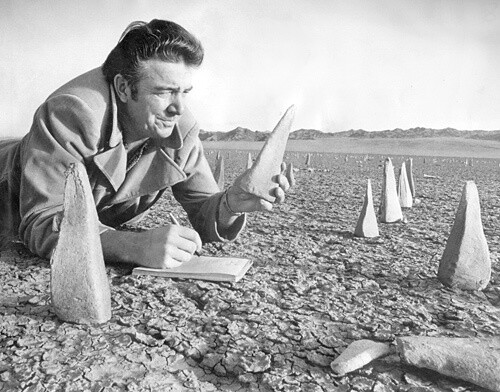 5 Images
Charles Hillinger | 1926-2008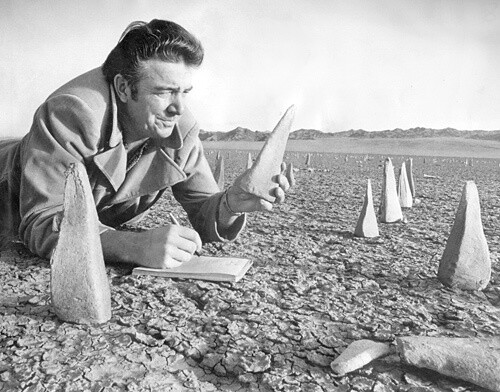 Charles Hillinger takes notes while examining mysterious objects found on Silver Dry Lake, north of Baker in 1975. The reporter began his career at the Los Angeles Times in 1946 in the editorial library. He soon became a general assignment reporter and eventually began focusing on feature writing. He wrote nearly 6,000 human-interest stories before retiring from the paper in 1992.
(Los Angeles Times)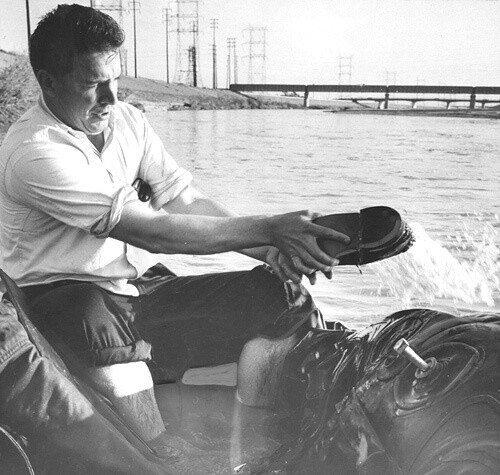 Hillinger bails water from his boat while investigating one in a series of waterfalls in 1958. His feature stories and 1985-91 column, "Charles Hillinger's America," were distributed by the Los Angeles Times-Washington Post News Service to more than 600 newspapers.
(Los Angeles Times)
The reporter keeps cubs warm while wildlife biologists work with hibernating bears in 1981. William F. Thomas, the paper's editor from 1971 to 1989, praised Hillinger for being "a hell of a good reporter" who "never wrote a dull story."
(Los Angeles Times)
Hillinger, right, and Times photographer Bruce Cox look for a place to launch a raft in the Los Angeles River in 1958. As a staff writer, Hillinger had the luxury of picking his own subjects. His career in print was often compared to that of a legendary TV journalist who also spent his time on the road seeking stories that other reporters overlooked or purposely ignored: the late CBS News correspondent Charles Kuralt.
(Los Angeles Times)
Hillinger received an NAACP Image Award in 1980. The reporter, who won his share of writing awards over the years, also wrote the books "Hillinger's California," "Charles Hillinger's Channel Islands" and "The California Islands"; and he edited and organized "Bel-Air Country Club: A Living Legend."
(Los Angeles Times)