John Boyd, milliner who helped make Princess Diana a fashion icon, dies at 92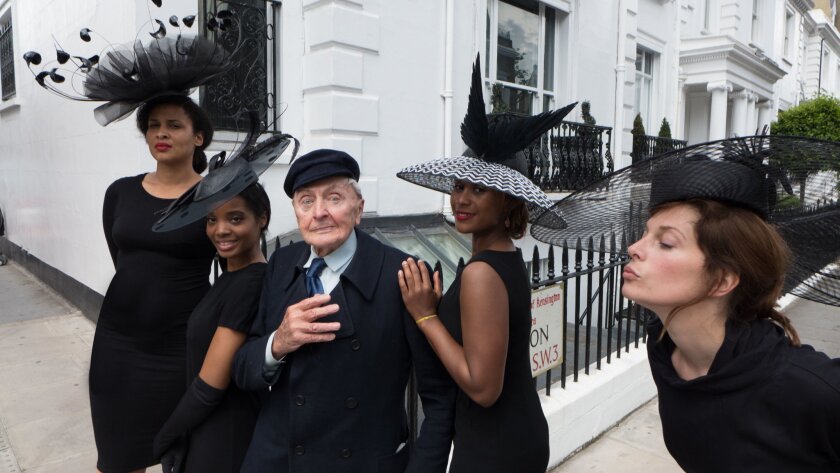 Although she was born into British nobility, Lady Diana Spencer was not fond of hats, except for a woolly one she wore against the chill of a London winter or skiing in the Alps. When she began dating Prince Charles, heir to the British throne, her mother decided to smarten her up and called in her own milliner, the London-based John Boyd.
Boyd, who died Feb. 20 at 92, helped turn Lady Diana, later Diana, Princess of Wales, into a global fashion icon. He provided her with the pink tricorn hat that she wore after her wedding and on her way to her honeymoon — a chapeau that was later copied by milliners across the world and credited with rebooting a stagnant industry.
Princess Diana became one of the world's most photographed people, bringing global attention to Boyd and his hats. He preferred not to be photographed in his own favorite hat, a replica of Chairman Mao's army-style cap.
"Princess Diana frequently visited his shop but preferred to be in his messy workroom where the milliners were working on the hats," said Boyd's protegee Sarah Marshall, who took over the business two years ago. "He was always very discreet about his royal clientele, which rewarded him with their loyalty."
Boyd was the official milliner to British Prime Minister Margaret Thatcher, and he went on to "do a Princess Di" for Kate Middleton, who became the Duchess of Cambridge when she married Diana's elder son, Prince William. The duchess was considered a rather staid dresser until Boyd's hats helped make her a fixture on magazine covers.
He was a milliner for 75 years, eventually based out of a basement shop in London's tony Beauchamp Place shopping district. Although Boyd would visit the royals in their palaces when summoned, many of his clients arrived at 16 Beauchamp Place incognito, slipping down the basement stairs while paparazzi lurked outside the nearby restaurant San Lorenzo, looking for celebrities.
His own byword was discretion. Queried in 1986 about hats he was making for Thatcher and the royal scion Princess Anne, he replied dryly, "They have a brim."
When Boyd started out, there were no fewer than 44 milliners in Beauchamp Place, then known as milliner's row. His shop was, and remains, the last millinery on that street, and it has since become a destination for clients who include working-class ladies dressing up for Wimbledon or the Royal Ascot and Epsom Derby horse races — aiming, in most cases, to match or even outdo the costumed royals and nobles who formed the core of Boyd's business.
His hats were often conspicuous, with huge brims, but his basic principle was that the wearer, usually a woman, should wear the hat rather than the hat wear the woman. His hats were designed to be off the face of the wearer but very much in the face of the beholder.
John Richardson Boyd, a printer's son, was born in Edinburgh, Scotland, on April 5, 1925. The youngest of seven siblings, he was closest to his eldest sister, Jessie, a ballet dancer who would later work in his hat shop and whom he cared for her until her death in 2014. He remembered as a boy helping her and her sisters prepare for dances, fiddling with their hair and dresses to make sure they looked their best.
After leaving school at 15, Boyd worked briefly for the North British Rubber Co. in Edinburgh, where co-workers noticed that he spent most of his time sketching them or his surroundings. They recommended that he head south to London. He was planning to do so when war intervened. Boyd served in the Royal Navy and was aboard a minesweeper during the Normandy invasion.
When he started in the hat trade in postwar England, rationing was still in force and most women were still wearing hand-me-down hats from their mothers. He apprenticed with the Danish-born Aage Thaarup, at the time the most famous milliner in the United Kingdom, before starting his own business in 1951, sleeping under his work table while amassing royal clients based on word of mouth.
One of his first clients was Frances Shand Kydd, Lady Diana's mother. Another was a teenage Princess Anne, whose image he helped turn from "horsy" — like many royals, she loved horses and wore men's flat caps — to a fashion heroine in her own right.
After many relocations over the decades, Boyd settled his shop on Beauchamp Place in 1994. Some of his hats are part of a permanent collection in London's Victoria and Albert Museum. He also started another business, Pamela's, which sold secondhand designer dresses to women who could not afford the originals. It became what locals called "a secondhand boutique for posh frocks."
In 2014, the queen awarded Boyd an MBE — Member of the Order of the British Empire — for his services to fashion. He died at his home in Brighton, England, said Marshall, who did not provide a cause. He never married and had no immediate survivors.
For all his acclaim, Boyd liked to recall his initial attempt to fashion a head-crowning design for a demanding client. "My first hat was literally thrown back at me by an outraged woman in Chelsea," he once said. "'You beast!' she screamed. 'I'm looking for a new husband, not trying to get rid of one.'"
---
Must-read stories from the L.A. Times
Get all the day's most vital news with our Today's Headlines newsletter, sent every weekday morning.
You may occasionally receive promotional content from the Los Angeles Times.