Carl Karcher, 90; entrepreneur turned hot dog stand into a fast-food empire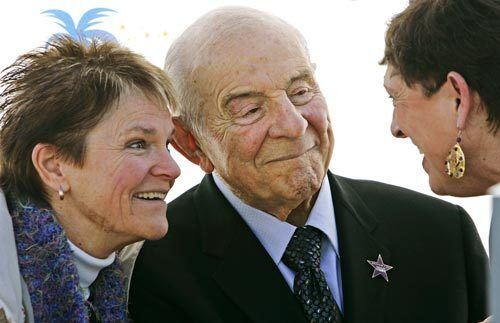 On his 90th birthday in January 2007, Carl Karcher, founder of the Carl's Jr. restaurants, receives a star on the Anaheim/Orange County Walk of Stars. His niece Mary Harrigan is at left. At right is Sue O'Donnell, who worked at one of his original restaurants.
(Don Kelsen / Los Angeles Times)
Special to The Times
Carl Karcher, who parlayed a single hot dog pushcart into a chain of more than 1,000 fast-food restaurants bearing his name, died Friday. He was 90.
The affable, burly entrepreneur, known to millions as the jovial television pitchman for the Carl's Jr. chain, died of complications from Parkinson's-related pneumonia at St. Jude Medical Center in Fullerton, according to Beth Mansfield, a spokeswoman for parent company CKE Restaurants.
A stalwart Orange County Republican, Karcher worked tirelessly for the party and its candidates, still finding time for active and enthusiastic involvement in local causes, including United Way of Orange County, Orangewood Children's Home, the Roman Catholic Knights of Malta, Right to Life League and South Coast Repertory.
The paneled library of his 6,500-square-foot home in Anaheim was adorned with photos of Karcher with the famous, powerful and influential, including Presidents Reagan and Nixon, Soviet President Mikhail Gorbachev, entertainer Bob Hope and Pope John Paul II.
But his support of deeply conservative politicians such as Orange County's John Schmitz, his opposition to abortion and his endorsement of failed legislation that would have permitted schools to fire homosexual teachers earned Karcher the enmity of liberal, gay and women's rights groups.
By the late 1980s, insider-trading allegations against Karcher and his family led to a $664,000 settlement. And by the 1990s, ill-advised personal investments and the plummeting price of Carl's Jr. stock pushed him to the edge of bankruptcy and into a losing battle with the company's board of directors that reduced his role to largely ceremonial duties.
Although the company stock rose, it fell again, and Karcher never regained the power and success that once had made him one of Southern California's most recognized businessmen, with a personal worth said to have peaked at more than $100 million.
Born Jan. 16, 1917, in Upper Sandusky, Ohio, to Leo and Anna Karcher, Carl Nicholas Karcher dropped out of school after the eighth grade to work on his parents' 300-acre farm.
It was the era of the Great Depression, and prospects for farmhands looked pretty bleak. When an uncle, Ben Karcher, offered him a job at the uncle's feed store in Anaheim at $18 a week, the strapping 20-year-old jumped at the chance.
"You didn't say in those days, 'Is that all you can pay me?' " Karcher told some college students years later, according to published reports. "You say, 'Thank you very much, Uncle Ben.' "
After moving to Southern California, Karcher attended St. Boniface Catholic Church in Anaheim, where he met Margaret Heinz, the daughter of a local orange grower.
Karcher, who had gotten a new job wrapping and delivering bread for a local bakery, married her in 1939. Over their more than 66 years of marriage, they would have 12 children. Margaret died of liver cancer in June 2006.
In 1941, Karcher borrowed $311 against his new Plymouth sedan, kicked in $15 of his own and bought a hot dog cart, which he set up at Florence and Central avenues in South-Central Los Angeles, across from the old Goodyear plant. According to the Orange County Business Journal, sales that first day totaled $14.75.
Business picked up, and, within months, Karcher owned several other hot dog carts. After a stint in the Army during World War II, he returned to Southern California in 1945 and opened his first full-service restaurant, called Carl's Drive-In Barbeque, in Anaheim. In 1956, he opened two more restaurants, one in Brea and the other in Anaheim. Smaller versions of the first restaurant, they were called Carl's Jr.
Customers liked the clean, brightly decorated restaurants and quickly got used to the idea of paying when they ordered, then waiting to be served. They liked the cheerful, blustery boss and his hamburgers. And they liked the smiling star that became the Carl's Jr. logo.
By the late 1950s, there were four Carl's Jr. restaurants in Southern California. By 1966, the year Karcher incorporated as Carl Karcher Enterprises, there were 24. By 1975, there were 100.
Karcher worked hard, rising every morning at 5 and attending Mass at St. Boniface before arriving at the company headquarters in Anaheim about 7 a.m.
The boss ate several meals a week at his restaurants, and, wherever he went, he handed out coupons for free hamburgers, wrapped in a Scripture verse. Despite 50- to 80-hour workweeks and a firm commitment to his family, he still found time most evenings to attend a civic, charity or political event. But politics sometimes got him into trouble.
In 1972, he alienated moderates by serving as chairman of the committee to reelect the ultraconservative Schmitz to Congress. Of Wisconsin Sen. Joe McCarthy, castigated for his virulent anti-communist crusades in the 1950s, Karcher said, "I think some of his points were valid." And Karcher said he thought Nixon got a "bum rap" in the Watergate scandal.
Over the years, Carl's Jr. restaurants became a favorite target of protesting feminist and gay rights groups. The feminists didn't like his donations to anti-abortion organizations. Opposition from gays stemmed from his support in 1978 of Proposition 6, a failed initiative that would have allowed schools to fire teachers or other employees who practice or advocate homosexuality.
But for Karcher, who never sought public office, politics were a sidelight.
The focus of his energies was the restaurant chain, which continued to flourish. Sales topped $100 million in 1979, when Karcher opened his first restaurant outside California, in Las Vegas.
In 1980, he brought in his brother, Don, as president, retaining for himself the controlling positions of chief executive and board chairman. The company opened its 300th Carl's Jr. in 1981 and went public the next year.
But by the mid-1980s, things started turning sour. Carl's Jr. expansion efforts in Texas fizzled, and the company's railroad-themed Carl's Whistle Stop Cafes, Mexican-themed Taco de Carlos restaurants and economical Scot's coffee shops all bombed.
Then the Securities and Exchange Commission filed a lawsuit accusing Karcher and several of his relatives of illegal insider trading of Karcher Enterprises stock.
The suit said Karcher and family members had exchanged advance information about a sharp earnings drop at the company in October 1984. The government said that before the information was made public, family members sold company stocks and bonds, avoiding losses that would have totaled at least $310,000.
Karcher called the allegations "totally false," but in July 1989 he and six of his relatives agreed to settle the suit. Without admitting any wrongdoing, Karcher paid a fine of $332,000, and the relatives paid a total of $332,000.
"Carl just wanted to get it behind him, for the benefit of his family and children," said his attorney, Thomas Holliday.
By 1990, a revamped menu and new management sent the company stock back up again. Then, in 1992, Don Karcher, the boss' most powerful ally, died. Carl Karcher retained the title of board chairman, but an increasingly independent board of directors named James E. Doyle Jr., a former executive at Kentucky Fried Chicken, as chief executive.
"Carl was not able to deal with having someone else in charge," Elizabeth A. Sanders, who would become a key figure in Karcher's undoing, said later. "And more than that, it was somebody he couldn't push around."
By early 1993, things weren't going well personally for Karcher either. Records show that he had lost millions in personal investments, much of it in real estate.
Later that year, led by Doyle, the board of directors rejected Karcher's plan to create a joint operating agreement with the much smaller Green Burrito fast-food chain, in part because the proposed deal reportedly included a personal loan to Karcher from Green Burrito's controlling shareholder, William Thiesen.
In October 1993, despite expansion of the chain to more than 600 Carl's Jr. restaurants, company profits vanished and the stock value plummeted in the face of stiffening competition from big chains such as McDonald's.
Company directors called a meeting and ousted Karcher as board chairman, replacing him with Sanders, a former Nordstrom executive.
Karcher's wife stood up at the meeting "and told them that none of them knew what they were doing to Carl, that none of them had ever built something from nothing, as he did," according to his personal lawyer, Andrew F. Puzder.
"I feel I've been stripped of my office by a bunch of turncoats," Karcher told reporters.
The board said it acted only after Karcher had rejected proposals for the amicable settlement of a dispute involving board control, management and the strategic direction of the company.
Nonetheless, two months later, the board brought Karcher back in the relatively toothless position of chairman emeritus, with no say in day-to-day management. But his salary was more than $400,000 a year, and in the months that followed, his Green Burrito marketing plan was adopted. Karcher said it was nice to be back.
With personal assets pledged against his outstanding business loans, Karcher still faced financial problems, and friends lent him money to help out. Company stock plunged from $40 a share in 1998 to $9 a share in August 1999, due largely to struggles at the Hardee chain, which the company had purchased in 1997. Karcher was forced to sell 2.1 million shares to meet margin calls by his broker in 1999, and that reduced his stake in the company to less than 3%.
"He's still a very rich man," Puzder said at the time. "He just doesn't have what he used to have."
Although the company headquarters moved to Carpinteria in 2003, Karcher kept his office in the old headquarters in Anaheim, within walking distance of his home. In June 2004, he left the board of directors and effectively retired, retaining the title of director emeritus.
Karcher is survived by three sons, Carl Leo, Jerome and Joseph; eight daughters, Anne Marie Wiles, Barbara Wall, Catherine Karcher, Janelle Karcher, Margaret Jean Le Vecke, Patricia LaGraffe, Mary Miller and Rosemary Miller; 51 grandchildren; and 45 great-grandchildren. A ninth daughter, Carleen, died in 1993.
A public vigil service and rosary will be held at 7 p.m. Thursday, and a funeral Mass will be celebrated at 11 a.m. Friday, both at St. Boniface Catholic Church. Karcher will be buried at 11 a.m. Jan. 19 at Holy Sepulcher Cemetery in Orange.
Instead of flowers, donations may be sent to Mercy House, a support center serving homeless families in Orange County and the Inland Empire and founded by Father Jerome T. Karcher, at P.O. Box 1905, Santa Ana, CA 92702 ( www.mercyhouse.net) or Providence Speech and Hearing Center, 1301 Providence Ave., Orange, CA 92868 ( www.pshc.org).
Times staff writer Hector Becerra contributed to this report.
---
Must-read stories from the L.A. Times
Get the day's top news with our Today's Headlines newsletter, sent every weekday morning.
You may occasionally receive promotional content from the Los Angeles Times.