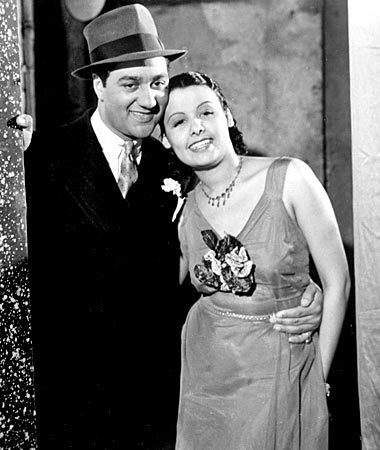 25 Images
PHOTOS: Lena Horne | 1917-2010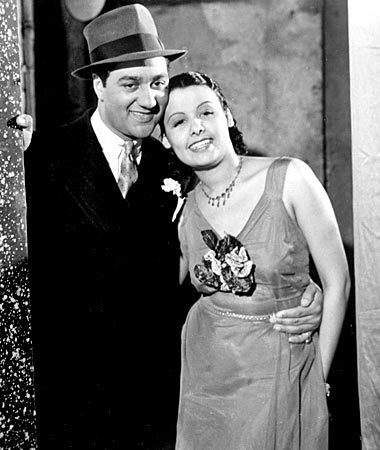 Ralph Cooper and Horne in 1938's "The Duke Is Tops." Horne's mother pushed her daughter to quit school at 16 and go into show business at Harlem's Cotton Club. Horne, who broke racial barriers as a Hollywood and Broadway star famed for her velvety rendition of "Stormy Weather," has died at 92.
()
Singer Lena Horne in her dressing room in 1941. The glamorous Horne would go on to be "one of the legendary divas of popular music," jazz critic Don Heckman wrote in The Times in 1997, with a voice that almost caressed "with its warm timbre and seductive drawl."
(Associated Press)
Lena Horne appeared in the all-black MGM musical "Stormy Weather" alongside Bill "Bojangles" Robinson in 1943.
(20th Century Fox)
Singer Lena Horne photographed in the 1940s. Refusing to play maids or other stereotypical parts then offered to black actors, Horne had a nonspeaking role as a singer in her first MGM movie, "Panama Hattie," a 1942 comedy.
(Associated Press)
Lena Horne, shown in a 1946 promotional photo for the musical " 'Til the Clouds Roll By," paved the way for generations of African American performers with a smoldering singing style steeped in early jazz and blues. "I was unique in that I was a kind of black that white people could accept," Horne once said and rued that she was more popular as a performer because she could "pass" for white.
(Associated Press / WNET)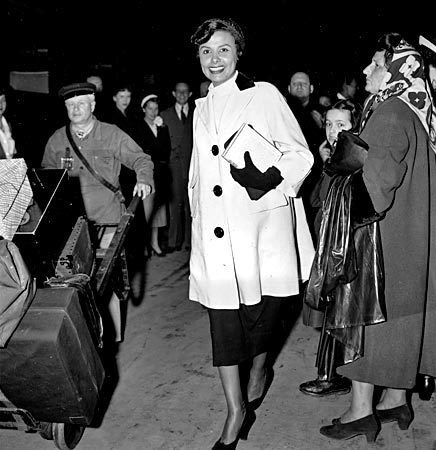 American actress-singer Lena Horne arrives at the Gare St. Lazare in Paris on May 26, 1950.
(Associated Press)
George Burns and Lena Horne join Perry Como on the singer's popular variety show, which ran on NBC from 1955 to 1963. Horne lost some film, TV and radio work in the early 1950s because of her involvement with two groups named as Communist fronts, but she remained a popular nightclub/cabaret performer
(Associated Press)
Singer and actress Lena Horne with her husband, MGM musical director Lennie Hayton, aboard the liner Liberte on Sept. 11, 1952. They were arriving in New York City after a concert and vacation tour of France and England. Afraid of adverse public reaction, they married in Paris in 1947 but did not announce their union for almost three years.
(Associated Press)
In the 1950s, Lena Horne honed her singing at such clubs as the Cocoanut Grove in L.A., shown here in 1956.
()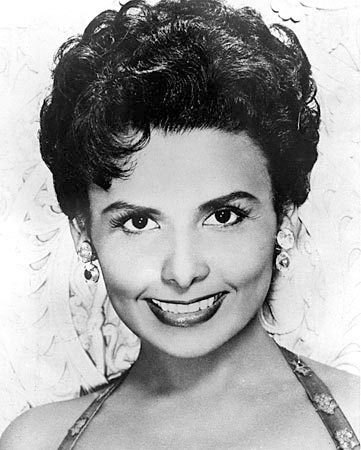 Actress-singer Lena Horne in 1957. "Lena Horne at the Waldorf Astoria" was RCA Victor's biggest-selling album by a female vocalist that year.
(Associated Press / Photofest / WNET)
Queen Elizabeth II shakes hands with Lena Horne as she meets the cast after attending the annual Royal Variety command performance at the London Palladium on Nov. 2, 1964. The show raised about $100,000 for charities.
(Associated Press)
Actress-singer Lena Horne on the movie set of "Death of a Gunfighter" in Hollywood in 1968.
(Associated Press)
Lena Horne performs at the Soul Food Dinner Benefit for the Free Southern Theatre at New York's Waldorf-Astoria Hotel in 1969.
(Moneta Sleet Jr. / Ebony Collection)
The entertainer made a triumphant return in the 1981 Broadway production "Lena Horne: The Lady and Her Music." She received a special Tony Award for the autobiographical show that ran for more than a year and produced a Grammy Award-winning soundtrack album.
(Associated Press)
Actress Debbie Reynolds, right, congratulates Horne backstage at New York's Nederlander Theatre after seeing "Lena Horne: The Lady and Her Music."
(Ray Stubblebine / Associated Press)
Barry Manilow and Horne backstage at the Nederlander in 1981.
(Associated Press)
Lena Horne with record producer Quincy Jones, left, holding his Grammy, and Dan Morgenstern of the National Academy of Recording Arts and Sciences as she displays her Grammy and the record that earned it, in New York in 1982.
(Ron Frehm / Associated Press)
Lena Horne celebrates her 65th birthday and the closing of her Broadway run in "Lena Horne: The Lady and Her Music" with jazz artist Count Basie on June 30, 1982.
(Nancy Kaye / Associated Press)
Actress Lillian Gish, left, Horne and actress-singer Cher at the 36th annual Tony Awards ceremony in New York City in 1982.
(Suzanne Vlamis / Associated Press)
In an undated photo, Lena Horne makes a radio appearance. Critic Don Heckman has said that Horne was "one of the legendary divas of popular music" ---a singer who "belonged in the pantheon of great female artists that includes Ethel Waters, Billie Holiday, Ella Fitzgerald, Sarah Vaughan and Carmen McRae."
()
Two recipients of the 1985 Governor's Art Awards, philanthropist Brooke Astor, left, and singer Lena Horne, pose together during award ceremonies at the Metropolitan Museum of Art in New York in 1985.
(Associated Press)
Horne at the 65th Annual Academy Awards ceremony in Los Angeles in 1993.
(Associated Press)
Lena Horne in 1994. "My life has been about surviving. Along the way I also became an artist. It's an interesting journey. One in which music became my refuge and then my salvation," Horne wrote in "Lena Horne: In Her Own Voice."
(Garth Vaughan / Associated Press)
Though Horne personified the glamour of Hollywood, she also became active in the '60s civil rights movement, speaking at rallies and singing at demonstrations.
(John Abbott / Blue Note Records / AP)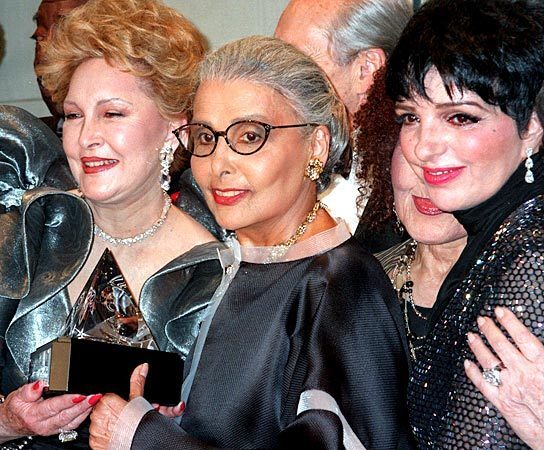 In 1997, the performer was honored at the Society of Singers' Lena Horne 80th Birthday Gala in New York.
(Aubrey Reuben / Associated Press)