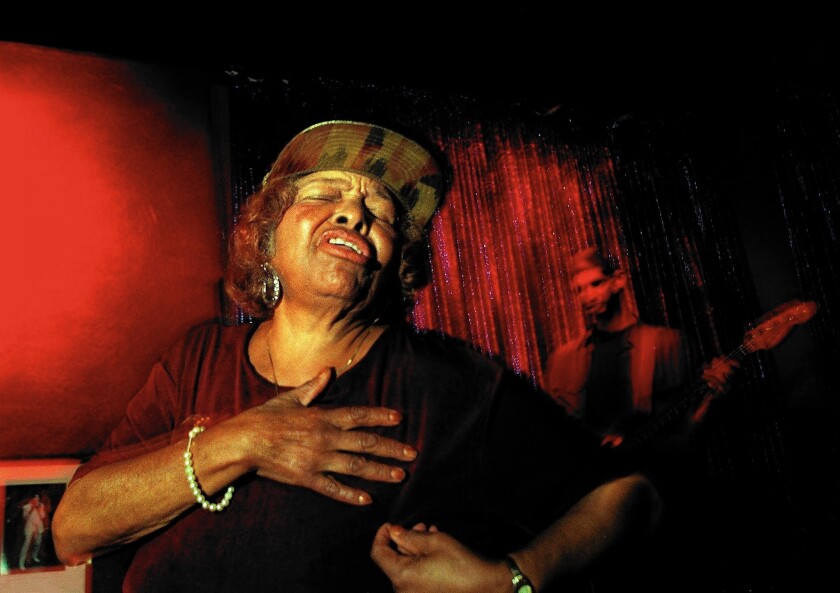 Mickey Champion, a dynamic blues singer whose stirring vocals were heard for more than five decades in nightclubs across Los Angeles from Central Avenue to the San Fernando Valley, has died. She was 89.
Champion died Monday of natural causes at the West Side Health Center in Los Angeles, her family said.
Well-known for the strength of her vocals — she could fill a room without the aid of a microphone — she was also a highly praised interpreter of the blues, with a voice that sustained its emotional intensity and volume into her 80s.
"She's one of the greatest singers out there," said R&B saxophonist Big Jay McNeely, whose musical association with Champion reached back to the 1940s and '50s.
Though she was best known to her legions of Los Angeles fans who heard her in local venues, Champion's far-ranging career included performances on the same stage with Billie Holiday in Detroit, Sarah Vaughan in Kansas City, and Dinah Washington, Duke Ellington, T-Bone Walker, Ray Charles and Jackie Wilson, among others, in night spots across the country.
Her numerous other high visibility associations included a gig as the first vocalist to work with Percy Mayfield after the success of his hit "Please Send Me Someone to Love." She also performed with Roy Milton — whom she eventually married — after the release of his 1945 hit, "R.M. Blues."
The range of Champion's performances and the variety of her musical linkages were not surprising, given her mastery of the blues in all its many forms. A vital link to the powerful blues tradition reaching back to the '20s, '30s and '40s, she influenced such younger blues artists as Linda Hopkins and Barbara Morrison.
Hopkins, who first heard Champion in the late '40s, once told the Los Angeles Times, "She was a hot ticket then, a great singer and a great entertainer. I had never seen someone in a nightclub without a mike."
Born Mildred Sallier in Lake Charles, La., on April 9, 1925, Champion was raised by several aunts. Her first singing experience took place in the Lake Charles Christian Methodist Episcopal Church, where her grandfather was a bishop. Admired for the quality and intensity of her spiritual singing, she became part of a vocal trio, and while in high school was heard and praised by bandleader Louis Jordan. But her aunt and uncle insisted that she turn down Jordan's invitation for Champion to join his traveling company.
"They wanted to take me along with them," Champion said in a 1998 Times article. "But honey, there was no way my auntie and uncle were going to let me go out there like that."
Shortly after she graduated from high school, she married Norman Champion. In 1945, she and her husband moved to Los Angeles. The move was the beginning of Champion's career. Originally known as "Little Mickey Champion," she soon became an active participant in the busy Los Angeles nightclub scene.
At the time, Central Avenue was an extraordinary center of musical activity. On any given night, the likes of Duke Ellington, Charlie Parker, Dizzy Gillespie and other iconic jazz artists could be heard in one of the Avenue's many jazz clubs.
"I'd just go up on Central and look at the other singers," Champion recalled. "Billie Holiday, Jimmy Witherspoon, T-Bone Walker — you name 'em, every last one of 'em, I would go up there and hear them."
In the late '40s and early '50s, her activities expanded beyond Los Angeles, including appearances with Johnny Otis (filling in on club dates for an underage Esther Phillips), Percy Mayfield and Milton, with whom she recorded for Modern Records. Her relationship with Milton soon moved beyond music-making; they were married and their son Jeffrey was born.
A series of recordings by Champion and Milton in the '50s for Dootone and King Records failed to produce positive results and Champion resumed performing in nightclub. It was yet another example of the uncertainties of her career as a singer.
"I had record contracts," Champion told The Times. "Shoot, they just held the contracts, didn't even call me in .... That would be the big companies that could really help me to get a hit record. But everybody who had the small companies really, really, really tried. And that's the honest God's truth. Because they really didn't know how."
In the '60s she retired from performing and focused on raising her children. For the next two decades she worked as a cook for the Los Angeles Unified School District, occasionally singing in clubs on weekends.
Over the last decade and a half, three Champion CD collections have been released: "Bam a Lam: The R&B Recordings 1950-1962," "What You Want" and "I Am Your Living Legend."
Champion suffered a series of strokes five years ago and moved to an assisted living center. She remained at West Side Health Center until she died.
"Whatever happens I'm glad that it happens," Champion once said. "That's the type of person I am. That's the way I look at it, because I know that I'm blessed, and I'm thankful."
Champion is survived by her sons Jeffrey and Norman.
---