Ottavio Missoni dies at 92; patriarch of Italian fashion brand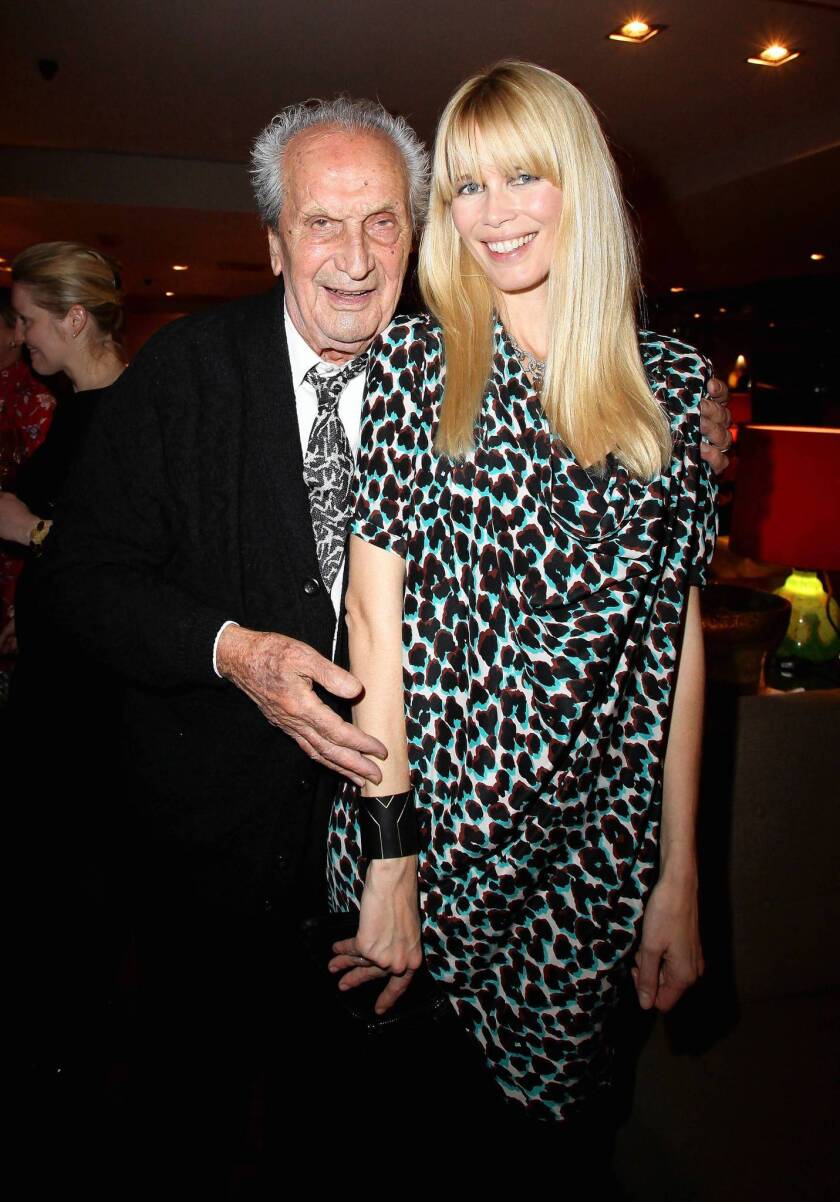 Ottavio Missoni, patriarch of the Italian luxury fashion brand built on zigzag-patterned knitwear, died Thursday at his home in Sumirago, Italy. He was 92.
A family spokesman announced his death but did not give the cause.
The Missoni label gained prominence in the fashion world in the late 1960s and early 1970s for using knitwear as a canvas for kaleidoscopic flame, zigzag and space dye designs, and fashioning a new kind of informal, soft wardrobe.
In the decades since, three generations of the Missoni family have helped build that humble knitwear business into a global empire.
Today, the label is a full-blown luxury lifestyle brand that has the family name gracing eyewear, fragrances and footwear as well as hotels and home furnishings.
In the U.S. it's sold through high-end department stores such as Neiman Marcus, Saks Fifth Avenue and Nordstrom as well as independent boutiques. Missoni also has a network of standalone retail U.S. locations that include a store on Cross Creek Road in Malibu and another on Madison Avenue in New York.
Missoni's path to fashion fame had nearly as many zigs and zags as the patterns that made the company famous, and began on the runner's track. He was born Feb. 11, 1921, in Ragusa, Yugoslavia (now Dubrovnik, Croatia), to a sea captain and a countess. Specializing in the hurdles and 400-meter races, he joined Italy's national team in 1937 at age 16, going on to win the 1939 Italian Championships and World Student Games.
His ascent in athletics was interrupted by a stint in the Italian army during World War II, when he was taken prisoner of war in Egypt. In 1948 he and a partner opened a knitwear factory in Trieste — the same year Missoni was a 400-meter hurdles finalist in the London Olympic Games.
It was there he met Rosita Jelmini, an Italian girl studying abroad (and whose family owned a textile factory). They married in 1953 — the same year they launched their business designing and manufacturing knitwear in Gallarte, Italy. By 1968 Missoni S.p.A. was established at Sumirago, which continues today to be the nerve center of both company and family activity.
Among the family members involved in operations is granddaughter Margherita, who designs accessories and has appeared in ad campaigns.
The label made headlines in September 2011 when a collaboration with Target proved so popular that it caused that retailer's website to crash — and resulted in a post-frenzy boost in business for Missoni's spring 2012 ready-to-wear line.
The following month, Ottavio "Tai" Missoni was among the family members on hand in Beverly Hills to accept the Rodeo Drive Walk of Style Award. Theirs was the first fashion house to be honored as an entire family.
When he spoke with The Times during that October 2011 visit, the 90-year-old showed no sign of slowing down. Having recently won a gold medal in a track and field event for nonagenarian athletes, he sat on a restaurant patio for more than three hours, talking about the past, present and future of the brand — and, with a sense of humor that made meeting him so memorable, offered up how he'd managed to navigate years of meaningless cocktail party chitchat without giving offense.
"You can handle any conversation with just three words," he said. "'Really,' 'sometimes,' and 'maybe.'" To prove his point, he asked a reporter to start a conversation. After no more than a sentence, a quizzical look crossed his face. "Really?" he asked.
After another two minutes of prattling on he interjected with an authoritative: "Sometimes."
Eventually he leaned back in the Southern California sun, shrugged his shoulders and said: "Maybe."
Missoni is survived by his wife, Rosita; daughter Angela Missoni, who serves as the company's creative director; son Luca, who also works in the family business,; and several grandchildren. Another son, Vittorio, the company's chief executive, was among the four passengers of a small plane that disappeared four months ago in Venezuela.
---
Must-read stories from the L.A. Times
Get all the day's most vital news with our Today's Headlines newsletter, sent every weekday morning.
You may occasionally receive promotional content from the Los Angeles Times.