PASSINGS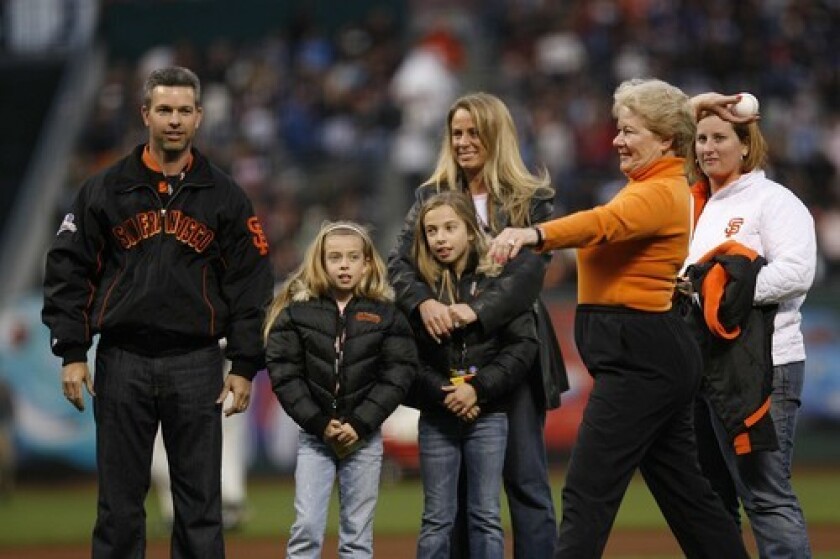 Sue Burns
Part-owner of Giants was a faithful fan
Sue Burns, 58, a part owner of the San Francisco Giants who was a close friend of home run king Barry Bonds, died Sunday of complications from cancer, team spokesman Jim Moorehead said.
She was diagnosed with the disease July 10. Nearly always dressed in orange, she was a fixture at the Giants' ballpark in the lower box seats near San Francisco's dugout.
Burns, an Alaska native, often followed the team on the road and regularly went to spring training in Arizona. The Giants estimated that she attended at least 1,000 games over the last decade.
Burns and her husband, Harmon, who died of heart failure in 2006 at age 61, were largely responsible for keeping the Giants in the Bay Area in 1992 rather than relocating to Florida. Bonds arrived the next year and went on to become baseball's career home run leader when he broke Hank Aaron's record in August 2007.
The couple also were integral in building the team's 10-year-old waterfront ballpark at China Basin.
The Giants didn't detail Burns' stake in the team but said she was the club's largest shareholder. However, she was never the controlling owner of the franchise.
Bill Neukom took over as controlling owner in October 2008 from Peter Magowan, who headed the group that bought the team after the 1992 season.
Beverly Roberts
Actress, theater union figure
Beverly Roberts, 95, who co-starred with Humphrey Bogart in the 1936 film "Two Against the World," died July 13 at her home in Laguna Niguel of natural causes, her second cousin Christina Baker said.
Born May 19, 1914, in Brooklyn, N.Y., Roberts became a Warner Bros. contract player in 1935. She made her first film the next year with Al Jolson in the musical "The Singing Kid."
She starred as a female lumberjack in "God's Country and the Woman" in 1937, replacing Bette Davis in the lead. She also appeared with Bogart and Pat O'Brien in "China Clipper" in 1936 and with Errol Flynn and Joan Blondell in "Perfect Specimen" in 1937.
After leaving Warner Bros. in 1940, she toured the country as a singer with the Dorsey Brothers band.
In 1950, she became administrator of Theater Authority, a union post she held for 25 years.
Never married, she worked in watercolor painting in her later years.
Dee Dee Bellson
Singer, daughter of Bailey, Bellson
Dee Dee Bellson, 49, the daughter of Broadway entertainer and singer Pearl Bailey and jazz drummer Louie Bellson who went on to craft her own singing career, died July 4 at her home in Charlottesville, Va., after a heart attack, according to her friend and producer Rod Nave.
Bailey and Louis Bellson married in London in 1952 and later adopted two children, Dee Dee and Tony. The family settled in Northridge.
Dee Dee, who was born April 20, 1960, often traveled with her mother on tour. She began singing as a youngster and sometimes appeared with Bailey on television variety shows.
She attended Pierce College in Woodland Hills, then as a vocalist toured with various jazz groups. She sang on recordings by Weather Report and Wayne Shorter, among others.
She also performed with her father's big-band ensemble at many venues across the Southland. He died in February; Bailey died in 1990.
-- times staff and wire reports news.obits@latimes.com
---
Must-read stories from the L.A. Times
Get all the day's most vital news with our Today's Headlines newsletter, sent every weekday morning.
You may occasionally receive promotional content from the Los Angeles Times.