Patrick Swayze dies at 57; star of the blockbuster films 'Dirty Dancing' and 'Ghost'
Patrick Swayze is shown with other cast members of the 1983 Warner Bros. film "The Outsiders," directed by Francis Ford Coppola. From left are Emilio Estevez, Rob Lowe, C. Thomas Howell, Matt Dillon, Ralph Macchio, Swayze and Tom Cruise.
(Warner Bros. / Associated Press)
After a month in the wilderness Matt (Charlie Sheen), Robert (C. Thomas Howell) and Jed (Patrick Swayze) return to find their hometown neutralized by Russian and Cuban invaders in the 1984 movie "Red Dawn."
(MGM / UA)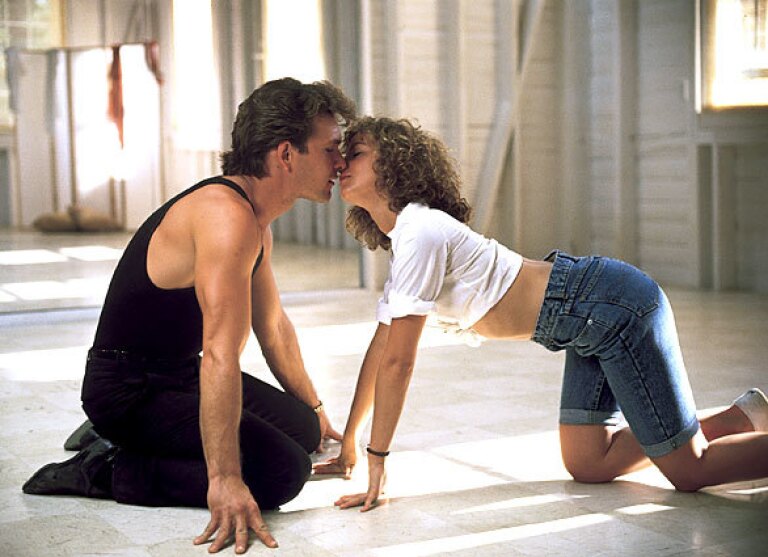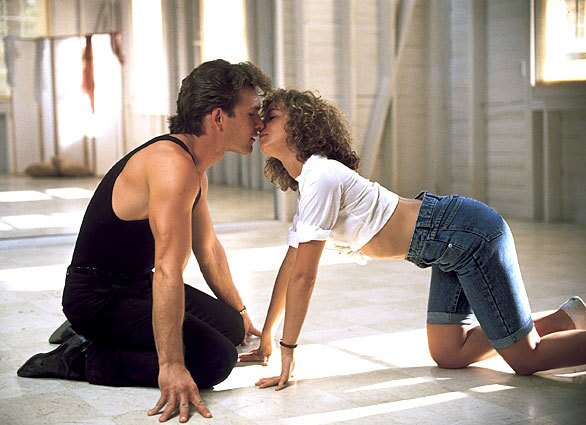 Patrick Swayze and Jennifer Grey starred in the 1987 movie "Dirty Dancing," a musical love story set at a Catskill Mountain Resort in 1963. Swayze wrote and performed the song "She's Like the Wind" for the movie.
(Vestron Pictures)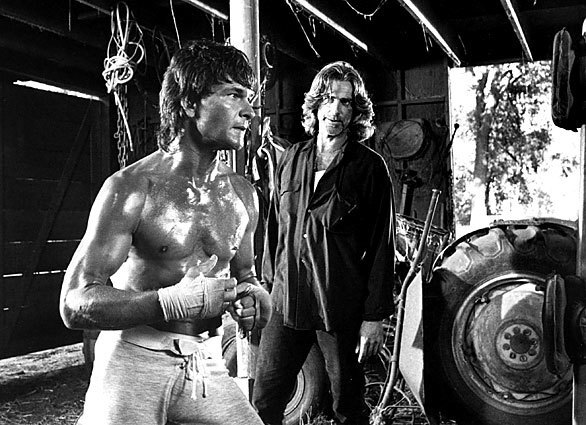 Patrick Swayze played Dalton, a legendary bouncer hired to restore order to a notorious bar in Jasper, Mo., in "Road House" (1989).
(Silver Pictures)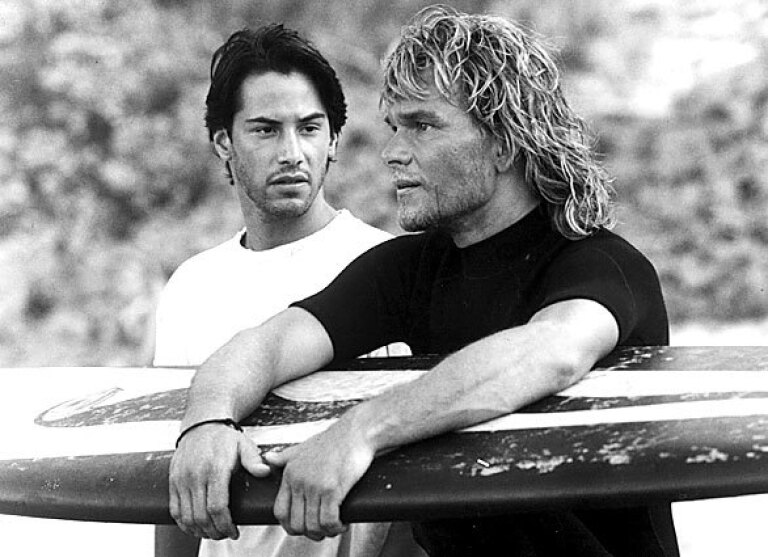 Patrick Swayze played surfer Bhodi, whose surfing crew was being investigated by undercover FBI agent Johnny Utah (played by Keanu Reeves), in the 1991 action film "Point Break."
(Twentieth Century-Fox)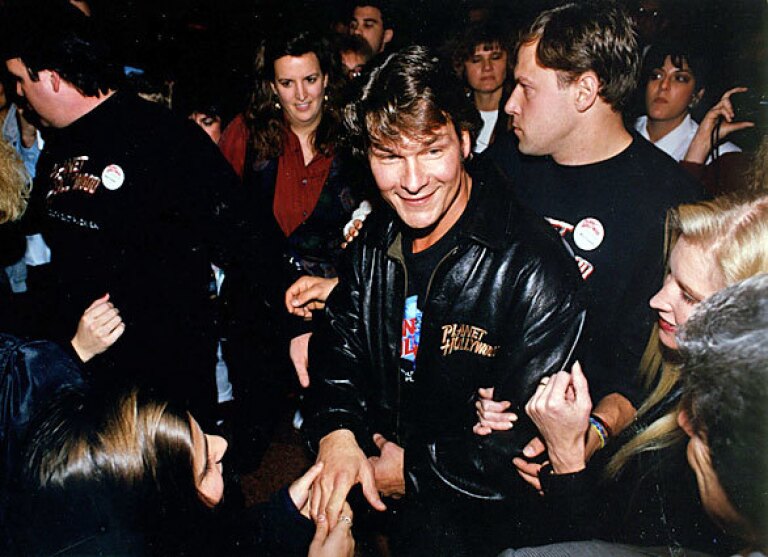 Swayze visits Planet Hollywood in Costa Mesa in 1992 to present his shoes from the movie "Dirty Dancing."
(Los Angeles Times)
Swayze played a dispirited American doctor whose life becomes entwined with those of a British clinic owner and an Indian couple in an impoverished area of Calcutta called the City of Joy in the 1992 film "City of Joy."
(TriStar Pictures)
Swayze played Sam Wheaton, who is killed in a botched mugging and returns to Earth to take care of unfinished business and protect his girlfriend, Molly (played by Demi Moore), in the 1990 romantic thriller "Ghost."
(Paramount Pictures)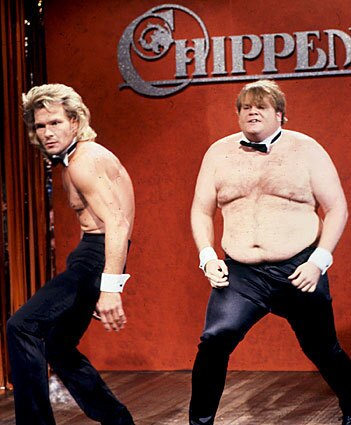 As a host of Saturdy Night Live in 1995, Swayze performs a sketch with actor Chris Farley as guys auditioning to become Chippendale dancers.
(Al Levine / NBC)
Actor Patrick Swayze and his wife, Lisa Niemi, arrive at Swayze's Mulholland Drive Cafe in New York after Niemi's opening night on Broadway in the Will Rogers Follies.
(Associated Press)
Swayze played an ex-con who is hired to drive a truck cross-country to deliver illegal guns in the 1998 film "Black Dog."
(Universal Pictures)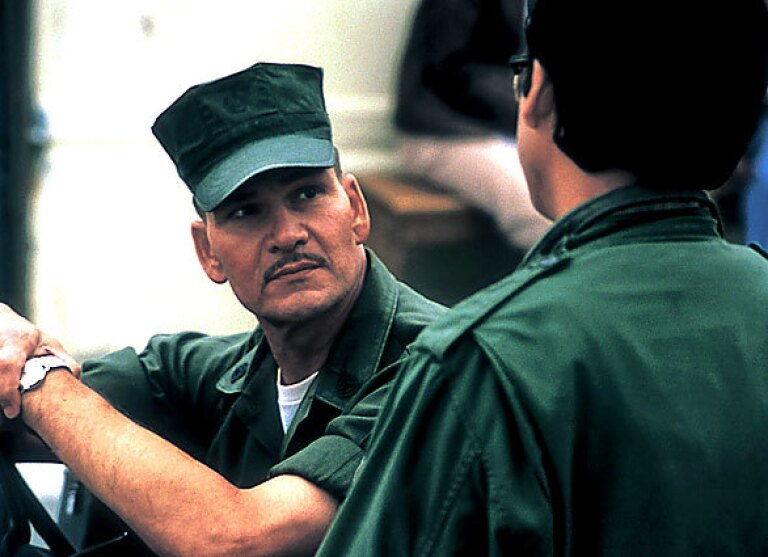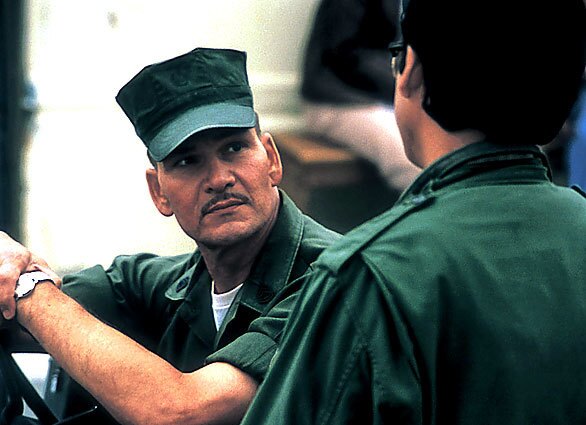 Patrick Swayze played Gunnery Sgt. Jim Lance, a marine put in charge of a refugee camp after the Vietnam War, in the 2002 film "Green Dragon."
(Silver Nitrate Entertainment)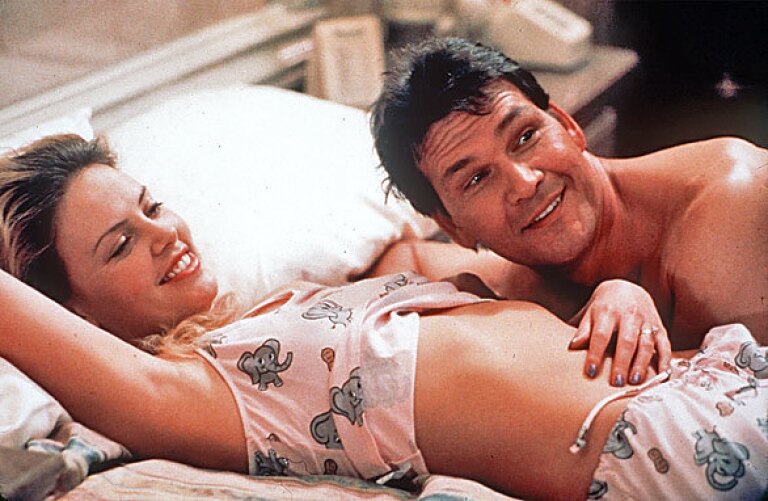 Swayze and actress Charlize Theron starred as Roy and Candy Kirkendall in Jordan Brady's 2002 romantic comedy "Waking Up in Reno."
(Miramax)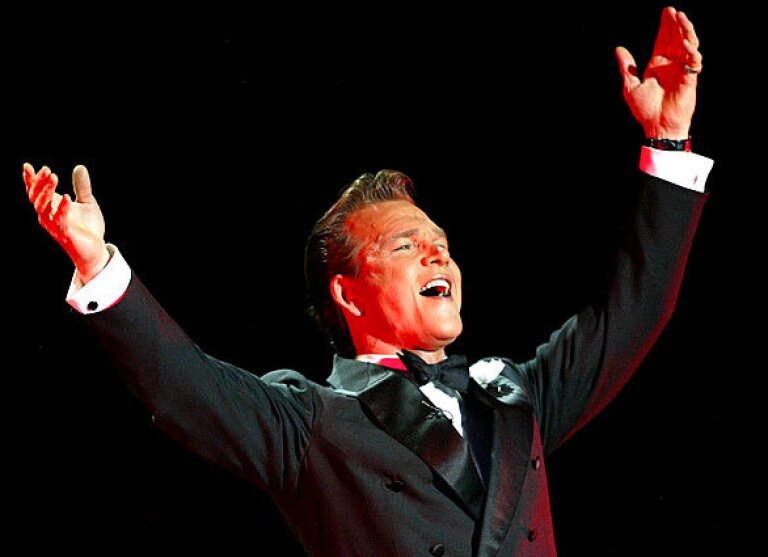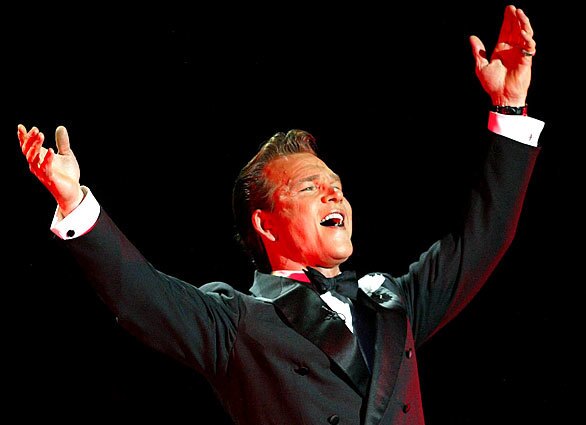 Swayze was a head of cast in the Broadway/L.A. production of "Chicago" at the Pantages Theatre in Hollywood in 2004.
(Ken Hively / Los Angeles Times)
Swayze was in the 2004 documentary "Overnight" about L.A. bartender Troy Duffy (shown) who became a minor celebrity when Miramax offered him $1 million for a screenplay.
(Sundance Film Festival)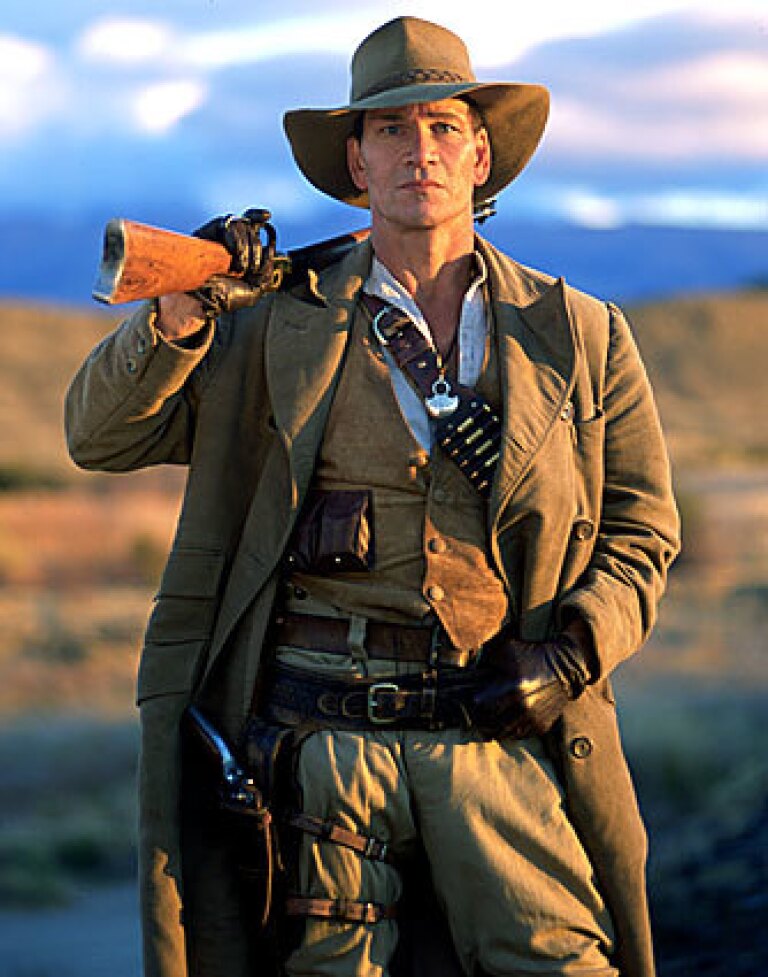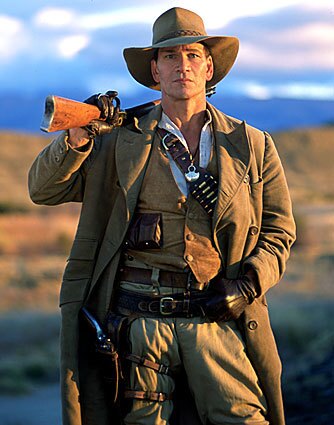 Swayze starred as Allan Quaterman in the Hallmark Channel movie "King Solomon's Mines" in 2004.
(Hallmark Entertainment)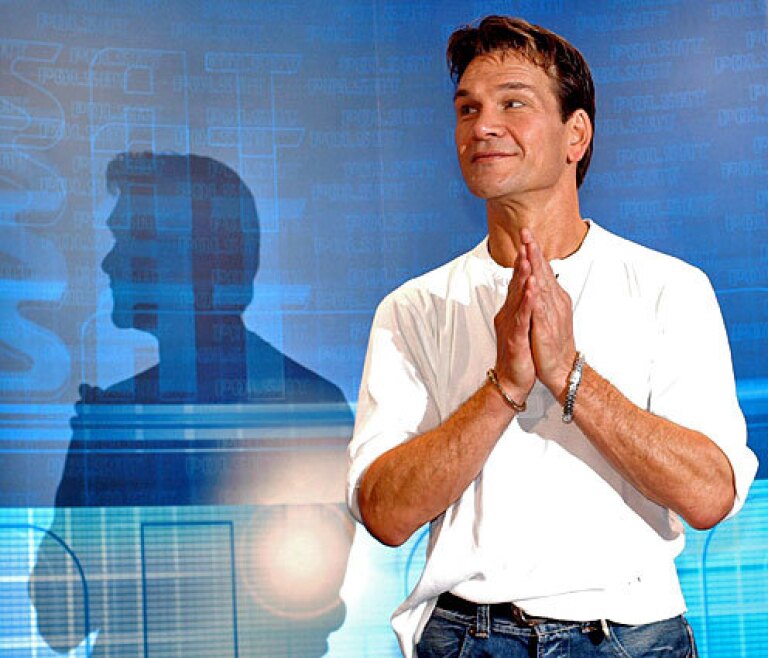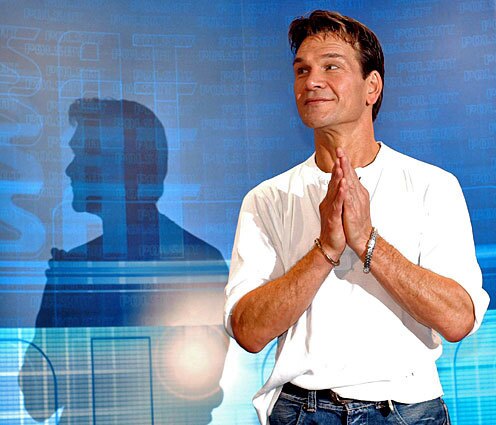 Patrick Swayze gives a press conference in Warsaw, Poland, in 2004. Swayze checked himself into a hospital on Jan. 9, 2009 after contracting pneumonia. Officials for the A&E television network, for whom Swayze was filming the series "The Beast," broke the news and said that it was a result of the immune deficiencies caused by the chemotherapy course that Swayze was undergoing.
(Jacek Turczyk / European Pressphoto Agency)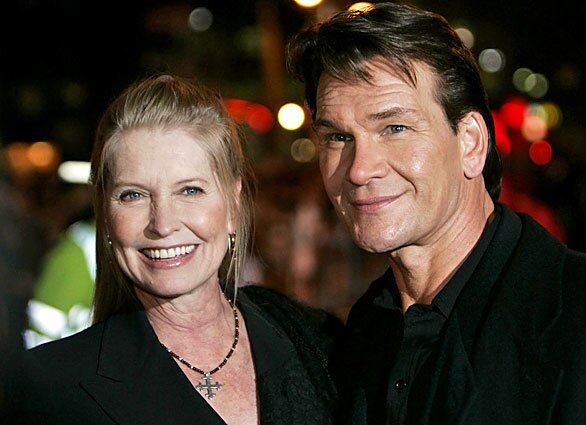 Patrick Swayze, accompanied by his wife, Lisa Niemi, pose prior to the premiere of his film "Keeping Mum" in 2005 in central London.
(Lefteris Pitarakis / Associated Press)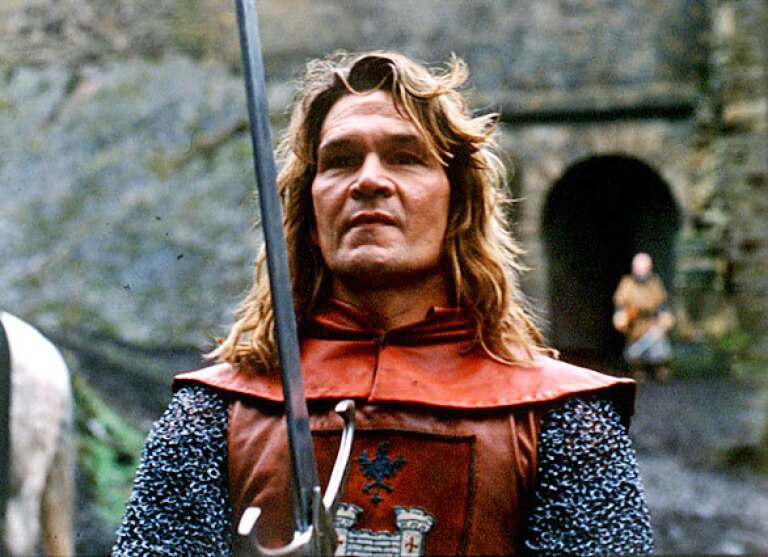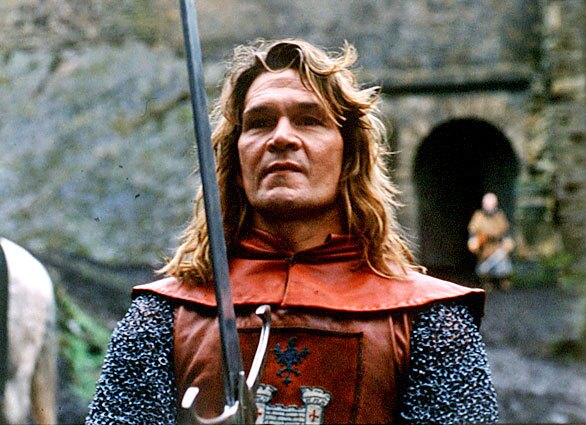 Patrick Swayze appeared as Garth in the Sci Fi Channel production "Dragon Sword" in 2006.
(Sci Fi Channel)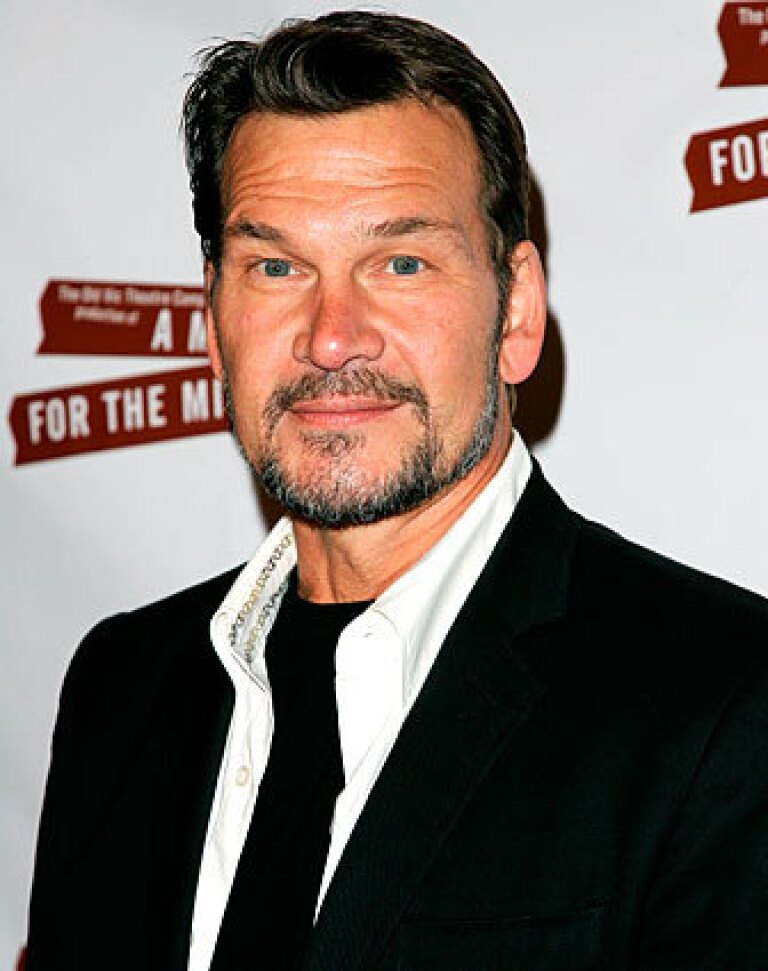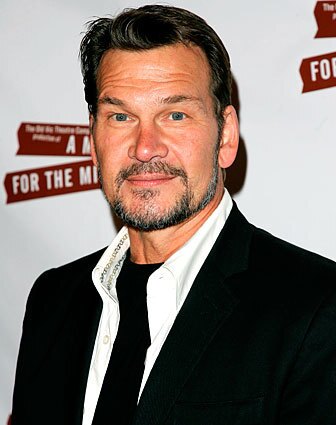 Patrick Swayze arrives at the after party for the opening night of "A Moon For The Misbegotten" in April 2007 in New York City.
(Bryan Bedder / Getty Images)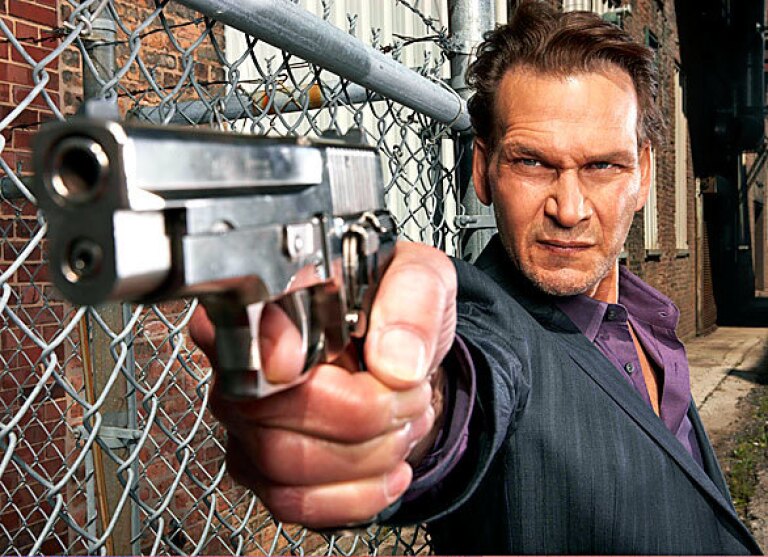 In this image released by A&E, Patrick Swayze is shown in a promotional photo for the A&E series, "The Beast," premiering Jan. 15, 2009.
(Michael Muller / A&E via Associated Press)
Patrick Swayze, the actor and classically trained dancer whose role in the enduringly popular "Dirty Dancing" made him a movie star, one who struggled with the alienation of fame and against being typecast as a leading man, died Monday. He was 57.
Swayze, who also starred in the blockbuster film "Ghost," died in Los Angeles with his family at his side, his publicist, Annett Wolf, said.
---
FOR THE RECORD:
Swayze obituary: The obituary of actor Patrick Swayze in Section A on Sept. 15 said he played Prince Charming in a touring "Disney on Parade" ice show. The "Disney on Parade" shows, performed from 1969 to 1973, took place on wooden floors at arenas. —

---
Early last year, Swayze learned he had pancreatic cancer, a diagnosis that came two weeks after production wrapped on the pilot of "The Beast," an A&E series in which he starred as an unorthodox FBI agent.
Although the cancer was advanced, he was found to have a more controlled form of the disease and persuaded the network to go ahead with the series.
It was shot over five months in Chicago while Swayze was undergoing chemotherapy and taking an experimental drug that targets tumors.
"I'm proud of what I'm doing," Swayze told the New York Times in October. "How do you nurture a positive attitude when all the statistics say you're a dead man? You go to work."
Days before the series debuted in January, Swayze was admitted to a hospital with pneumonia, a turn that cast a pall over the launch of the show. He was released after a week and went home to rest.
His fame intruded on his final months as he wrestled with what he called the "reckless reporting" that regularly pronounced he was near death. Such coverage amounted to "emotional cruelty," he said, "when hope is so precious."
When "Dirty Dancing" was released in 1987, it was a sleeper hit that soared in large part because of Swayze's considerable charisma and dancing skills. Critics praised the ruffian nobility he brought to the character of Johnny Castle, a sexy-yet-sensitive dance instructor from the wrong side of the tracks.
They also noted the red-hot chemistry between Swayze and his teen pupil, nicknamed Baby, played by Jennifer Grey. Their exuberant performances were considered career-making.
To Swayze, the musical love story set at a Catskills resort worked because people relived "those wonderfully painful moments . . . when you just need to love somebody with all your heart, and to be loved back. . . . Plus, it was a pretty sexy movie," he told The Times in 1997.
In "Dirty Dancing's" climactic scene, Swayze delivers a line with swaggering perfection. "Nobody puts Baby in a corner," he says as he defies her father and pulls her up for a final uplifting dance sequence. Fans said that scene secured the movie's place in the pantheon of best date movies of all time.
He turned down a reported $7 million to star in a "Dirty Dancing" sequel and resisted roles that would cast him as a hunk with a heart.
"I look for curveballs in my life," Swayze told the Chicago Tribune in 1989.
After appearing as a roughneck cop in "Next of Kin" and as a steely bouncer in "Road House" -- two 1989 movies that flopped -- he fought for a leading role in the romantic tear-jerker "Ghost." Swayze told an interviewer that he thought the part would help him be seen as an actor, rather than the "dance dude" or "action guy."
In the film, Swayze is an investment banker who gets killed and returns as a ghost to solve his murder and more fully express his love for his girlfriend, played by Demi Moore. Whoopi Goldberg, in an Oscar-winning role, is the reluctant medium who conveys his messages. The film struck a seductive chord with audiences and was a runaway hit.
"Ghost" confirmed Swayze's heartthrob status -- former Times movie critic Sheila Benson wondered in her 1990 review whether certain scenes had been earmarked "Swayze Shirt Opportunity" because he went without one so much. But the movie conferred legitimacy on Swayze as an actor.
The film seemed to assure a career for him as a leading man, but he went in other directions.
He starred with Keanu Reeves in the action-packed "Point Break" (1991) so he could become a licensed sky diver and surf big waves. In the noble "City of Joy" (1992), Swayze was an idealistic American surgeon in Calcutta; critics said he was miscast but acquitted himself well.
In "To Wong Foo, Thanks for Everything, Julie Newmar" (1995), he played a drag queen.
Defending his choices, Swayze said he was "fed up with that Hollywood blockbuster mentality."
Cult movies "have given me a career for 30 years. It wouldn't have been worth it if I had been stuck as the leading man or the dance guy," he said, according to a story last year in the London Daily Express.
"The loneliness of fame" was a theme to which he often returned, cautioning in Playboy in 1992: Fame can make "you feel you've somehow pulled off an enormous hoax and that your whole life is a lie. All the hype wound up making me cynical, and I turned into a not-very-pretty drunk."
He credited his wife, Lisa Niemi, a dancer he met back home in Texas and married in 1976, for pulling him back from a drinking problem that he said started after the death of his father in 1982 and seemed to keep pace with his growing fame.
Swarmed by a crowd at a 1989 film premiere, Swayze destroyed his hotel room and realized he needed to quit drinking, he told People in 1990. He said he quit the next day.
But his drinking problem recurred, and he struggled with depression after his older sister Vicki committed suicide in 1994 and several friends died. An ultimatum from his wife sent him into rehab, he said in 2006 in the Sunday Times of London.
"I have a wild-man edge," Swayze once said. "If my life looks good, I sabotage it."
He escaped from fame to the five-acre ranch the couple named Rancho Bizarro in the foothills of the San Gabriel Mountains. They raised Arabian horses and peacocks.
He was born Aug. 18, 1952, in Houston, the second of five children of Jesse and Patsy Swayze.
His mother was a dance teacher and professional ballet choreographer who would choreograph the 1980 film "Urban Cowboy." His father was an engineering draftsman whom Swayze called a "gentle cowboy."
His mother taught Swayze to dance at an early age, and he was unmercifully bullied because of it. "I had to fight my way up from the days I was little," Swayze said in the Sunday Times story.
After two years at San Jacinto College in Houston, Swayze dropped out to play Prince Charming in a touring "Disney on Parade" ice show.
In 1972, he moved to New York, intent on a career in ballet.
His future wife, Niemi, whom he met at his mother's dance studio, was five years his junior. She followed after graduating from high school in 1975.
Both landed jobs with the Joffrey Ballet's second company.
Swayze joined the Eliot Feld Ballet Company in 1976, but after a year as a principal dancer, a knee injury from his high school football days flared up, ending his dance career.
He turned exclusively to acting and was cast in the lead of "Grease" on Broadway, a role that had previously helped make stars of John Travolta and Barry Bostwick.
The year he moved to Los Angeles, Swayze appeared in his first film -- 1979's "Skatetown, U.S.A.," as the leader of a roller-skating and dancing gang.
The movie has been called "amiably trashy," but his performance received an enthusiastic review from The Times' Kevin Thomas: "Not since Valentino did his tango in 'The Four Horsemen of the Apocalypse' has there been such a confident display of male sexuality as when a lithe newcomer to films named Patrick Swayze hits the rink."
In 1983, he appeared with Matt Dillon and other fledgling stars in Francis Ford Coppola's "The Outsiders," which boosted Swayze's career.
He starred in the first film widely distributed with a PG-13 rating, 1984's "Red Dawn." The violent Cold War film was largely dismissed as implausible by reviewers, but Swayze's performance as a young man who quickly becomes a leader of a group of rebels was praised for convincingly communicating his emotional torment. Grey, with whom he would re-team in "Dirty Dancing," was also in the cast.
He considered his first big break to be a starring role as Confederate soldier Orry Main in ABC's 1985 Civil War miniseries "North and South."
With his wife, Swayze co-starred in the futuristic "Steel Dawn," which was released in 1987 after "Dirty Dancing" but was not well-received.
Occasionally, he composed for movies, including writing and singing "She's Like the Wind" in "Dirty Dancing" and performing background music in "Road House."
Throughout the 1990s, he sporadically appeared in films but remained largely out of the limelight. Thrown from a horse in 1997, he shattered his legs and left shoulder; it took 12 operations to rebuild them.
Swayze believed in various forms of spiritualism and was always quick to say that he reveled in his marriage. The couple had no children.
In 2003, he fulfilled a long-held dream of making a dance movie with his wife, called "One Last Dance," based on her semi-autobiographical play about two aging ballerinas.
Swayze called it his "swan song . . . the last time I could pull that kind of dancing off."
When asked in 2004 what he did in his spare time, he told The Times that he didn't have any -- being a rancher, wildlife conservationist and actor-director-producer kept him busy.
"I feel like I wasted time with stardom back in the '80s," Swayze said. "Now I want it all. I want to do as much as I can."
Survivors include his wife, Lisa, and his mother, Patsy.
Times staff writer John Horn contributed to this report
---
Must-read stories from the L.A. Times
Get all the day's most vital news with our Today's Headlines newsletter, sent every weekday morning.
You may occasionally receive promotional content from the Los Angeles Times.