Peggy Cummins, the lethal outlaw in noir classic 'Gun Crazy,' dies at 92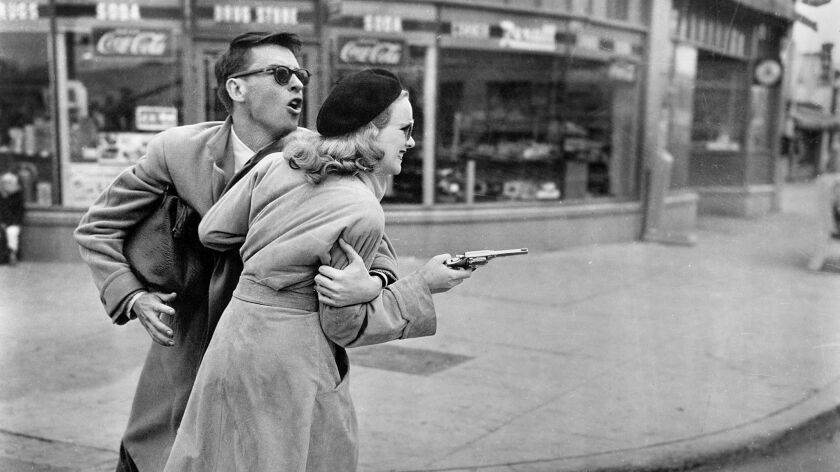 Peggy Cummins, a Welsh-born stage and film actress who worked just a few years in Hollywood but left behind an indelible performance as the lethal, beret-wearing robber in the noir classic "Gun Crazy," has died at age 92.
Cummins, who retired from acting in the early 1960s, died of a stroke Friday in London, her friend Dee Kirkwood said.
A child star in England, Cummins was not yet 20 when brought to the United States in 1945 by studio boss Darryl F. Zanuck to play the title role in an adaptation of one of the decade's raciest novels, "Forever Amber." The petite actress was passed over in favor of Linda Darnell, reportedly because she was too young, but Cummins was most certainly of age for "Gun Crazy," which came out in 1950.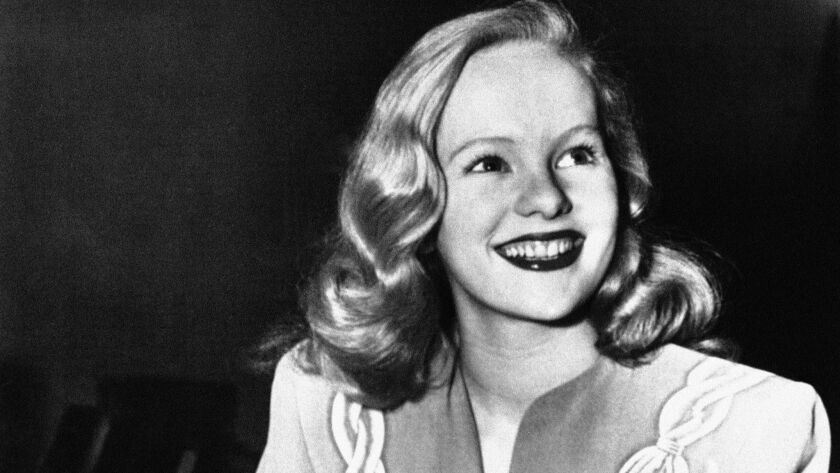 Initially dismissed by the New York Times as "pretty cheap stuff," the low-budget "Gun Crazy" was directed by Joseph H. Lewis and secretly co-written by the legendary Dalton Trumbo, the blacklisted screenwriter. He devised a tale of sex and violence and of love destroyed by greed.
Cummins played Annie Laurie Starr, a sharpshooter in a traveling carnival who hooks up with a local marksman, Bart Tare, played by John Dall. Tare is an ex-reform-school student who wants to go straight, but Starr shames (and seduces) him into a life of crime, telling him: "I want things, a lot of things, big things." His reluctance to fire a gun is more than compensated by her willingness to kill anyone.
The film's erotic energy and documentary style eventually made it a cult favorite, with admirers including the French New Wave directors Francois Truffaut and Jean-Luc Godard.
In the mid-1960s, when writers David Newman and Robert Benton were trying to sell a synopsis for what became "Bonnie and Clyde," Truffaut arranged a screening of "Gun Crazy" and suggested it as inspiration. In 1998, the Library of Congress selected "Gun Crazy" for preservation for being "culturally, historically, or aesthetically significant."
Cummins made just a handful of American movies, including "Escape" and "The Late George Apley," before returning to England in 1950. She did briefly date then-aspiring politician John F. Kennedy and was asked out by Howard Hughes, only to have the wealthy aviator crash his plane and cancel their dinner plans. Back in England, she married William Herbert Derek Dunnett and remained with him until his death in 2000. They had two children.
Born Augusta Margaret Diane Fuller in Wales on Dec. 18, 1925, and raised in Dublin, she was the daughter of actress Margaret Cummins. By age 12, Peggy Cummins had starred in a stage production of "Alice in Wonderland" and by 15 had appeared in her first film, "Dr. O'Dowd."
The most notable of her later movies was the horror favorite "Night of the Demon" (also known as "Curse of the Demon"), directed by Jacques Tourneur and featuring Cummins as the niece of a psychologist whose investigation of a satanic cult leads to fatal consequences. Her final film, "In the Doghouse," came out in 1962.
In recent years, Cummins appeared at numerous retrospectives for "Gun Crazy," calling it her favorite production, even though she insisted that she was nothing like Annie. Cummins saw herself as a country girl, indifferent to possessions and happy to raise a family. But she did appreciate the chance to misbehave on the screen.
"The tendency was then, that if you're short and blond and reasonably pretty, you always played rather pretty parts," she said at a 2012 screening in Hollywood. "To tell you the truth, I always wanted to play all the Bette Davis parts."
---
Must-read stories from the L.A. Times
Get all the day's most vital news with our Today's Headlines newsletter, sent every weekday morning.
You may occasionally receive promotional content from the Los Angeles Times.