Robert G. Ferry dies at 85; helicopter test pilot flew record nonstop solo flight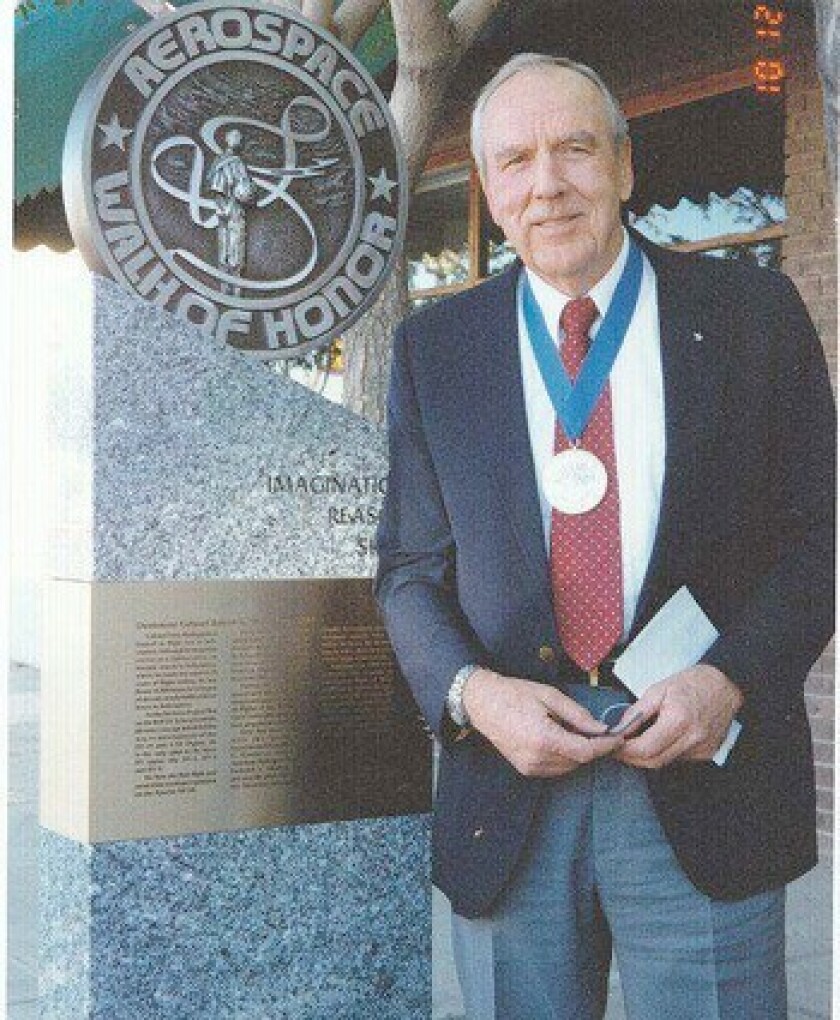 Robert G. Ferry, a top helicopter test pilot who flew a record nonstop solo flight from California to Florida in 1966, has died. He was 85.
Ferry, a retired Air Force lieutenant colonel who later became chief test pilot for Hughes Helicopters, died of natural causes Jan. 15 at his home in Lake San Marcos, Calif., said his wife Marti.
"I'd say he was one of the most outstanding helicopter test pilots the Air Force has ever had, and he went on to become an outstanding test pilot for Hughes," said Fitz Fulton, a retired Air Force lieutenant colonel and former test pilot at Edwards Air Force Base.
A Korean War veteran who flew 90 helicopter missions, Ferry was a test pilot at Edwards from 1954 to 1960.
"He flew everything at Edwards," Marti Ferry said. "He'd break the sound barrier one day, and fly a helicopter the next."
After retiring from the Air Force in 1964, Ferry was hired as chief test pilot at Hughes Helicopters in Culver City.
During his 18 years with Hughes, he flew the first flight and did most of the testing on the still widely used Apache AH-64 helicopter.
He also was the only person to fly the XV-9, a research helicopter developed to demonstrate a new gas-pressure propulsion system.
And, in April 1966, he set his record 2,213-mile flight in a Hughes YOH-6A helicopter from Culver City to Ormond Beach, Fla. He did it in 15 hours and eight minutes, without refueling.
The light-observation, turbine-powered helicopter designed for the Army was stripped of everything that wasn't necessary for the flight and had a large aluminum fuel tank containing extra fuel installed in the rear cargo compartment.
For fuel efficiency, the engine-bleed air heater was removed, and Ferry instead wore a World War II-era electric-heated flying suit.
And for comfort, he wore slipper socks instead of his heavy flying boots.
The flight was not without potential danger, his wife recalled, "because he took off at 2:30 in the afternoon, which meant he had to fly over the mountains in El Paso in the dark, which is high in a helicopter, and that's scary."
Her husband wasn't bothered by the potential obstacle, however.
"He wasn't the nervous type once he got in an aircraft," she said. "They're pretty business-like when they get in an aircraft."
Phil Cammack, a Hughes Helicopter test engineer who worked on the YOH-6A and flew in the large Army chase plane during Ferry's transcontinental flight, said Ferry was above 10,000 feet from the seventh hour to the 15th hour and had to use oxygen.
"As he burned fuel off and the weight went down, he'd climb in altitude," Cammack said. "The last two or three hours, he was up at about 23-24,000-feet altitude, which is pretty good for a little machine. On that flight, he averaged 150 miles an hour, which is good."
Ferry's record for the longest, un-refueled, nonstop helicopter flight still stands.
But his years as a test pilot weren't without mishaps.
While at Hughes, Ferry broke his back when a helicopter crashed during one test flight.
"That was the only time he was hurt testing," Marti Ferry said. "He had to kick out the plexiglass nose and crawl out."
Another time while at Hughes he was testing floats on a helicopter at Lake Piru when the skids flipped the aircraft upside down.
"It sank in the water," his wife said, "and he couldn't get his seat belt off, and so that was kind of scary. He said he tried and tried and finally he got it off, and he wondered which way was up to swim and noticed the bubbles going up."
Ferry retired from Hughes in 1982 and for a time worked as a consultant with attorneys on aircraft accidents.
Born on Nov. 29, 1923, in Minneapolis, he developed an interest in becoming a pilot as a teenager.
"All he wanted to do is fly," his wife said.
He earned his wings as a fighter pilot at Luke Field in Arizona in 1945, just as World War II was ending.
"They didn't have any more use for fighter pilots, and he applied to different schools because he wanted to keep flying," his wife said. "He got into helicopters, and he just loved them."
Ferry earned a bachelor's degree from Florida Southern College and a master's in business administration from the University of San Diego.
In 1997, he became the first helicopter pilot to be inducted into the Aerospace Walk of Honor in Lancaster.
At the time, according to a newspaper account, Ferry had flown 125 different types of aircraft and logged more than 10,000 hours of flying, 8,000 of them in helicopters.
In addition to his wife of 62 years, he is survived by his two children, Dan and Cindy, and a grandson.
A private memorial service is being planned.
---
Must-read stories from the L.A. Times
Get all the day's most vital news with our Today's Headlines newsletter, sent every weekday morning.
You may occasionally receive promotional content from the Los Angeles Times.