Shelley Berman, angst-filled comedian who pioneered standup (or sit-down) comedy, dies at 92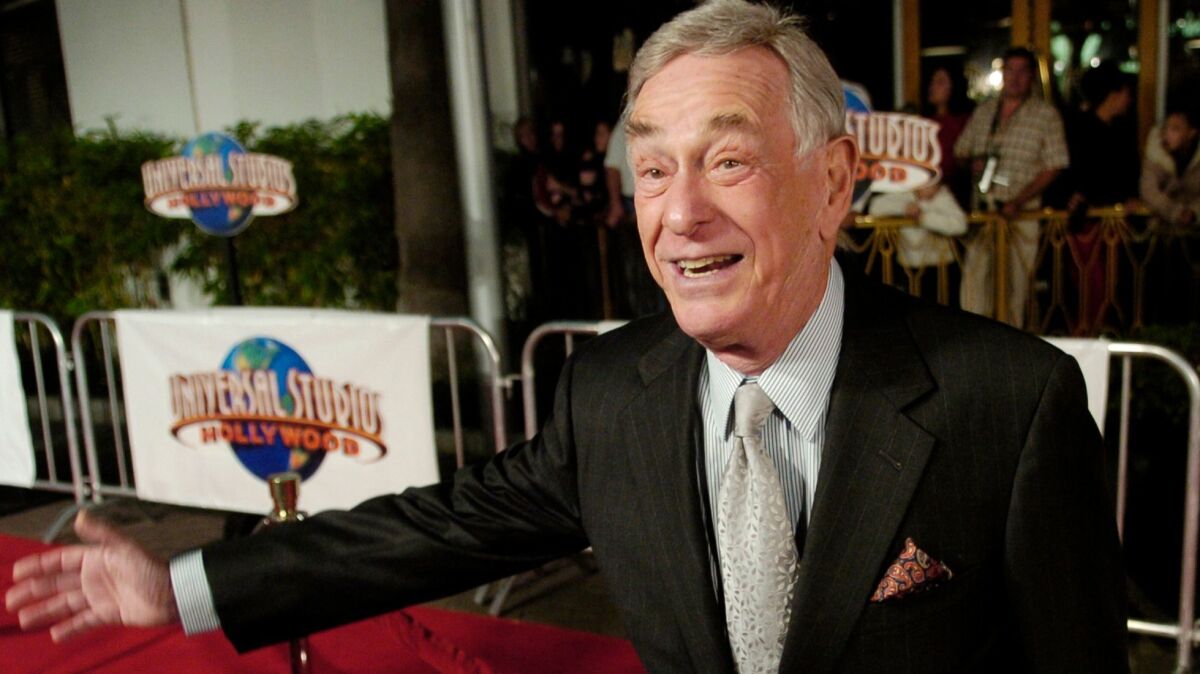 Shelley Berman, who tapped into the neuroses and frustrations of post-World War II America and brought an actor's sensibility to his monologues to become one of the top comedians of the late 1950s and early '60s, died Friday at his home near Thousand Oaks.
Berman, who acted throughout his career and had a late career resurgence when he played Larry David's father on the hit HBO comedy series "Curb Your Enthusiasm," died of complications from Alzheimer's disease, according to spokesman Glenn Schwartz. He was 92.

For the record:
3:10 p.m. June 9, 2023The headline on an earlier version of this story said Berman died at the age of 91. He was 92.
The Chicago-born Berman, who came to stand-up comedy via the theater and Chicago's improvisational Compass Players, defied stand-up comedy convention: He did his act sitting down.
Perched on a bar stool, Berman did not deliver a string of jokes. Instead, he was known for acting out small, angst-filled vignettes, portraying "a man in agony over modern life — over his own life," as Gerald Nachman wrote in the book "Seriously Funny: The Rebel Comedians of the 1950s and 1960s." His routines helped pave the way for Woody Allen, Jerry Seinfeld and Bob Newhart, comedians who built their acts around the frustrations of everyday life.
Describing Berman as the "founding father of the school of persecuted comedians — the first of the method comics," Nachman said Berman "appeared in good mental health, in his sober dark suit and neatly barbered facade, but he sounded like he might unravel at any moment."
In one classic routine, about the safety of flying, Berman tells the flight attendant who is offering him a pillow, "Oh, Miss, the wing is on fire out there."
"Oh, really?" she says.
"Yes, really. Take a look out there. The wing is a sheet of flame. Take a look."
"Coffee, tea, or milk?" she airily responds.
"We don't have time for coffee, tea, or milk. We're doomed!"
"Well, then, how about a martini?"
Berman, the neurotic Comedic Everyman — or "Everymanic-depressive," as Time magazine called him in a 1961 story — was best-known for his telephone routines, the phone always mimed with his hand, never a prop.
In one of them, he portrays an increasingly frustrated office worker who phones the department store across the street to report a woman hanging from a window ledge about 10 flights up:
"Describe her? What for? I'm looking at the building right now; she's the only one hanging out of a window."
The phone routines, which predated those of Newhart on the national scene, grew out of Berman's days doing improvisations with the Compass Players, a precursor to Second City.
"I couldn't find a partner to work with one night," he once explained, "so I simply used the telephone."
Two years after Berman launched his stand-up career at Mister Kelly's in Chicago, his 1959 debut comedy album, "Inside Shelley Berman," became the first comedy album to earn a gold record and was the first to win a Grammy.
Berman appeared frequently on "The Ed Sullivan Show," "The Jack Paar Show" and other top TV variety shows, and he is said to be the first stand-up comedian to perform in concert at Carnegie Hall.
At the height of his fame in 1963, Berman was the subject of a TV documentary, "Comedian Backstage," which unexpectedly sent his career into a tailspin.
The hourlong documentary, which aired on NBC's "The Du Pont Show of the Week," offered a close-up look at the chain-smoking comedian on stage and off, including an engagement in a Florida hotel.
On stage, he's shown doing a semi-autobiographical routine at the end of his act in which a Yiddish-accented father reluctantly gives in to his son's request for $100 to go to acting school. The routine ends with the father saying, "Sheldon, don't change your name. Goodbye, Sheldon."
It was a poignant piece of material that was shattered, ironically, by the sound of a telephone ringing backstage.
Berman completed the piece and ended his show. But, as recounted in a 2005 Times story, the seething comedian "went backstage and yelled at his road manager, [then] he jerked the phone off the hook and paced, appearing inconsolable.
"Seen today, it is not so much remarkable for the behavior it exposes as the pain of the man, on naked display, a perfectly good show ruined, in his mind, by one or two seconds of ringing telephone. Wound tight the entire hour, Berman gives the special its climax — he comes undone."
After the documentary aired, Berman's on-camera loss of temper turned him into what Los Angeles Times TV reporter Hal Humphrey described at the time as "the most cussed and discussed comedian in the country."
Berman told Humphrey that comedians expect drunks and hecklers to interrupt their acts, "but I thought I had taken care of this phone. It had rung earlier in the week, and I ordered it taken care of."
But for dramatic purposes when the film was edited, the second intruding phone call that had him fuming was placed first.
Although Berman had control over what went into the documentary, he later said he did not think the backstage incident made him look bad. Instead, he told Phil Berger, author of "The Last Laugh," a 1975 book on stand-up comics, "I thought it made me look like I cared. ... I was more wrong than I ever dreamed."
Indeed, the infamous moment that was captured on film had a profoundly negative effect on Berman's career, one with long-lasting repercussions.
"A lot happened and a lot didn't happen," Berman said in the 2005 interview. "So that this thing that aired in 1963 would result a few years later in personal bankruptcy, would result in having people be on edge with me, wondering when I'm going to blow up. This would result in my trying to over, over-compensate by [saying], please and thank you, no matter what happened.
"It became, very simply, that I was difficult."
Not that there wasn't some truth behind the allegations; Berman had a reputation in the business for being a perfectionist, temperamental and demanding.
Because his act was more theatrical in nature than that of other comedians, he always was concerned about having the proper lighting and eliminating unnecessary distractions — bartenders, for example, were told not to use blenders during his act. And, according to various accounts, he was known to insult, with no trace of humor, hecklers and other audience members who interrupted his act.
Berman's intensity, according to Nachman's book, lessened after his 12-year-old son, Joshua, died of a brain tumor in the late `70s.
"I used to think of my performances as life-and-death," Berman said in a 1977 interview. "They are not life-and-death. This I know. I used to be antagonistic, arrogant and far too worried about my own performance. If an audience didn't laugh, I was devastated!"
But, he candidly admitted, "I haven't been cleansed. I still think I'm a son of a bitch. When I'm working I don't want anyone to screw me up. I don't want anyone to play around with my lights, my microphone."
He was born Sheldon Leonard Berman in Chicago on Feb. 3, 1925. After serving in the Navy during World War II, he enrolled as a drama student at the Goodman Theatre in Chicago, where he met aspiring actress Sarah Herman, whom he married in 1947.
He eventually ended up in New York City. While making the rounds of auditions, he wrote sketches for Steve Allen's "Tonight" show in the mid-`50s, then returned to Chicago to join the Compass Players.
Doing improvisations with fellow performers such as Mike Nichols, Elaine May and Barbara Harris, Berman earned a reputation for what has been described as his compulsion to dominate the scenes in which he appeared.
"I was hungry for recognition," he told Janet Coleman, author of "The Compass," a 1990 book about the influential improvisational group.
During his stand-up comedy heyday, Berman appeared in the short-lived 1959 Broadway musical revue "The Girls Against the Boys" and starred in the 1962 Broadway musical comedy "A Family Affair." He returned to Broadway in 1980 with a one-man show.
Berman always viewed acting as his "first love," and he had guest roles on numerous TV series over the years, as well as playing the recurring role of eccentric Judge Robert Sanders on "Boston Legal" ("I will not tolerate jibber-jabber in my courtroom!").
He also acted in movies, including "The Best Man" and "You Don't Mess with the Zohan," and he taught a graduate class in humor writing at USC.
Late in his career, he played Nat David, father of Larry David, on HBO's "Curb Your Enthusiasm." With dialogue improvised by its cast, the comedy series gave Berman the opportunity to return to his improv roots and introduced him to a new generation of TV viewers. He also appeared in the movie "Meet the Fockers" before retiring in 2014.
Berman is survived by his wife and a daughter, Rachel.
Dennis McLellan is a former Times staff writer.
A Times staff writer contributed to this article.
ALSO
Richard Anderson, costar of 'The Six MIllion Dollar Man' and 'The Bionic Woman,' dies at 91
Larry Sherman, actor, journalist and Trump's first publicist, dies at 94
Tobe Hooper, 'Texas Chain Saw Massacre' director, dies at 74
Must-read stories from the L.A. Times
Get the day's top news with our Today's Headlines newsletter, sent every weekday morning.
You may occasionally receive promotional content from the Los Angeles Times.