Gay rights pioneer Edith Windsor changed 'hearts and minds, including mine,' Hillary Clinton says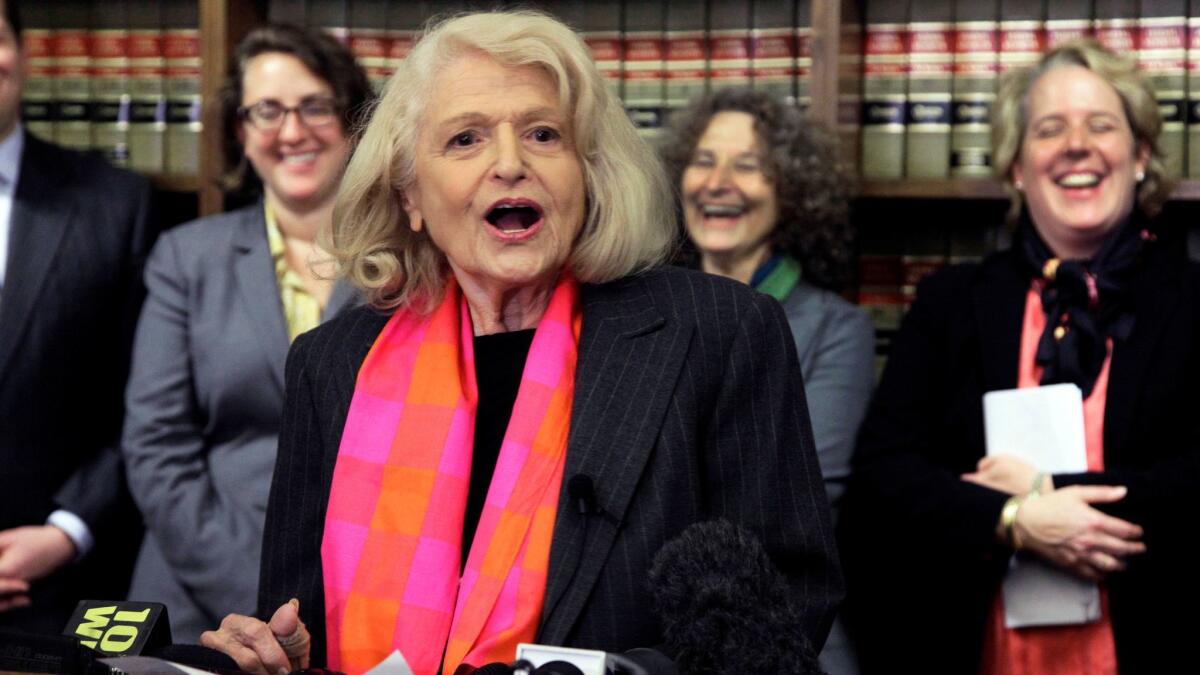 Reporting from New York —
Hillary Clinton remembered gay rights pioneer Edith Windsor as a symbol of love who changed hearts and minds across America — including her own — during a funeral Friday for the woman whose court battle helped make same-sex marriage the law of the land.
Windsor died Tuesday in New York at 88. The cause of her death wasn't given, but she had struggled with heart issues.
Clinton described Windsor, who had a master's degree in mathematics and worked for IBM, as "a path breaker first in science and computers and then in social history and politics and culture."
"She helped change hearts and minds, including mine, and we are forever grateful to her for that," said Clinton, the 2016 Democratic presidential nominee, who first announced her public support for same-sex marriage in 2013.
Clinton's remarks came as hundreds of people gathered for Windsor's funeral at Temple Emanu-El in Manhattan.
Windsor was 81 when she brought a lawsuit that proved to be a turning point for gay rights. The impetus was the 2009 death of her spouse, Thea Spyer, a psychologist.
The women had married legally in Canada in 2007 after spending more than 40 years together, but under the U.S. Defense of Marriage Act she was barred from getting the usual exemption from federal taxes on Spyer's estate. That meant Windsor faced a $360,000 tax bill that heterosexual couples would not have.
The justices ruled 5-4 in June 2013 that a provision in the law barring the U.S. government from recognizing same-sex unions was unconstitutional.
The opinion didn't legalize same-sex marriage, but it ultimately became the basis for a wave of federal court rulings that struck down state marriage bans and led to a 2015 Supreme Court ruling giving same-sex couples the right to marry from coast to coast.
"She refused to give up on the promise of America. There wasn't a cynical, defeatist bone in her body," Clinton said Friday. "That's especially important for us to remember now."
Clinton added, "Now in this moment with so much hard-fought progress hanging in the balance, it is up to all of us to pick up where she left off. We really owe it to her."
Sign up for Essential California for news, features and recommendations from the L.A. Times and beyond in your inbox six days a week.
You may occasionally receive promotional content from the Los Angeles Times.