Boxing Hall of Fame trainer and manager Lou Duva dies at 94; handled 19 champions
Reporting from Paterson, N.J. —
Lou Duva, the Boxing Hall of Famer who handled the careers of 19 champions including heavyweight Evander Holyfield, has died at 94.
The colorful Duva died Wednesday of natural causes at a hospital in Paterson, where he lived, his son said in a statement released by the family.
A gruff, down-to-earth manager and trainer who was generous with his pupils, Lou Duva had a career that spanned seven decades. Besides Olympic medalists like Holyfield, he also handled welterweight champions Pernell Whitaker and Meldrick Taylor. His first titlist was middleweight Joey Giardiello, who won his crown in 1963.
The son of Italian immigrants, Duva with his family built the promotional company Main Events, founded in 1978, into one of boxing's powerhouses. Duva was named manager of the year in 1985 by the Boxing Writers Assn. of America and trainer of the year in 1987 by the World Boxing Assn.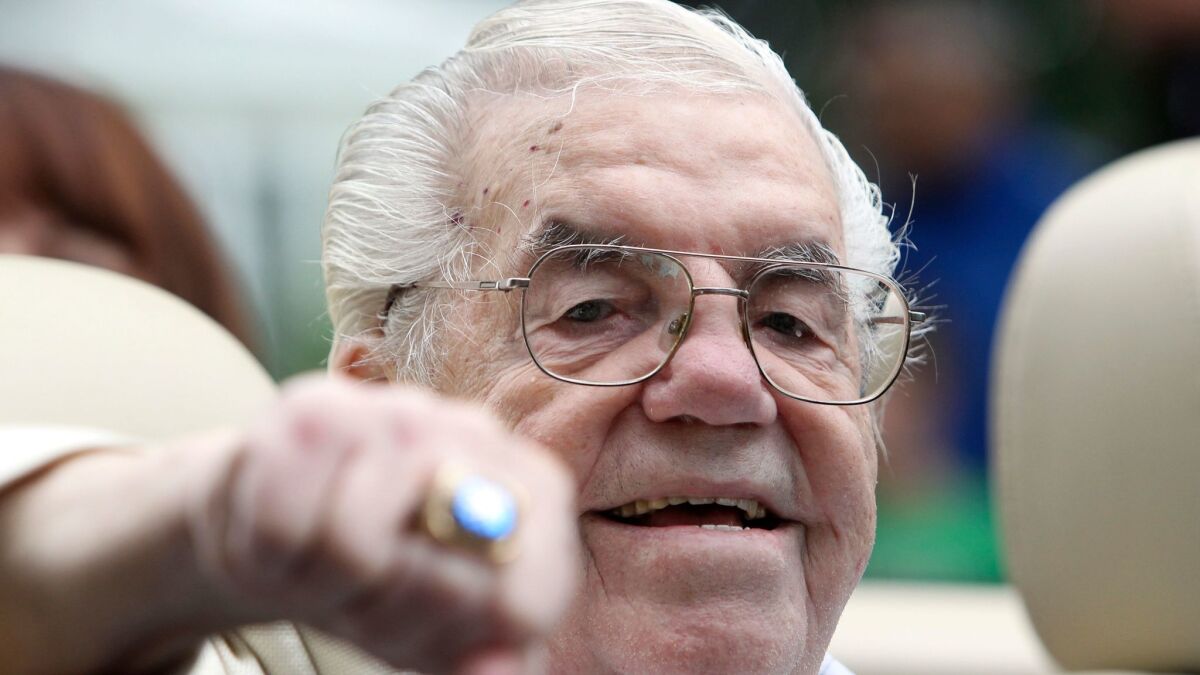 Among casual boxing fans Duva was best known for his role in the March 1990 fight between Julio Cesar Chavez and Taylor.
Taylor had dominated the fight with speed and accuracy, but Chavez came on strong in the late rounds and hit Taylor with a right hand with 26 seconds left that hurt him. Taylor tried to trade punches, only to be dropped by Chavez.
Taylor used the ropes to pull himself up at the count of six, but sagged back into the corner post. Referee Richard Steele asked him at the count of eight if he was OK and Taylor did not respond but instead looked at his corner where Duva was climbing into the ring.
Steele waved the fight to a close, making Chavez a winner by technical knockout 2 seconds before the final bell. Taylor would have won on points had he finished the fight.
Steele was widely criticized for years for stopping the fight, but Duva stepping into the ring may have played a pivotal role.
"It's a hell of a way to lose a fight," Duva said later. "We were winning the fight for 11 rounds, 2 minutes and 58 seconds. Then the referee took it away from us."
Duva was enshrined in the International Boxing Hall of Fame in 1998, as well as the New Jersey Boxing Hall of Fame and the National Italian American Sports Hall of Fame.
The New York-based boxing Hall of Fame announced its flags will fly at half-staff in memory Duva.
"Lou Duva was fiercely devoted to his fighters and to the sport that he dedicated his life to," Hall of Fame Executive Director Edward Brophy said. "Everyone at the Hall of Fame joins the boxing community in mourning his passing."
Henry Hascup, president of the New Jersey Boxing Hall of Fame, knew Duva for almost 60 years.
"Lou always made me feel like I was a special person," Hascup said. "He was a great storyteller who kept everyone captivated with his stories. He was an icon in the sport of boxing, who held every role there was in the sport. I told him once that the only role he didn't play was ring girl. He was a great cheerleader. You knew when he was in a boxer's corner, psyching that guy up. You could hear him. It's a tremendous loss to the sport of boxing."
Duva is survived by a son, Dino, and daughters Donna Duva Brooks, Deanne Boorman and Denise. He was preceded in death by his wife, Enes, and a son, Dan, whose wife, Kathy, helped run Main Events.
---
Must-read stories from the L.A. Times
Get the day's top news with our Today's Headlines newsletter, sent every weekday morning.
You may occasionally receive promotional content from the Los Angeles Times.