Harry Dean Stanton, character actor in 'Twin Peaks,' 'Big Love' and 'Cool Hand Luke,' dies at 91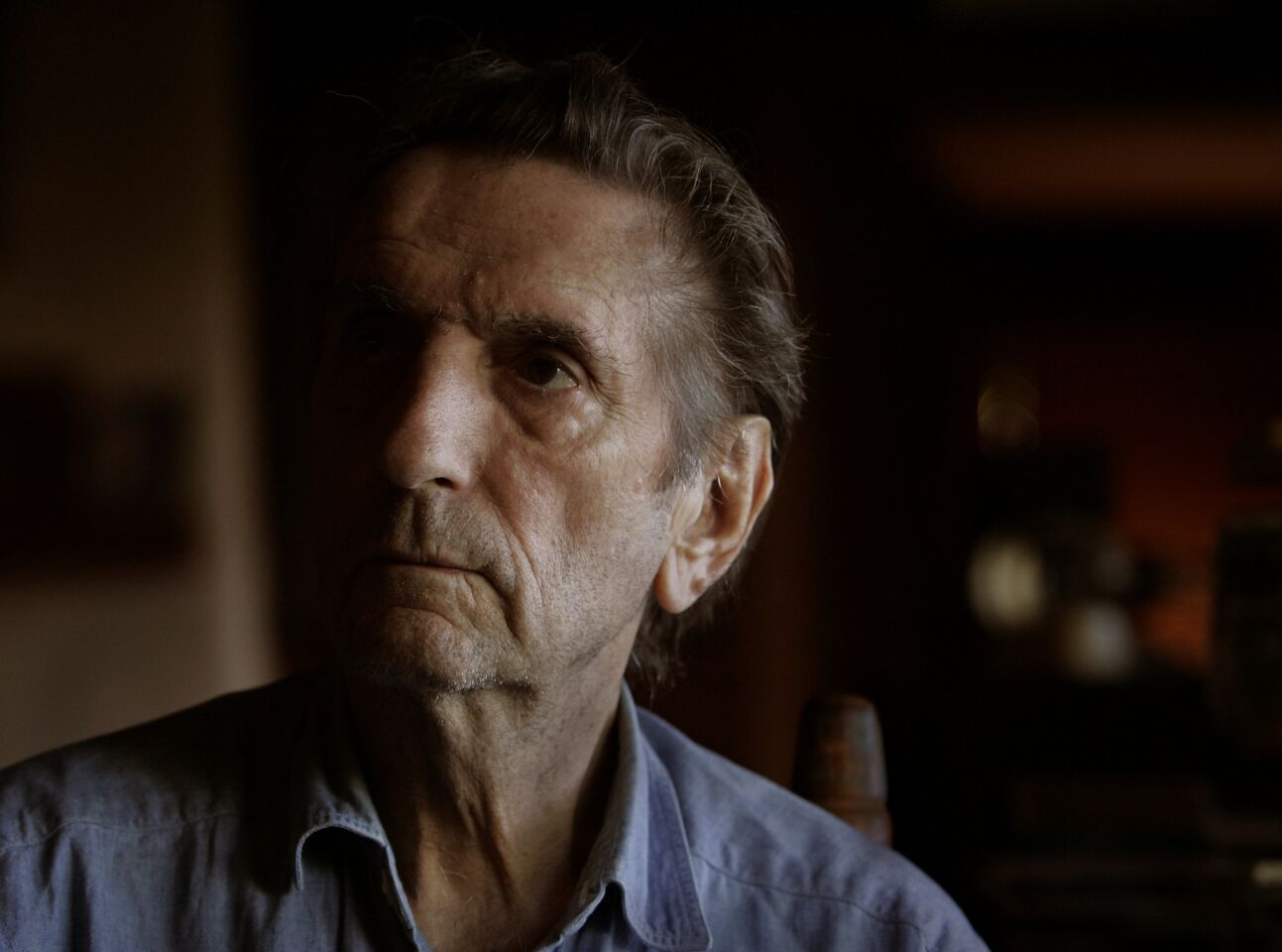 Stanton, photographed at his Los Angeles home on Feb. 14, 2006, while promoting his role as Roman, the head of a polygamist cult in the HBO series "Big Love."
(Robert Lachman / Los Angeles Times)
Stanton at a 1982 Los Angeles Lakers game with friend Jack Nicholson. They appeared in a number of films together, including 1966's "Ride in the Whirlwind" and 1976's "The Missouri Breaks."
(Jayne Kamin–Oncea / Los Angeles Times)
Stanton also played guitar and sang, collaborating with such country artists as Dwight Yoakam.
(Richard Derk / Los Angeles Times)
Stanton plays guitar in his home in 1997.
(Richard Derk / Los Angeles Times)
Stanton performing at the Mint in L.A.
(Lawrence K. Ho / Los Angeles Times)
Harry Dean Stanton, a prolific character actor who brought a soulful, hangdog presence to such varied films as "Alien," "Paris, Texas," "Repo Man" and "Pretty in Pink," becoming a favorite of film fans and directors alike, died on Friday at age 91.
Stanton died at Cedars-Sinai Hospital in Los Angeles of natural causes, said John Kelly, his agent.
With his rail-thin, perpetually haunted mien and his unique flair for portraying drifters, grifters and other unconventional, sometimes eccentric outsiders with subtlety and naturalism, Stanton rose from early obscurity to become a mainstay of films from the 1970s onward. With more than 200 credits to his name in film and television, he never stopped working, earning some of his most memorable roles, like a self-proclaimed polygamist prophet on the HBO series "Big Love," long after many actors would have retired.
Most recently, Stanton appeared in Showtime's "Twin Peaks: The Return" and starred in the independent film "Lucky," slated for release on Sept. 29, playing a world-weary atheist facing mortality in a role that closely paralleled his own life.
Stanton was the rare character actor who was also a veritable household name. But, though his performances frequently drew praise from critics and he was the subject of two documentaries, he never received any major awards recognition. And while he never seemed to want for work, often doing several films a year, he was only rarely given the chance to play the lead — a fact that sometimes grated on him, he told The Times in 1986.
"It's just so frustrating when you're in a supporting role because you only get to express a part of yourself," said Stanton, who was known to be as droll and laconic off the screen as he often was on it. "There's always a stigma attached to those terms: 'character actor,' 'supporting player.' It bothers every actor, whether they admit it or not. I guess I've always resented the fact that you have your humanity taken away by only playing a sidekick role."
That said, few in Hollywood could do as much with as little. He was one of the movie world's great minimalists, able to convey more with a silent, thousand-yard stare than many of his fellow actors could with a long monologue. If he had a motto, Stanton once said, "it would be: 'To be a fine actor, one should never put on an act, never on screen or off.' "
Indeed, whether playing a doomed crew member on a spaceship in "Alien" or a kind-hearted, down-on-his-luck father in "Pretty in Pink," Stanton rarely failed to make an impression, even when his screen time was limited. Critic Roger Ebert once stated that "no movie featuring either Harry Dean Stanton or M. Emmet Walsh" — another consummate but often unsung character actor — "in a supporting role can be altogether bad."
Born in Kentucky on July 14, 1926, the son of tobacco farmer and a cook, Stanton headed west after serving in the Navy during World War II and broke into acting at the Pasadena Playhouse. Often billed early on as Dean Stanton to avoid confusion with another actor named Harry Stanton, he found steady work in the late 1950s and early 1960s on television shows like "Bonanza," "Rawhide" and "Gunsmoke" as well as in films like "How the West Was Won."
In 1967, Stanton earned a supporting part opposite Paul Newman in the prison drama "Cool Hand Luke," and as Hollywood's auteur-driven era of the 1970s took hold, his penchant for playing rough-around-the-edges antiheroes began to gain more widespread notice. Throughout the '70s, he would appear in such films as "Two-Lane Blacktop," "The Godfather: Part II," "The Missouri Breaks" and "Wise Blood."
Still, it wasn't until 1984, when was already in his late 50s, that Stanton got his first true leading role, playing a rootless, nearly mute loner in the drama "Paris, Texas," directed by Wim Wenders and written by Sam Shepard. The film won the Palme d'Or at the Cannes Film Festival, and that same year, Stanton also delivered a memorable turn as a car thief in director Alex Cox's bizarro sci-fi comedy "Repo Man," cementing his newfound cult status.
"I would've preferred to blossom earlier in life," Stanton told The Times in 1986. "I think every actor wants to play those big parts. In the very first play I ever did, I remember understanding all the characters in it. I always felt I could play anyone."
There's always a stigma attached to those terms: 'character actor,' 'supporting player.' It bothers every actor, whether they admit it or not.
— Harry Dean Stanton
Stanton became a frequent collaborator of another of modern cinema's great offbeat characters, director David Lynch, who cast him in the films "Wild at Heart" and "The Straight Story." Stanton also appeared in the film "Twin Peaks: Fire Walk With Me," based on Lynch's television series, and the show's recent revival, "Twin Peaks: The Return."
Besides acting, Stanton's other abiding love was music. In 1988, he told The Times that he "began singing before I could even talk" and he was facile on guitar, drums and harmonica. For decades, he played alongside numerous musicians, performing everything from folk and country-western to rock and blues. He fronted his own Harry Dean Stanton Band and counted Bob Dylan and Kris Kristofferson among his friends.
In 2014, Stanton released an album, "Harry Dean Stanton: Partly Fiction," as an accompaniment to an impressionistic documentary about him with the same title.
Stanton was never married, though he had a long relationship with actress Rebecca De Mornay. For him, the notion of developing attachments seemed to go against his restless, Beat-poet-like nature, and that extended to family — or lack thereof. "I might have had two or three [kids] out of marriage," he once told Associated Press. "But that's another story."
Offscreen, Stanton was well-versed in everything from Shakespeare to Buddhist literature and had a deeply philosophical bent — a quality that came through in his performances as well as his interviews.
"I feel very nomadic, like a warrior or a hunter," he told The Times. "It's always been a big conflict for me to settle down and have a family or put down roots. My body is my home. I'd rather spend my life searching. Settling down would be a death for me."
Times staff writer Steve Marble contributed to this report.
Twitter: @joshrottenberg
ALSO
Veteran actor and 'Sopranos' mobster Frank Vincent dies at 80
Grant Hart, singer, drummer and co-founder of Husker Du, dies at 56
Catherine Bond, L.A.'s champion of self-help for the mentally ill, dies at 79
---
Must-read stories from the L.A. Times
Get the day's top news with our Today's Headlines newsletter, sent every weekday morning.
You may occasionally receive promotional content from the Los Angeles Times.