Roger Ailes, polarizing and controversial Fox News founder who changed cable news, dies at 77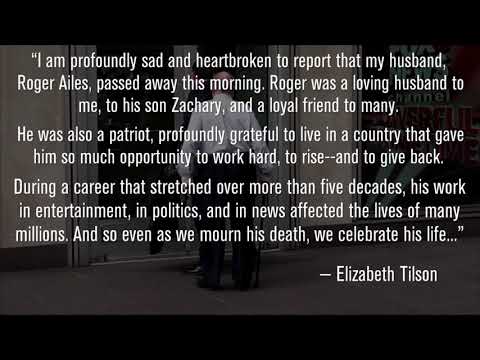 The controversial former Fox News chairman turned the cable channel into a ratings powerhouse over his 20 years at the helm.
When Rupert Murdoch launched a 24-hour news channel nearly two decades ago, he turned to Roger Ailes, a brash, veteran TV producer and strategist for Republican presidential candidates who helped get Richard Nixon and George W. Bush elected by improving their images through television.
Murdoch contended that a conservative cable news network was needed to counter "liberal" CNN.
Ailes, however, told The Times in 1996 that the new network would not have any political bias. "We just expect to do fine, balanced journalism," he said.
Ailes, 77, who died Thursday, would go on to create a cable news juggernaut at Fox News that provided an outlet for conservatives who felt their views were under-represented by the major broadcast networks.
But Fox News also would alter how Americans view the media, ushering in the era of personality-driven, opinionated journalism that now dominates the cable news business.
"Roger Ailes understood the power of television to shape the public agenda more than most, and he used it to great partisan effect in supporting an ideology focused on conservatives," said Rich Hanley, associate professor of journalism at Quinnipiac University.
Ailes' death caps a period of turmoil at Fox News, which is still facing lawsuits over alleged sexual harassment claims by women who worked at the network.
Ailes was ousted in July 2016 after embarrassing allegations that he had sexually harassed former anchor Gretchen Carlson. He dismissed the allegations, but he faced additional claims of misconduct and the company paid $20 million to settle the suit.
He also was a subject of an ongoing federal investigation into whether 21st Century Fox violated any securities laws in its handling of payments to women to resolve sexual harassment claims.
He was reported to have received $40 million in an exit agreement with Fox.
Though he left in disgrace, Ailes' legacy as a powerful force in the media business and the nation's political culture will be lasting.
"No one did more to change the media landscape than Roger Ailes, but no media executive did more to divide America," said Joe Peyronnin, a former network news executive who worked for Fox before Ailes was hired to launch the news channel. "Ailes was a brilliant TV executive who saw an opportunity two decades ago to build a conservative news source and seized it."
While liberal critics characterize Fox News as a right-wing propaganda channel, Ailes did succeed in creating a full-fledged news operation that broke the hegemony of CBS, ABC, NBC and CNN — all of which were seen by a large segment of the country as being too sympathetic to liberalism.
Not only did Fox News provide a platform for conservative voices, it made other news organizations consider their point of view in coverage.
"I do think part of Roger's legacy is that other newsrooms always wondered: How will Fox play this?'" said Neal Shapiro, former NBC News president. "And part of Roger's game plan was to draw sharp distinctions between the way Fox would cover a story and the rest of the media would do it."
Ailes was also a larger-than-life personality known for ruthlessly attacking his competitors as if they were opposing political candidates.
Rick Kaplan, a former president of CNN, recalls how Ailes had described the established channel as the "Clinton News Network," perpetuating the idea that the channel favored the Clinton White House. Kaplan was a personal friend of Bill and Hillary Clinton before he took over the cable channel.
"How else were you going to be heard in a media landscape like this?" Kaplan recalled.
The two ended up becoming friends, and Ailes even called Kaplan's mother to assure her that his public comments were just business and not personal.
Kaplan said Ailes was also a brilliant TV producer who was keenly aware that even with talking heads, he was working in a visual medium. Fox News always had state-of-the-art graphics and animation. His penchant for putting attractive women on the air, with legs displayed on the set, was well known.
"Roger has a very visually pleasing network in terms of look and color and form," Kaplan said. "Roger cared about what it looked like."
Ailes was so effective in the way he produced and packaged TV programming, he was able to take personalities who were little known or had limited success elsewhere and turn them into stars.
Ailes took a journeyman TV correspondent, Bill O'Reilly, and turned him into cable TV's most popular host, with an aura of the educated guy at the end of the bar who wasn't afraid to give his opinions. Ailes discovered a young local radio talk show host in Atlanta, Sean Hannity, and made him a TV star.
"To this day I have no earthly idea why I was hired and not fired early on, as I had little television experience when I was hired by FNC," Hannity said in a statement. Ailes "saw something in me and many others he hired that we never saw in ourselves, and forever changed the trajectory of thousands of people's lives."
Ailes died after falling at home and injuring his head, according to the Palm Beach County medical examiner's office. It said the cause of death was complications of a subdural hematoma, with hemophilia as a contributing factor.
Ailes was known to be in poor health.
"The actuaries say I have six to eight years. The best tables give me 10. Three thousand days, more or less," he told biographer Zev Chafets in 2012.
"Because of my hemophilia, I've been prepared to face death all of my life," Chafets' book, "Roger Ailes Off Camera," quotes him as saying. "As a boy I spent a lot of time in hospitals. My parents had to leave at the end of visiting hours, and I spent a lot of time just lying there in the dark, thinking about the fact that any accident could be dangerous or even fatal. So I'm ready. Everybody fears the unknown. But I have a strong feeling there's something bigger than us."
Some former colleagues on Thursday praised Ailes' contributions.
"Many people out there would say he saved this country by starting the Fox News Channel," said Ainsley Earhardt, the co-host of "Fox & Friends."
Hannity asked the media to leave Ailes' family alone to allow them to grieve. "But knowing that people that hated him and his politics, and those that forget 'all have sinned and fallen short' and 'cast the first stone,' I doubt that will happen," he tweeted.
At the time of Ailes' resignation, Rupert Murdoch — executive chairman of 21st Century Fox and a longtime Ailes supporter, said: "Roger Ailes has made a remarkable contribution to our company and our country. Roger shared my vision of a great and independent television organization and executed it brilliantly over 20 great years. Fox News has given voice to those who were ignored by the traditional networks and has been one of the great commercial success stories of modern media."
In a statement read on the air Thursday, Murdoch said everyone at Fox News was "shocked and grieved" by Ailes' death.
On social media, news of his death prompted many who had a different view of Ailes and his legacy to take him to task for creating a hostile workplace for women and minorities. Instead of a hero, some saw Ailes as a promoter of bigotry and fear, who left behind a culture of sexual harassment at the network he built.
"Ailes was a monster who was pushed out of the network he founded because dozens of women who had worked for him came forward and reported that he had sexually harassed them," said Matt Gertz, a senior fellow at Media Matters for America, a liberal media watchdog. "And the legacy he leaves behind is a propaganda machine he created in his own image that has done incalculable damage to the country."
Born in Warren, Ohio, on May 15, 1940, Roger Eugene Ailes made his early reputation as a strategist and media advisor to Republican political candidates, beginning with Richard M. Nixon and including Presidents Reagan and George H.W. Bush. His behind-the-scenes work to shape a more appealing television image for Nixon during his successful 1968 presidential campaign was chronicled in Joe McGinniss' bestselling book, "The Sellling of the President."
During his earlier days as a political consultant, Ailes was a sought-after debate coach, working with Reagan in 1984 and readying then-Vice President Bush for his presidential debates with Gov. Michael S. Dukakis of Massachusetts in 1988. After his resignation from Fox News last summer, Ailes helped Trump prepare for his televised debates with Hillary Clinton.
Ailes often told the story of how he prepared Reagan for his second debate with then-Vice President Walter F. Mondale in 1984. Ailes asked Reagan, then in his early 70s, how he would handle being asked about his age.
Reagan's answer during the debate was memorable: "I will not make age an issue of this campaign," he said. "I am not going to exploit for political purposes my opponent's youth and inexperience."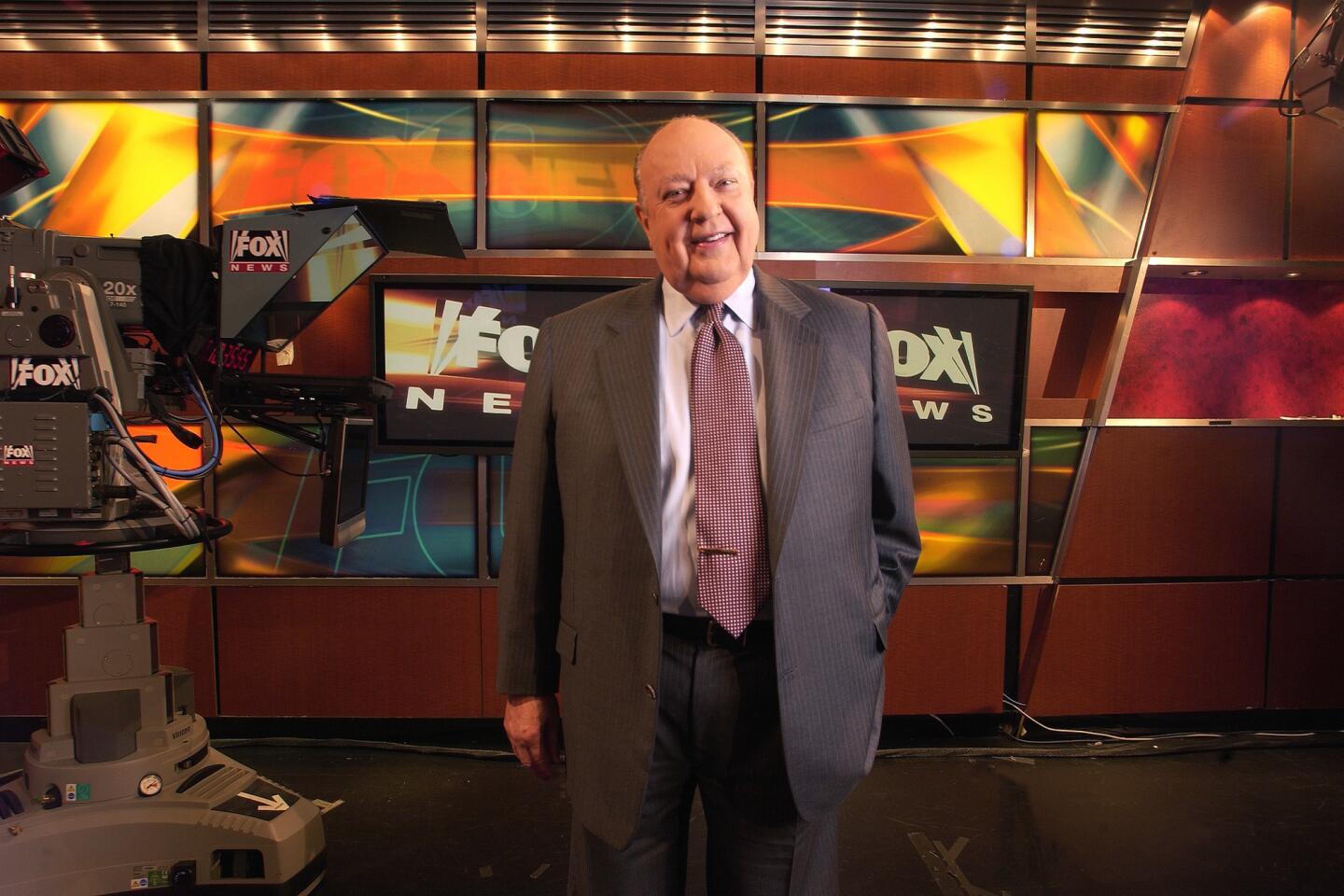 Former Fox News chief Roger Ailes, shown on the Fox News set, died on Thursday. He was 77.
(Jim Cooper / Associated Press)
The former Fox News chairman was credited with making the channel a ratings powerhouse over his 20 years at the helm.
(Jennifer S. Altman / For The Times)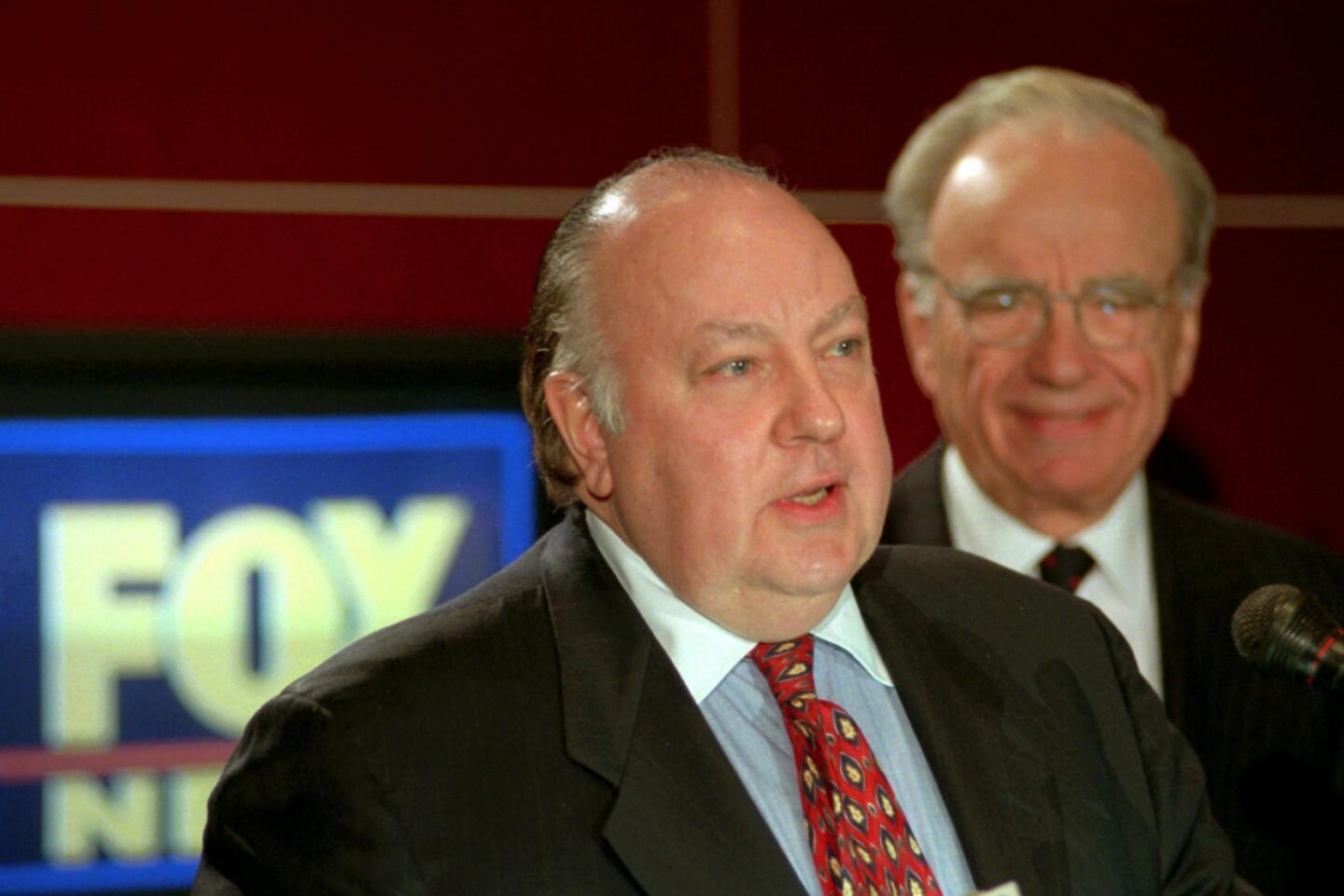 Roger Ailes speaks at a Jan. 30, 1996, news conference with Rupert Murdoch after it was announced that Ailes would be chairman and CEO of Fox News. Ailes was hired to create the channel as an alternative to the established TV news networks, targeting an audience outside the New York-Washington media nexus.
(Richard Dre / Associated Press)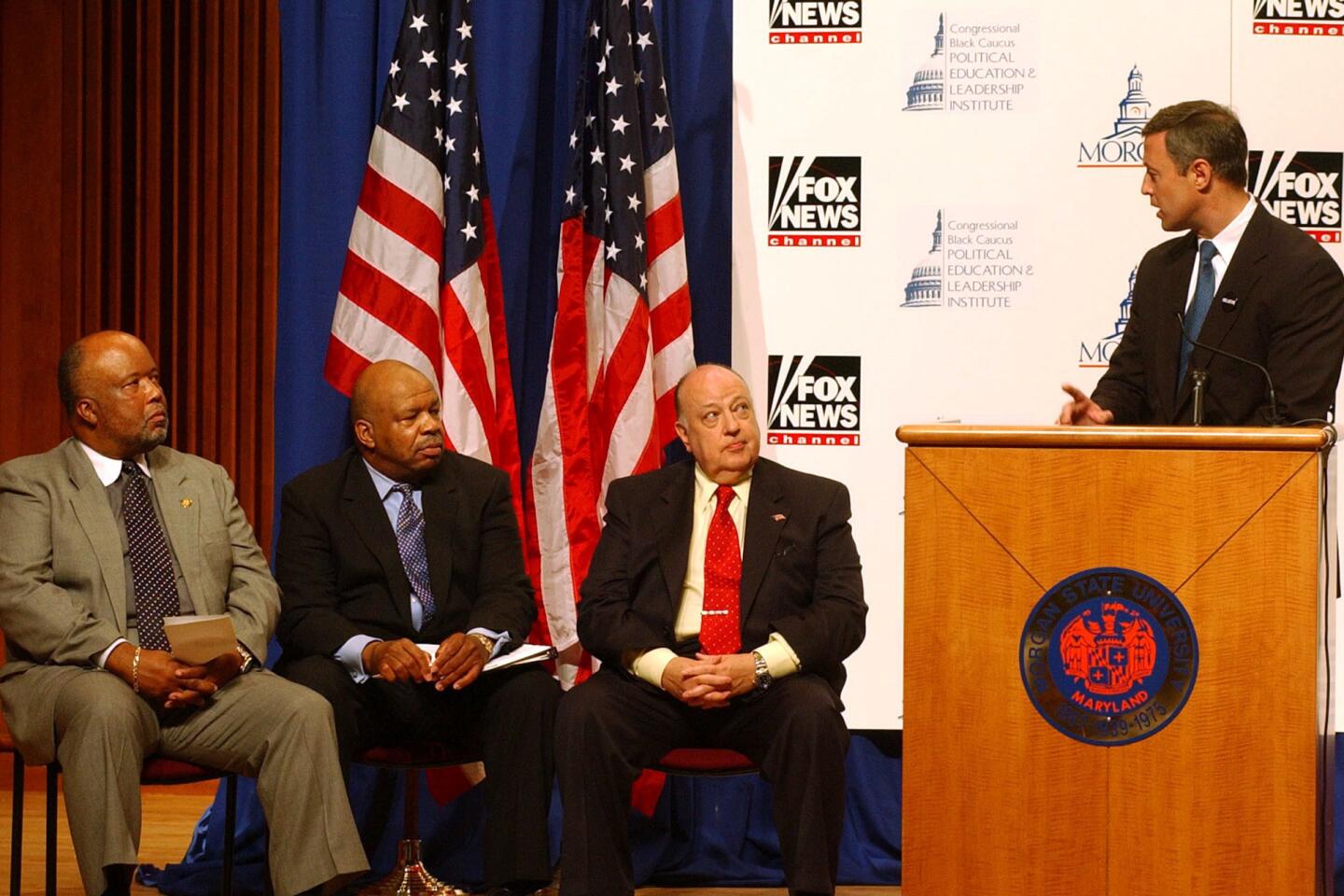 At a 2003 news conference, Baltimore Mayor Martin O'Malley, right, speaks with, from left, Reps. Bennie Thompson (D-Miss.) and Elijah E. Cummings (D-Md.), and Fox News Chairman and CEO Roger Ailes after announcing that the Congressional Black Caucus would partner with the channel to host two presidential debates.
(Gail Burton / Associated Press)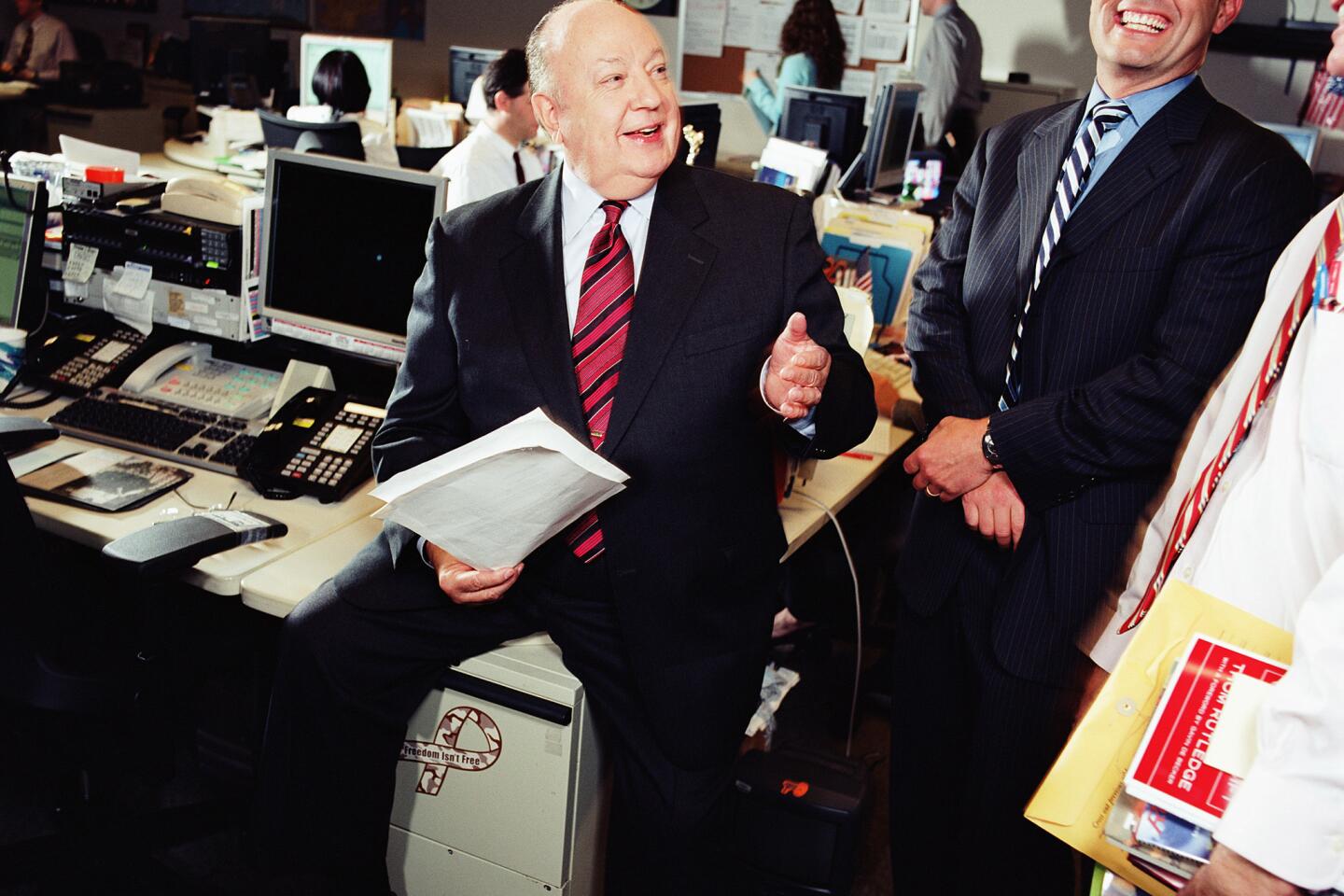 Ailes with Fox News host Brian Kilmeade, right, in New York in 2005.
(Catrina Genovese / WireImage)
Roger Ailes, shown in 2006, resigned from Fox News on July 21, 2016, amid sexual harassment charges.
(Jennifer S. Altman / For The Times)
Ailes speaks during the Summer Television Critics Assn. Press Tour in Pasadena in July 2006.
(Reed Saxon / Associated Press)
Roger Ailes at the premiere for "Kingsman: The Secret Service" on Feb. 9, 2015.
(Charles Sykes / Associated Press)
Ailes took the helm at CNBC in 1993 and helped boost its ratings and revenue. In 1994 he launched America's Talking, an all-talk cable channel that NBC later turned into MSNBC. He was president and chief executive of both NBC-owned channels until he resigned in early 1996.
Ailes was hired to create the Fox News Channel to be an alternative to the established TV news networks. Its aim was to reach an audience outside the New York-Washington media nexus and speak to people who believed that traditional American values were being abandoned and that government interfered too much in their lives.
But many observers blame Ailes for ushering in the era of opinion-based journalism that has eroded trust in the media.
"He helped craft an enormous gulf of distrust between people and news," Jeffrey Jones, director of the George Foster Peabody Awards at the University of Georgia. "He took ideological and partisan talking points and called it 'news.' That is the brilliance and the detriment of how Ailes has impacted the news industry."
Ailes was a skilled TV producer, but he was not a journalist. When he arrived at Fox News, the company already had a veteran network news executive formerly from CBS, Joe Peyronnin. "Roger asked me to continue," Peyronnin recalled. "He told me 'I don't know anything about the news.'" Peyronnin said he had no interest in staying on to be a part of a plan to work for what Ailes called an "alternative news network."
Fox News Channel was not driven by journalism as much as it was a collection of people who talked about the news in a way no one else on television was doing.
Fox News started gaining traction during the impeachment proceedings of President Clinton in 1998 and truly took hold after the Sept. 11, 2001, terrorist attacks. By the end of 2002, the channel had passed CNN to become the top rated cable news channel and has remained No. 1 ever since.
Ailes is survived by his wife, Elizabeth, and their son, Zachary.
Twitter: @SteveBattaglio
Times staff writers Meg James and David Ng contributed to this report.
MORE ON AILES
Roger Ailes has resigned from Fox News
Ousted Fox anchor Gretchen Carlson hits Roger Ailes with sexual harassment suit
Megyn Kelly thinks Roger Ailes would still be running Fox News if he had not been sued for sexual harassment
---
UPDATES:
2 p.m.: This article was updated with the cause of Ailes' death.
11:25 p.m.: This article was updated with additional reaction to Ailes' death.
9:35 a.m.: This article was updated with information about a 911 call.
9:15 a.m.: This article was updated to add Roger Ailes' birthplace and date of birth and to mention a federal investigation.
8 a.m.: This article was updated with quotes from Rupert Murdoch and a biography by Zev Chafets, and with information about the building of Fox News Channel.
6:40 a.m: This article was updated with reaction from Sean Hannity and others.
6:20 a.m.: This article was updated with comments from former network news executive Joe Peyronnin and others.
6:09 a.m. This article was updated with additional details about Ailes' background.
This article was originally published at 6 a.m.
Inside the business of entertainment
The Wide Shot brings you news, analysis and insights on everything from streaming wars to production — and what it all means for the future.
You may occasionally receive promotional content from the Los Angeles Times.