Jim Nabors, TV's lovably naive Gomer Pyle, dies at 87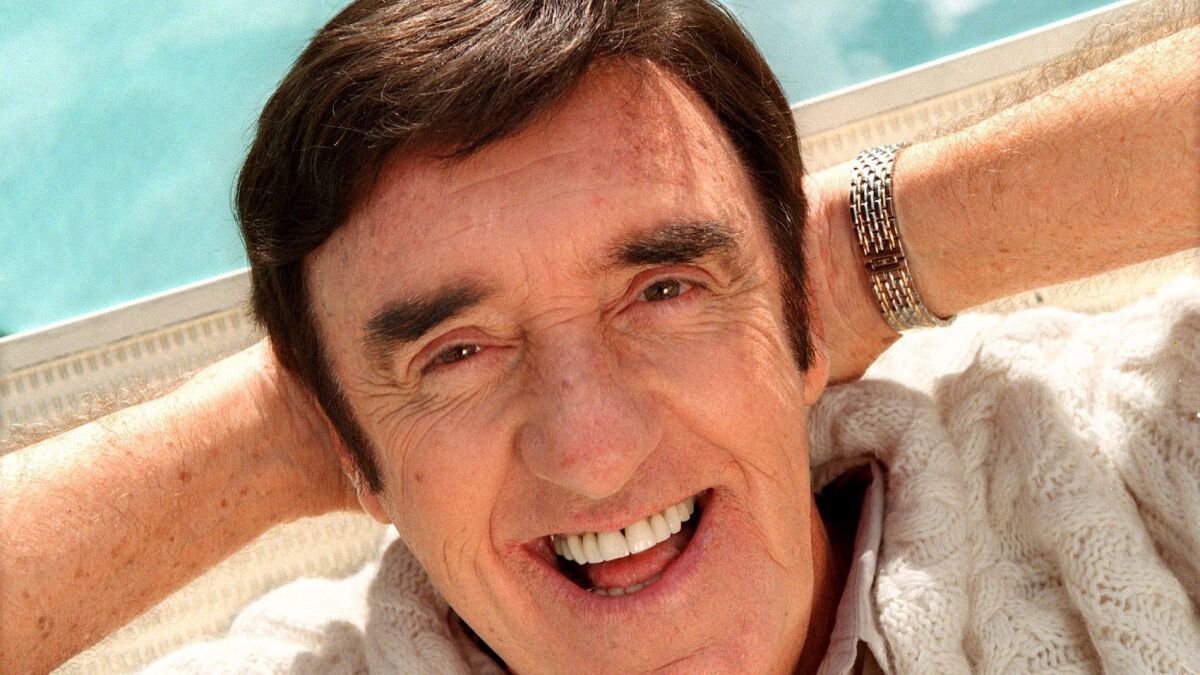 Jim Nabors, the singer and actor who became a TV icon in the 1960s playing the lovably naïve Gomer Pyle on "The Andy Griffith Show" and the spinoff series "Gomer Pyle, U.S.M.C.," has died. He was 87.
Nabors, who underwent a liver transplant after contracting hepatitis B in 1994, died Thursday at his home in Hawaii, his website announced.
"Everybody knows he was a wonderful man. And that's all we can say about him," said Stan Cadwallader, who had been Nabors' partner for 38 years before the couple married in 2013. "He's going to be dearly missed."
A tall and lanky Alabama native, Nabors was singing at a small nightclub in Santa Monica called the Horn in 1962 when Griffith caught his act, in which he'd sing in a booming baritone and then talk in a higher-pitched Southern hayseed accent.
"It was the stupidest act you had ever seen," Nabors said in a 2000 interview with The Times. But Griffith was so impressed, he told Nabors he'd call him if a part in his TV series ever came up.
"Two weeks later, they called me," Nabors recalled. "The character's name was Gomer Pyle. So I read it as the character I was doing in the club. It was the first time I had ever acted."
The guileless Gomer was the attendant at Wally's gas station in Mayberry.
As Gomer said to Griffith's Sheriff Andy Taylor: "Me, I don't do no engine work. Just gas and oil, water and air. Water and air is free. We don't make no charge for it."
The eager-to-please character who wore a ball cap with an upturned bill soon became known for his signature exclamations: "Well, gaawl-lee!" "Shazam!" and "Sur-prise, sur-prise, sur-prise."
"Everybody thought [Gomer] was stupid; he really wasn't," Nabors said in an interview on 2008's "Pioneers of Television," the PBS documentary miniseries. "He just wanted to see the goodness in everybody."
Gomer's popularity led to a spinoff series in 1964, in which the Mayberry innocent joined the Marine Corps, where he encountered the gruff Sgt. Vince Carter (played by Frank Sutton).
"Gomer Pyle, U.S.M.C.," a top 10-rated show, ran on CBS for five seasons.
In his 2000 interview with The Times, Nabors said the military series never generated criticism, despite airing during the height of the Vietnam War.
"We had established it was a peacetime situation and every episode was a peacetime situation. War wasn't mentioned," he said. "I shot the first few episodes at the Marine base in San Diego — the opening where I was marching along. The Marines were very supportive of it."
In fact, he said, one of the "biggest thrills" he ever had came when he performed at the Marine base in Da Nang during an entertainment tour to Vietnam in 1971 with Bob Hope.
"I got the most moving ovation I have ever received in my life," he said. "There were 40,000 Marines, and all Hope said was, 'Gentlemen, I bring you your leader.' And they cheered."
Nabors had no problem being so closely identified with Gomer Pyle.
"If you had to play a character, I probably played the nicest character of all," he told the Chicago Sun-Times in 1997. "It was a real joy to play that because he was always up. It forces you, as a person, to be up too when you feel like dragging around. Being Gomer could bring you up from your toes."
After the "Gomer Pyle" series ended, Nabors hosted "The Jim Nabors Hour," a comedy-variety show on CBS from 1969 to 1971. In 1978, he hosted "The Jim Nabors Show," a daily syndicated hour of music and guest stars.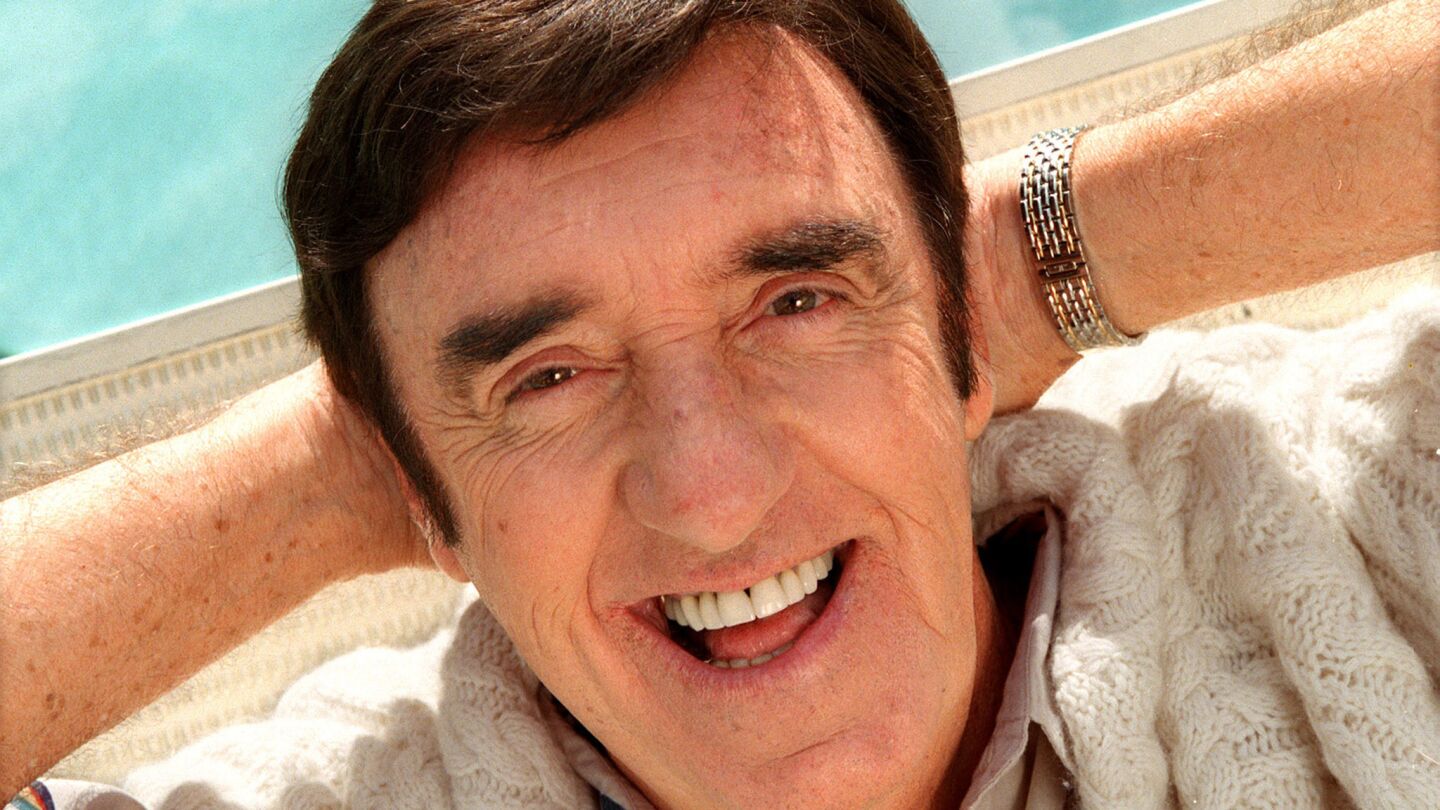 Jim Nabors at the Beverly Hills Hilton Hotel, May 16, 2000.
(Ken Hively / Los Angeles Times)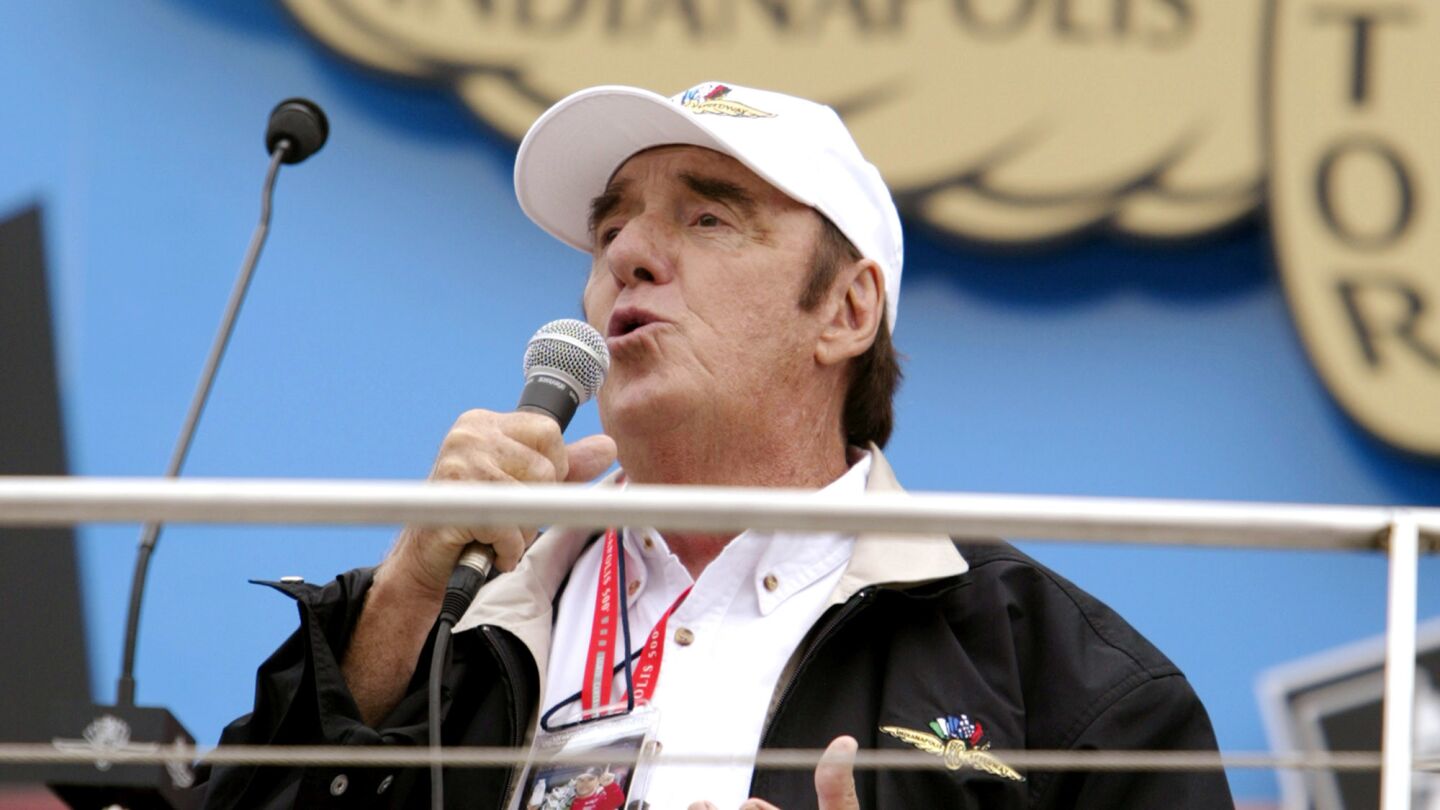 Jim Nabors sings his annual rendition of "Back Home Again in Indiana" before the start of the Indy 500 at Indianapolis Motor Speedway in May 2004.
(Michael Conroy / Associated Press)
He also was his close friend Carol Burnett's guest star on the opening telecast each season of her comedy-variety show during its run from 1967 to 1979.
Nabors had roles in three Burt Reynolds movies: "Stroker Ace," "Cannonball Run II" and "The Best Little Whorehouse in Texas."
But singing dominated his post-Gomer career.
"What happened was that I decided that I liked music, and I wanted to gear my career that way," Nabors said in a 1995 interview with the Birmingham News. "I never thought much of my acting ability. I only did the one character.
"There's something so joyous about music. Acting pales in comparison."
Nabors headlined in Las Vegas and recorded more than a dozen singles and more than 30 albums. He also was a beloved decades-long fixture at the Indianapolis 500, where for 35 years he sang a pre-race rendition of "(Back Home Again in) Indiana." His last appearance was in 2014.
The son of a policeman, Nabors was born June 12, 1930, in Sylacauga, Ala. While growing up, he sang around the house and in his high school glee club and church choir.
After earning a degree in business administration from the University of Alabama in 1952, Nabors moved to New York City, where he found work as a typist for the United Nations.
After a year, he moved to Chattanooga, Tenn., where he worked as a film editor at a TV station. He then moved to Los Angeles and became a film editor at NBC.
While moonlighting as a singer at the Horn, Nabors originally was discovered by comedian Bill Dana, then head writer for Steve Allen's TV show.
"I called my mother and told her I was going to be on national TV," Nabors recalled in a 2004 interview with the Lancaster (Pa.) Intelligencer Journal. "She asked me what I was going to do, and I said, 'Sing.' There was dead silence on the line. Then she said, 'You can't sing.' Afterward, she became my biggest fan."
A longtime resident of Hawaii, Nabors raised macadamia nuts and flowers on a farm on Maui.
McLellan is a former Times staff writer.
---
UPDATES:
11:25 a.m.: This article was updated with additional details and background information, including a comment from Nabors' husband.
The article was originally published at 10:10 a.m.
---
Must-read stories from the L.A. Times
Get the day's top news with our Today's Headlines newsletter, sent every weekday morning.
You may occasionally receive promotional content from the Los Angeles Times.