Award-winning sports journalist Frank Deford dies at 78
Frank Deford, the award-winning sports journalist and commentator whose elegant reportage was a staple for years at Sports Illustrated and National Public Radio, has died. He was 78.
He died Sunday in Key West, Fla., his family said Monday.
Deford was a six-time Sportswriter of the Year and a member of the National Assn. of Sportscasters and Sportswriters Hall of Fame. He wrote and spoke with a lyrical touch and this month retired from NPR's "Morning Edition" after 37 years as a contributor.
"Frank was dealing with an audience that doesn't turn to the sports pages first thing," said Tom Goldman, an NPR sports correspondent who recently spent time with Deford in Key West. "And he was proudest of the many comments he got over the years from people saying, 'I don't really like sports, but I like what you did, and you made me more interested in it.'"
He was the first sportswriter awarded the National Humanities Medal. In 2013, President Obama honored him for "transforming how we think about sports."
"A dedicated writer and storyteller, Mr. Deford has offered a consistent, compelling voice in print and on radio, reaching beyond scores and statistics to reveal the humanity woven into the games we love," Obama said at the time.
Deford called the award the one he was most proud of.
His long profiles, covering all corners of sports, were for years a showcase in Sports Illustrated.
"He could watch the grittiest game and zoom in on the moment that made it important," said Jim Litke, a national sports columnist for The Associated Press. "Nobody was better at connecting sports to the culture at large. He dressed up every event he attended."
He also dressed up in a more literal way, always sharply attired and cutting a debonair figure at 6 feet 4, with his shock of dark hair and thin mustache.
Deford was a prolific book author, including several novels, and contributed to HBO's "Real Sports" program and hosted documentaries on the cable network.
Among Deford's books were "Heart of a Champion," which chronicles the careers of athletes who appeared on Wheaties boxes, and a biography of tennis great Bill Tilden.
His wit always was on display. Among Deford's gems: "I believe that professional wrestling is clean and everything else in the world is fixed."
And he understood why the games have such a hold on so many.
"To see the glory in sport, where somebody comes from behind and does something, sinks a shot in the last second or throws a touchdown pass or hits a home run, there is a beauty in that, and at the end of the day, that's why we love sports more than anything else."
Deford grew up in Baltimore and graduated from Princeton. He joined HBO Sports in 1995 and his first report chronicled life in Augusta, Ga., outside the Masters. It was called "The American Singapore." He delivered 119 segments for the show and was a feature reporter at Wimbledon in the 1990s.
He was editor in chief of The National, the nation's first sports daily, which was founded in 1990 and folded the following year. Its final front page read: "We had a ball."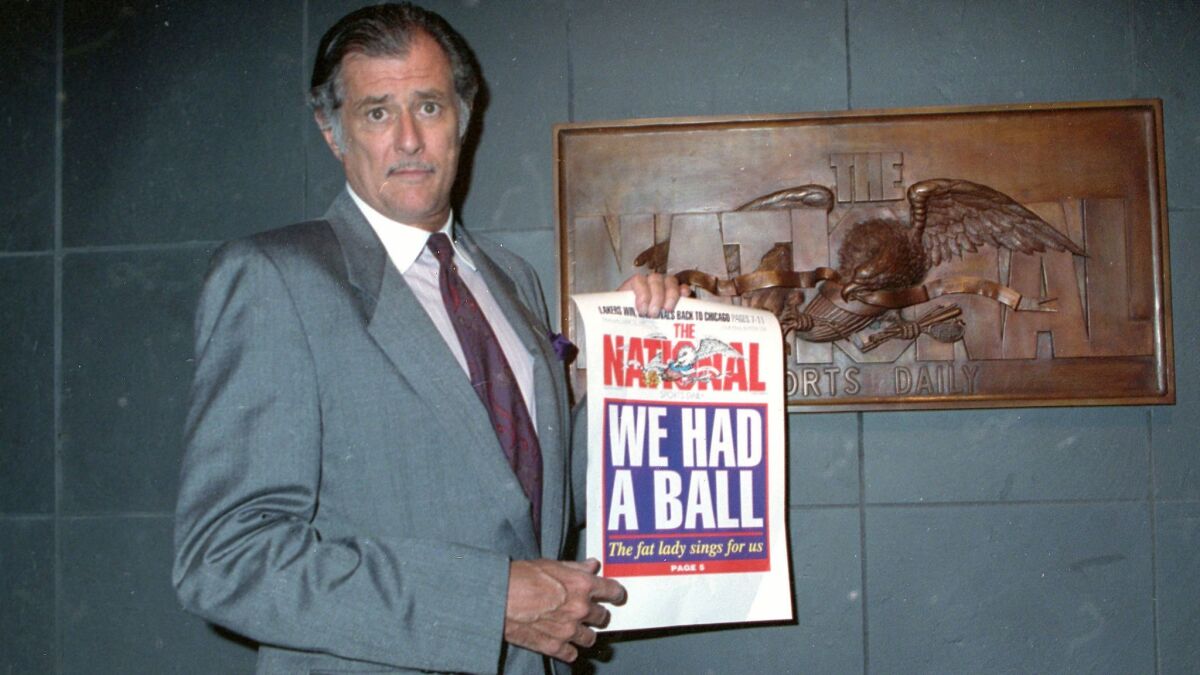 Bryant Gumbel, host of "Real Sports," said Deford joked with him a week ago about finally being released from the hospital.
"In addition to being an immense talent, he was a consummate gentleman, a dear friend, and a beloved, original member of our 'Real Sports' family," Gumbel said. "Frank was a giant in the world of sports. His loss is immeasurable."
Deford is survived by his wife, the former model Carol Penner; two children; and two grandchildren.
---
UPDATES:
3:05 p.m.: This article was updated and rewritten throughout.
1:25 p.m.: This article was updated with more details about Deford's life.
This article was originally published at 11:45 a.m.
---
Must-read stories from the L.A. Times
Get the day's top news with our Today's Headlines newsletter, sent every weekday morning.
You may occasionally receive promotional content from the Los Angeles Times.