Steve Meltzer dies at 56; puppeteer opened center in Santa Monica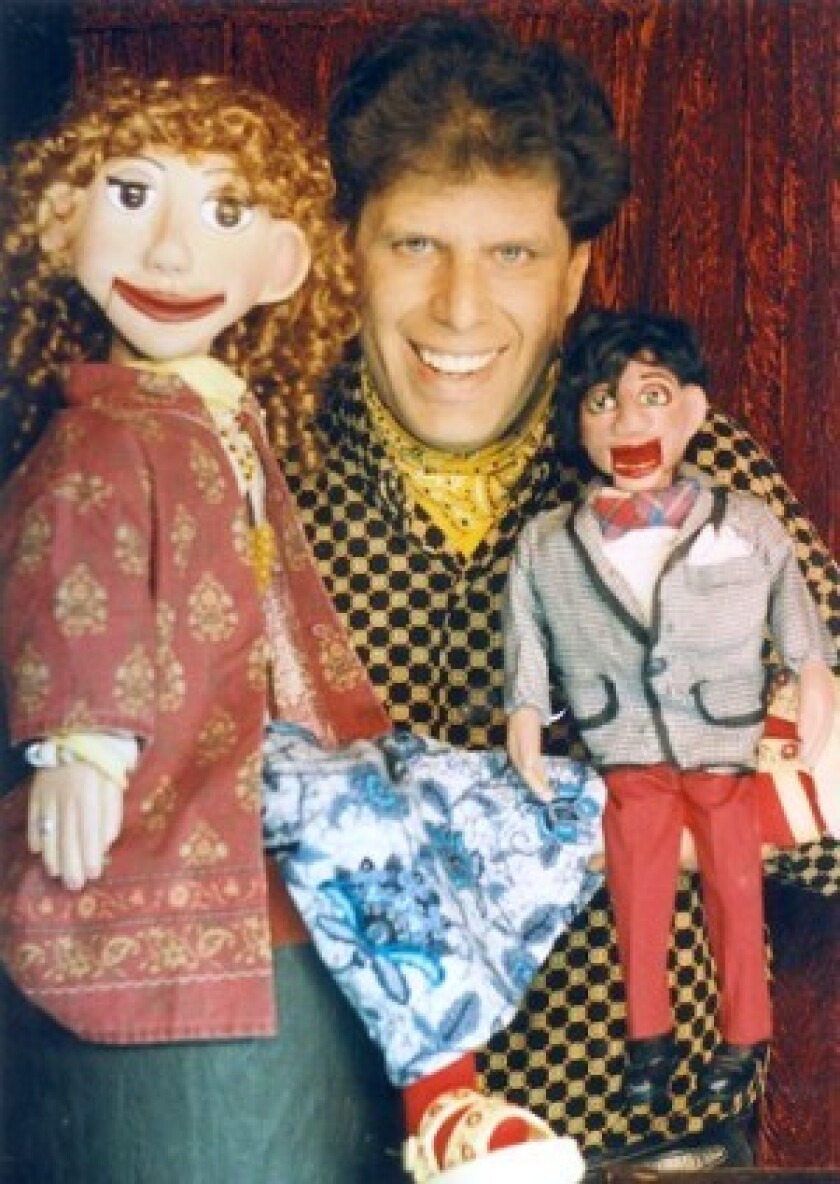 Steve Meltzer, a gently enthusiastic puppeteer who ran a one-man theater and museum operation, the Santa Monica Puppetry Center, for more than a decade, has died. He was 56.
Two hours after he performed his final show and permanently closed his puppetry center on Aug. 16, Meltzer had a stroke. Days later, he had surgery for a brain tumor.
He died Nov. 30 of melanoma at his home in Santa Monica, said his friend Mike Clark.
"What's so amazing about Steve is that he was able to so fully live his dream, and so many of us do not," said Christine Papalexis, a puppeteer who preceded Meltzer as president of the Los Angeles Guild of Puppetry. "He had a big personality and was really devoted to his craft and kids."
Trained as a teacher, Meltzer rediscovered his childhood affection for puppets in the 1980s after buying a banged-up puppet at a Long Beach swap meet. Soon he was restoring puppets and performing for children at birthday parties.
"I wanted to do what I am now doing when I was 4," Meltzer told L.A. Weekly last year. "Paul Winchell was a huge TV star back then, and my idol. I knew his partner, Jerry Mahoney, was not a living person, but Paul acted as though he was, and he made me believe it.
"I do this . . . for the sheer joy that I have with the audience as we laugh . . . and sing . . . and believe together."
After Meltzer tired of traveling to parties with such favorite props as Fred, his smart-aleck ventriloquist's dummy, and Calvin, a tap-dancing marionette, he opened the center on the Promenade in 1998.
His signature performance was the modest musical revue "Puppetolio," an informal variety show filled with "gentle charm and magic tricks," according to a 1998 Times review.
It starred a cast of eccentric ventriloquist dummies, marionettes and hand puppets in comic vignettes accompanied by songs and old-time recorded music. Meltzer played guitar and sang music he composed.
One comic bit involved a "drawing," a face on paper that came to life and threatened to take over the show. Another featured Woodrow, a guitar-playing dummy who led an "On Top of Spaghetti" sing-along.
Two years ago, Meltzer moved his puppet center to a more affordable Santa Monica location, on Broadway near 10th Street. In addition to a small theater, the center included a work space where Meltzer ran a thriving puppet-repair business. He also gave puppet lessons to children.
In his museum, he operated automated vintage marionette displays and kept an 8-foot-tall marionette clown from England, a recent purchase that he had rigged to move the same way his smaller puppets did.
When the Bob Baker Marionette Theater near downtown Los Angeles sought historic-cultural landmark status in June, Meltzer staged a march of the marionettes before the Los Angeles City Council. He had the carved demonstrators hold tiny placards; one said "Up With Puppets."
"He went to bat for us" and won, longtime puppeteer Bob Baker told The Times. "He was always trying to help people, and he loved to perform."
With the economic downturn, Meltzer's puppet center could not survive the loss of revenue from the drop-off in private bookings, he told The Times in August.
Marionette work on the 2004 film "Team America: World Police" had helped him financially, but he had to close the center, where his hero, Winchell, had given a final performance before his death in 2005.
"Family entertainment is a funny thing," Meltzer said in 2002 in the Business Journal. "People see it as second-tier, but when you get a 3-year-old and 80-year-old grandparent laughing together at the same thing, it's miraculous."
Born in 1953 in New York City, he was the youngest of three children. His father, Jack Meltzer, ran Merit, a vintage record shop in Manhattan.
After graduating with a bachelor's degreefrom Earlham College in Indiana in 1975, Meltzer earned a master's in acting from UC Irvine.
At 20, he built his first puppet, Fred, at a summer camp, but he left the hobby behind to pursue acting and teach.
For at least five years, he taught third and fifth grades in Los Angeles public schools before puppets, as he once said, began "taking over" his life.
Ultimately, Meltzer had more than 400 of them. They will be donated to museums and sold to private collectors.
He is survived by his mother, Sylvia Falk, 92; and his sisters, Susan Slatnick and Roberta Zwart.
Services will be private.
---