Teddy Pendergrass dies at 59; quintessential R&B boudoir crooner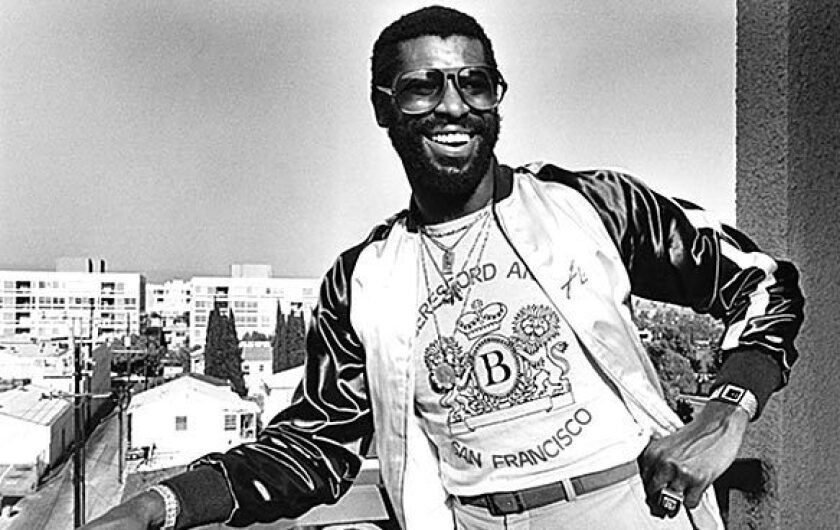 Teddy Pendergrass, the soul singer who combined hyper-romantic love songs with a virile, sexy stage presence to become the quintessential R&B boudoir crooner before a 1982 car accident left him paralyzed, died Wednesday in his native Philadelphia. He was 59.
Pendergrass, best known for the sandpaper voice behind the 1972 hit "If You Don't Know Me By Now" while he was with Harold Melvin & the Blue Notes, had undergone colon cancer surgery last year and had been in declining health ever since, his son, Teddy Pendergrass II, said in a statement.
---
FOR THE RECORD:
Teddy Pendergrass: The obituary of singer Teddy Pendergrass in Friday's Section A referred to a duet he recorded with Whitney Houston as "It Should've Been You." The title of their hit duet was "Hold Me." —

---
"Teddy Pendergrass was one of the greatest artists that the music industry has ever known, and there hasn't been another one since," veteran producers and songwriters Kenny Gamble and Leon Huff said in a joint statement issued Thursday. "We've lost our voice and we've lost our best friend, but we're thankful for what we had. It was beautiful. He was one of the best."
Even though he was rendered a quadriplegic by the accident in which he lost control of his Rolls-Royce and crashed into a tree, Pendergrass fought through arduous physical rehabilitation to be able to continue to sing.
As one of the architects of what became known as The Sound of Philadelphia, a shimmering and urbane extension of the R&B music that had exploded out of Detroit in the 1960s from Motown Records, Pendergrass subsequently recorded several more albums and charted more than a dozen additional hits on the R&B charts, including a No. 1 duet with Whitney Houston, "It Should've Been You."
Two years after the crash in which his neck was broken and his spinal cord partially severed, he told Life magazine: "I don't know a whole lot of people who could have come through with smiles, as I have. That's not an egotistical statement. But I haven't seen a wall or hurdle yet that I haven't been able to jump. If I can't jump it, I go through it."
His neurosurgeon, Dr. Barth Green, said at that time: "Teddy is the first celebrity I've met who is willing to say, 'Look, I'm paralyzed, but it's not contagious.' He was the ultimate macho entertainer, and for him to go public like this is tremendous."
He not only went public, he also established the Teddy Pendergrass Alliance, a resource organization for people with spinal cord injuries that focuses on quality of life rather than the prospect of a cure.
Using a wheelchair, he made an emotional return to the concert stage in his hometown for the global Live Aid benefit concerts in 1985, and in 2001 he embarked on his first concert tour in nearly two decades.
In 1996, he took a key role in the gospel musical "Your Arms Too Short to Box With God," which traveled for four months on a 21-city tour, including a stop in Los Angeles at the Wiltern Theatre.
Theodore DeReese Pendergrass was born March 26, 1950, to Ida Pendergrass, whose multiple miscarriages before Teddy was born prompted her to name him Theodore, which means "a gift from God."
Jesse Pendergrass left Ida shortly before their son was born and was killed in a fight when Teddy was 9.
When Pendergrass was a toddler, his mother recognized his talent as a singer. He joined a church youth choir and was ordained a minister at age 10. As a teenager, he joined a group called the Cadillacs, which merged in the late 1960s with Melvin's Blue Notes.
Pendergrass joined as the Blue Notes' drummer, but his distinctive vocals quickly led Melvin to put him front and center in concert and on record. Pendergrass said Melvin taught him everything he knew about the music business, good and bad, and that the bandleader who died in 1997 typically regarded his band members as expendable.
After helping the group achieve its greatest chart successes in the 1970s with a string of hits, including "The Love I Lost (Part 1)," "Bad Luck (Part 1)," and "Wake up Everybody (Part 1)," Pendergrass went solo in 1977 and quickly found even more success with a series of gold and platinum albums. His music often emphasized the physical side of romance, but he kept the message more subtle than R. Kelly's R- and sometimes X-rated brand of R&B.
"Guys like myself and Marvin Gaye sang about sex, but we did it in a classy, suggestive way," he told Billboard in 1993. "These days, [male] singers are real literal. I've always felt it necessary to keep the finesse. . . . It's OK to suggest what you'd like to do when you're singing about love and sex."
The prime example was his 1979 hit "Turn Off the Lights," in which he half sang, half whispered: "Turn off the lights, light a candle / Tonight I'm in a romantic mood" and then outlined his PG-13 plan for an evening of sensual pleasure.
His solo shows set the stage for future bedroom crooners such as Luther Vandross and Kelly with sexy live performances that catered to adoring female fans, who often showered him with their undergarments as well as stuffed animals -- mostly teddy bears -- during a series of "ladies only" concerts that typically started at midnight.
"It was during those women's only events that Teddy Pendergrass was at his best," radio personality Patty Jackson told the Philadelphia Tribune in 2006. "The women who came . . . felt special. They left feeling they had been with a man's man, one who was strong, truly entertaining and could really sing. . . . One would be hard pressed to find another singer who could mesmerize a female crowd the way Teddy could."
In addition to his mother and son, Pendergrass is survived by his second wife, Joan; their children, Sherilla Estrade and Jessica Avila; two other daughters, Trisha and LaDonna Pendergrass; and seven grandchildren.
---
Must-read stories from the L.A. Times
Get all the day's most vital news with our Today's Headlines newsletter, sent every weekday morning.
You may occasionally receive promotional content from the Los Angeles Times.