The Orange County writer who saved Vietnam's wartime literature, poem by poem, dies
Vo Phien, a writer who preserved literature and other written work produced during the Vietnam War, wanted to pay tribute to important voices in history. Above, Vo with his wife, Vien Pho, at their home in Santa Ana in 2010.
(Dan Huynh)
Vo Phien at his home in Santa Ana in 2010.
(Dan Huynh)
Vo Phien preserved literature and other written work produced during the Vietnam War.
(Dan Huynh)
In this March 1965 image, U.S. Army helicopters fire into the tree line to cover the advance of South Vietnamese ground troops in an attack on a Viet Cong camp 18 miles north of Tay Ninh, Vietnam, near the Cambodian border.
(Horst Faas / Associated Press)
North Vietnamese soldiers run past destroyed aircraft on the tarmac of Saigon's Tan Son Nhat airport on April 30, 1975. Several hours later, Saigon fell.
(Agence-France Presse)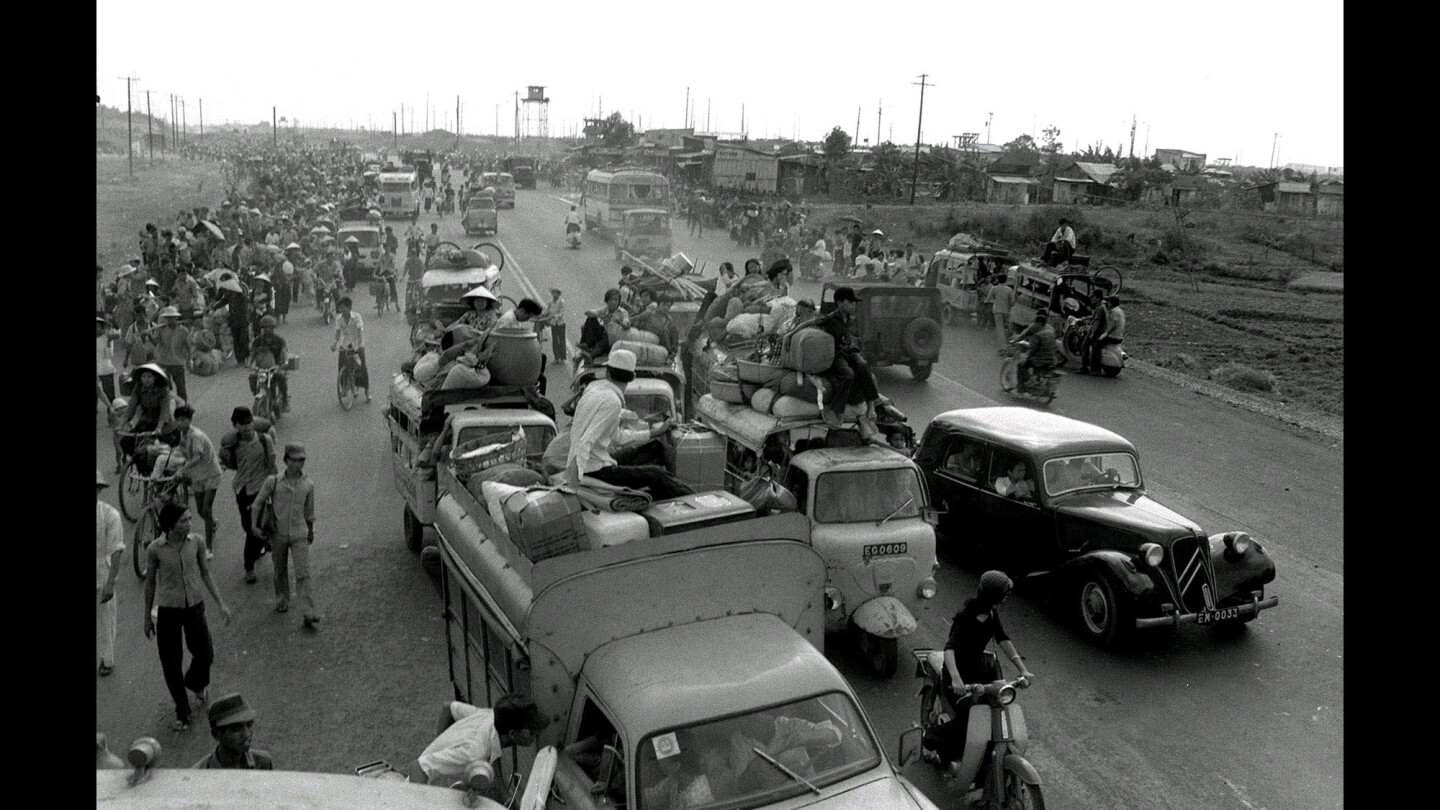 Vietnamese fleeing advancing communist forces flood into Saigon on April 28, 1975. The troops entered the city two days later.
(H. Hung / Associated Press )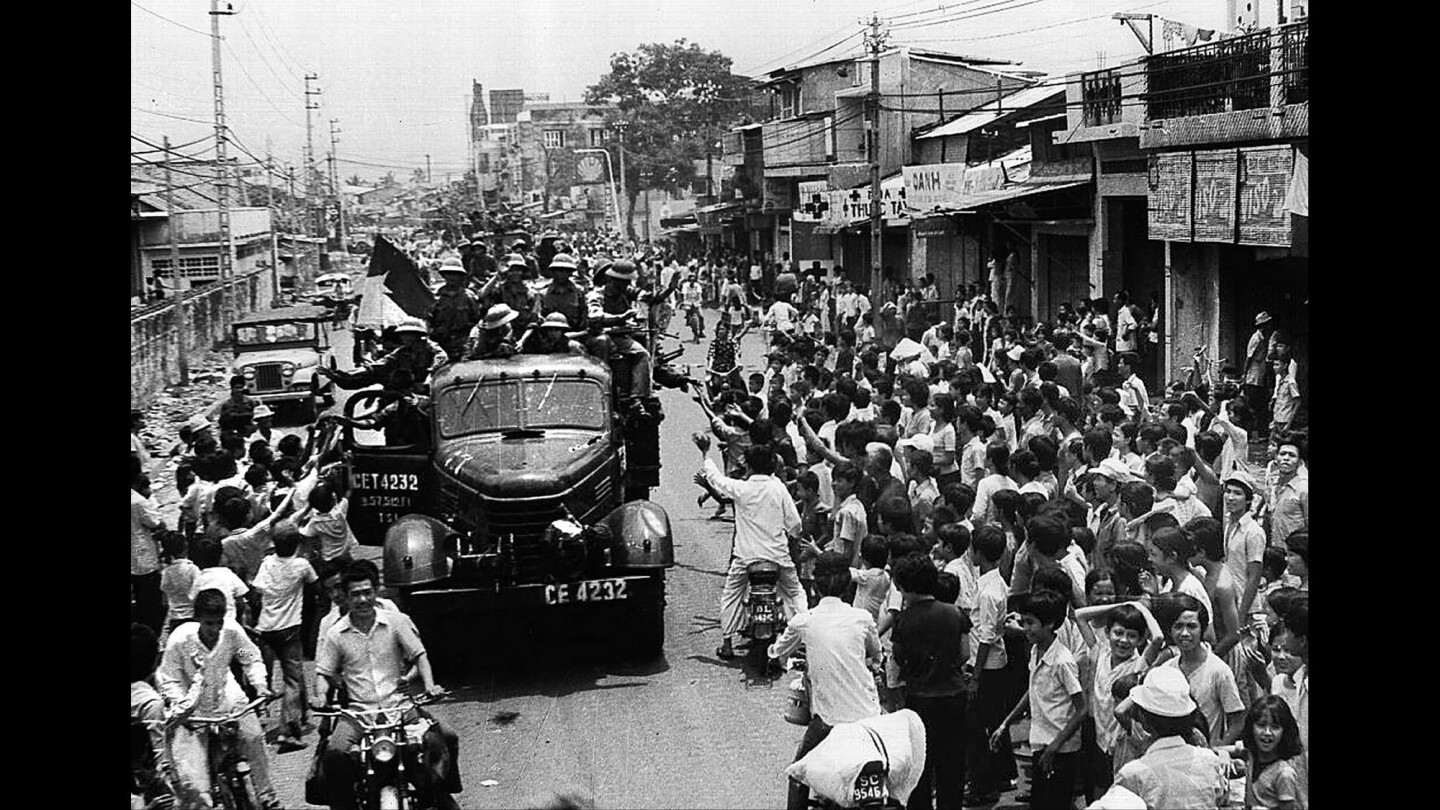 Saigon residents take to the streets on April 30, 1975, as communist troops arrive after the fall of the Vietnamese city.
(Agence-France Presse)
When the Communist forces pushed into Saigon in the final days of the Vietnam War, Vo Phien sensed that his country's past was about to be erased.
Books would be burned, history lessons rewritten, entire cities stripped of their names.
------------
FOR THE RECORD
In photos accompanying a previous version of this article, Vo Phien's name was misspelled as Vo Phein. Also, a previous version of the article gave his age as 90. While his date of birth made him 89, he was considered in Vietnamese culture to be 90 based on the lunar calendar.
------------
Fearful of what was to come, he resolved to collect and preserve literary treasures, essays that had appeared in newspapers and magazines, books that might soon be banned, even diaries -- anything that captured the raw emotions and nervous energy of wartime.
What emerged years later, after he landed in America as a refugee with little more than his wife and teenage daughter, is a volume of Vietnamese writings that otherwise might have vanished.
"What he created -- it's incredible and valuable," said Thai Strom, a Sacramento journalist who views Vo as a mentor. "The value is the sum of knowledge and experience -- what he remembers, what he dug up, what he discovered from the minds of so many important people."
Vo, a prolific Vietnamese writer himself who made a living crunching numbers for the Los Angeles County Employees Retirement Assn., died Tuesday at a medical facility in Santa Ana. He was 89, though in Vietnamese culture he was considered to be 90 based on the lunar calendar.
Among Vietnamese Americans, Vo is considered one of the diaspora's towering literary minds, someone with an eye for the melancholy of the era, a writer who captured the rich detail of the culture, Vietnamese village life and the war itself.
But it was the exhaustive collection "Van Hoc Mien Nam, Tong Quan," an overview of South Vietnamese literature from 1954 to 1975, that endeared him to fellow expatriates. The book featured the work of more than 200 authors and documented the period's artistic and literary movements. Its 1999 debut was followed by six other books exploring genres such as poetry and plays.
Born Doan The Nhon on Oct. 20, 1925, Vo grew up in Binh Dinh, a province in Central Vietnam. By the time he was 20, he had joined the anti-French revolutionary movement but became disenchanted with communism and went to work in the Ministry of Information for the Republic of Vietnam.
Vo Phien became the pen name he used for the poetry, novels, short stories and essays he wrote at a furious pace. Never using a computer, he wrote in Vietnamese by hand while his wife typed his manuscripts, adding the proper accent marks. His first works were published in Vietnam in the 1950s, when the first Indochina war was being fought between the French government and the communist army.
When Saigon fell in April 1975, Vo scrambled to leave, fleeing the country with his wife and teenage daughter, eventually arriving in America. Two of his adult sons, both doctors with families to support, stayed behind. A third remained in Australia, where he had been studying as an exchange student.
From a refugee camp at Fort Indiantown Gap, Pa., he struggled to make sense of America.
Unaccustomed to the cold, Vo and his family moved to Los Angeles, a city teeming with immigrants. Intent to begin collecting wartime literature from Vietnam, he won a $20,000 grant from the Social Science Research Council and the American Council of Learned Societies to help with his hunt.
He tracked down fellow refugees who might have brought magazines, newspapers, anything that might contain stories about Vietnam. He appealed to the freshly arrived in growing immigrant hubs such as Little Saigon for books. He scoured microfilm at libraries in France and New York and combed archives at the Library of Congress in Washington.
"But it was so very difficult," his wife said. "Imagine -- almost everyone left Vietnam with just the clothes they were wearing. It was chaotic, terrifying. No one had time to grab their belongings -- or there wasn't room for them to take anything."
"Van Hoc Mien Nam, Tong Quan" was finally published in 1999 and quickly became a staple in Vietnamese households. It has never been translated to English.
A careful writer, Vo "examined each issue -- a world event, a historical scene -- from every angle," said Minh Phu Pham, editor of the Ky 21, a literary magazine focusing on the 21st century.
"I had never heard of him and now, whenever I mention him, others are happy to tell me what they appreciate about him," said Linda Le, a Santa Monica artist who began studying the Vietnamese culture in college. In "Vo Phien and the Sadness of Exile," John C. Schafer, professor emeritus of English at Humboldt State, described Vo as someone who precisely captured the pain of watching "the physical and spiritual destruction" of his homeland.
Vo, someone so at ease with words, was equally comfortable with numbers. As a benefits specialist for the Los Angeles County Employees Retirement Assn., he would solve equations in his head "with such speed," processing 20 sets of forms a day for public employees at the close of their careers, his wife said. Both worked at the Hall of Administration in downtown Los Angeles. In the evening he wrote and she would become his editor.
"Those were our ideal years," Vien Pho said.
When a collection of his life's work, "Vo Phien Tuyen Tap," came out in 2006, readers from across California and overseas arrived at his book signing in Little Saigon. Vo is survived by his wife, four children, four grandchildren and three great-grandchildren.
"You know, he started writing poetry in his teens," Vien said. "I fell for him when I read his words."
---
Must-read stories from the L.A. Times
Get all the day's most vital news with our Today's Headlines newsletter, sent every weekday morning.
You may occasionally receive promotional content from the Los Angeles Times.