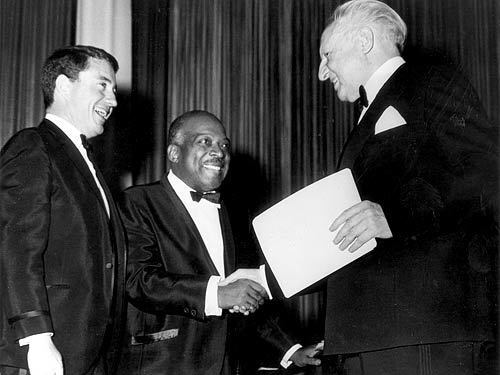 19 Images
Merv Griffin | 1925-2007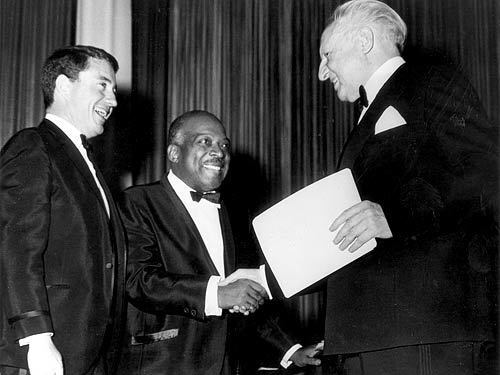 Merv Griffin, left, with bandleader Count Basie and conductor Leopold Stokowski at the 1961 Grammy Awards. Griffin himself scored an unlikely No. 1 hit in 1950 with his Cockney-accented rendition of "I've Got a Lovely Bunch of Coconuts."
(File)
Griffin in 1963. After stints as a singer and actor, he proved to be a natural in the talk show host's chair.
(NBC)
Griffin with characters from the "Peanuts" comic strip. After moving his show to late night in 1969, he altered the traditional format by introducing "theme" shows in which he devoted entire programs to a single topic or person. The first was a 90-minute salute to "Peanuts" creator Charles Schulz.
(File)
Nancy Reagan, a friend of Griffin's, appears on his show in 1971. Griffin would later be a pallbearer at the funeral of her husband, former President Ronald Reagan.
(File)
Griffin reunites with bandleader Freddy Martin at the Cocoanut Grove in 1971. In the 1940s, Martin heard Griffin on KHJ in Los Angeles and invited him to join his orchestra as a singer.
(File)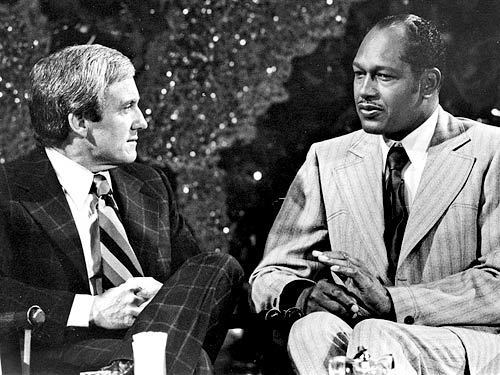 Griffin interviews Los Angeles Mayor-elect Tom Bradley in 1973.
(David Williger)
Although Griffin was a TV talk show host for more than two decades, his most enduring show-business claim to fame was creating and producing "Jeopardy!" and "Wheel of Fortune."
(AP)
The entrepreneur in 1987. "You know, I really never get down," he said in a 2005 interview with the Hollywood Reporter. "My philosophy is that you have to constantly be turning the page, which prevents me from getting caught up in any negativity."
(LAT)
From the beginning of "The Merv Griffin Show" in daytime on NBC in 1962 to its end in syndication in 1986, Griffin hosted more than 5,500 shows and interviewed more than 25,000 guests.
(File)
Griffin in 1992 with "Wheel of Fortune" hostess Vanna White, front row, center, and international hostesses of the game show.
(King World)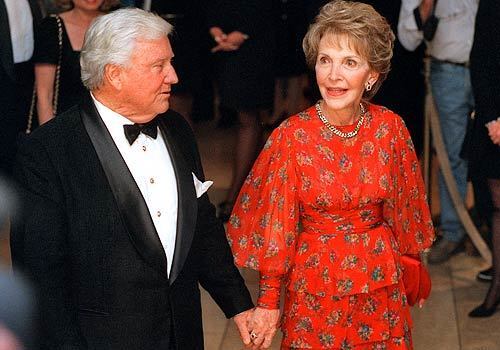 Griffin and former First Lady Nancy Reagan arrive in Beverly Hills for the presentation of the 1997 Ronald Reagan Freedom Award, which was given to Bob Hope.
(Chris Pizzello / AP)
Griffin and Rosie O'Donnell on the set of her talk show in 1998.
(LAT)
Singer and songwriter Carol Connors with Griffin at a benefit auction in Los Angeles in 2001.
(Sebastian Artz / Getty Images)
Griffin announces he is donating his $10-million Wickenburg Inn and Dude Ranch near Phoenix to the Childhelp group to create a center for abused children. With him are Childhelp co-founders Sara O'Meara, left, and Yvonne Fedderson.
(Loren Anderson / PRNewsFoto)
Griffin during a 2003 L.A. Times interview at the Beverly Hilton. He sold the hotel that year after buying it in 1987 and spending millions to renovate it. During his career, Griffin bought and sold more than 20 hotels, gambling resorts and riverboats.
(Michael Ross Wacht / For The Times)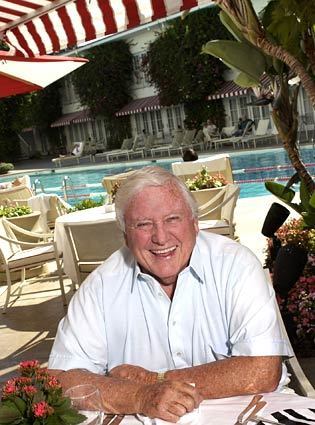 Poolside at the Beverly Hilton.
(Lucy Nicholson / AP)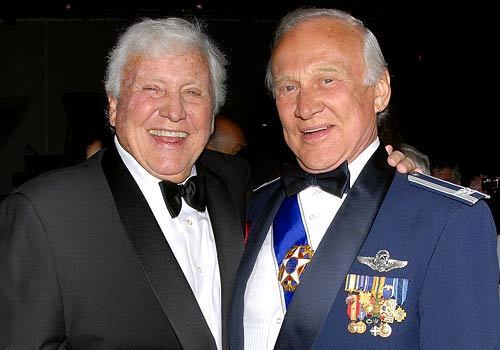 Griffin and astronaut Buzz Aldrin at a Los Angeles gala honoring fashion icon Fred Hayman in May 2007.
(Charley Gallay / Getty Images)
From left, Placido Domingo, Fred Hayman and Griffin at the tribute to Hayman in May 2007.
(Lee Salem)
Griffin and jockey Victor Espinoza enjoy the moment after Griffin's horse Cobalt Blue won the San Felipe Stakes at Santa Anita Park in Arcadia in March 2007.
(Benoit Photo)