21 Images
Mike Wallace | 1918 - 2012
Mike Wallace poses with his second wife, Buff Cobb, the day after their wedding. Wallace met Cobb, an actress, while interviewing her on WGN.
(Associated Press)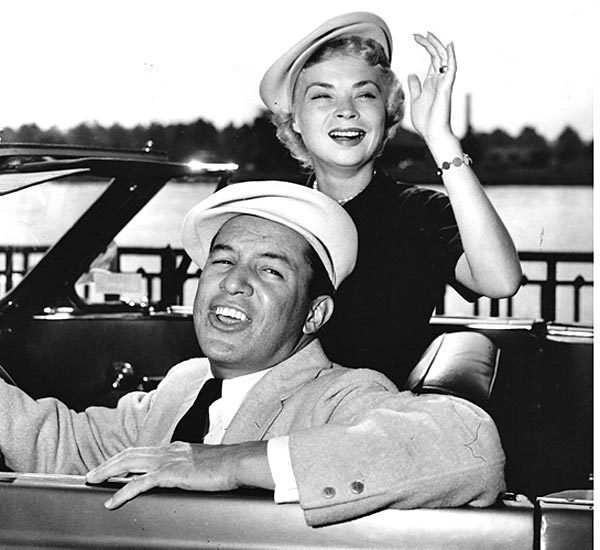 Mike Wallace and his second wife, Buff Cobb, hosted an early 1950s radio and television
talk show
, "Mike and Buff."
(Wide World Photo)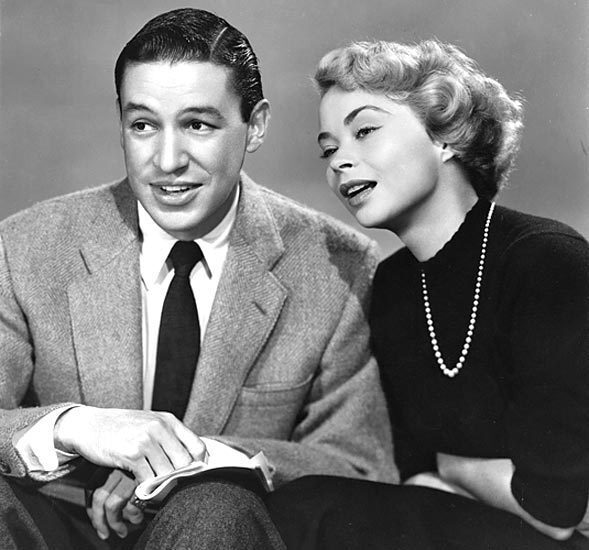 Husband-and-wife team Mike Wallace and Buff Cobb hosted the "Mike and Buff" program on CBS until 1953. They divorced two years later.
(CBS)
Mike Wallace, left, and Margaret Truman, hosts of the NBC radio program "Weekday," interview actor Mel Ferrer and his wife, actress Audrey Hepburn.
(Associated Press)
Mike Wallace, right, poses for a photograph with actor Errol Flynn before an episode of NBC's "The Big Surprise," a TV quiz show that Wallace hosted.
(Matty Zimmerman / Associated Press)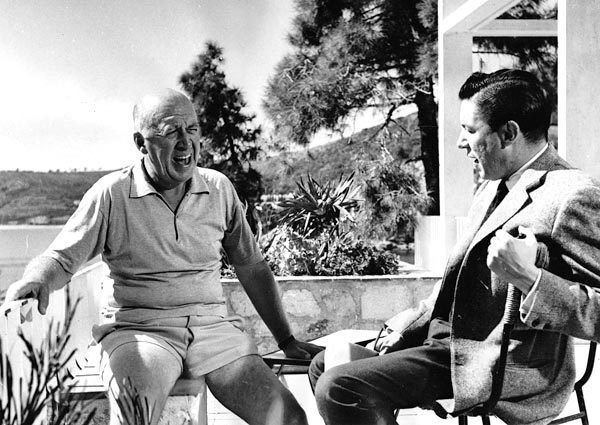 Mike Wallace, right, talks with film producer Otto Preminger during a visit to the French Riviera for an episode of the ABC program "The Mike Wallace Interview."
(Wide World Photo)
Mike Wallace reports from a U.S. Army base in Cu Chi, Vietnam, that had been attacked the day before.
(CBS)
Mike Wallace, right, meets with his co-host on "60 Minutes," Harry Reasoner, left, and the program's creator, Don Hewitt.
(CBS)
Police officers escort Mike Wallace off the floor of the Democratic National Convention in Chicago after a fight broke out between some delegates and security officials. Wallace was detained for 20 minutes before he returned to the floor.
(Associated Press)
As the self-described "black hat" of "60 Minutes," Mike Wallace circled the globe, displaying his charm and wit and asking sometimes barbed, always penetrating questions of kings and presidents, business magnates and bureaucrats.
(Joe Raedle / Getty Images)
Mike Wallace interviews composer Leonard Bernstein on Feb. 2, 1980, for a "60 Minutes" segment airing days before a revival of "West Side Story" opened on Broadway.
(Associated Press)
In this Oct. 15, 1984, photograph, Mike Wallace, right and CBS producer George Crile, left, leave the U.S. District Court in New York. The network and Wallace were for sued for $120 million by Gen. William Westmoreland, who, according to a "CBS Reports" documentary narrated by Wallace, had inflated enemy casualty figures to maintain support for the Vietnam War. Westmoreland eventually dropped the suit.
(Mario Suriani / Associated Press)
Clockwise from top left are "60 Minutes" staffers Ed Bradley, Mike Wallace, Harry Reasoner, Diane Sawyer and Morley Safer. Wallace helped found "60 Minutes," the CBS show that would be his enduring showcase.
(CBS)
Mike Wallace
, left, is shown with film and TV producer
David L. Wolper
.
(Craig T. Mathew)
Members of the "60 Minutes" staff gather at the Metropolitan Museum of Art in New York on Nov. 10, 1993, to celebrate the newsmagazine's 25th anniversary. From left are: Mike Wallace, Andy Rooney, Morley Safer, Steve Kroft, Ed Bradley, Leslie Stahl and the show's executive producer, Don Hewitt.
(Bob Strong / AFP/Getty Images)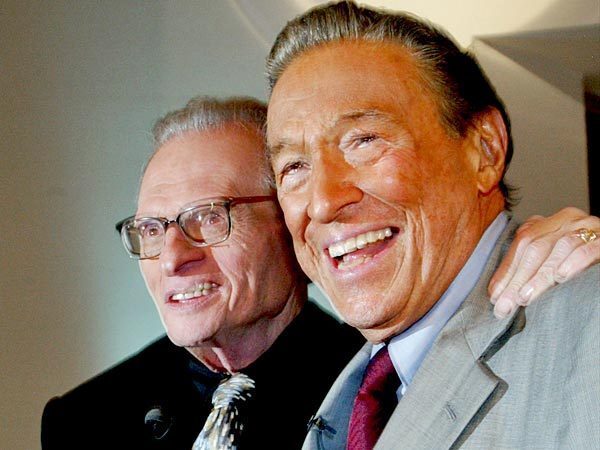 Larry King, left, enjoys a light moment with "60 Minutes" newsman Mike Wallace during King's 70th birthday party at the Museum of Television & Radio in Beverly Hills.
(Genaro Molina / Los Angeles Times)
From left, reporters Morley Safer, Steve Kroft, Mike Wallace, Lesley Stahl and Ed Bradley and commentator Andy Rooney mark the 1,500th episode of CBS newsmagazine "60 Minutes."
(CBS)
Mike Wallace, right, talks with Disney CEO Michael Eisner at the Book Expo held at the Javits Center on June 4, 2005, in New York.
(Michael Nagle / Getty Images)
Mike Wallace speaks with Iranian President Mahmoud Ahmadinejad, right, in Tehran, 27 years after Wallace became the first Western reporter to interview Iran's Ayatollah Ruhollah Khomeini after more than 50 Americans were taken hostage in the country. Wallace said the Khomeini interview was one of the most memorable pieces he ever did for "60 Minutes."
(CBS)
Mike Wallace's unapologetic style made for splashy, often emotional interviews on "60 Minutes." Among his favorite interviews were conversations with civil rights activist
Malcolm X
, Palestinian leader
Yasser Arafat
and actress
Shirley MacLaine
.
(Bruce Gilbert / Newsday)
Mike Wallace insisted his interview subjects knew what they were getting into, often describing a "chemistry of confidentiality" that took hold during the process.
(Stephen Lovekin / Getty Images)