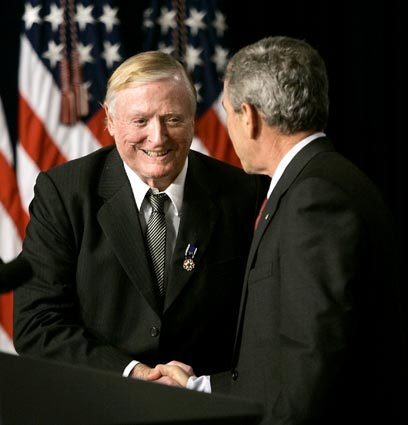 8 Images
William F. Buckley | 1925-2008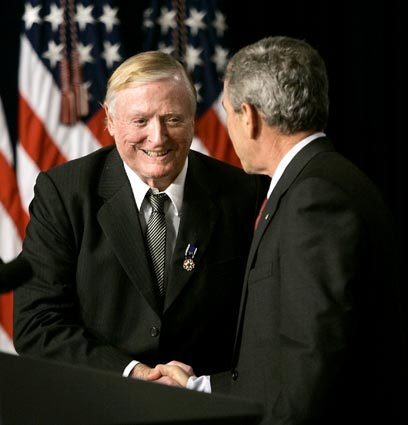 William F. Buckley
William F. Buckley Jr. died Wednesday at age 82. The conservative commentator is pictured in October 2005 at the White House, where President Bush was among the speakers at a tribute to Buckley and his National Review magazine.
(Evan Vucci / Associated Press)
William F. Buckley
Buckley, pictured in 2004, could look back with pride on the growth of the conservative movement. "It's not lonely the way it was 45 years ago," he said in an interview with The Times a few years earlier, "when there was really nothing, certainly no journal of opinion on conservative thought. There are tons of people here now."
(Frank Franklin II / Associated Press)
William F. Buckley
Buckley's admirers included Ronald Reagan, who sought his counsel during his campaign and presidency. Reagan called Buckley "perhaps the most influential journalist and intellectual in our era."
()
William F. Buckley
Buckley, captured in a signature pose in 1982, inspired generations of conservatives, many of whom write from such influential perches as his National Review, the Weekly Standard and the editorial page of the Wall Street Journal.
(Los Angeles Times)
William F. Buckley
Buckley was the public face of American political conservatism in the 1960s and '70s. Here he meets with Richard M. Nixon in 1969.
(UPI)
William F. Buckley
Buckley, in 1964, during the first decade of his tenure leading National Review. He wore the mantles of editor, columnist, novelist and talk show host during his nearly six decades as a very public intellectual.
()