21 Images
Paul Newman: A life in film
By Susan King, Times Staff Writer
Paul Newman was a superstar who entranced audiences and critics alike for half a century. He was also a humanitarian, a director and a race car driver. But, most of all, he was an actor of perceptive intelligence, power and even simplicity.

In his review of Newman's 1994 film, "Nobody's Fool," critic Roger Ebert stated that Newman "is an exact contemporary of Marlon Brando, who is said to have invented modern film acting. Yes, and he probably did, stripping it of the mannerisms of the past and creating a hypercharged realism. Like Brando, Newman studied the Method. Like Brando, Newman looked good in an undershirt. Unlike Brando, Newman went on to study life . . . Newman continued to work on his craft. Having seen what he could put in, he went on to see what he could leave out."

Here's a look at highlights from Newman's film and TV career:
"The Silver Chalice"
After appearing in several programs on live TV and on Broadway in William Inge's "Picnic," Newman made his feature debut in this tepid 1954 biblical epic based on the book by Thomas B. Costain. Newman plays an artist named Basil who makes the silver chalice that will hold the Holy Grail. Newman hated the film, and when the movie premiered on television in the 1960s, he went so far as to take out an ad in a trade publication in which he not only apologized for his wooden performance but also urged viewers not to watch it. Of course, it was a ratings blockbuster.
()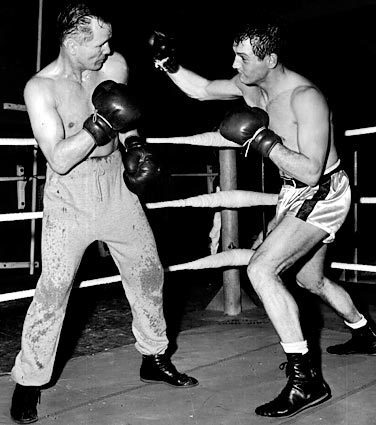 "Somebody Up There Likes Me"
Newman followed up "The Silver Chalice" with Robert Wise's uncompromising 1956 biopic about legendary boxer Rocky Graziano, who went from being a con to the middleweight boxing champ. Newman looked nothing like the stocky, bulbous-nosed Graziano, but thanks to makeup, a buff bod and plenty of attitude, the actor scored a knockout punch. The Hollywood Reporter stated: "We have a male actor projected to major stardom on the basis of one performance." Steve McQueen, with whom Newman would appear 18 years later in "The Towering Inferno," had one of his first movie roles as a hood. Ironically, James Dean was initially cast in the starring role before he died in a car crash.
(Associated Press)
"Cat on a Hot Tin Roof"
Though Tennessee Williams' hit play had to be watered down — eliminating any references to homosexuality — for the big screen, this 1958 adaptation, written and directed by Richard Brooks, is solid, exceptional entertainment. Particularly striking are Newman, as the formerly athletic and now unapologetic drunkard Brick, and Elizabeth Taylor as his beautiful, frustrated wife, Maggie. Their volatile scenes together are passionate, angry and erotic. Newman received his first Oscar nomination for lead actor for his work in this film; Taylor received her second.
()
"Exodus"
Otto Preminger directed this overlong but gripping 1960 adaptation of Leon Uris' massively popular book about the founding of the state of Israel, focusing — loosely — on the events surrounding the ship Exodus in 1947. Newman's baby blues blaze as the heroic Ari Ben Canaan, a former captain in the Jewish brigade of the British Army during World War II, who has become a Haganah rebel. Ari also has a hot and heavy relationship with Kitty Fremont (Eva Marie Saint), an American volunteer nurse at a Jewish detention camp in Cyprus.
()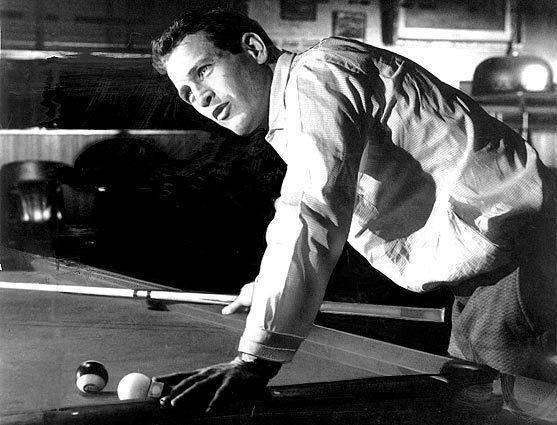 "The Hustler"
Newman may have won his lead actor Oscar for playing pool hustler "Fast Eddie" Felson in "The Color of Money," the 1986 sequel to this 1961 classic, but he really should have won the Academy Award for his exhilarating, audacious turn as the young pool shark in this uncompromising drama based on Walter Tevis' novel, co-adapted and directed by Robert Rossen. Newman's scenes with his girlfriend, the alcoholic Sarah (Piper Laurie), and the ultimate pool hustler Minnesota Fats (Jackie Gleason) are remarkable in their power and simplicity. Newman won the British Academy of Film and Television Arts award for best actor.
(20th Century-Fox)
"Sweet Bird of Youth"
Newman returned to the Broadway stage in 1959 to play the charming hustler Chance Wayne in Tennessee Williams' drama. Three years later, Newman and his stage costar, Geraldine Page (who received a Tony and an Oscar nomination for her performance as aging actress Alexandra Del Lago) starred in this diluted but well-crafted adaptation penned and directed by Richard Brooks. Wayne brings Del Lago to his Southern home town in hopes that she will get him a job in the movies. But he also hopes to rekindle passions with his old girlfriend (Shirley Knight), whose ruthless father, Boss Finley (Oscar winner Ed Begley), ran him out of town. In the play, Wayne is castrated by Finley's henchmen. But in the movie, he is beaten up but doesn't lose any of his major organs.
()
"Hud"
Newman never had any qualms about playing the antihero. And he received his third Oscar nomination for this 1963 modern-day western, directed by Martin Ritt, playing the ruthless Hud Bannon, a young man who doesn't care about anything or anybody. Hud also treats his elderly rancher father (Melvyn Douglas, a supporting actor Oscar winner) and housekeeper (Patricia Neal, who won best actress) like dirt. The only person who seems to idolize Hud is his teenage nephew Lonnie (Brandon De Wilde), but even the young man grows to realize that his uncle is a ruthless heel.
()
"Cool Hand Luke"
Newman gives one of his most personable performances — he received his fourth Oscar nomination — in this 1967 drama as the free-spirited Luke Jackson, a convict who more than meets his match when he is sent to work on a chain-gang. As Luke, Newman gets to play it all in this gripping drama, including high comedy in the egg-eating contest scene and high emotions in the scene in which he learns of his mother's death. It's a lovely performance, which was overshadowed at the time by George Kennedy's Academy Award-winning turn as the leader of the chain gang who becomes friends with Luke.
()
"Rachel, Rachel"
Newman proved he was also a master artist behind the camera with his 1968 feature directorial debut — an intimate drama starring wife Woodward in her Oscar-nominated performance as Rachel Cameron, a shy spinster schoolteacher who feels her life has been meaningless. A 35-year-old virgin, she has her first romantic encounter with a former high school friend (James Olson). But Rachel's hope of happiness with the man is short-lived as he breaks off the relationship and she soon discovers she may be pregnant. The film was also nominated for the best film Oscar, but Newman wasn't nominator for best director. However, he didn't walk away from the project empty-handed. He was nominated for a Directors Guild of America award, and he won both the Golden Globe and New York Film Critics Circle awards for best director.
()
"Butch Cassidy and the Sundance Kid"
This seminal 1969 western directed by George Roy Hill and penned by William Goldman marked the first pairing of Newman and Robert Redford. Not only are they both astonishingly beautiful on screen, the two also have an easy comedic rapport as infamous bank robbers, and they exude a tremendously likability and an unbeatable chemistry. The two quickly became friends, and they would often play practical jokes on each other. The film became the highest grossing western at the time in history. It won four Academy Awards and turned Newman into a box office champ.
(20th Century Fox)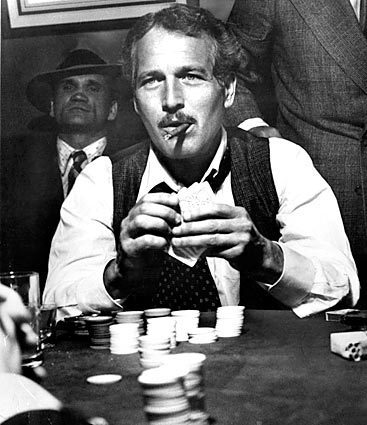 "The Sting"
Newman's post-"Butch" films were pretty tepid. Thankfully, he teamed with Redford and director Hill for this delectable 1973 caper film, which won a slew of Academy Awards, including best film, director and screenplay. The two play con men in the 1930s who pull the ultimate scam to take down a ruthless gangster (Robert Shaw), who had caused the death of their friend.
(Universal Studios)
"Slap Shot"
After some wan box-office years, Newman scored a hit with this raucous 1977 hockey comedy directed by Hill. Early on in his career, Newman was never comfortable doing comedy. But by the time he was cast in this raucous hit, he was an old pro of the genre. He plays the aging player-coach of a financially troubled hockey team who hires the child-like but violent Hanson brothers.
(Universal Studios)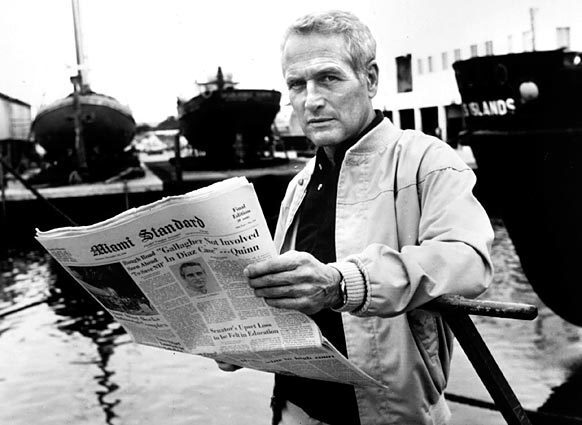 "Absence of Malice"
Newman earned an Oscar nomination for Sydney Pollack's inspired 1981 drama that examines ethics in journalism. Newman plays Mike Gallagher, the "clean" son of a former Mafia boss who is libeled by an ambitious young Miami newspaper reporter (Sally Field) who writes that he is a suspect in a murder he didn't commit. At the time of the film's release, Newman wasn't shy about talking about his feelings regarding the press: "I would say that 90% of what people read about me in the newspapers is untrue. Ninety percent is garbage ... If nothing's happening, what do you do? Well, in their case, they make it up."
(Universal Studios)
"The Verdict"
The following year, Newman received his sixth Oscar nomination for his harrowing performance in this taut Sidney Lumet drama penned by David Mamet. He plays an alcoholic attorney on the skids named Frank Galvin, whose attorney friend (Jack Warden) has given him an easy case — a medical malpractice suit in which a young woman had been left in a vegetative state at a Catholic hospital after a medical oversight. Galvin is expected to settle the case and take one-third of the settlement. But then he goes to see the young woman, and Galvin decides he must try the case not only to make the doctors pay for what they did but also to regain his self-esteem.
(Universal Studios)
"The Color of Money"
The seventh time was the charm for Newman, who won his first and only lead actor Academy Award reprising the role he made famous in 1961's "The Hustler" — pool shark "Fast Eddie" Felson — in Martin Scorsese's 1986 continuation. Newman seems to be relishing his return to the signature role. This time around, Felson is a liquor salesman who sees a flaky young kid (Tom Cruise) playing pool and decides to coach him in hopes that his quirky behavior will unnerve the big-money pool players. Roger Ebert said about Newman's performance: "Watching Newman is always interesting in this movie.... In many of Newman's close-ups in this movie, he shows an enormous power, a concentration and focus of his essence as an actor." Newman also won the National Board of Review award.
()
"Nobody's Fool"
One of the tag lines for this movie was "Aged to perfection." And at 68, the still-sexy Newman gives a totally engaging turn in this quirky 1994 comedy directed by Robert Benton from the novel by Richard Russo. The role of Sully fits Newman like a comfortable pair of old shoes — he's a charming, heavy drinker who has skirted responsibility most of his life until his grown son (Dylan Walsh), a college professor whose marriage is breaking up, returns home. Perhaps the sweetest scenes in the movie are between Newman and Jessica Tandy — in one of her last films — who plays his landlady. Newman won the New York Film Critics Circle Award for best actor, as well as receiving Oscar, Golden Globe and Screen Actors Guild nominations.
()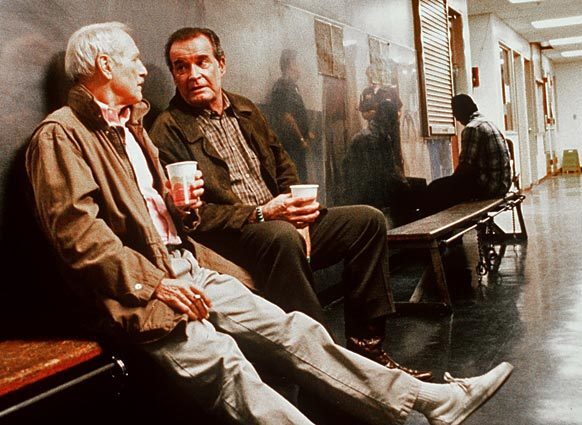 "Twilight"
Paul Newman as Harry Ross and James Garner as Raymond Hope reminisce in Paramount Pictures' 1998 portrait of present-day Los Angeles infused with blackmail, murder, sexuality, moral excess and the memorable characters that cloud its landscape.
(Paramount)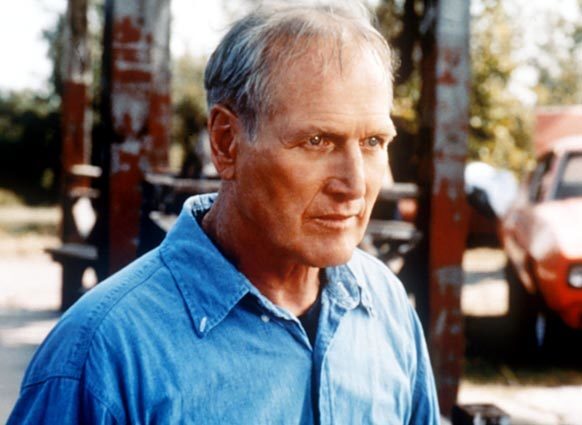 "Where the Money Is"
Paul Newman is a bank robber who fakes a stroke to get out of prison in this 2000 caper comedy co-starring Linda Fiorentino and Dermot Mulroney, and directed by Marek Kanievska.
(USA Films)
"The Road to Perdition"
Newman earned his first supporting actor Oscar and Golden Globe nomination for this 2002 gangster film directed by Sam Mendes. Set in the early 1930s in Chicago, the film revolves around mob enforcer Michael Sullivan (Tom Hanks), who works for the big boss, John Rooney (Newman). Rooney is also a surrogate father to Sullivan, much to the chagrin of Rooney's own conniving son, Connor (Daniel Craig). The scenes between Hanks and Newman, especially when Michael confronts Rooney for siding with his weak-willed son instead of him, are masterfully performed.
(Francois Duhamel / 20th Century-Fox)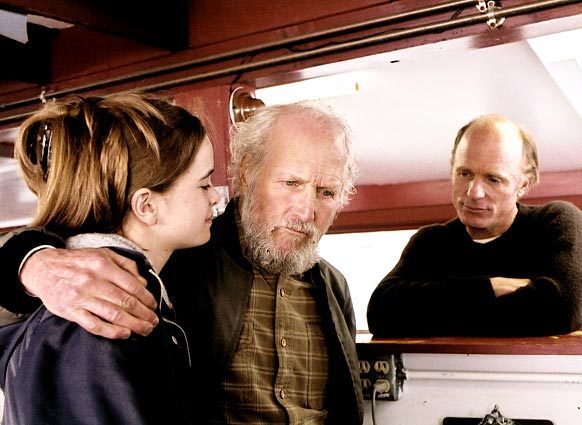 "Empire Falls"
Newman won a slew of awards, including the Emmy, Golden Globe and Screen Actors Guild honors, for his performance in the 2005 HBO drama "Empire Falls," based on the novel by Richard Russo. Newman played the ex-con father of the passive proprietor (Ed Harris) of a small-town diner.
(Demmie Todd / HBO)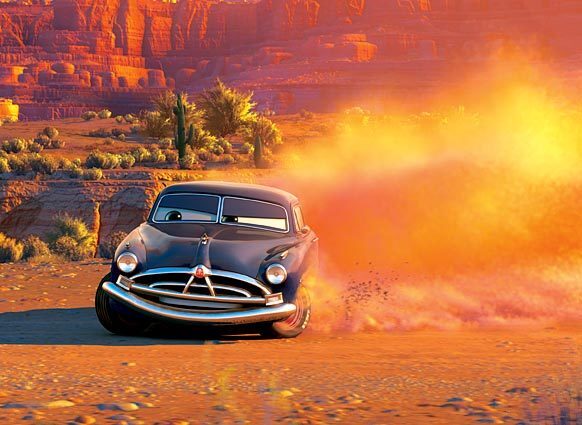 "Cars"
Newman gives a delightfully warm and wise voice performance in this 2006 Disney/Pixar hit directed by John Lasseter. Newman is the voice of the old-time car, Doc Hudson, who gives advice and wisdom to a hotshot racing car named Lightning McQueen (Owen Wilson).
(Disney/Pixar)