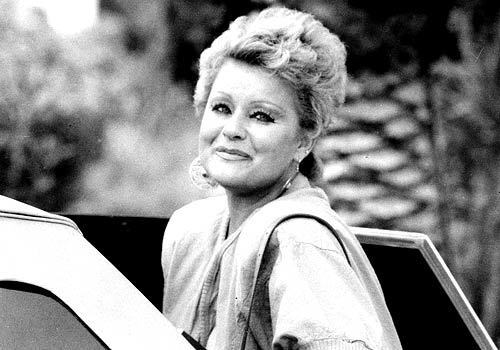 9 Images
Tammy Faye Messner 1942 | 2007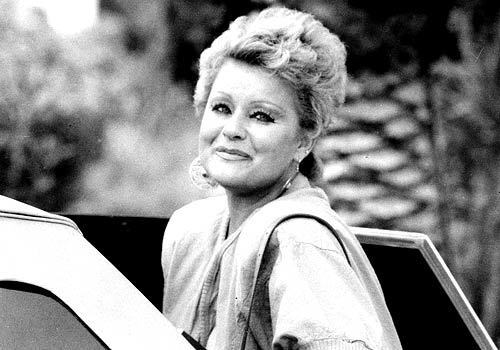 Tammy Faye Messner in Palm Springs in 1987. As Tammy Faye Bakker in the 1970s and `80s, she was known as "the first lady of televangelism," a high-profile pioneer of the "electronic church."
(LAT)
Tammy Faye Messner and then-husband Jim Bakker in 1987. During the heyday of the Bakkers' television ministry, "The Jim and Tammy Show" was reportedly carried on more than 1,400 stations, and their "Praise the Lord" ministry took in millions of dollars a month.
(AP)
Tammy Faye Messner in 1987. That year, the downfall of her then-husband, Jim Bakker, began with the revelation that he had had a sexual encounter with a former church secretary from New York, Jessica Hahn, in a Florida motel room in 1980 — and that $265,000 in ministry funds had been used to keep Hahn quiet.
(Mark Humphrey-File / AP)
Tammy Faye Messner sings with Rosie O'Donnell during a television appearance in 1996. With them is actor Jim J. Bullock. Tammy Faye never strayed far from the spotlight. She wrote books, including "I Will Survive ... and You Will Too!" (2003), hosted an infomercial for her "You Can Make It" motivational tapes, appeared on the TV sitcom "Roseanne" and marketed Tammy Faye Celebrity Wigs.
(PRNewsFoto)
Tammy Faye Messner appears on "Good Morning America" in 2000 to discuss "The Eyes of Tammy Faye," a largely sympathetic documentary of Messner's life.
(Ida Mae Astute / ABC)
Tammy Faye Messner in 2000. "I don't know of any woman in our time who has been so ridiculed, put down, maligned," singer Pat Boone said of Messner. "Really, I equate her with Hillary Clinton, because these two women have both suffered tremendously by the things that their husbands may have done, and yet she just keeps going."
(Lions Gate Films)
Tammy Faye Messner with Erik Estrada on the reality series "The Surreal Life" in 2004. Messner underwent surgery for colon cancer in 1996 and was diagnosed with lung cancer in 2004.
(Justin Lubin / The WB)
Tammy Faye Messner in 2005. In a letter posted on her website this year, Messner said that doctors had stopped treating her cancer and that her weight had dropped to 65 pounds. "Now," she wrote, "it's up to God and my faith."
(WE: Women's Entertainment)
Tammy Faye Messner in 2006. "Without my eyelashes," she once said, "I wouldn't be Tammy Faye. I don't know who I'd be."
(Al Seib / LAT)