Arnold Stang dies at 91; comic character actor had memorable role in 'It's a Mad, Mad, Mad, Mad World'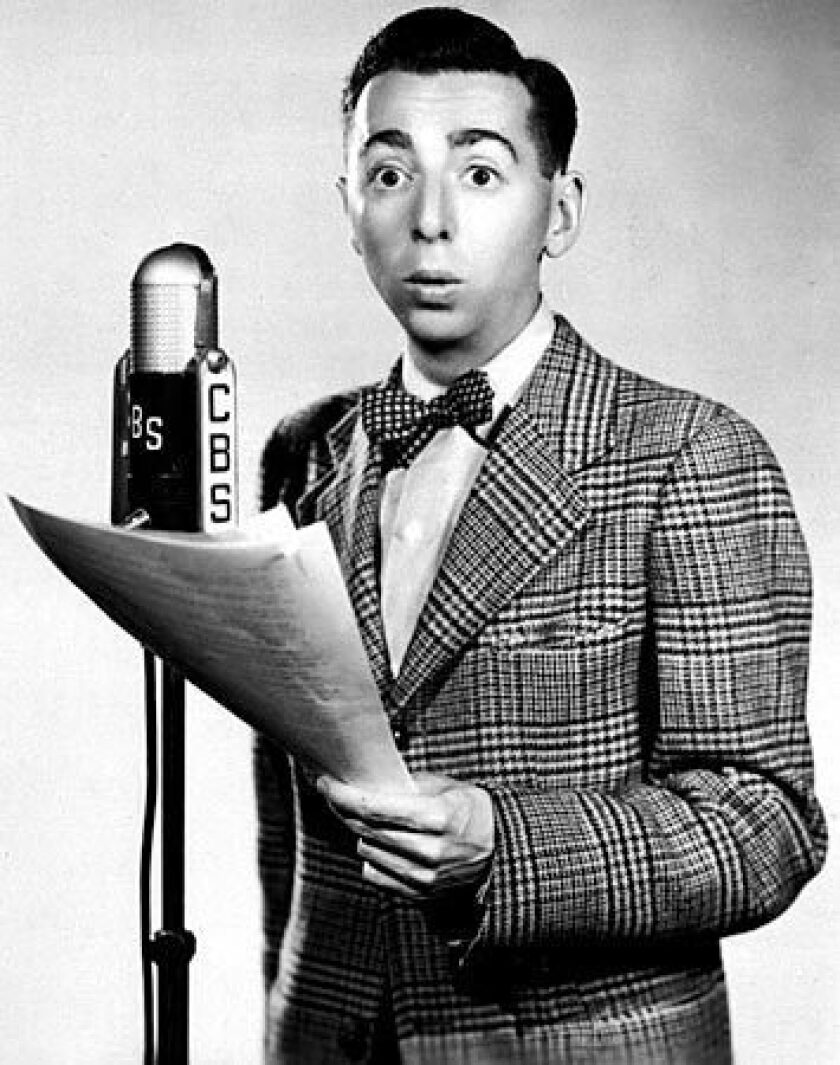 Arnold Stang, the diminutive, bespectacled comic character actor who was part of the ensemble cast of the classic movie comedy "It's a Mad, Mad, Mad, Mad World" and provided the voice for the TV cartoon character Top Cat, has died. He was 91.
Stang died of pneumonia Sunday at Newton-Wellesley Hospital in Newton, Mass., said his wife, JoAnne.
Stang was a native New Yorker with a distinctive voice who launched his career on radio as a child in the 1930s. He later played the brash Gerard on comedian Henry Morgan's radio show in the 1940s and appeared as the equally brash stagehand Francis on Milton Berle's comedy-variety TV show in the early '50s.
"To counter Berle, the blowhard and egomaniac," Stang recalled in a 2000 interview with the New York Times, "my character was raffish, unsophisticated and caustic, contrived to cut him off at the ankles."
In so doing, Stang earned the enduring respect of Berle, who called him "a dependable, multifaceted actor with a one-of-a-kind delivery that belies a sharp intellect."
"On my old show," Berle told the New York Times, "we reversed roles. He heckled me. He delivered the put-downs. I was the straight man. It always worked."
Stang's face and voice were unmistakable, Berle said. "But he has been unheralded as a performer. Like many superb character actors, he has never been properly acclaimed for his talent."
Stang's talent extended to drama, most notably playing Frank Sinatra's devoted friend Sparrow in the 1955 movie "The Man With the Golden Arm."
But he was best known for his flair for comedy.
In "It's a Mad, Mad, Mad, Mad World," director Stanley Kramer's 1963 epic comedy tale of greed, Stang and Marvin Kaplan played the operators of a gas station that ended up being destroyed by Jonathan Winters.
In an interview Tuesday, Winters recalled that Stang had broken his arm sometime before filming the gas-station destruction scene, and Winters was concerned about not hurting him during the on-camera melee.
"Throwing those tires at him, I thought, 'Oh, my God; I'm going to break his arm again,' " Winters told The Times. "But we got through the scene."
Winters said "It's a Mad, Mad, Mad, Mad World" was the only time he worked with Stang, but he knew him from his appearances on Berle's TV show.
"He obviously was a funny little guy and had a funny look and a funny voice," Winters said. "I enjoyed Arnold."
As a voice actor, Stang was best known for playing the brash lead alley cat character in the 1960s Hanna-Barbera animated TV series "Top Cat."
Stang also did numerous TV commercials, most famously those for Chunky candy bars, which included his memorable tag line "Chunky, what a chunka chocolate!"
Those commercials "haunted me for a long time," Stang told Newsweek in 1985. "I did a very serious role in a widely seen film, and I'd walk down the street and people would say, 'There goes the Chunky man.' "
The owl-eyed actor, who stood a tad above 5 foot 3, has been described as nerdy -- a term his wife disagrees with.
"He could do so many things that one term really doesn't describe him," she said. But, she acknowledged, "his voice and appearance were unique, and I think that's what people love."
Stang was born in Manhattan on Sept. 28, 1918, and grew up in Brooklyn. He made his radio debut on "The Horn and Hardart's Children's Hour" and went on to appear on the children's radio show "Let's Pretend."
On radio, Stang told the Associated Press in 1983, "I played a lot of half-wit murderers or bereaved boys from broken homes."
JoAnne Stang said her husband's "early radio experience, when everything in front of the microphone was live, contributed to his comedy timing, and he always felt that very strongly."
"And of all the things he did -- radio, television, films, commercials, animated films -- his favorite was radio," she said. "He thought it was the best medium because the listeners could contribute so much from their own imagination."
Radio offered Stang another advantage over TV and movies.
"I've portrayed roles on radio completely unlike my appearance," he told The Times in 1954. "I even played several romantic leads on radio, and I'd like to try that type of role on television.
"After all, there are many persons who look or act like I do. A lot of them do heroic acts, are involved in romantic problems, face tragedy and, in general, lead just as colorful lives as some of the handsome brutes who hog all this type of role on the screen."
Stang never officially retired, his wife said, and he continued to do occasional TV commercials until four or five years ago.
Besides his wife of 60 years, Stang is survived by his son, David; his daughter, Deborah; and two granddaughters.
Services will be private.
---
Must-read stories from the L.A. Times
Get all the day's most vital news with our Today's Headlines newsletter, sent every weekday morning.
You may occasionally receive promotional content from the Los Angeles Times.