Patti and Richard Herdell met as teenagers at Sand Mountain Coffee House, a space for Houston folk musicians to gather in the 60s and 70s. Everyone who visited felt like family, says Patti Herdell, and they knew that if they ever had their own small business, they'd want it to feel like that.
(Photo courtesy of Patti Herdell)
Customers sign San Clemente Art Supply & Framing's memory book to thank owners Patti and Richard Herdell for the 16 years that their independent store has served the community.
(Photo by Ada Tseng)
San Clemente Art Supply & Framing used to have 10 to 12 art classes a week, says Patti Herdell. It was her favorite part of the business, which also included selling art supplies and providing custom framing.
(Photo courtesy of Patti Herdell)
San Clemente Art Supply & Framing in its last week of their "Owners Retiring" sale. The store will officially close on April 27 after 16 years in business.
(Photo by Ada Tseng)
Richard Herdell planted a rose garden in the front of the historic San Clemente building after he and his wife Patti decided to turn it into an art supply store in 2000. He chose the flowers not for their colors but for their scent.
(Photo courtesy of Patti Herdell)
San Clemente Art Supply & Framing co-owner Patti Herdell quotes the German idiom about everything having an end, except sausages that have two, in her farewell announcement to customers posted outside the front door.
(Photo by Ada Tseng)
San Clemente Art Supply & Framing co-owner Patti Herdell and Thomas Elliot, who specialized in custom framing for the store, are getting ready to say goodbye to the place they've worked for over a decade.
(Photo by Ada Tseng)
The historic San Clemente building was a funeral home before Patti and Richard Herdell renovated it in 2000 and turned it into a community art center. San Clemente Art Supply & Framing will close on April 27 after 16 years in business.
(Photo by Ada Tseng)
It's less than a week before the official closing of San Clemente Art Supply & Framing, the independent arts store Patti and Richard Herdell have run for 16 years, and Patti Herdell is taking stock of their gradually emptying space.
The table near the front door where kids could sit and do artwork while their parents shopped is gone. There are no more giant paper rolls in the paper room. They've started giving away their plastic display cases that are no longer filled with tubes of oil paint, pastels and watercolors.
What they aren't missing (yet) is people. There's a steady stream of customers checking out their final "Owners Retiring" sale. The adjacent room is packed with adults taking the very last scheduled painting class.
"We're fine and the business is fine — it's just 'time,' " reads Patti's hand-written closing announcement displayed outside the front door. She quotes the German idiom: "Everything has an end, except for the sausage, which has two."
"I'm so sad," customer Amy Hanna, a jewelry designer from Laguna Niguel, tells Patti. "I'm happy for you, but so sad that you're leaving. You brought something to the community that's disappearing. I hate it."
Patti tells Hanna that she hates it too. That there have been times where she's wept with customers in the store aisles. That she wishes she were 15 or 20 years younger.
The Herdells started the store when they were in their 50s. After their kids were grown and Richard had taken early retirement, they moved their family from Houston to San Clemente with a dream of starting a small business.
"I met my husband in a place in Houston called Sand Mountain Coffee House," she says of the famed venue that was home to folk musicians in the '60s and '70s. "We were teenagers ... it was in a house, and it had the homiest vibe. Everyone who went in there felt like they were family, and we thought, 'God, if we ever start a business, I would want it to feel like that.' "
Once they arrived in San Clemente, Patti was flipping through a local phone book and realized there were no art supply stores listed.
The cover of the phone book happened to feature a landscape painting by San Clemente artist, Rick Delanty. His contact information was inside, and she emailed him asking what he'd think of someone opening a family-owned art supply store in town. He sent her a 4-page email explaining why he thought that was a good idea and helped her pick out the store's first supplies. The San Clemente Art Assn. was also an early supporter, advertising the new store on the back of its membership books.
Painter Thomas Elliott, the store's longtime custom framer, explains that there had been art stores in San Clemente prior to San Clemente Art Supply opening in 2013, but it had been a while.
He had previously worked at both the Art Center of San Clemente, which was there in the '80s, he says, and Frame House, which for decades provided framing and a gallery, but lacked art supplies.
"San Clemente Art Supply was a culmination of all of that," says Elliot. "A revival of all of that."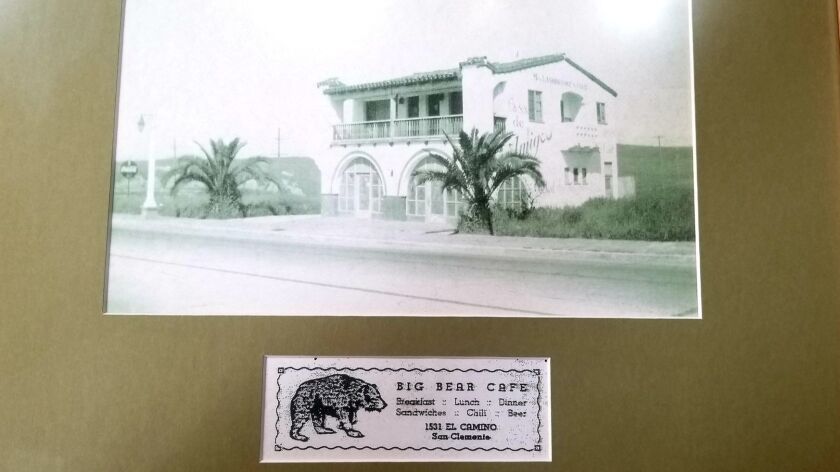 "We kind of fell into it, and everybody was like 'Yes!" says Patti. "The whole artist community came."
"Everyone who knows about this place loves it," says Hanna, who goes down a list of her artist friends from all over Orange County who came for the store's specialty items that were hard to find elsewhere. They would make field trips to go to the store together.
"There's not very many spaces like this anymore," she tells Patti. "It made you excited to buy your art supplies. It began a process where you go into your creative space and it makes you want to be more creative."
"It's like it had a heartbeat of its own," says Patti.
The Herdells plan to move to San Diego, but Patti doesn't plan to relax for long. Inspired by her experience at the 2017 Women's March in Washington D.C., she wants to become more of an activist while she still has the energy for it. So even though she knows it's the right time to retire — and technically her husband's second time retiring — she feels guilty.
"I feel like I'm taking something away from people, and that really is hard," says Patti. "But then I think, 'Patti, you're not the end-all of everything. Things happened before you got here, and they'll happen after you're gone.'
"I just hope somebody will take this vibe and realize this is a viable thing to do for the community. It's someone else's turn."
San Clemente Art Supply & Framing's last day is April 27.
For more news and features about Orange County, visit TimesOC.com or follow us on Twitter @timesocofficial.
Support our coverage by becoming a digital subscriber.
---