One of her recent clients was a Bichon Frise named Puffy that she dyed to look like a panda bear. Another was a Maltese named Bentley that she turned into a tiger with orange and black stripes.
Creative grooming is gaining popularity, but Cat Opson is one of only a few dozen groomers in the country who can turn a dog into a work of art. She even wins money for her creations. Opson took home $2,500 after turning her standard poodle's head into the spitting image of Big Bird and his butt into Elmo.
Newport Beach Film Festival celebrates 20th anniversary »
Now she is one of four stars of a new documentary, "Well Groomed," about the competitive world of creative grooming where shears, hairspray and dye are used to transform dogs into colorful cartoon characters and giant fluffy puppets.
That sentence alone will rankle some dog lovers.
After the San Juan Capistrano groomer appeared on "Jimmy Kimmel Live!" the first time (she's been on four times), she went on YouTube to watch the segment and made the mistake of reading the comments.
"You should be taken out in the alley and beaten" is one that sticks in her head. Some critics have even confronted her. A shirtless man once stopped his car in Dana Point on a Sunday morning as Opson and her husband walked their poodles (one looked like Scooby Doo) and threatened to call the police for dog abuse.
"Then he started making fun of us for wearing Bronco jerseys," she says.
Dealing with death threats is one of the things tackled in the documentary, which had its world premiere at South by Southwest in Austin, Texas, last month. The first three showings sold out so a fourth was added. "Well Groomed" will show at the Newport Beach Film Festival next week at Triangle Square (2:30 p.m. April 27) and The Lot at Fashion Island (12:30 p.m. April 29).
Opson will be there to do a Q&A after the showings along with her standard poodle Zealand, 5, and her mini poodle Kobe, 10, both of whom star in the movie with her. I met the dogs the other day. Zealand's white 'fro was pulled back in ponytails and his legs were shaggy like a Budweiser Clydesdale. Kobe's puffy head and tail were dyed rainbow colors. Both seemed happy.
Opson's road to international creative groomer stardom — she gives seminars in Brazil where it's huge — began when she was 16 and got a job washing dogs at PetSmart in San Juan Capistrano. A year after graduating from San Clemente High School in 1998, she bought a shop in Capistrano Beach called Estrella Pet Grooming. She has since moved it to San Juan Capistrano.
By 27 she was burned out on the same old standard breed cuts.
"I thought it would be more fun to be a hairdresser," she said.
She graduated from Paul Mitchell in Costa Mesa in 2008, but then found herself sitting in a slow salon all day while her grooming shop, which she had kept, was still packed solid with bookings.
So she decided to take what she had learned in beauty school and apply it to her pet clients. She entered a contest in Pasadena for her first attempt.
"It was kind of sad," she says.
Her idea was to turn her Chinese crested named Feather (who has since passed) into a carousel horse and brought along tiny blow pens to apply a rainbow of pastel colors.
"I thought I was gonna pass out," she says, from the blowing, not the colors. "They're non-toxic."
Her only props were an empty paper towel roll wrapped in gold ribbon (for the carousel pole) and some confetti to sprinkle around.
"I finished and I looked to my right and this girl Angela Kumpe was next to me with this most amazing creation."
Using shears and dyes and a real lizard eye that she bought off a taxidermist, Kumpe had turned one side of her dog into a green chameleon and the other side into a montage of tropical flowers. Kumpe herself was wearing a jungle mask. And her dad was there doing a tribal dance in safari clothes to the song "The Lion Sleeps Tonight."
"It was amazing," Opson says. "It was so embarrassing standing next to it."
Kumpe won the contest, but Opson caught the bug.
She began traveling the country, about once a month, and winning. Of the four women in the documentary, Opson is considered the prize winner (she has five first place trophies and once won $10,000 for the top prize in traditional grooming of a poodle at Super Zoo in Las Vegas).
Kumpe is also in the documentary; the Arkansas woman is the one to beat.
"She's the OG," Opson says.
There's also an underdog and a newcomer.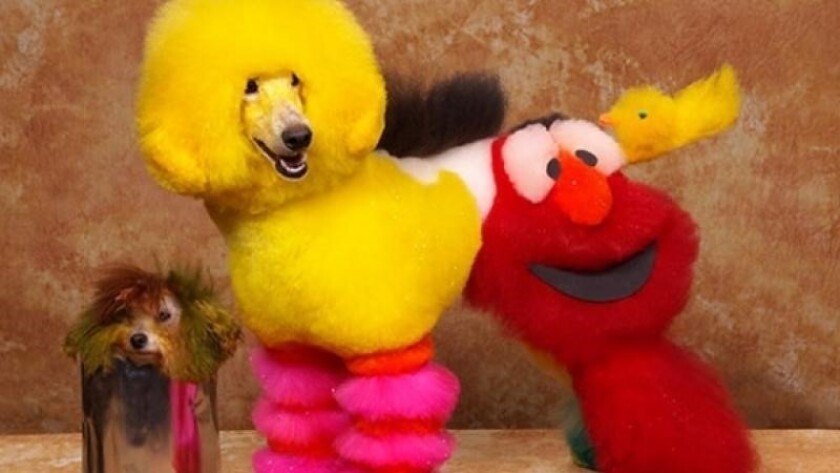 Documentary maker Rebecca Stern followed the four women around for a year: at their houses, in their shops and on the road.
The documentary builds to the biggest grooming event of the year, the Super Bowl of creative grooming if you will, held annually in Hershey, Pa. Last year, the Groom Expo drew about 5,000 people, according to a New York Times story.
Opson is happy with the way she is portrayed in the documentary and believes the director was fair in her editing.
"Even though everyone wants to beat each other, everyone is supportive, which is kind of surprising from a big group of women," Opson says, laughing. "I think she does a good job at showing we're real people, even though we're a little crazy."
Despite her success, Opson says she is considering dropping competition to become a judge. The last contest she did, a judge disparaged her color lines, saying they shouldn't be so crisp.
"It's like someone telling Picasso he should paint like Monet," she says.
Lori Basheda is a contributor to TimesOC. Follow her on Instagram at @loris_world_. For more news and features about Orange County, visit TimesOC.com or follow us on Twitter @timesocofficial.
---