Payday for football star and other wrongly convicted Californians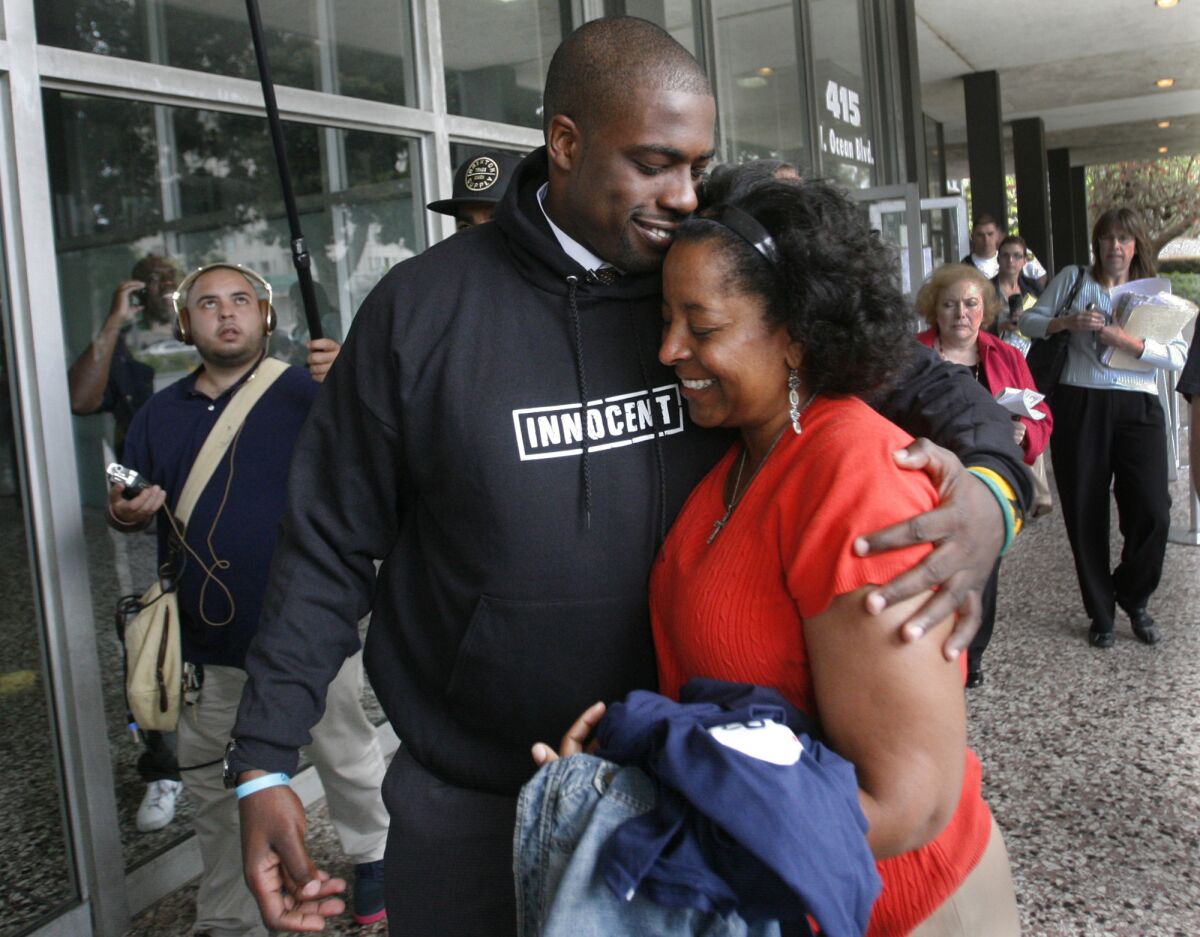 Reporting from Sacramento —
Gov. Jerry Brown on Wednesday signed legislation to pay $968,400 to settle claims by three wrongly convicted Californians, including Brian Banks, a former star football player from Long Beach who served five years in prison before a young girl recanted her accusation that he had raped her.
Banks will receive $142,200 under the settlement, which the Legislature approved last week.
Banks was a 16-year-old linebacker at Polytechnic High School when Wanetta Gibson, a 15-year-old classmate, accused him of raping her in 2003.
At the time, Banks insisted that their sexual contact was consensual. However, he took his attorney's advice to plead no contest rather than risk being sentenced to 41 years to life in prison. He was sentenced to six years in prison.
Gibson recanted her allegation in 2011, and Banks was exonerated in May 2012.
Banks, who as a high school player had caught the eye of coaches at USC, UCLA and other college football programs, tried out with the Seattle Seahawks and Atlanta Falcons after his release from prison but was not signed. In 2014, he was hired by the National Football League to help monitor games for problem calls by referees.
Claims are filed with the California Victim Compensation and Government Claims Board and automatically recommended to the Legislature for payment if the petitioner was wrongly convicted and found by a judge to be factually innocent.
The legislation signed by the Democratic governor also will pay $597,200 to Susan Mellen, who was found by a court to be factually innocent after spending more than 17 years in prison on a conviction that she murdered her boyfriend.
Mellen was released last year after the Los Angeles County district attorney's office agreed with a petition by the group Innocence Matters to have the conviction overturned. A judge agreed that the trial hinged on a single witness who was a "habitual liar."
Ronald Ross will receive $229,000. Ross was found factually innocent by a court that reversed a 2006 conviction on premeditated attempted murder and assault with a firearm. The Alameda County district attorney's office concluded that false evidence was used against Ross.
The stories shaping California
Get up to speed with our Essential California newsletter, sent six days a week.
You may occasionally receive promotional content from the Los Angeles Times.