Democratic Caucus approves Sen. Kevin De Leon as next Senate leader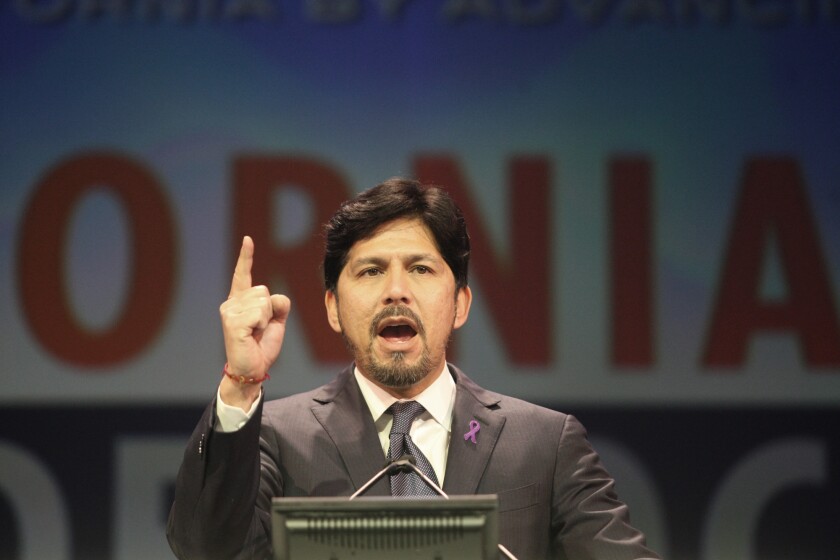 Reporting from Sacramento —
Democratic state Sen. Kevin De Leon of Los Angeles took another step toward becoming the next leader of the California Senate on Wednesday when the Democratic Caucus approved him by acclamation as its choice for president pro tem.
A floor vote on De Leon's new position is scheduled for June 16, but he would not take over from Senate President Pro Tem Darrell Steinberg (D-Sacramento) until the current leader leaves office in November, according to Rhys Williams, a spokesman for Steinberg.
Other sources say there is agitation in the caucus for De Leon to take over earlier, perhaps in September after the session ends.
"I'm deeply honored that my colleagues in the Democratic Caucus have bestowed on me the awesome responsibility to lead the Senate of the most prestigious legislative body in the country," De Leon told the Los Angeles Times after the closed-door action.
De Leon, 47, would be the first Latino to head the Senate since the 19th century.
Williams said the vote was scheduled before Tuesday's primary and has nothing to do with the results, which had Republicans emerge as the top vote-getters in five senate districts where Democrats enjoy a big edge in voter registration.
Still, De Leon said he plans to play a larger role in the election as pro tem-elect to help Democrats regain a supermajority in the upper house.
Steinberg had endorsed De Leon as his successor in January, saying at the time that it was clear he had sewn up the votes in what is now a 25-member Senate Democratic Caucus. The caucus is in turmoil after three Democratic senators were suspended for facing criminal charges, including two under federal indictment for alleged corruption.
Democrats had a supermajority until March and now are struggling to regain that powerful position in this year's election. De Leon said his priorities include restoring public trust in the Senate in response to the current scandals.
"The current challenges are really not a reflection of this institution, an institution that I love," De Leon said. "In spite of some of the current challenges, the Senate has produced some great policy that has moved the needle in terms of helping to improve the condition of everyday Californians."
Steinberg congratulated De Leon on Wednesday for the vote.
"As we build upon the most productive years in the Legislature's recent history, California can look forward to many more under Sen. De Leon's leadership," Steinberg said.
---
Get breaking news, investigations, analysis and more signature journalism from the Los Angeles Times in your inbox.
You may occasionally receive promotional content from the Los Angeles Times.