ARCHIVE: Soldiering on, N.Y. style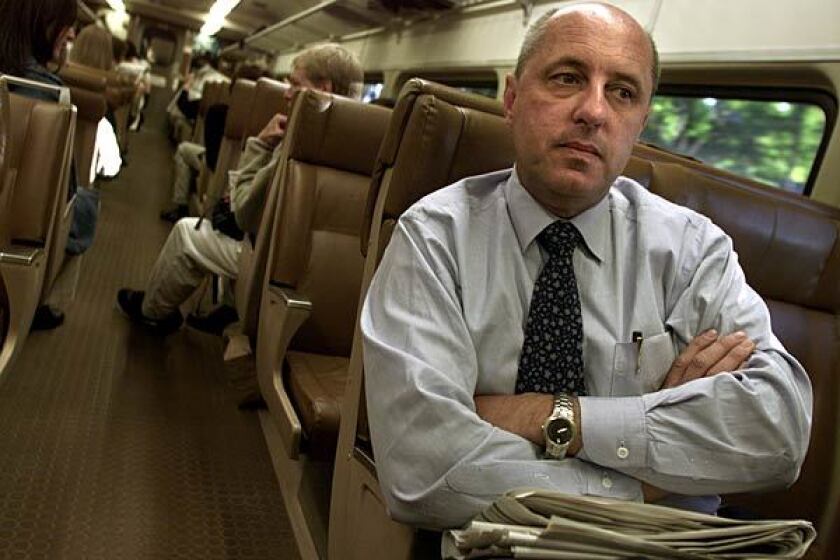 Los Angeles Times Staff Writer
RIDGEWOOD, N.J —
Walter Pilipiak is an insurance broker who walked down 89 flights of stairs in a World Trade Center tower last week and rode up 22 stories Monday morning to borrowed office space in a glass tower in midtown Manhattan.
He is back at work, this lucky president of a small firm whose employees all made it out of that burning tower. This Brooklyn-born tough guy--who once broke his nose playing ice hockey and who has a New York accent as thick as traffic in Times Square--vows that he will not fall apart, lose a client or miss his Jan. 1 policy renewal deadlines.
Monday was the start.
In an impromptu speech to his employees, who regrouped shortly before 9 a.m. in a conference room, the 48-year-old Pilipiak quoted an e-mail he had sent to the worried parent company in Japan:
"We are New Yorkers, and we will survive. We are just lucky, lucky to be here."
Each of the employees of Cosmos Services America Inc. was assigned a desk and a phone number. Each immediately began working, with Pilipiak in the lead, reconstructing crucial files, making contacts. They called underwriters and key clients.
But before they got started, before he even had a cup of coffee, one employee, who had fallen down several flights of stairs fleeing the trade center, requested a tour of the office suite's emergency exits. The head of human resources gladly gave him one.
Unlike scores of tiny companies that were devastated by deaths and loss of critical information needed to conduct business, Cosmos has all 12 of its New York staff alive and 11 on the job. One employee even showed up Monday with a computer disk she happened to have at home that contained a client list.
True to the original spirit of the World Trade Center, which sought out firms with global links, Cosmos has a parent company abroad that is offering Pilipiak a range of support. It is even flying executives to New York on Thursday to see how he is doing.
Pilipiak tries to skate over difficult moments, but there were, and are, so many he cannot get past.
When he was in church Thursday night with his wife, Carol, who also made a narrow escape from the financial district after the attacks, Pilipiak broke down as parishioners spoke the names of 26 Ridgewood residents who were missing.
Earlier Thursday, he had been heading to a business meeting in Parsippany, N.J., but had to pull off the highway when he finally retrieved a cell phone message his teenage son had left on the day of the attacks. Pilipiak cried alone in his car for 15 minutes.
"Please, Dad, I love you. Please call me. Please, Dad, come home. Please, Dad," Brian, 18, had cried into the phone when he heard about the attacks. The college sophomore then drove home 271 miles from Vermont. That night, the whole family--Walter, Carol, Brian and 16-year-old Derek--slept in one bed.
All week, in conversations with family, friends, clients and employees, Pilipiak doggedly tried to reconstruct what had happened: how he got out, why he got out, who helped him and whom he helped. Was it the 25 pounds he had just lost? What happened to the woman he gave his suit jacket to when she was choking on black smoke?
He kept seeing the faces--of a security guard who saved his life by unlocking a stairwell door, of firefighters who marched up as he went down.
"Those guys were stony-faced, dragging all that heavy equipment up," he said. "I was carrying a Snapple--a Snapple. Pink lemonade."
By 5:30 Monday morning, as he got ready for work, Pilipiak had begun wondering about his buddies who would not be on the train station platform waiting for the 7:35 to Manhattan.
"I kept thinking about all the guys who weren't taking showers this morning," he said.
Carol Pilipiak dropped Derek off at school, then left her husband at the station. He was wearing a dark suit and new black Bostonian tasseled loafers that she had bought over the weekend to replace the ones he wore Tuesday, the ones coated in gray, muddy soot. Pilipiak plans to preserve them in a glass box along with a business card bearing his World Trade Center address.
At the station, Carol handed her husband the local paper, still in a yellow plastic wrapper, and kissed him goodbye.
"I'll see you?" she said, with a nervous smile.
The Pilipiaks grew up in Brooklyn. After they were married, they lived on Staten Island for 15 years. When they wanted better schools for their boys, they bought a Colonial with a pool in leafy, established Ridgewood, near Walter's parents. They have commuted 21 miles to the World Trade Center together ever since.
But Monday, Carol's office building, near the American Stock Exchange, still did not have power.
"I don't ever want to go back there," she said.
Walter feels he has no choice. There are still two college educations to pay for before he can fish, hunt and golf away his days.
"If you want this life in the suburbs," he said, "you have to go back. Mine is a service industry. I cannot wait around or I'll lose my clients."
As the train rumbled toward Manhattan, Pilipiak settled in, reading the paper. He seemed relieved to reclaim a remnant of what was once his routine--until he happened to look up as the train passed the Meadowlands, home to his beloved New York Giants football team.
"My office would be to the right, where the smoke is," he said, pointing at the savaged skyline. He turned back to the paper.
In Manhattan, he insisted that he was not skittish among the tall buildings of midtown.
Still, he walked up Madison Avenue like an uneasy tourist, even though he had visited the office on the 22nd floor dozens of times.
His parent company, Itochu Corp., a mammoth Japanese trading firm, offered Pilipiak space, phones, computers and all kinds of assistance while he attempts to get his company up and running. As Pilipiak crossed a vast room of occupied desks, Yoshiharu Mori, one of his top aides, saluted him from the other side. Then Tirsa Moya, an account executive who had worked with him at the World Trade Center, came around her desk for a hug.
"You're all right!" he said to this small young woman of extraordinary valor, who had guided an 81-year-old man down 89 flights.
"I'm fine," she said with a smile.
In a conference room set up with doughnuts and coffee for the World Trade Center refugees, Pilipiak hugged all the others as well.
Then Tomoko Ono, a colleague who had been on vacation in Japan on that fateful day, came in. She clutched Pilipiak tearfully and displayed for all to see a diamond engagement ring that spoke of promise and the future. While she was still hugging him, the tough guy from Brooklyn had to turn his face away.
---
Must-read stories from the L.A. Times
Get all the day's most vital news with our Today's Headlines newsletter, sent every weekday morning.
You may occasionally receive promotional content from the Los Angeles Times.