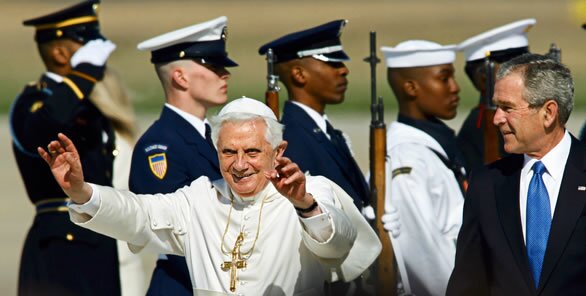 10 Images
Global pictures: April 13-19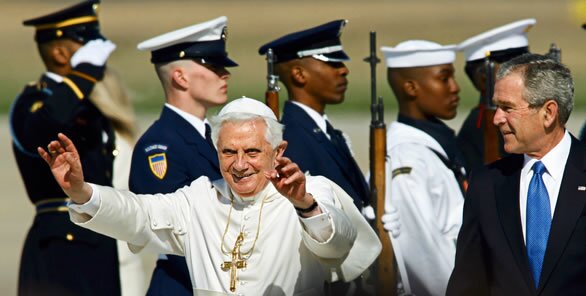 Pope Benedict XVI is met by President Bush at Andrews Air Force Base outside Washington at the beginining of his first visit to the U.S. as pontiff. The sexual abuse scandal within the Roman Catholic Church was among the main issues the pope addressed on his trip, which also took him to New York City.
(Carolyn Cole / Los Angeles Times)
A Congolese DC-9 jetliner burns after crashing on takeoff into a busy neighborhood in the city of Goma. At least 40 people were killed and more than 100 were injured, many of them on the ground. Most of the 79 passengers survived.
(Alain Wandimoyi / EPA)
Women from the Fundamentalist Church of Jesus Christ of Latter Day Saints arrive at the courthouse in San Angelo, Texas, where custody hearings are being held on the fate of more than 400 children removed from the polygamist sect's compound in Eldorado. Texas authorities allege that underage girls there are being sexually abused.
(Tony Gutierrez / AP Photo)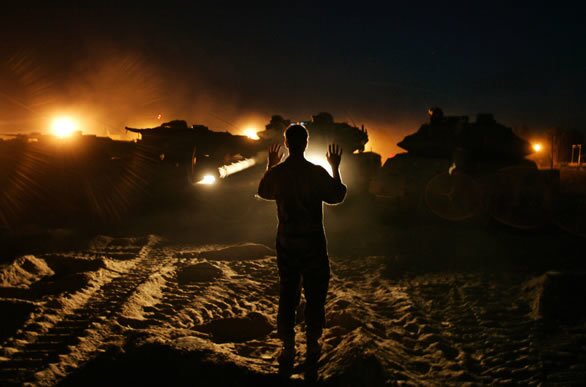 An Israeli soldier directs tanks as they prepare for an operation in a staging area just outside the Gaza Strip. Six Palestinians were killed in Gaza in airstrikes and battles with Israeli troops, according to Palestinian medical sources. The Israeli operation followed a Palestinian ambush at an Israeli fuel depot.
(Sebastian Scheiner / AP Photo)
An injured Palestinian calls for help after an Israeli tank in the Gaza Strip fired at a vehicle marked "TV." Reuters cameraman Fadel Shana, who had stepped out of the vehicle and started filming, was killed, as were two bystanders. Israel expressed regret; Reuters called for an investigation.
(Mohammed Abed / AFP / Getty Images)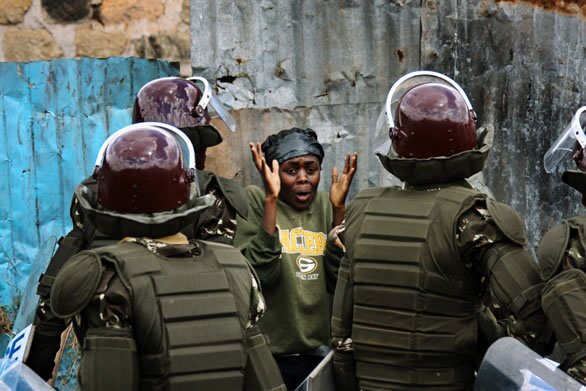 A woman is surrounded by riot police during disturbances in the Dandora district of Nairobi, Kenya. Police clashed with members of a banned sect who burned vehicles in the streets to protest the killing of the wife of their jailed leader.
(STRINGER / AFP / Getty Images)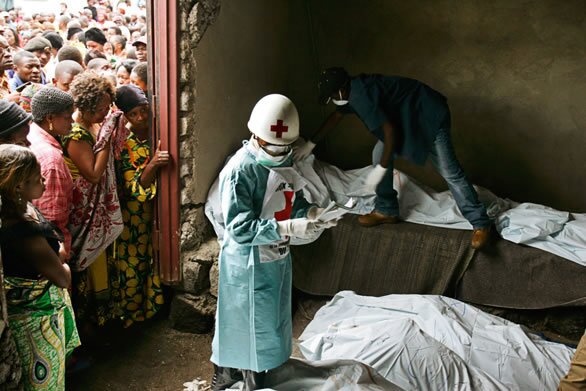 Congolese women look on as Red Cross workers try to identify victims from the crash of a jetliner in Goma. U.N. peacekeepers and rescue workers searching for bodies discovered that most of the plane's passengers survived, but there were many deaths on the ground.
(Karel Prinsloo / AP Photo)
South Korean quarantine officials arrive at a poultry farm in Pyeongtaek, south of Seoul, where a suspected bird flu case was reported. South Korea has slaughtered more than 2 million chickens and ducks since the first case was reported in early April.
(Kim Jae-Myoung / AFP / Getty Images)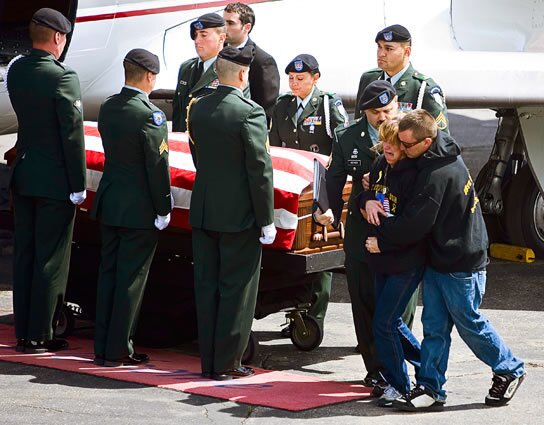 Patricia Smith breaks down in tears as the coffin of her son, Sgt. Timothy M. Smith, arrives at the Lake Tahoe Airport in California. Sgt. Smith was killed by a roadside bomb in Baghdad in early April.
(Jonah M. Kessel / AP Photo)
An Afghan man in Kabul waits to receive a food donation from the Afghan Red Crescent Society. The society coordinated distribution of food to 5,000 familes for the Islamic Development Bank .
(Shah Marai / AFP/Getty Images)