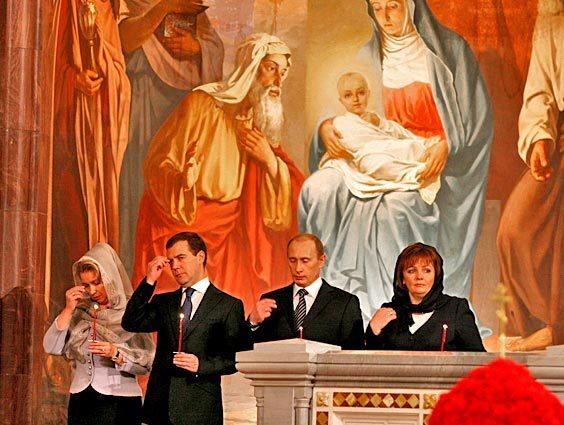 11 Images
Global pictures: April 20-26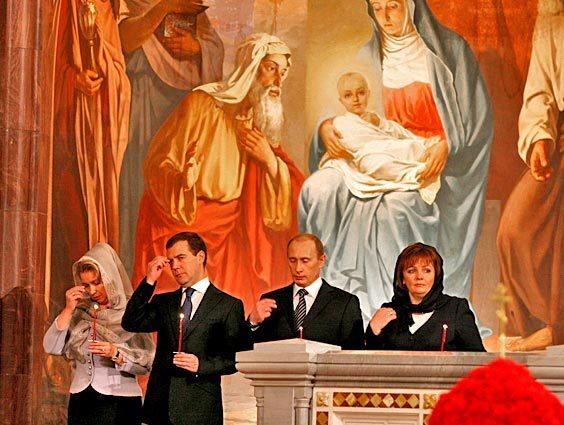 Russian President Vladimir V. Putin with his wife, Lyudmila, and Russian President-elect Dmitry Medvedev and wife Svetlana attend the Orthodox Easter service in Christ the Savior's Cathedral in Moscow.
(Sergei L. Loiko / Los Angeles Times)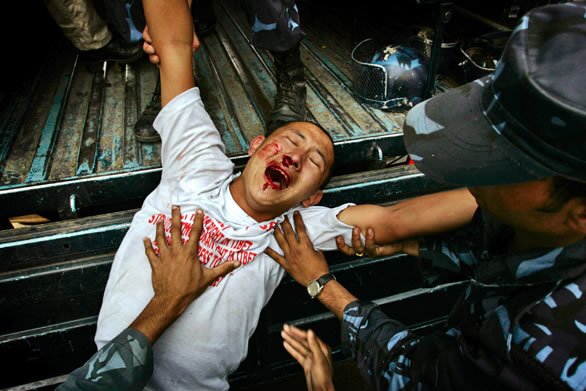 Nepalese police officers detain a Tibetan demonstrator during a protest outside the Chinese Embassy in Katmandu. Dozens of Tibetans were apprehended as they tried to hold a protest outside the embassy in Nepal's capital to condemn China's recent crackdown in the Himalayan region.
(Emilio Morenatti / Associated Press)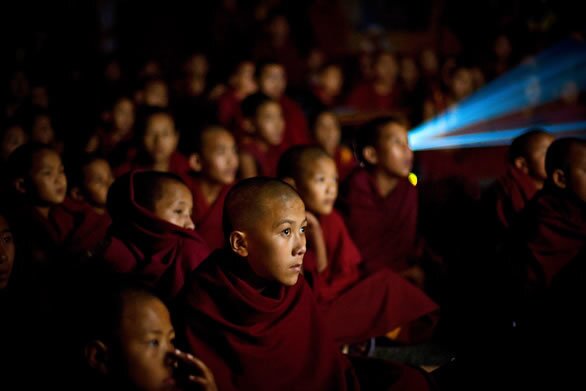 Buddhist monks watch a documentary film about the
Dalai Lama
at the courtyard of the Kopan Monastery in Katmandu. About 380 monks and 390 nuns, many of them Tibetan refugees, live at the monastery, which was established in 1970 in the Solu Khumbu region in eastern Nepal. Kopan is part of the Foundation for the Preservation of the Mahayana Tradition, an international network of some 150 centers dedicated to the study and practice of Buddhism.
(Emilio Morenatti / Associated Press)
A spirited crowd cheers away at the "Good Luck Beijing" 2008 Women's Basketball International Invitational Tournament between China and the U.S. at the Beijing Olympic Basketball Gymnasium, the venue for the Olympic basketball preliminaries and finals.
(Guang Niu / Getty Images)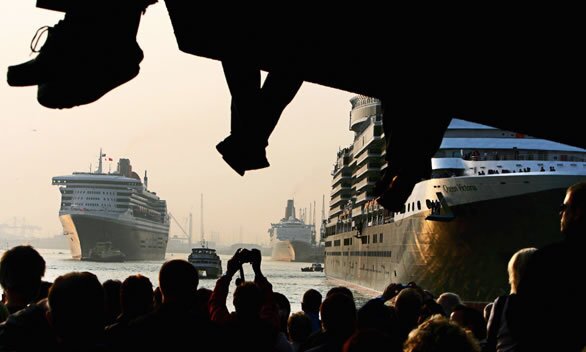 People watch from the quay side as the cruise liner Queen Mary 2, left, passes the Queen Elizabeth 2, center, with the Queen Victoria at right in Southampton, England. The three luxury cruise liners were together in their home port for the first and last time as the QE2 will be retired in November after more than 40 years in service.
(Matt Cardy / Getty Images)
U.S. airstrikes leave a building in ruins in the fight against cleric Muqtada Sadr's Mahdi Army. Police reported 19 Iraqis killed and 69 hurt in two days in the Baghdad area.
(Ahmad Al-Rubaye / AFP / Getty Images)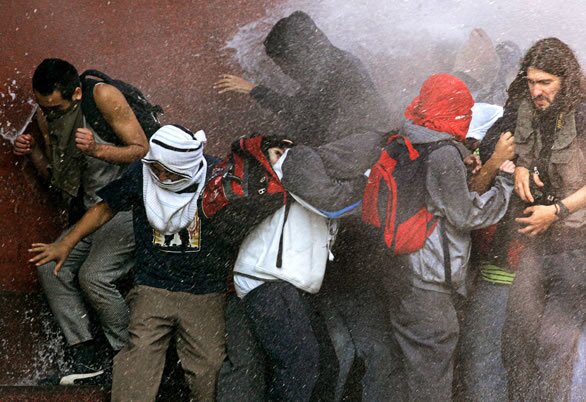 Students are sprayed by riot police officers during a protest in Santiago, Chile. Police used tear gas and water cannons to scatter the students, who were rejecting the education law issued by the former military dictatorship as well as protesting a bill proposed by President Michelle Bachelet to replace it.
(Aliosha Marquez / Associated Press)
A day before the World Malaria commemoration, 3-year-old Siama Marjan peers out from an insecticide-treated mosquito net at her home in the Kibera slums of Nairobi, Kenya. World Malaria Day seeks to raise awareness for the more than 3,000 children who die each day in sub-Saharan Africa from the disease, caused by mosquito bites. Millions of Africans cannot afford the nets that greatly reduces the chance of infection.
(Stephen Morrison / EPA)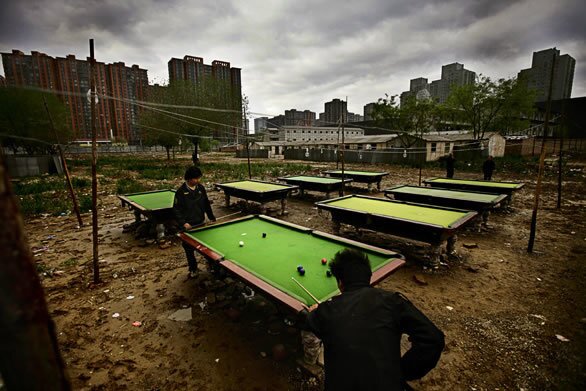 Two Chinese billiard enthusiasts play outdoors in Beijing.
(Oded Balilty / Associated Press)
An aerial view of seasonal workers harvesting asparagus on a field near Beelitz in eastern Germany. Every German eats an average of more than 2.2 pounds per season of white asparagus, 20% more than a decade ago, which according to official figures is the highest rate worldwide.
(Michael Urban / AFP / Getty Images)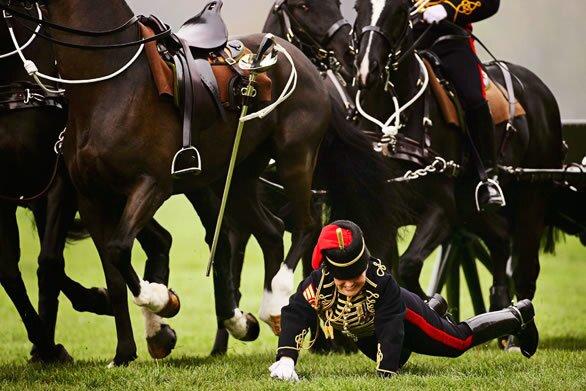 A young gunner falls from her mount during the gallop as part of a 41-gun royal salute by the Kings Troop Royal Horse Artillery in
Hyde Park
in London. The uninjured trooper got to her feet with a smile to rejoin her troop. The traditional salute, also marked by a gun salute at Tower Bridge, was to mark Queen Elizabeth's 82nd birthday.
(Christopher Furlong / Getty Images)