Who is Nigel Farage? British politician reported to be 'person of interest' in Trump-Russia inquiry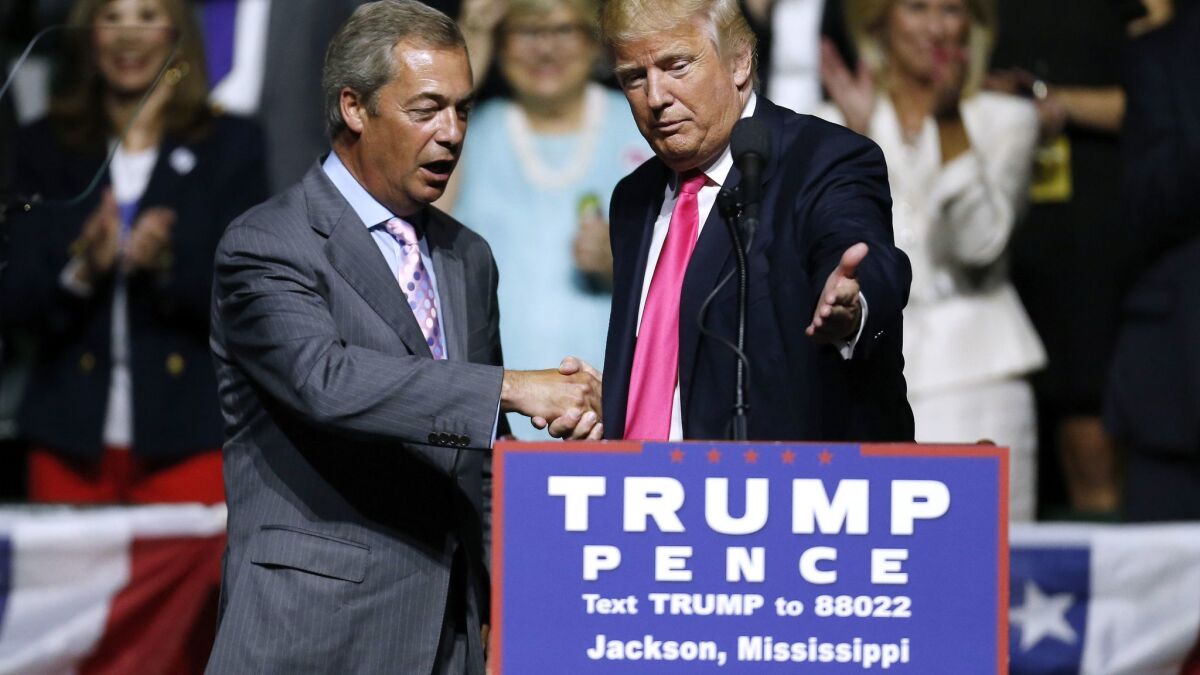 Reporting from Washington —
Few Americans knew Nigel Farage's name. But the flamboyant far-right British politician and radio host, a key architect of Britain's vote to exit the European Union, took on an oddly Zelig-like ubiquity as Donald Trump captured first the Republican nomination and then the presidency.
Here was Farage, popping up at the 2016 GOP convention in Cleveland to deliver a speech. There again, at a Trump campaign rally in Mississippi in the dog-days of August. Days after the election, he and the president-elect grinned together in front of a gilded elevator at Trump Tower. Soon after Trump took office and was set to dine with family members and associates at his namesake Washington hotel, Farage materialized again and wound up with a seat at the table.
Trump even broke diplomatic protocol by musing that Farage, who is widely loathed in British government circles, would make a great ambassador to Washington for Britain. That drew a stiff rejoinder from Downing Street that the job wasn't open.
Now there's a new twist to Farage's odd omnipresence in American politics: a British newspaper's report Thursday that he is a "person of interest" in the FBI's expanding counterintelligence investigation of Russian meddling in the U.S. presidential campaign.
The Guardian newspaper said while the 53-year-old Briton was not accused of any crime, the FBI was particularly interested a meeting earlier this year between Farage and Julian Assange, the founder of Wikileaks, which last year released a trove of emails stolen from the Democratic National Committee.
Farage emphatically denied the report.
"In response to the Guardian article, it has taken me a long time to finish reading because I am laughing so much at this fake news," he tweeted.
He followed up in a rapid succession of Twitter postings denouncing the "hysterical" attempt to implicate him. "I consider it extremely doubtful that I could be a person of interest to the FBI as I have no connections to Russia," Farage wrote.
He has, however, made past appearances on Russia's RT network, considered a propaganda outlet.
Asked previously by reporters about his March visit to Ecuador's embassy in London, where Assange is holed up, Farage said he could not remember the reason for it, though he later told a German newspaper he was there trying to set up an interview.
During the U.S. presidential campaign, Farage's populist-nativist vision seemed to mesh perfectly with that of Trump. Even before he met the then-candidate, he was acquainted with Stephen Bannon, the anti-establishment provocateur who is now a senior White House aide.
Farage was a founding member of the stridently anti-immigration UK Independence Party and played a key role in advocating Britain's departure from the EU.
Trump, who happened to be in Scotland just after the "Brexit" referendum narrowly passed, hailed the result, not realizing that Scotland had voted overwhelmingly to stay in the European Union. Calling the British vote not only a robust expression of sovereignty but a precursor of his own underdog victory, Trump later tweeted out an all-caps description of himself as "MR. BREXIT!"
Trump's delight turned many Europeans against him — sentiments that hardened when he won the election and only intensified when he held tense talks last week with European counterparts.
Farage's party faded into political insignificance after he left it last year and rebranded himself as a broadcaster and commentator. His rhetoric and concerns often continue to mirror Trump's. Before the Guardian story broke, he had already tweeted his disdain for Hillary Clinton and touted an appearance on Fox News, where he is a paid contributor.
On the campaign trail last year, Trump supporters received Farage's message with enthusiasm, even if some were nonplussed by a British politician stumping for their candidate. Farage had slammed Obama for expressing public hopes during the run-up to Brexit that Britons would stay in the EU.
"I come to you from the United Kingdom with a message of hope, of optimism!" Farage told a Trump rally in the sweltering August heat of Jackson, Miss. Appealing to "ordinary, decent people" to rise up, he drew cheers when he declared: "We made June 23 our independence day when we smashed the establishment!"
Farage's meeting with Trump after his election occurred weeks ahead of one with Prime Minister Theresa May. She eventually made a White House visit, but not before Trump shocked the British by casually suggesting she get in touch if she were coming to town.
In the early days of Trump's presidency, Farage won a standing ovation at the Conservative Political Action Conference outside Washington, telling the crowd that Trump's election was part of a "global revolution" that had its roots in Brexit. The president had addressed the same gathering early in the day.
Farage is fond of documenting his encounters with Trump on Twitter. A photograph Farage posted in November shows the two together at Trump Tower, with Trump giving a thumbs up.
"Dinner with The Donald!" Farage tweeted in late Februrary, along with a picture, drawing snickers from the British press that he had talked his way into joining the president's family meal.
As Farage prepared to host an evening talk-radio program Thursday, he repeated his talking points as the Russia story ricocheted across social media.
"This FBI story is nonsense," he tweeted. "The liberal elite are bad losers trying to find a way out. Total fake news!"
---
Must-read stories from the L.A. Times
Get the day's top news with our Today's Headlines newsletter, sent every weekday morning.
You may occasionally receive promotional content from the Los Angeles Times.