The secret behind Ri Yong Ho, North Korea's fire-breathing spokesman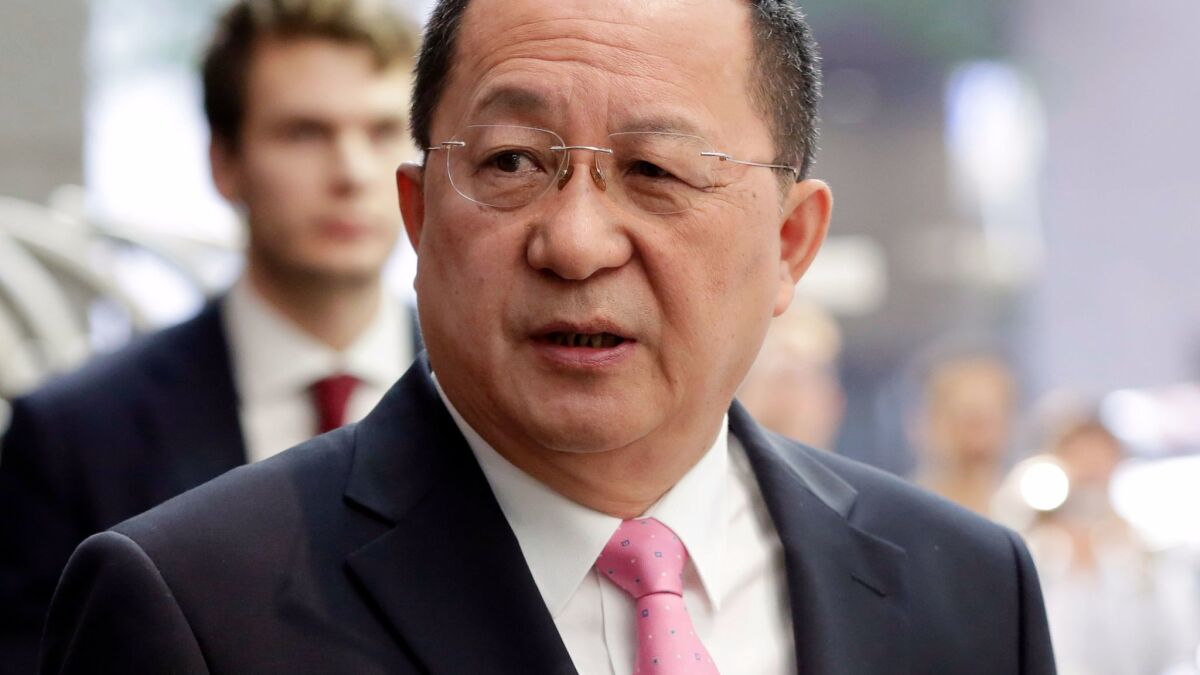 Reporting from NEW YORK —
During the recent United Nations General Assembly meeting, he emerged as the fire-breathing mouthpiece of North Korea's inflammatory government.
Foreign Minister Ri Yong Ho mocked Donald Trump as "President Evil" and offered up sound bites about detonating nuclear bombs over the Pacific and shooting down U.S. planes.
But here's a little secret about Ri: Beneath the bluster, he has a reputation as a soft-spoken, self-deprecating diplomat whom U.S. officials have for years deemed one of the most accessible representatives of his government.
Ri was promoted to foreign minister in May 2016 for his adeptness at negotiating with Americans, not for hurling invective.
"He was put in that job for the purpose of being the negotiator. His specialty is negotiating with Americans,'' said Gary Samore, a former U.S. diplomat and nonproliferation specialist now at Harvard's Belfer Center for Science and International Affairs, who has known Ri for two decades.
"He is not one of these guys who acts like a caricature of a communist apparatchik. He has a great sense of humor. He is very creative in coming up with wording acceptable to both sides,'' said Samore.
He has an interesting self-deprecating sense of humor, which is rare among diplomats, especially North Korean diplomats.
— Evans Revere, a former U.S. diplomat
Samore first met Ri in 1994 when they were hammering out the details of the Clinton administration's nuclear freeze deal known as the Agreed Framework. A decade later, Ri was a key negotiator in six-nation talks hosted by China. Since then, he has been a frequent attendee at back-channel talks hosted by influential Americans looking for another approach to North Korea.
Appearing in public before scrums of television reporters, Ri delivered screeds against the U.S. government in pompous, formal Korean, but Samore describes Ri's English as "excellent, superb, idiomatic."
In his bespoke suits and silk ties, Ri could probably pass as a senior South Korean executive if not for the obligatory red badge pinned to his lapel, depicting the late leaders Kim Il Sung and Kim Jong Il. As with other North Korean officials, his age is unclear, but the website North Korean Leadership Watch gives his date of birth as 1954. (He is not related to another official of the same name, former Vice Marshal Ri Yong Ho, who was purged in 2012.)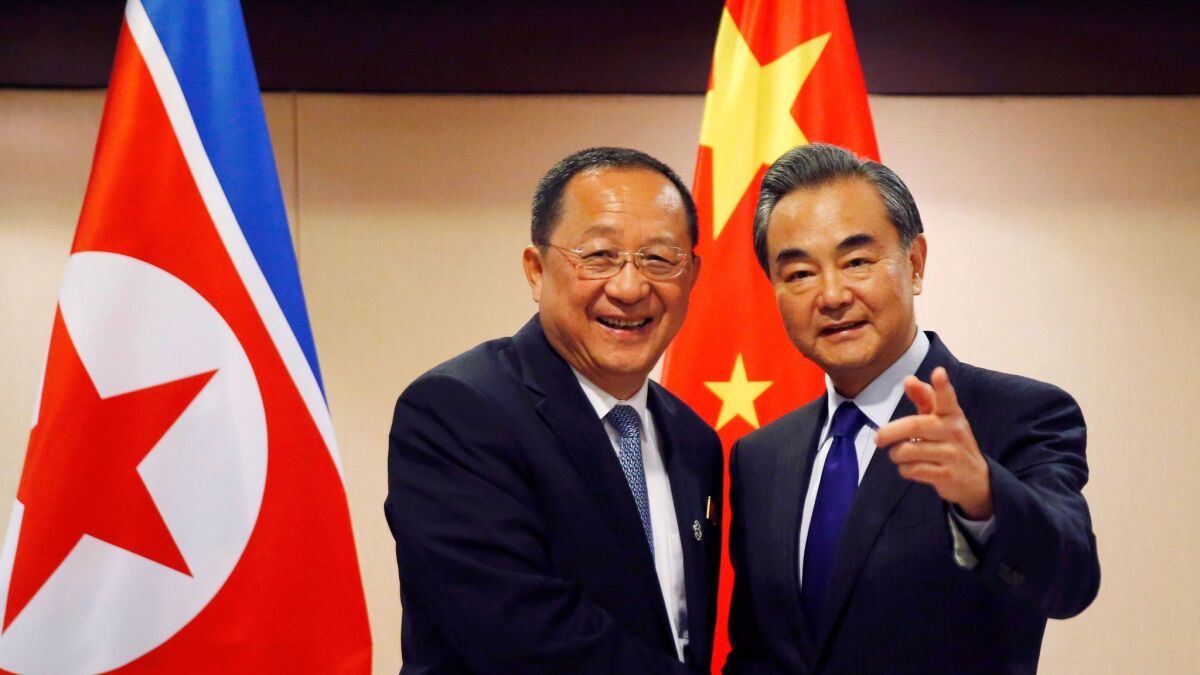 Ri was born into an elite family, making him a "princeling" in the parlance of communist politics. His father, Ri Myong Je, was an aide to Kim Jong Il, managing his personal residences and property, and also an editor at the Korean Central News Agency, or KCNA, the state propaganda machine, which perhaps accounts for the younger Ri's aptitude for hurling insults at the United States.
Ri studied English at the Pyongyang University of Foreign Studies. He served in North Korean embassies in Zimbabwe and Sweden and later as ambassador to Britain.
American diplomats who dealt with Ri said that he was exceptionally persuasive in articulating the North Korean point of view.
Evans Revere, a former diplomat who also headed the New York-based Korea Society, said Ri is an excellent salesman, "even if the product he is selling is highly defective."
"He has an interesting self-deprecating sense of humor, which is rare among diplomats, especially North Korean diplomats," said Revere. "He's soft-spoken and eloquent, not a table pounder."
After Kim Jong Il died in December 2011 and was succeeded by his son Kim Jong Un, Ri was one of the first North Korean envoys to articulate the position of the new leader. At a March 2012 meeting of the National Committee on American Foreign Policy, with Henry Kissinger and other diplomatic luminaries in attendance, Ri spoke of his hopes for better relations.
"Unlike former [North Korean] leaders of an older generation who fought the U.S., the new generation of leaders has no intention to fight the U.S.," said Ri, according to paraphrased minutes of the meeting.
A month later, North Korea launched a satellite, scuttling a short-lived agreement to enact a moratorium on weapons testing in exchange for food aid. The trajectory has been downhill since.
With the North Korean nuclear threat dominating international news, Ri was one of the most sought-after attendees at last month's U.N. General Assembly, with television crews staking out his hotel to catch his latest diatribe. In response to a question about Trump deriding Kim Jong Un as "Rocket Man," Ri replied, "I pity his aides" — displaying a trace of his old sense of humor and his insight into the politics of the White House.
But what made headlines were mostly the terrifying threats — that North Korea planned to test a hydrogen bomb over the Pacific and would shoot down U.S. bombers in international airspace.
"At a time when Trump is spewing these personal insults and very colorful threats, Ri Yong Ho has to retaliate," said Samore. "I think he is winging it to some extent. Some of the remarks he made about hydrogen bombs and shooting down planes, I don't take seriously. I think it is just rhetoric."
"That's just part of being a good North Korean diplomat. He has to play all these roles," said Joel S. Wit, a former diplomat and a senior fellow at the U.S.-Korea Institute at Johns Hopkins School of Advanced International Studies.
Wit, who has known Ri since the 1990s, went so far as to write an opinion piece for the Atlantic suggesting that Secretary of State Rex Tillerson sit down and talk directly with Ri.
"At the moment, Ri may offer the best chance for finding a way forward because of his close ties to the ruling Kim family," wrote Wit.
Up until early last week, last-minute efforts were underway to set up meetings between Ri and nongovernmental American interlocutors. Samore said that somebody he would not identify had tried to arrange for him to see Ri in New York to talk about a way out of the impasse. The meeting never took place, and Ri left New York.
ALSO
North Korea says Trump declared war via tweet. The White House says it didn't
Escalating tension has experts simulating a new Korean War, and the scenarios are sobering
Costco stores in South Korea offer chopped onions for hot dogs. Koreans have a different idea
Twitter: @BarbaraDemick
Must-read stories from the L.A. Times
Get the day's top news with our Today's Headlines newsletter, sent every weekday morning.
You may occasionally receive promotional content from the Los Angeles Times.