In the Philippines, 'a government with heart' versus the rule of the fist
Reporting from Manila —
The Philippines' presidential elections are on Monday, and the country is in the grip of election fever. In Manila, campaign posters flutter from overpasses, newspapers carry breathless headlines about polls, and coffee shops are abuzz with conversations about the country's future.
On a recent scorching-hot morning, about 30 blue-and-white-clad campaigners for presidential candidate Grace Poe blazed through the New Pritil Public Market — a sprawling bazaar in an impoverished quarter of the Philippines' capital city — distributing T-shirts, rubber bracelets, aprons and handheld fans bearing the candidate's smiling visage.
"We're optimists, we're very hopeful," said Malu Gamboa, the 47-year-old head of the group, as vendors and shoppers swarmed the volunteers, grasping for merchandise. "It's been the most positive campaign. We're just really, really hopeful."
Yet the two front-runners in the race could not be more different, and the flurry of colorful, kinetic campaigns belies darker political divides. Poe, a first-term senator and former U.S. citizen, has made compassion and inclusive growth pillars of her campaign; her campaign slogan is "Government with a Heart."
Meanwhile, her main opponent — Rodrigo Duterte, the famously foul-mouthed mayor of Davao City in the country's south — has made jokes about rape, disabled people and infidelity. According to local media, he has boasted of overseeing hundreds of extrajudicial killings during his 22-year mayoral tenure. His campaign posters bear the image of a giant fist.
So far, the fist is winning.
"I'm going to vote for Duterte," said Linda Abalos, a 53-year-old T-shirt vendor at the Pritil market, as Poe volunteers distributed merchandise nearby. "Duterte, as president, [would be] very aggressive about corruption and drugs."
Poe "is a good leader," she continued, "but she has very feminine actions. The Philippines needs a man, because the Bible says follow your husband."
Duterte is leading polls with 33%, followed by Poe with 24%, according to a late April survey by the polling organization Social Weather Station. In the Philippines, a candidate needs only the highest percentage of votes — not a majority — to win the race.
"The details of how we intend to achieve inclusive growth sometimes get lost in the sea of messages from the various camps, but I suppose that is to be expected," Poe said in an email. "Sensational, dramatic and shocking statements get more airtime."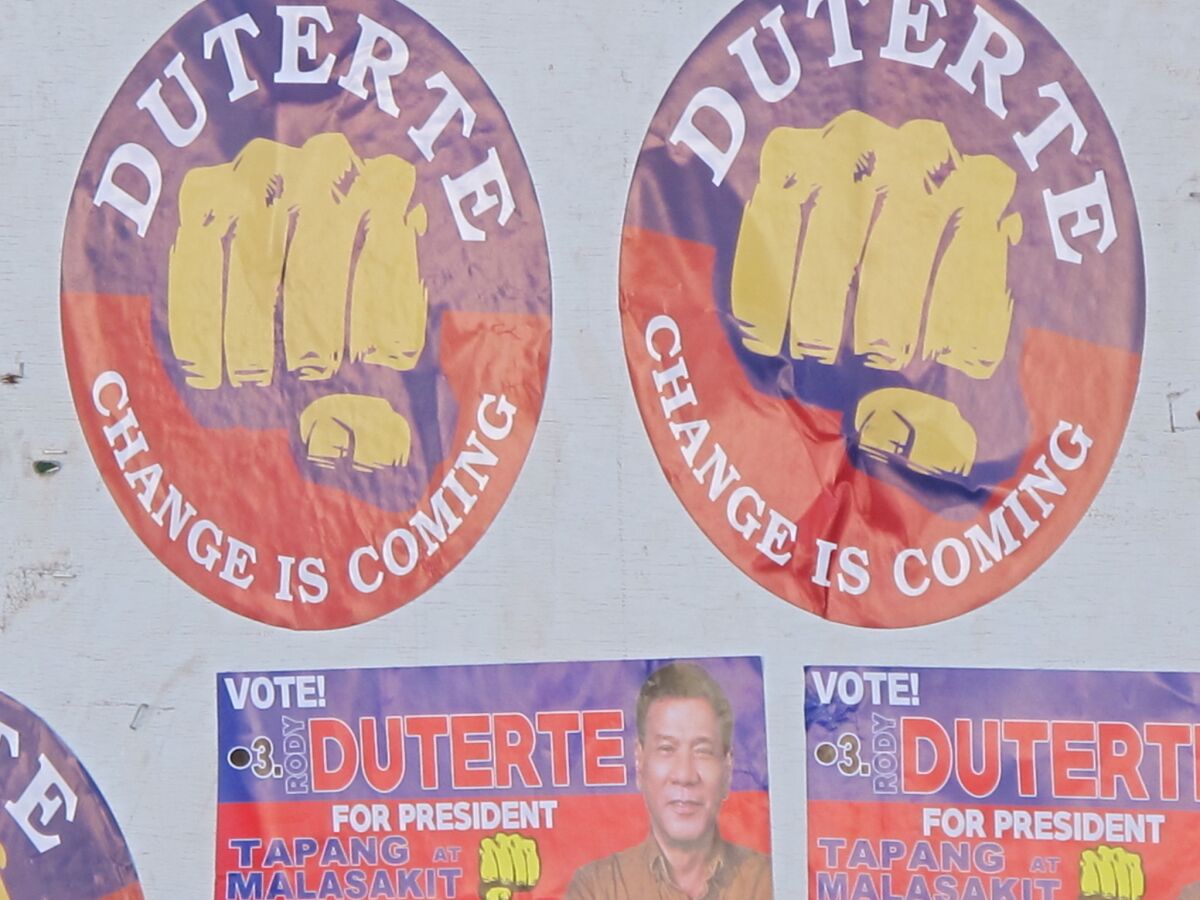 Poe has vowed to address the ripple effects of widespread poverty through social programs, such as providing free school lunch. Dropout rates are high in the Philippines, where many parents can't afford even basic meal costs – and many dropouts spend more time on the streets, where they're more vulnerable to drugs and crime.
Duterte, according to local media, has vowed to execute suspected criminals.
Yet it's Poe's powerful personal story — one of abandonment, loss, and rising to defy the odds— that has attracted the most attention in her campaign.
Poe was orphaned at birth. She was left outside of the Jaro Metropolitan Cathedral in Iloilo City, a major urban center on the island of Panay. A priest named her Grace, believing she had arrived by the grace of God. Before long, she was adopted by an A-list movie star couple: Susan Roces and Fernando Poe Jr., who is often considered a Filipino John Wayne.
Poe studied political science at Boston College, married a Filipino American and, after graduating, lived in Fairfax, Va., for 12 years, working for much of that time as an officer at the U.S. Geological Survey. In 2004, her father ran for the Philippine presidency and lost. Soon afterwards, he suffered a stroke and died.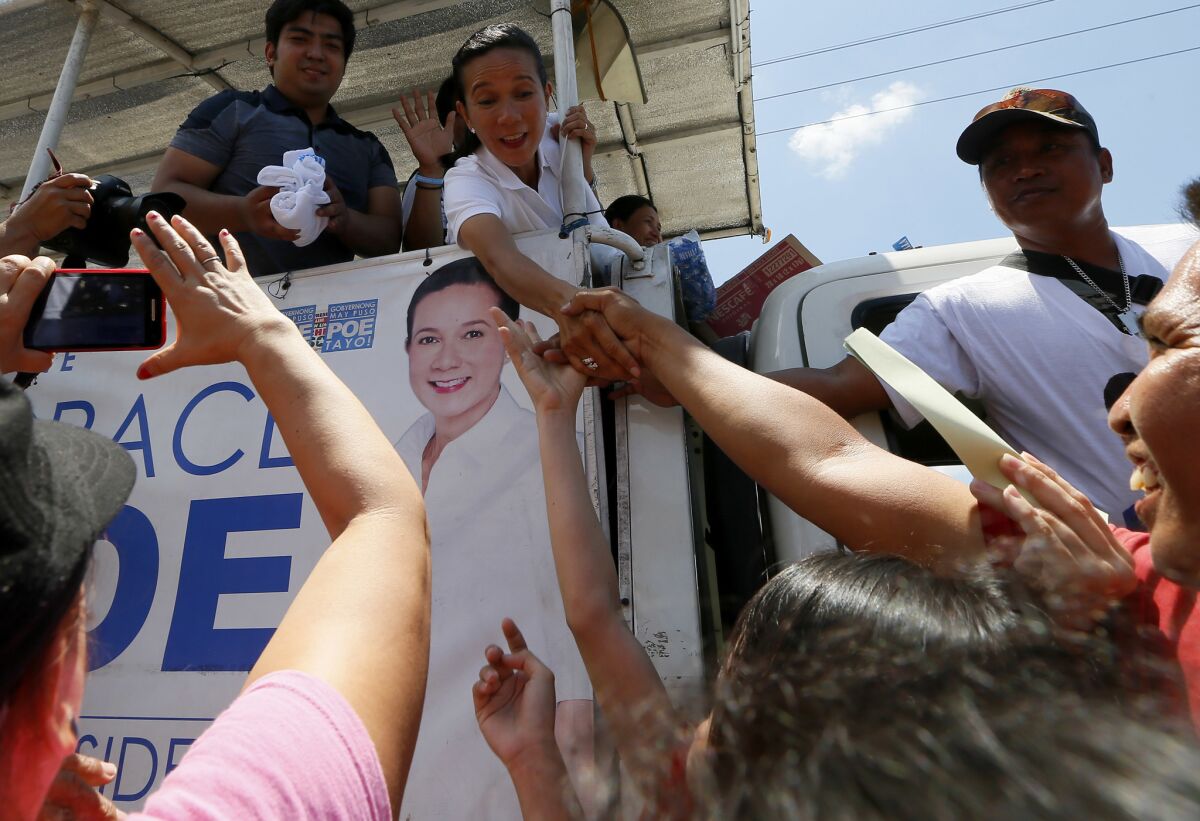 Poe returned to the Philippines in 2005 and later reclaimed her citizenship. In 2013, she ran for the Senate and won with the highest number of votes among more than 30 candidates.
Although Poe's story has inspired her followers, it has also bred controversy.
Critics have attacked her legal qualifications to run for president, because as an abandoned child she lacks proof of being a natural born citizen. They also questioned whether she met a 10-year residency requirement for presidential candidates.
"The thing that has really damaged her — otherwise I think she would probably be the front-runner — has been the citizenship controversy," said Mark Thompson, a professor and director of the Southeast Asia Research Center at City University of Hong Kong.
In March, the Supreme Court of the Philippines deemed her a natural-born Filipino citizen and declared that she met the residency requirements, ending a long, complicated legal battle over her eligibility for the office.
"Even though she won the case, it damaged her because of her opponents' ability to describe her as out of touch," Thompson continued. "Not so much because [she's lived abroad] — many Filipinos live abroad — but because she's cast as somebody who doesn't understand normal Filipinos' plight.
"This is one of the problems, because her father was widely seen as somebody who understood the poor, because he played an action hero who stood up for poorer people."
Many Poe supporters deny the characterization, casting their candidate as someone who has beat the odds to become a champion of the poor.
"She is very inspiring," said Mia Padilla, another Poe supporter. "The circumstances of her birth [were] not ideal — [I] find it heartbreaking it was used against her. It's not really her fault."
"I think she can help us," she continued. "She really has compassion for the people."
De Leon is a special correspondent. Times staff writer Julie Makinen contributed to this report from Beijing.
Must-read stories from the L.A. Times
Get the day's top news with our Today's Headlines newsletter, sent every weekday morning.
You may occasionally receive promotional content from the Los Angeles Times.