Tillerson heads to Africa to discuss counter-terrorism, development, China and debt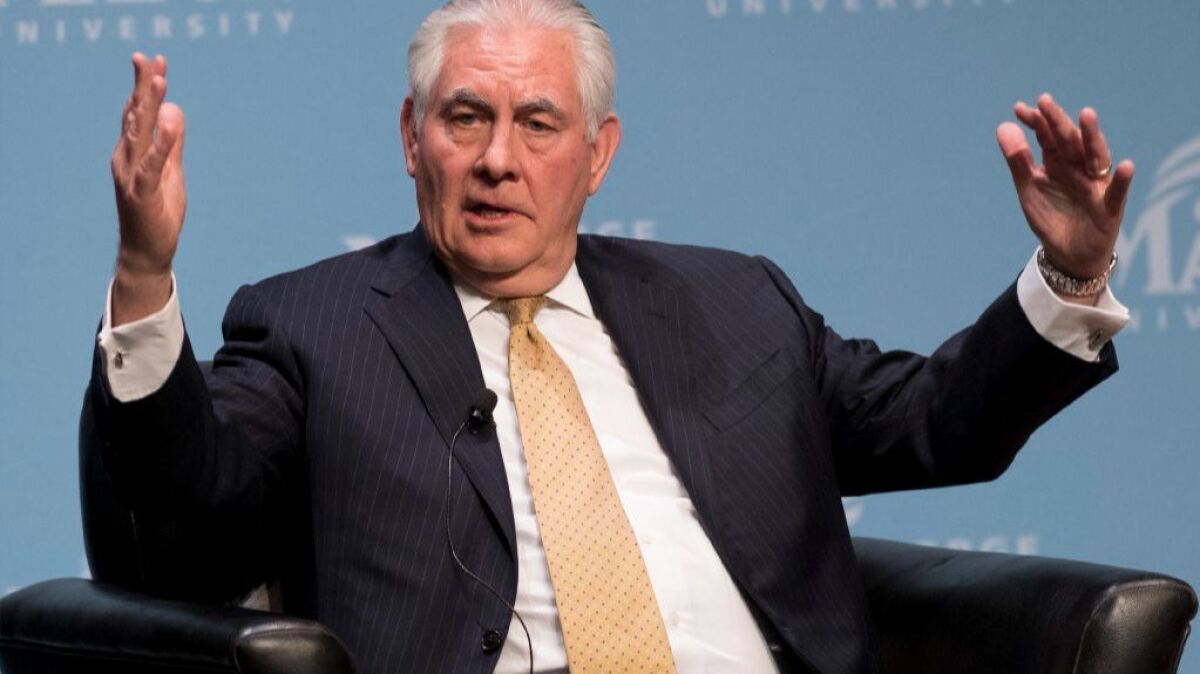 Reporting from WASHINGTON —
Secretary of State Rex Tillerson headed to one of the most insecure, politically troubled regions of the world on Tuesday when he began a seven-day, five-nation diplomatic mission through sub-Saharan Africa.
In a policy speech before he left, Tillerson said he will seek continued support in counter-terrorism efforts and make a case for resisting China's growing political and economic influence on the continent.
"Chinese investment does have the potential to address Africa's infrastructure gap, but its approach has led to mounting debt and few, if any, jobs in most countries," Tillerson said at George Mason University outside Washington.
"When coupled with the political and fiscal pressure, this endangers Africa's natural resources and its long-term economic and political stability," he added.
China has poured tens of millions of dollars into African government coffers to be allowed to exploit mining of natural resources, and development of gas and oil, with little regard for environmental or local development, some activists maintain.
Challenging a rising China has become a favored theme for Tillerson, who also criticized Chinese investment in Latin America during a swing there last month and in the so-called Indo-Pacific region, where Beijing wields enormous economic and military power.
U.S. officials decry what they say is a Chinese policy of easy, low-interest loans to governments that produce high indebtedness. Russia, Iran and other countries offer similar loans.
"We spent so much time getting them off of debt, and to see them go back on debt is just terrible," said a senior State Department official who specializes in Africa and who briefed reporters on condition of anonymity ahead of Tillerson's trip. "This is really kind of another form of impoverishment and poverty."
Tillerson is scheduled to arrive first in Addis Ababa, the capital of Ethiopia. The country is in a political crisis after the resignation of its prime minister, and violent street protests that left hundreds of people dead or wounded. A state of emergency was declared Feb. 16.
The secretary of State plans to discuss ways to strengthen institutions to promote peaceful political transition as well as reconciliation among the Oromo, Amhara and other ethnic groups in Ethiopia, the State Department official said.
Tillerson will also visit Djibouti, a Horn of Africa nation that hosts the only permanent U.S. military base on the continent.
Since the suicide attack that nearly sank the U.S. destroyer Cole in 2000 in Aden, Yemen, U.S. naval ships have refueled at Djibouti. The country also contributes a large number of troops to United Nations peacekeeping forces in neighboring Somalia.
Before leaving Washington, Tillerson announced a new allotment of $533 million in aid for Ethiopia, Somalia, South Sudan, Nigeria and parts of the Lake Chad region, areas suffering from armed conflict and drought.
He received support from the commander of U.S. military forces in Africa, who advocated Tuesday for a stronger diplomatic arm on the continent.
"In the long term, U.S. interests in Africa are best served by stable nations with effective, accountable governments, well-trained and disciplined militaries, and growing economies," Marine Gen. Thomas Waldhauser, who heads the United States' Africa Command, testified to Congress. "None of Africa's challenges can be resolved through the use of military force as the primary agent of change."
Tillerson's itinerary includes Nairobi, Kenya, where riots greeted the recent reelection of President Uhuru Kenyatta, and Abuja, Nigeria, which is battling the militant group Boko Haram.
Boko Haram has kidnapped hundreds of schoolgirls and other civilians, and an estimated 1.7 million people have been driven from homes and millions more are on the brink of starvation in the widening conflict, according to Amnesty International.
Tillerson also will stop in N'Djamena, Chad, where authorities recently banned peaceful assemblies and arrested scores of government critics after new austerity measures.
He will not visit Niger, where the killing of four U.S. service members in an ambush by Islamic militants last year raised concerns in Congress about the growing U.S. military presence in Africa.
The Pentagon says it has about 6,000 troops deployed in 50 African countries, including about 800 in Niger. Special operations forces focused on counter-terrorism operations are deployed in high-risk locations, including Somalia, Mali and Nigeria.
Times staff writer David S. Cloud contributed to this report.
For more on international affairs, follow @TracyKWilkinson on Twitter
---
Must-read stories from the L.A. Times
Get the day's top news with our Today's Headlines newsletter, sent every weekday morning.
You may occasionally receive promotional content from the Los Angeles Times.