Trump administration will press Central American countries and Mexico to keep their people at home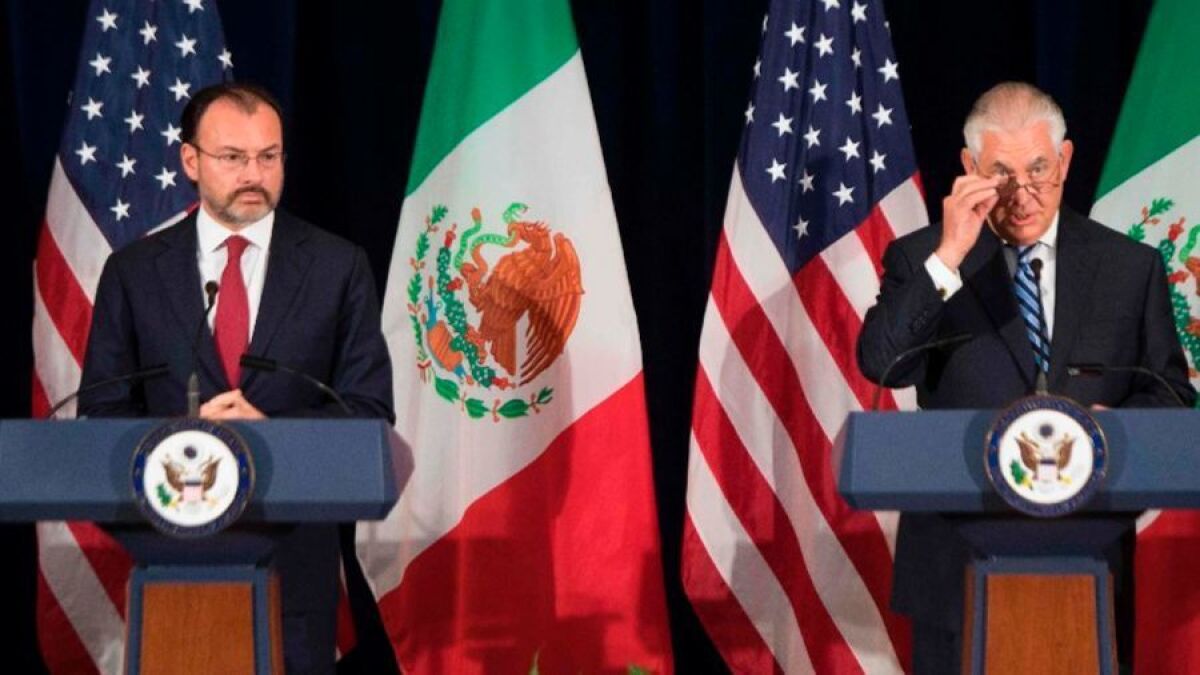 Washington —
Vice President Mike Pence and three members of President Trump's Cabinet will meet leaders from Mexico and several Central American countries Thursday at a conference in Miami to press them to prevent their citizens from migrating to the United States.
Officials describe the effort as a partner to the Trump administration's push to increase deportations of immigrants in the country illegally and to boost border security.
The Trump administration appears to be shifting the focus of its policies on Central America away from political and social improvements that gained traction under President Obama and more on law enforcement, especially stopping illegal immigration and cracking down on drug trafficking.
Critics worry about a return to a militarized, "drug war" approach in Central America that put law enforcement ahead of other concerns. They say money is needed to reduce the so-called push factors, especially violence and poverty, that propel Central Americans and Mexicans to flee their countries.
The White House has proposed cutting overall State Department funding for Central America to $460 million next year — a 39% reduction over 2016. Its critics say those cuts, if approved by Congress, will undermine efforts to keep impoverished families from heading north.
State Department officials say the two-day conference in Miami — which will also be attended by Secretary of State Rex Tillerson, Secretary of Homeland Security John F. Kelly and Secretary of Treasury Steven T. Mnuchin — shows the U.S. commitment to the region.
"In terms of U.S. engagement and support in the region, the fact that we have a conference of this magnitude involving the vice president, three U.S. cabinet members and numerous other U.S. government agencies and U.S. officials shows our continued commitment to Central America," said John Creamer, a deputy assistant secretary of State for Mexico and Central America.
Also scheduled to attend are the presidents of Guatemala, Honduras and El Salvador, countries that comprise the so-called Northern Triangle of Central America, which suffer from soaring murder rates, extreme poverty and corrupt governments.
"We have asked them [Northern Triangle countries] to ask their citizens to not waste the money and head north, do not get on that terribly dangerous network," Kelly said in testimony to the Senate last week, "stay where they are, because if they come here, this is no longer an illegal-alien-friendly environment."
Kelly, a retired Marine general who previously headed the Southern Command responsible for U.S. military operations in Central and South America and the Caribbean, has long experience with interdiction and crime-busting in the region.
Under the Obama administration and in response to an abrupt flood of minors crossing into the United States in the summer of 2015, Congress allotted more than $1 billion for the Northern Triangle over a two-year period.
Under then-Vice President Joe Biden, the administration partnered with the three Central American countries to form the Alliance for Prosperity, which would match the U.S. funds and was tasked with showing results.
The money helped finance both security and social projects, including anti-corruption programs, police training, judicial reform and youth leadership. Murder rates did drop some, and there were sporadic advances in prosecuting corrupt officials.
With Kelly taking a key role dealing with Latin America, many advocates who long worked in the region worry that U.S. attention and money is too narrowly focused on law enforcement, migrants and drugs.
"You can see the pendulum start to swing back," said Eric Olson, an expert on Central America at the nonpartisan Wilson Center think tank in Washington.
The first day of the Miami conference will focus on "prosperity" but includes private sector groups. The second day focuses on security and will be held at Southern Command, with Kelly leading discussions. Tillerson will not participate.
"While private sector investment can help ... the U.S. must continue to lead by example in supporting this alliance to address root causes of migration from Central America," Sen. Thomas R. Carper (D-Del.), who has made several fact-finding trips to the region, said this week. "I hope that the Trump administration will reconsider its proposal to dramatically cut funding to our partners in the Alliance for Prosperity."
Kelly has demanded that Mexico do more to secure its borders and stop migrants from heading north. In 2015, Mexico arrested more Central Americans trying to cross Mexico than U.S. authorities arrested Central Americans attempting to cross into the United States.
But the Mexican arrests have led to a spike in reports of abuse, beatings and rapes of migrants by Mexican soldiers and blanket denial of asylum claims.
Mexico wants to cooperate with the United States to improve its own bargaining position with a hostile Trump administration.
In shifting part of the focus back to the drug war, U.S. officials have been careful to recognize U.S. demand for drugs as a major engine in the problem. U.S. drug demand, Kelly said last month, "generates all the problems."
But even that, critics say, minimizes the institutional flaws that cripple good governance in Central America.
"Weak institutions helped fuel the violence and insecurity that creates the immigration flow," said Geoff Thale, program director at the Washington Office on Latin America, an advocacy and research organization. "Going backward from previous administrations' commitments will do little to address those underlying causes."
For more on international affairs, follow @TracyKWilkinson on Twitter
---
Must-read stories from the L.A. Times
Get the day's top news with our Today's Headlines newsletter, sent every weekday morning.
You may occasionally receive promotional content from the Los Angeles Times.