Colombian President Santos, at White House, seeks aid renewal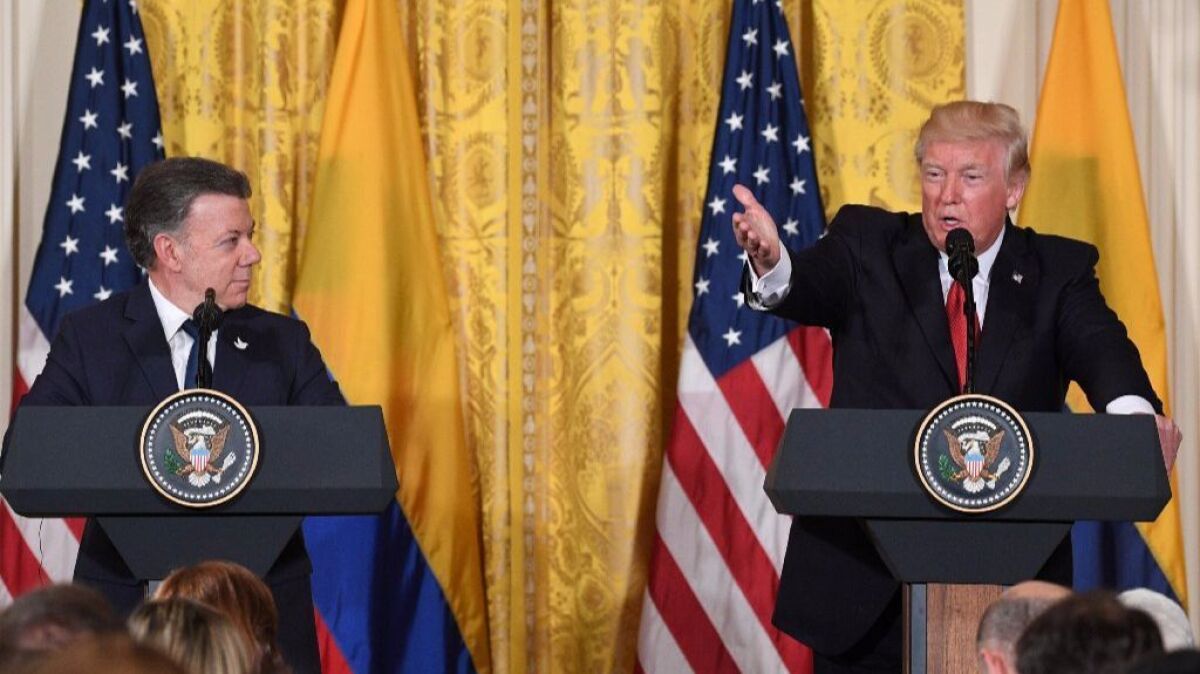 Reporting from Washington —
Colombian President Juan Manuel Santos met Thursday with President Trump, hoping to secure guarantees for a continuation of millions of dollars in U.S. aid as his country emerges from a half-century of civil war.
Publicly, Trump gave no such commitment during a joint news conference with Santos in the White House East Room. Trump did not mention Colombia's hard-fought peace process until a reporter asked about it. He then praised Santos' efforts.
"There's nothing tougher than peace," Trump said, "and we want to make peace all over the world."
Trump focused on fighting drug trafficking and on potential trade deals, as well as the wall he has promised to build along the border with Mexico.
Santos listed his country's needs for post-war reconstruction, including rebuilding roads and other infrastructure, resettling displaced peasants and demobilized guerrilla fighters, creating new judicial mechanisms and eradicating coca crops.
Colombia last year signed a peace accord with the leftist guerrillas of the Revolutionary Armed Forces of Colombia (FARC), ending the longest-running military conflict in the world. More than a quarter million people were killed in the 50-year war.
The United States has supported the Colombian government with $10 billion over the last decade or so, under the auspices of so-called Plan Colombia. Much of the money was aimed at fighting drug trafficking.
The Obama administration backed the peace accord last year and pledged to shift aid to development, social and judicial areas. A first tranche of $450 million was allotted for this year, but Colombia says it needs at least that much every year.
With Trump's vow to slash foreign aid, Colombia suddenly sees its recovery prospects in jeopardy.
"The only people who will benefit are the drug traffickers" if U.S. aid is cut, Juan Carlos Pinzon, the Colombian ambassador in Washington, told reporters before Santos' visit.
Much of the aid would support rural development in areas considered the breeding ground of rebels and drug traffickers.
There is broad support in Washington, from Capitol Hill to human rights organizations, for continued aid to Colombia.
"Colombia is a critical partner in achieving a secure and prosperous Western Hemisphere, a necessity when countries like Venezuela are teetering on the edge of collapse," said Sen. Roy Blunt (R-Mo.). "Supporting Colombia is an investment in U.S. security."
Blunt was co-sponsor with Sen. Benjamin L. Cardin of Maryland, the ranking Democrat on the Senate Foreign Relations Committee, of a new report on U.S. post-conflict engagement with Colombia.
"This historic opportunity to end the Western Hemisphere's longest-running conflict must not be lost," the Latin America Working Group, an advocacy organization, and several faith-based groups said in a letter to Secretary of State Rex Tillerson.
Santos, who won last year's Nobel Peace Prize for his role in ending the war, has scheduled meetings with members of Congress and think tanks to press his cause.
Some conservatives, here and in Colombia, oppose the peace treaty because they contend that it makes too many concessions to the former guerrillas and allows them to return to civilian life, unpunished.
And some members of Congress and the Trump administration are alarmed at record levels of coca production, which is making a comeback after years of decline.
A State Department study released in March estimated coca crops at 470,000 acres last year, 50% more plantings than estimated in 1999, before the United States began dispersing aid under Plan Colombia.
Special correspondent Kraul reported from Bogota, Colombia. Times staff writer David Lauter in Washington contributed to this report.
For more on international affairs, follow @TracyKWilkinson on Twitter.
---
Must-read stories from the L.A. Times
Get the day's top news with our Today's Headlines newsletter, sent every weekday morning.
You may occasionally receive promotional content from the Los Angeles Times.