Freedom again denied for American preacher jailed in Turkey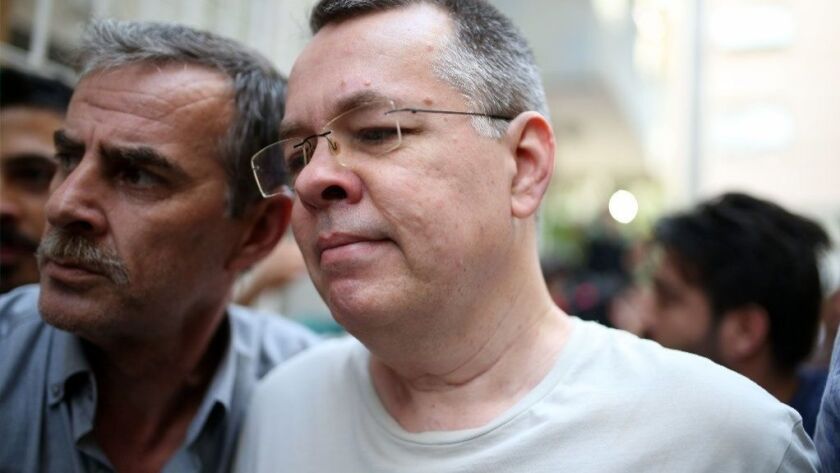 Reporting from Washington —
Despite dire warnings from Washington, a Turkish court on Tuesday refused to release an American Protestant minister who has been detained there on charges related to a failed coup two years ago.
Andrew Brunson of Black Mountain, N.C., spent nearly 21 months in a Turkish jail on charges that his supporters contend are fabricated. Last week, under U.S. pressure, he was released to house arrest.
But a court Tuesday denied Brunson's appeal to be freed and have a travel ban against him lifted, according to Turkey's state-run Anadolu news agency.
Brunson had worked in Turkey for two decades before he was swept up in mass arrests after renegade members of the Turkish military attempted to oust the government of President Recep Tayyip Erdogan. Tens of thousands of teachers, politicians, police officers, journalists and others were arrested or fired from their jobs in retaliation.
Three Turkish employees of U.S. diplomatic missions in Ankara and Istanbul also remain under arrest.
The Brunson case has long been a cause celebre in the United States, and has stoked already inflamed tensions between the U.S. and Turkey, two NATO allies.
The administration in recent weeks, through back-channel communications and public outcry, has sought to step up the pressure on Ankara.
President Trump last week, calling Brunson "a great Christian, family man" who was "suffering greatly," threatened to hit the Turkish government with harsh economic sanctions if the preacher is not released.
Vice President Mike Pence, like Brunson an evangelical Christian, highlighted Brunson's plight at a recent State Department international conference on religious freedom. "Release Pastor Andrew Brunson now," Pence said, addressing Erdogan, "or be prepared to face the consequences."
Secretary of State Michael R. Pompeo welcomed the news of Brunson's release to house arrest last week as "overdue" but "not enough."
"We have seen no credible evidence against Mr. Brunson, and call on Turkish authorities to resolve his case immediately in a transparent and fair manner," Pompeo said.
Brunson is a member of the Evangelical Presbyterian Church, a conservative Florida-based umbrella congregation incorporating hundreds of churches across the United States.
Pompeo's hometown church in Kansas is also affiliated with the Evangelical Presbyterian Church.
Evangelicals are especially important to Trump's political standing and he often pursues causes they hold dear, such as moving the U.S. Embassy in Israel to Jerusalem.
Turkish authorities accuse Brunson of helping to foment opposition to Erdogan that led to the coup, and of showing support for Kurdish rebels whom the government considers to be terrorists. He would face 35 years in prison if convicted.
His next hearing is Oct. 12, but his attorney said he would continue to press for Brunson's freedom until then.
Turkey reacted angrily to the threats of sanctions.
"It is unacceptable for the U.S. to use a threatening language against Turkey, using an ongoing court case as a pretext," government spokesman Ibrahim Kalin said. Turkey, he added, will not "bow down" to U.S. threats.
Erdogan's increasingly autocratic government blames the failed coup on a Turkish Muslim cleric who has been living in exile in Pennsylvania since the 1990s. The cleric, Fethullah Gulen, has denied involvement in the attempted takeover.
A day after Trump and Pence threatened Turkey with sanctions, Pompeo spoke by telephone to his Turkish counterpart, Mevlut Cavusoglu, apparently in an effort to ease tensions. The two will meet later this week in Singapore on the margins of a meeting of the Assn. of Southeast Asian Nations.
Jay Sekulow, chief counsel of the conservative American Center for Law and Justice, which lobbies on behalf of Brunson and his family, said the Turkish court's decision Tuesday was not a surprise.
But he added in a statement, "Ongoing diplomatic efforts are taking place at the highest level." Sekulow also serves on Trump's personal legal team regarding the investigation into possible collusion between Trump's campaign and Russia during the 2016 campaign.
For more on international affairs, follow @TracyKWilkinson on Twitter
---
UPDATES:
2:35 p.m.: This article was updated with Sekulow's statement.
This article was originally published at 1:05 p.m.
---
Must-read stories from the L.A. Times
Get the day's top news with our Today's Headlines newsletter, sent every weekday morning.
You may occasionally receive promotional content from the Los Angeles Times.