14 Images
Candidate Huckabee
Former Arkansas Gov. Mike Huckabee greets potential voters at Lizard's Thicket, a restaurant in Columbia, S.C., in early December. The former Southern Baptist preacher was once considered a longshot in the Republican presidential race but has enjoyed a surge in the polls. During his 10½ years as governor of Arkansas, he was regarded as a different brand of Republican — a governor with an idiosyncratic agenda that was sometimes difficult to categorize, but always shaped by his religious beliefs.
(Jay L. Clendenin / Los Angeles Times)
Huckabee holds a child at a South Carolina campaign stop in early December. While governor of Arkansas, he pushed for an expansion of government health insurance for children of working-class people who earned too much to qualify for Medicaid. Huckabee introduced it in the Legislature in January 1997, and it received bipartisan support. He signed the bill into law with a crayon, surrounded by children. He then made TV ads encouraging families to sign up. According to a report by the University of Minnesota, the percentage of uninsured children in Arkansas dropped from 22% in 1997 to 9% in 2004 — the largest percentage-point drop of any state in the nation.
(Jay L. Clendenin / Los Angeles Times)
After taping a message to South Carolina voters at a Columbia television station in early December, Huckabee checks his Blackberry. Such handheld devices are indispensable to Huckabee and other candidates on the campaign trail, enabling them to get caught up on the day's activities or send out questions without having to make dozens of phone calls.
(Jay L. Clendenin / Los Angeles Times)
On a day when all his campaign events were canceled because of a storm in Iowa, Huckabee gets a haircut. Voters are finding that he is a different kind of candidate. He is a Southern preacher who favors droll wit over brimstone sermonizing, a rock 'n' roll bass player who believes in creationism.
(Jay L. Clendenin / Los Angeles Times)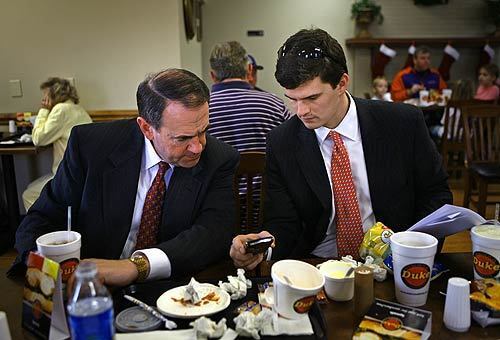 Huckabee lunches with campaign staffer Drake Jarman in Columbia, S.C. With his rise from obscurity in the Republican presidential race has come heightened public scrutiny and assaults from his GOP rivals. Huckabee has been criticized as being soft on crime, slighting President Bush's foreign policy, and saying 10 years ago that women should submit to their husbands. Huckabee said that the 16 death penalties he carried out as Arkansas governor were hardly soft on crime, that he questions some but not all of Bush's foreign policies, and that he does not believe women should subjugate themselves to their husbands.
(Jay L. Clendenin / Los Angeles Times)
On his way to a campaign event in South Carolina, Huckabee stops for an afternoon snack at a gas station convenience store. He has been on the road a lot. According to his campaign website, Huckabee visited nearly 30 states in the last year "to campaign for Republican candidates and conservative causes — and to share his message of vertical politics that he says reflects American values and priorities."
(Jay L. Clendenin / Los Angeles Times)
Huckabee gazes out the car window during his swing through South Carolina. He has taken some heat for his record on taxes: Although he has signed a no-tax-hike pledge presented to presidential candidates by Americans for Tax Reform, some critics question his commitment, noting that as Arkansas' governor he supported tax hikes on cigarettes, gasoline, groceries, sales and income. One anti-tax group calls him "Tax-Hike Mike." Huckabee defends his record as that of a pragmatic governor trying to meet the needs of a poor, underdeveloped state.
(Jay L. Clendenin / Los Angeles Times)
Huckabee hugs daughter Sarah, his national field director, after the last Republican presidential debate in Iowa. He and his wife of 33 years, Janet, have two other grown children: sons John Mark and David. Mike and Janet were high school sweethearts.
(Jay L. Clendenin / Los Angeles Times)
Huckabee listens to a customer at Lizard's Thicket restaurant in Columbia, S.C. A Los Angeles Times/Bloomberg poll of Republican-leaning voters nationwide, conducted Nov. 30 to Dec. 3, showed that Huckabee, once sixth in the GOP field, had pulled into second place, close behind Rudolph W. Giuliani. His surge was cited by Tom Tancredo as one of the reasons he dropped out of the race. More recent polls show Huckabee well ahead of the pack in Iowa, which holds its presidential caucuses Jan. 3.
(Jay L. Clendenin / Los Angeles Times)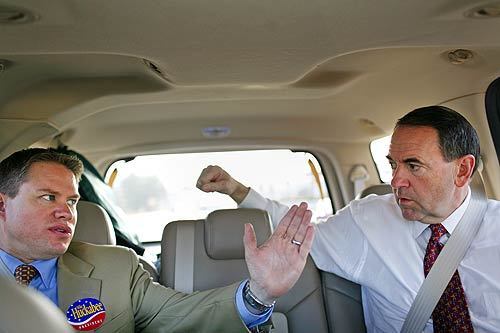 Huckabee, riding between events with Mike Campbell, his campaign's South Carolina state chairman, faces obstacles in his bid for the White House. Only 6% of Republican voters named him as the candidate with the best chance of winning the general election; 38% selected Rudolph W. Giuliani, according to a Times/Bloomberg poll released in early December.
(Jay L. Clendenin / Los Angeles Times)
Huckabee prays before speaking at a dinner hosted by former Rep. Charles Taylor of North Carolina in Asheville, N.C. Huckabee was a Southern Baptist minister from 1980 to 1992, leading rapidly growing Arkansas congregations in Pine Bluff and Texarkana. Those experiences gave him a deep sense of the problems faced by individuals and families, Huckabee's campaign website says. "My faith doesn't influence my decisions, it drives them," he says on the website.
(Jay L. Clendenin / Los Angeles Times)
Huckabee has makeup applied before he tapes a televised message for South Carolina voters. All candidates were given four-minute spots. Huckabee has taken strong stands against abortion and same-sex marriage, and has proposed giving all 12 million people in the country illegally four months to leave or risk serious punishment. He also wants to eliminate all federal income and payroll taxes.
(Jay L. Clendenin / Los Angeles Times)
After taking part in the last Republican -residential debate in Des Moines, Huckabee waits for his interview with Fox News. Huckabee's good fortune is that the presidential race starts in Iowa, where voters still put a premium on a candidate's ability to impress in small settings. Poor fundraising left him no choice but to campaign the old-fashioned way — town by town, person to person — and that has clearly paid off.
(Jay L. Clendenin / Los Angeles Times)
Huckabee's truck is one of the few on Interstate 80 in Iowa during an early-December snowstorm that virtually paralyzed presidential campaigning across much of the state. Huckabee, an avid baseball fan, took advantage of the break by making an impromptu visit to a baseball museum in Van Meter honoring the town's most famous citizen, Hall of Fame pitcher Bob Feller, who just happens to have endorsed Huckabee.
(Jay L. Clendenin / Los Angeles Times)