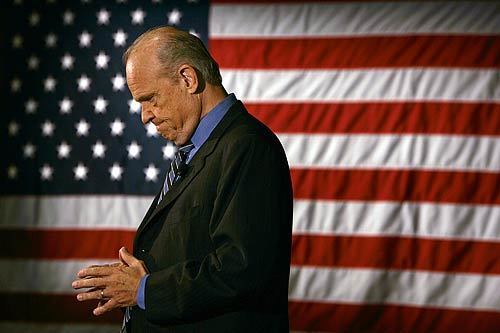 14 Images
Candidate Thompson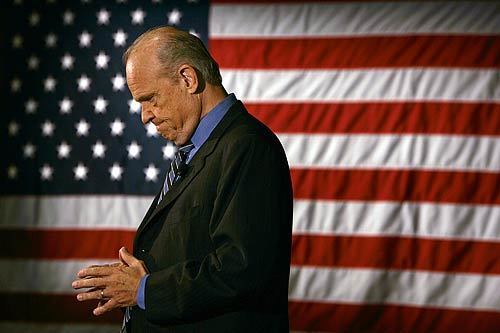 Would he or wouldn't he? Throughout the summer, Fred Thompson kept the public and the pundits guessing about his intentions. Then, in early September, on a day Republican candidates for president were debating in New Hampshire, the former Tennessee senator and "Law & Order" actor changed the calculus of the campaign with a simple statement to a national TV audience: "I'm running for president of the United States," Thompson said on "The Tonight Show With Jay Leno." The audience cheered loudly, but would the second act play as well? Would he be able to claim the mantle as the only true conservative in the race? He'd soon start to find out when he took his campaign to Iowa.
(Mark Boster / Los Angeles Times)
Sticking to a tightly scripted message, Fred Thompson emphasizes traditional conservative themes on national defense and fiscal discipline at his campaign kickoff rally in Des Moines. "I am determined that we make the decisions that will leave us a stronger nation, a more prosperous nation and a more united nation, and that's why I'm running for president of the United States."
(Mark Boster / Los Angeles Times)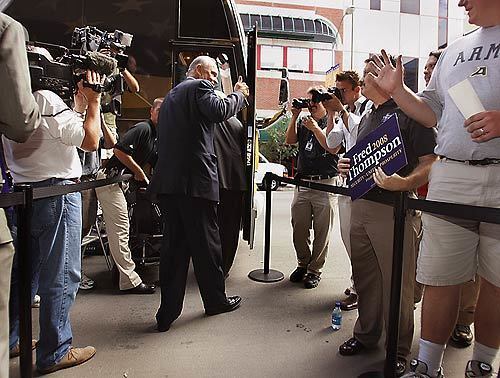 "Go, Fred, go!" supporters holler in Thompson's first full day of stumping in Iowa. The turnout is a little thin for the national launch of a celebrity's bid for the White House, but that doesn't knock him off stride. He sums up his biography as a common "American story" and describes himself as having been "a kid of modest means in a small town, without a lot of resources or even a whole lot of ambition."
(Mark Boster / Los Angeles Times)
Four-year-old Hayden Thompson is certainly not intimidated by the cameras and the attention that flow naturally to a candidate's family. In South Carolina, she stole the limelight from her Dad, who was regaling supporters with one of his favorite jokes.
Thompson (with Hayden in tow): "Somebody asked her the other day, 'Do you know your Mama's middle name? And she said, 'Jeri Lynn Thompson.' And I said , 'That's pretty good. Do you know your Papa's middle name? She said yes ..."
Hayden: "Fred '08 Thompson!"
Thompson: "... She's already jumping my punch line!"
(Mark Boster / Los Angeles Times)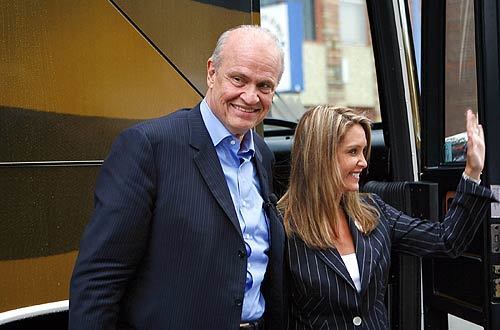 Fred and Jeri Lynn Thompson say they met on the Fourth of July in 1996 inside a Nashville grocery store. "I was on my way to my mother's house, actually, and Jeri claims to remember what I had in my basket," Thompson told conservative talk-show host Sean Hannity.
"Beanie-weenies and a half of a pre-made sandwich," she said.
The couple have two children: Hayden and a 1-year-old son, Sammy.
(Mark Boster / Los Angeles Times)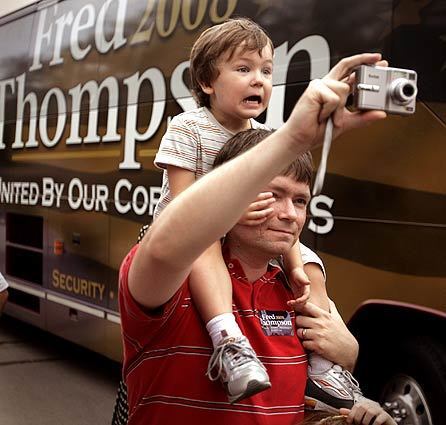 Support in Iowa, which looked promising in the early weeks of the campaign, has slipped noticeably. Thompson was favored by 19% of self-described conservatives in an October poll. Two months later, that backing had dropped to 12%. He's now looking to New Hampshire for a solid showing to gain momentum heading into Super Tuesday on Feb. 5.
(Mark Boster / Los Angeles Times)
The avuncular Southern manner that drove Thompson's success as a Hollywood actor proved to be an impediment on the campaign trail, with critics branding him lackadaisical and unprepared. So Thompson did what any seasoned politician would do: He defended his style -- and then he altered it. Campaigning in New Hampshire and South Carolina, he raised his voice and shook his fists as he described his vision of an America true to conservative values. But he also made this point: "Ultimately, the American people have to ask themselves: Do they want someone with their finger on the nuclear button who has fire in his belly?" He paused for effect. "Or her belly?" The crowd burst into laughter.
(Mark Boster / Los Angeles Times)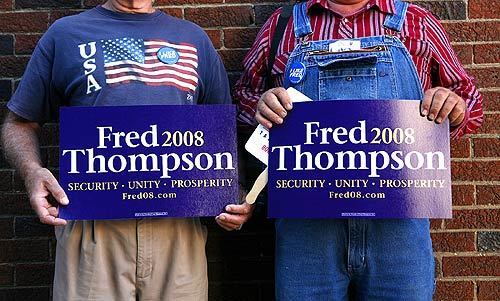 Supporters in Lawrenceburg, Tenn., turn out for their hometown hero. Thompson, 65, grew up in the small manufacturing town near the Alabama border, the son of a used-car dealer and a homemaker. At 17, he married Sarah Elizabeth Lindsey after she became pregnant. He put himself through college, entered law school, joined a family law firm and supported Richard Nixon's run for the White House -- a move that eventually led him to Washington.
(Mark Boster / Los Angeles Times)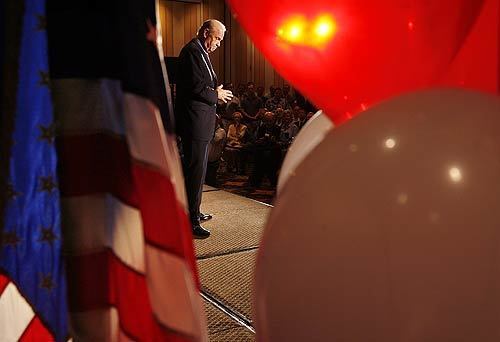 Thompson takes the stage in Greenville, S.C. He won a standing ovation when he said Americans had shed more blood for other people's liberty than all other nations "in the history of the world." Although he supports the war in Iraq and says the U.S. must prevail, it's not an issue he frequently raises.
(Mark Boster / Los Angeles Times)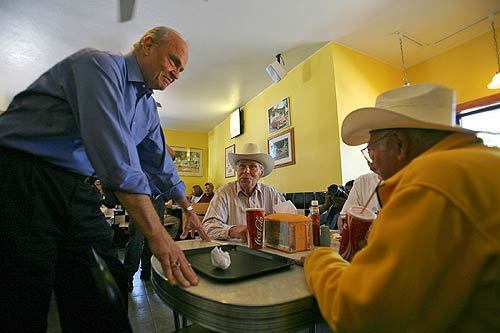 Patrons at Bob's Drive-Inn in Le Mars, Iowa, got a side order of Fred Thompson with their meal. He supposedly passed on the chance to have a Bob Dog.
(Mark Boster / Los Angeles Times)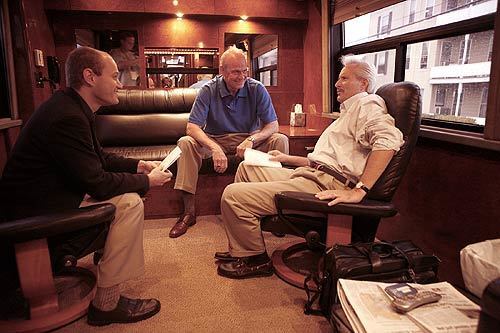 Thompson meets with staff members during a stop in New Hampshire. Running a campaign is a complex logistics challenge, especially in a tight, topsy-turvy race where a slip-up or missed opportunity can turn a front-runner into an also-ran. Tour buses, websites, fundraisers, stump speeches, debates, commercials, interviews, finance reports, polling, flying from one state to the next ...
(Mark Boster / Los Angeles Times)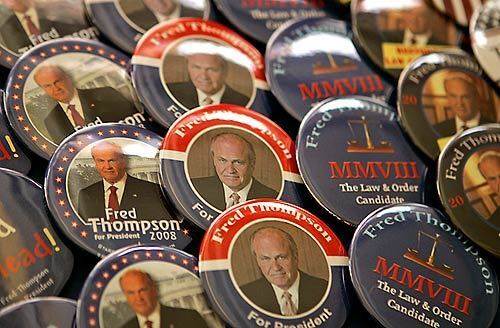 Will these become collectors' items or the detritus of a failed campaign? The candidate who started with a flourish on "The Tonight Show" and then saw his conservative constituency steadily erode had what could be a signature moment in the Iowa debate in mid-December. When moderator Carolyn Washburn asked the candidates to raise their hands to say whether they believed global climate change was a serious threat caused by human activity, Thompson refused.
"You want to give me a minute to answer that?" Thompson asked.
"No, I don't," Washburn replied.
"Well, then I'm not going to answer it," Thompson said, drawing laughter and scattered applause from the studio audience.
(Mark Boster / Los Angeles Times)
Thompson owns the stage in Lawrenceburg, Tenn. It's his turf, his hometown. He developed his speaking skills on a different stage, the public stage of the courtroom, as a prosecutor for the U.S. attorney's office in Nashville from 1969 to 1972. More than anything, Thompson took on the state's moonshiners and a local culture, rooted in Tennessee's hills and hollows, that celebrated the independent whiskey maker's battle against the government's revenue agents. It was a mild apostasy in a state where "Rocky Top" is one of the official songs.
(Mark Boster / Los Angeles Times)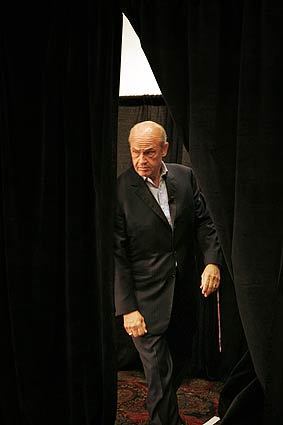 "I have been the same thing that I've always been. I've been a proud common-sense conservative since the day that I first stepped into politics. What you see today is what you'll see tomorrow."
(Mark Boster / Los Angeles Times)