Albuquerque's $133-million electric bus system is going nowhere fast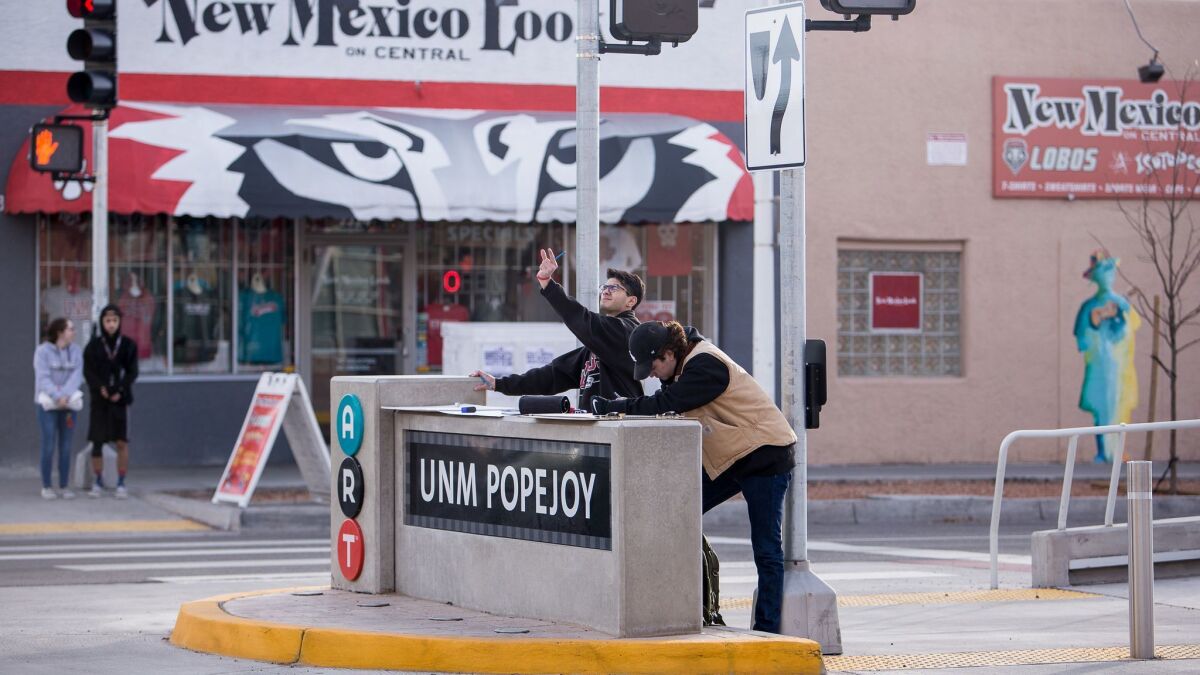 Reporting from Albuquerque —
Shortly after being elected in 2017, Albuquerque Mayor Tim Keller stood on one of the passenger platforms for ART, the city's ambitious new $133-million all-electric bus line that cuts through a 10-mile stretch of the city.
"Drivers waved and cheered, 'Congrats to the new mayor!' 'I voted for you!' 'Go get 'em!' " said Keller. "And then in the next breath, they would lay on the horn and give the giant ART sign the middle finger out the car window."
Civic leaders had initially pitched Albuquerque Rapid Transit as a way to revitalize the city's former stretch of Route 66 and make the community a national leader in sustainable mass transit. Instead, the ART project resulted in parts of what's now Central Avenue being ripped up to host dedicated lanes for the electric buses, which are currently out of commission and have so many problems that Keller freely calls them "a bit of a lemon."
ART was supposed to supplement Albuquerque's regular bus system by the fall of 2017 with a fleet of 20 buses. But Keller slammed the brakes on the project in January last year, barely a month after ART's debut.
Shiny stations along the line stand dormant. Vandals have smashed ticket dispensers. Flat-screen televisions meant to alert passengers about boarding times flash a request to get rebooted. Autos can't use the bus lanes, which cyclists have claimed as their own.
"It's a nightmare with nothing to show for it," says Jonathan Hartshorn, a librarian at the University of New Mexico.
At the ART station near campus, students regularly set up easels to draw in the middle of the unused lanes. "You'd think anything is a good thing. But it isn't. Any other bigger city, there would be accountability."
Keller appears to be trying. Besides scrapping the buses, the city has sued their manufacturer, Chinese company BYD Ltd., which has received over $330 million in the last decade from public agencies including Los Angeles Metro to produce battery-powered buses and other vehicles. The suit alleges breach of contract and delivery of faulty vehicles. The city has ordered 20 clean-diesel replacements from another company, but they won't be ready for 18 months.
RELATED: Stalls, stops and breakdowns. Problems plague push for electric buses »
So for at least this year, ART stands silent.
"I don't know anyone who's for it," said a local restaurant owner, adding that business had plummeted by nearly 40% since Central Avenue was constricted to make way for ART stations and the dedicated bus lane. "Who would be for a dud?"
ART has roiled Albuquerque for years. Public meetings saw citizens shout down public officials in English and Spanish over a lack of definitive answers. Opponents filed two unsuccessful lawsuits in federal court to stop the project altogether. In 2016, more than 75% of Albuquerque voters said "yes" to a nonbinding resolution that asked if they'd like the "chance to vote in support of or opposition to" ART.
"It shows I wasn't just this old man screaming in front of his store," says Steve Schroeder, who spearheaded the ballot measure. "It was the full city."
Schroeder has owned Nob Hill Music, named after a trendy neighborhood on Central Avenue, for a decade and has been among ART's loudest opponents. Schroeder claims he's lost 12 pounds since 2016. That's when the federal government announced it would award Albuquerque a $75-million grant for ART — and Schroeder began walking up and down Central to persuade fellow merchants to place anti-ART signs on their store windows, fences and even marquees.
Once common, the signs remain on only one business on Central Avenue — El Charritos, a restaurant on the western edge of town. A sign on a fence warns, "No A.R.T. related vehicle parking" under the threat of a tow truck, even though the nearest ART station is nearly half a mile away.
The genial Schroeder says he takes no joy in seeing ART fail.
"I don't have to rub it in," he says with a wink.
ART was first proposed earlier this decade as the city saw a record number of bus passengers on its longstanding transit system. The Albuquerque City Council, with the support of then-Mayor Richard Berry, eventually applied for and received the federal grant that allowed the city to begin construction in the fall of 2016.
Berry found bipartisan support for the funding thanks to New Mexico's congressional delegation. He hailed ART as a game changer, arguing it would spur development along Central Avenue, and was on hand when the first buses debuted in November 2017, just days before he left office.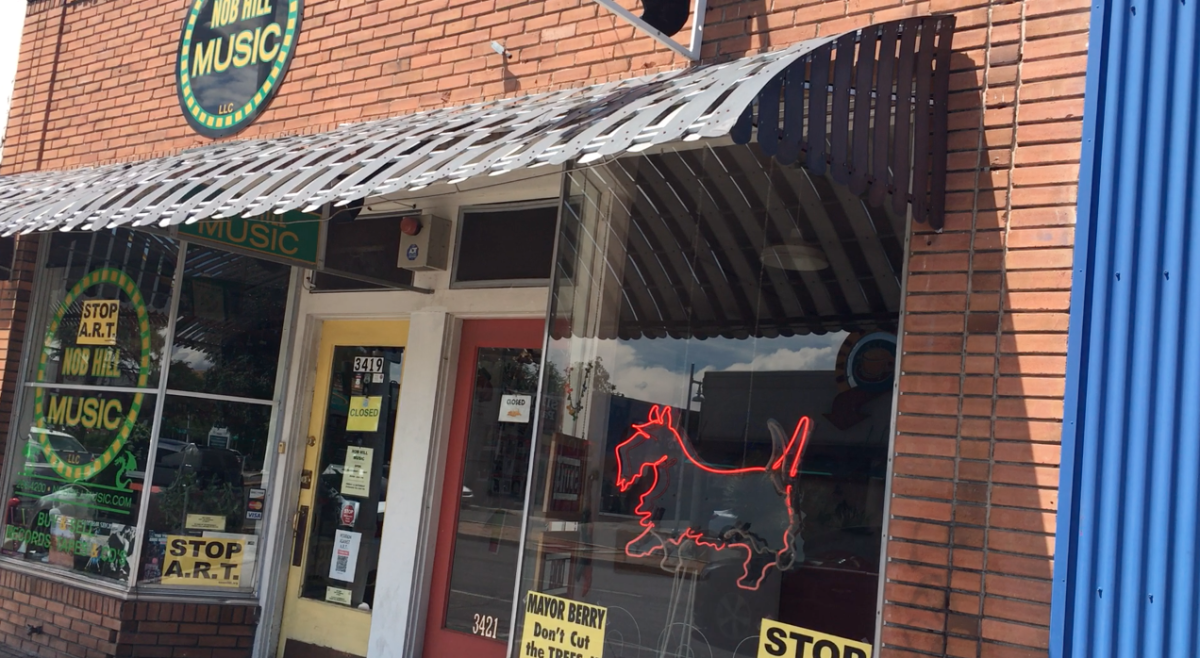 Six weeks later, Keller criticized Berry at a news conference, citing the problems with ART. For one thing, the BYD company (an acronym for Build Your Dreams) had delivered just 15 of 20 promised buses. Those that did arrive had axles that leaked oil and bolts that fell off doors. More importantly, the batteries remained charged for less than the 275 miles promised by BYD. A 2018 Times investigation exposed similar electric-bus problems for LA Metro.
Through a representative, Berry declined to comment.
Keller thought of scrapping ART altogether, "but the reality is, the train had left the station already," he said. "It is in the city's best interest to find a way to get it running and make the best of it for all Burqueños."
While waiting for replacement buses, Keller is considering using the dedicated bus lanes as a loading zone for Central Avenue businesses or making them available to street vendors or music festivals.
That doesn't make Schroeder any happier. His website, SaveRt66.org, lists more than 50 businesses he claims have closed since construction on ART began less than three years ago. His record store has suffered, he says, with visitors complaining that GPS systems consistently tell them to bypass Central Avenue altogether because of congestion: Traffic is now reduced to one lane each way as a result of the changes wrought to design the non-running ART line.
"This is now," he said while ringing up a customer, "the ugliest street in New Mexico."
---
Must-read stories from the L.A. Times
Get the day's top news with our Today's Headlines newsletter, sent every weekday morning.
You may occasionally receive promotional content from the Los Angeles Times.