Anchorage has a homeless problem too, but in the woods, not on skid row
Reporting from ANCHORAGE —
Behind a baseball field, past purple fireweed flowers and wild raspberry brambles, Christiann Perry reflected on what brought her and a handful of others to messy encampments of tarps, tents and piles of clothing and garbage in a patch of woods just off a busy bike trail.
"We were doing great till I fell," Perry said of her life before a head injury that set off a chain of complicated medical issues. She fell into deep drug addiction, and her four children were taken away by child welfare officials. She and her husband bounced from stable housing to a slum motel.
Then the couple ended up here, one of dozens of encampments scattered across Anchorage's green belt. The camps are among the most stubborn and vexing manifestations of the city's challenges with homelessness, affordable housing and social services.
"This is skid row in Alaska," Perry said.
Unlike other metro areas where the homeless congregate on streets and under bridges, Anchorage is a vast municipality of 1,961 square miles crisscrossed with recreational trails abutted by woods, parks and expansive stretches of nature — an area slightly smaller than Delaware. The topography lends itself to a rugged form of homelessness that locals call "camping."
For people like Perry, the woods provide refuge. She's been trying to get clean. She has weaned herself down to a single $20 dose of heroin a day, mostly, she said, to keep from getting sick from withdrawal. A black abscess mars the back of one hand, where she used to inject, and needle marks dot her wrists.
"I don't like to get high, I just get well," she said. Getting too drowsy or passing out is risky. That's when other people come into their camp to steal drugs, supplies or equipment.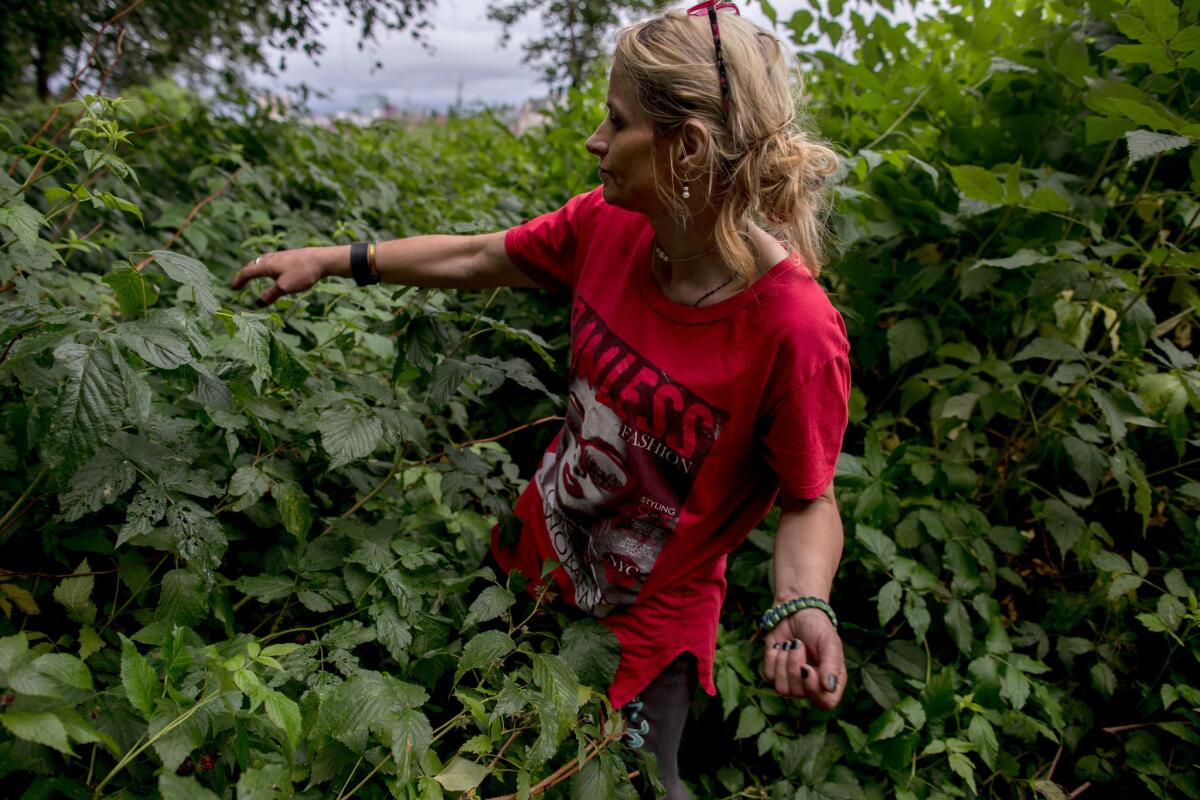 "The proliferation and the magnitude of the camps that we've seen develop in the last three to five years has just been astounding to us," said Russ Webb, 68, who lives in the upscale South Addition neighborhood, not far from some of the trails most densely populated with homeless campers.
Sitting at his kitchen table, Webb displayed dozens of photos he's taken of sprawling encampments littered with garbage and human waste. "That kind of squalor is unsafe for the people camping there, and certainly for the people using those public green spaces, including kids," he said.
The debris, much of it hazardous, clutters trails, parks and waterways. As of mid-July, city workers this year had hauled more than 184,000 pounds of trash out of campsites. The litter runs the gamut from rote to resourceful: used hypodermic needles, booze bottles, soiled mattresses, spare bicycle parts, propane tanks. Even the occasional generator.
Some encampments give the impression of permanency — elaborate departures from nylon tents or log lean-tos. One camp featured a tent with framed walls, insulated windows and a protruding pipe from a wood stove. Last year, a man in a tarp-swaddled shack powered electric devices with solar panels.
Webb and his wife, Stephanie Rhoades, report camps to the city, but they are hardly rock-ribbed NIMBYs. Both worked for the state as advocates for mental health and substance abuse recovery and rehabilitation. They complain that city officials, and many residents, have turned a blind eye to the problem, which allows the camps to proliferate.
Anchorage is on the cusp of overhauling how it handles homeless camps. Currently, officials will warn campers that they are unlawfully living on public land and return 10 days later to clear the site.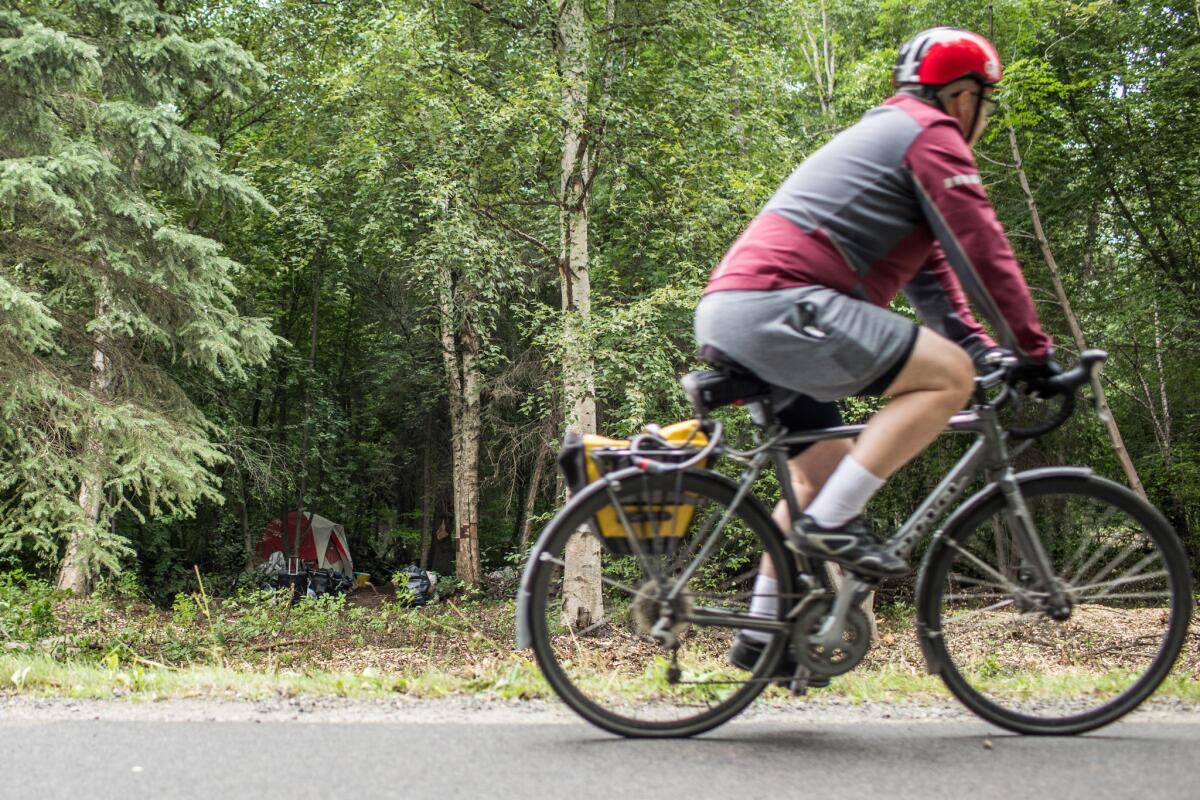 This summer, the city's 11-member Assembly passed measures that would establish "cleanup zones" close to public facilities, such as trails and playgrounds, where whole areas can be cleared, rather than having city crews essentially spot-cleaning individual encampments.
Officials are fine-tuning the policy change to make sure it complies with the decision in a 2011 court case brought by the American Civil Liberties Union, which contended that the city was violating residents' civil rights in its policing of the homeless on public lands.
The administration of Mayor Ethan Berkowitz is adamant that dealing with the camps is one piece in a larger, long-term approach to getting people off the streets, into housing and connected with supportive resources. According to Anchorage Homelessness Coordinator Nancy Burke, social workers piggyback on the abatement procedures to gather data and make contact with individuals who otherwise can be tricky to find.
On a given day, there are around 1,100 homeless people in Anchorage, according to data from the Alaska Coalition on Housing and Homelessness.
Webb and others say campers have gotten more brazen, setting up in more public places with relative impunity because they know there's a 10-day window before they are evicted. Others suggest that the cost of widespread drug addiction has led to a greater criminal element in the woods, driving up property crime in nearby neighborhoods.
Burke conceded that many residents are frustrated with a homeless problem that, to them, appears to have worsened. But she and other city officials say that more individuals, many with severe mental health and substance abuse problems, have gotten off the streets as a result of city efforts.
"The visual doesn't always match the progress," Burke said, adding that, according to her office's data, homelessness in Anchorage is trending downward. "But the residents are not feeling that, and so what I need to make sure I'm doing is helping them understand the long-term play."
The progress claimed by officials is not readily apparent in the woods.
On a recent weekday, municipal crews picked through an area that had recently been filled with scattered encampments, sites easily located by following well-trodden footpaths cutting through the brush.
"We cleaned out over there," said Greg Jacobsen, sweeping his hand from the nearby ice rink toward a highway. He pointed out raw patches of dirt near the paved trail where trees have been stripped for firewood or shelter.
Not far away was a large encampment in the process of deconstruction. A man who looked to be in his mid-30s and declined to give his name was hauling belongings on a sled. Jacobson said he'd known the man for years and wasn't sure where he was taking his things, but it couldn't have been far away because he returned a few minutes later for another load. Already, workers were reporting camps being reestablished down the trail near a popular park.
Critics complain the city's abatement strategy is fundamentally flawed, that it basically shuffles homeless people around while the city cleans up their messes. Jacobson touched on this sentiment as crew members were almost finished cleaning.
"Because it's all cleared out like this, somebody's going to move back in real quick," he said with a hint of resignation. "We're housekeeping."
Illegal camping has long been an issue in Anchorage, but it used to be low-key: more seasonal, less criminality involved. Now the city abates and cleans camps year round. In winter, many homeless move to overnight shelters, though some camp even when temperatures drop below zero, bundling up and sometimes heating their dwellings with open flames or propane.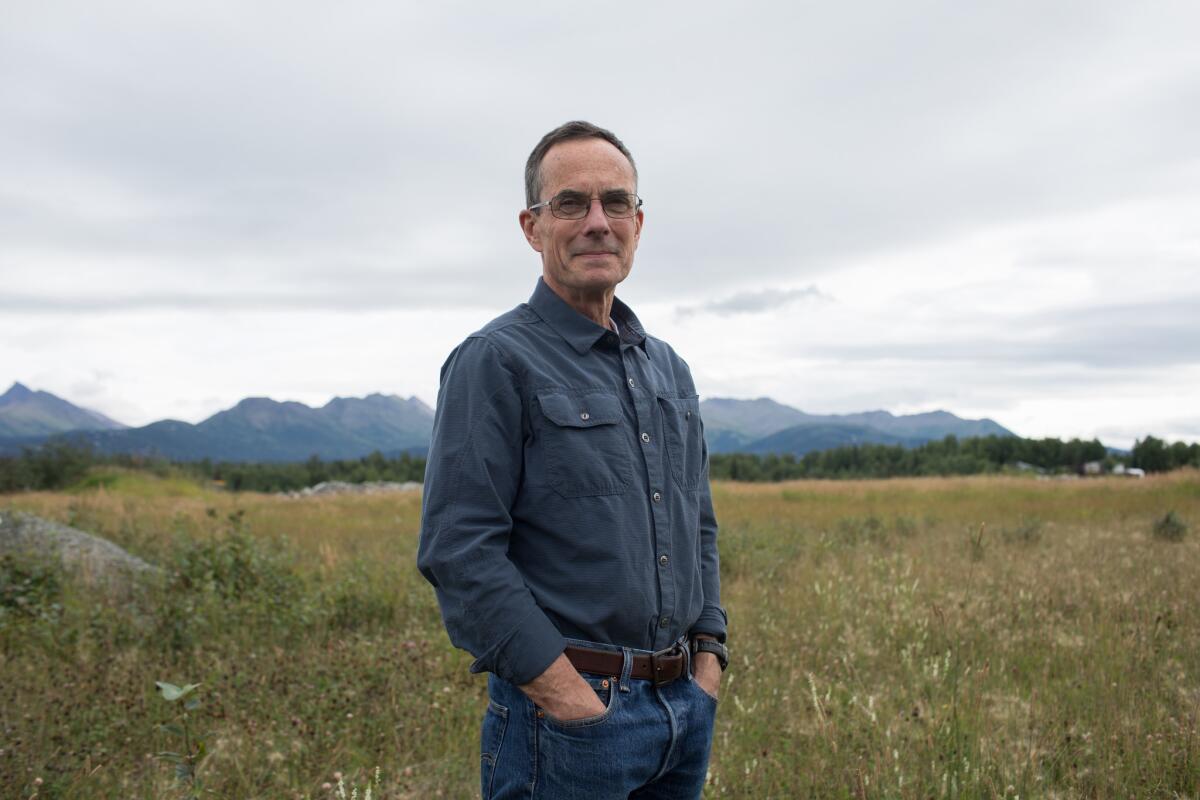 John Weddleton, an Anchorage Assembly member, candidly concedes that the lawless, chaotic encampments have spared Anchorage some of the blight found on skid rows and beneath underpasses in other cities.
"If they weren't in the parks, they'd be in our neighborhoods and tucked in alcoves and commercial buildings," Weddleton said. "Imagine if all these people had to be on our streets. It would be worse."
As Weddleton crossed a footbridge leading out of the woods, a woman walked by wearing all black and eating a lemon meringue pie out of a tin.
"Is that breakfast?" Weddleton asked, using the question as an in to inquire whether she feels unsafe walking past so many camps.
"No, I've lived in these camps for three years," responded 31-year-old Toni Anaruk.
"These woods are crazy," she went on. "Everybody lately, honestly, has been getting out."
The area feels scarier, more dangerous, Anaruk said. There are heroin deaths. Bear encounters have sent people looking for camp spots farther away. And there is violence. Anaruk has experienced it herself.
"I was chopped up in Valley of the Moon," she said, referring to a nearby park.
In August of 2016, when Anaruk confronted a 19-year-old acquaintance for stealing from her, he strangled and hacked at her with a machete. She pulled down the corner of her shirt to show Weddleton a thick red scar running across her back.
"Holy smokes!" he gasped.
"That's just one of six, the other one's right here on my neck," Anaruk ticked off. "Across my head, right here, my hand."
There were gnarled scars all over.
She did not stick around. As Weddleton shouted out questions and pleasantries, she walked away and disappeared into the woods.
Hughes is a special correspondent.
Sign up for Essential California for the L.A. Times biggest news, features and recommendations in your inbox six days a week.
You may occasionally receive promotional content from the Los Angeles Times.