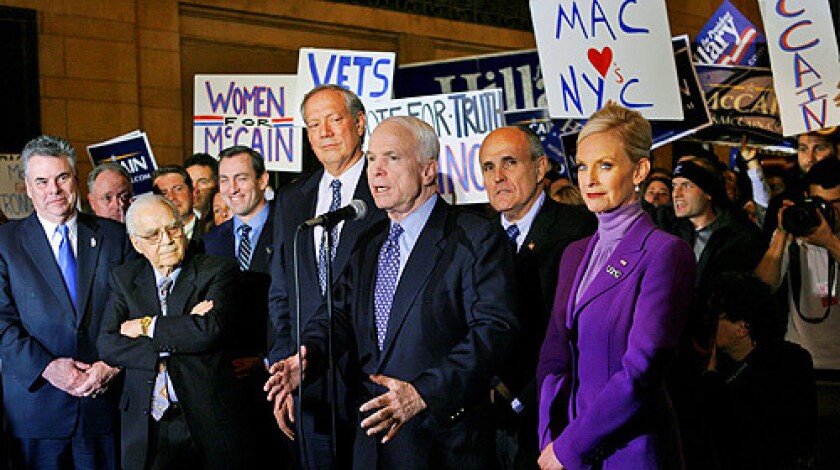 Los Angeles Times Staff Writers
Move over Super Bowl. Now it's all about Super Tuesday.
In the countdown to the biggest primary day in American electoral history, candidates and their surrogates raced across the country today like athletes in the last quarter of a pivotal game. With 24 states holding primaries or caucuses Tuesday, the airwaves and websites were filled with speculation as presidential hopefuls and their supporters rallied crowds in last-minute appeals from the Meadowlands in East Rutherford, N.J., to the University of the Pacific in Stockton.
On the GOP side, Sen. John McCain of Arizona, ahead in the polls but distrusted by conservatives for his maverick record on immigration, taxes and campaign finance reform, defended his GOP credentials even as he touted his electability.
"As president of the United States, I will preserve my proud conservative Republican credentials, but I will reach across the aisle and work together for the good of this country," he said while campaigning at Boston's famed Faneuil Hall.
At the landmark Pancake Pantry in Nashville, meanwhile, a hoarse-voiced Mitt Romney, former governor of Massachusetts, told dozens of supporters that he is the lone candidate to speak for conservatives.
"Do you want a nominee who voted against the Bush tax cuts?" Romney asked dozens of diners eating fluffy buttermilk pancakes and grits, and sipping coffee at the diner near Vanderbilt University.
They answered, "Nooo!"
"Do you want to have a nominee who represents the conservative principles and keeps us inside the house that Ronald Reagan built?" he asked.
The crowd cheered.
Romney will need their cheers as he plows through an exhausting day with stops in Nashville, Atlanta, Oklahoma City and Long Beach before taking a red-eye flight to Charleston so he can address West Virginia delegates Tuesday morning.
In third place in the polls and lagging behind in media attention, former Arkansas Gov. Mike Huckabee also stumped in Tennessee, wrapping himself in the mantle of the "underdog" New York Giants, who bested the undefeated New England Patriots in the fourth quarter of Sunday's Super Bowl contest.
"Everybody had already put up their World Champion Patriot posters, and gosh, it didn't quite work out like that," Huckabee said on "Fox & Friends" this morning. "I think this election is more fluid than people think."
For the Democrats, a surging Sen. Barack Obama of Illinois spoke at a rally at the Meadowlands in New Jersey, with Sen. Edward Kennedy of Massachusetts and Caroline Kennedy, daughter of former President John F. Kennedy, at his side.
Referring to Sen. Kennedy, Obama said: "I have said repeatedly that I want to bring us together, [but] to bring a Patriots fan to the Meadowlands the day after the Super Bowl is like bringing the lion and lamb together."
Welcoming the support of actor Robert De Niro and former New Jersey Sen. Bill Bradley, Obama said he looked forward to a general election campaign against Sen. McCain.
"This is a choice between the past and the future," he said, "and if I'm running against Sen. McCain I want . . . to go forward, not backward."
Sen. Hillary Rodham Clinton of New York, taking a break from daytime campaigning, prepared for an appearance on CBS' "Late Show with David Letterman" and a one-hour interactive town hall meeting this evening to be shown on the Hallmark Channel.
Speaking today at the Yale Child Study Center, where she worked as a young law student, Clinton nearly lost her voice, showing the strain of non-stop campaigning. During the event, she was hit by a coughing jag that went on for several minutes. Her eyes began to water. She asked for a lozenge, but she never quite recovered, her voice remaining scratchy throughout the event.
"I feel OK; my voice decided to go AWOL on me," she recently told reporters aboard her campaign plane. "We've been trying all kinds of remedies."
Meanwhile the spouses of the Democratic front-runners were on the run -- and making news.
Former President Bill Clinton, stumping all over California today, countered a statement by Obama that voting for Hillary Clinton would return the country to the 1990s.
"Compared to this decade, that one looked pretty good," Clinton told a crowd at Santa Ana College. "But that's not true. She doesn't want to go back to the '90s. She wants to get you back on your feet so we can go forward."
With polls showing Obama closing in on Sen. Clinton's once formidable lead in California, Bill Clinton asked what many were wondering of the state's pivotal role in Tuesday's race: "Will California stick with her as you always have?"
The crowd roared.
Michelle Obama, stumping in Arizona while her husband is on the East Coast, was asked if she would work for Hillary Clinton if the senator won the Democratic nomination for president.
"I have to think about that," she said in an interview aired on ABC's "Good Morning America" today. "I'd have to think about her policies, her approach, her tone."
Times staff writer Peter Nicholas contributed to this report.
---